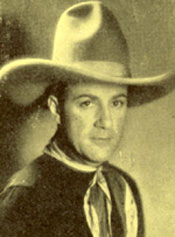 JACK PERRIN
Ratings: Zero to 4 Stars.
While not a name to rank with William S. Hart and Tom Mix, Jack Perrin filled his second-echelon cowboy boots quite well from 1917 on through the '20s, making the transition to sound, although never managing to escape poverty row producers. He'd hit his stride in Universal two reelers in the early '20s. From '23 to mid '27 Jack, and his beautiful white steed Starlight (who became nearly as famous as Tarzan, Silver and Tony), made dozens of independent westerns (and serials) for Arrow, Aywon, and Rayart. Jack rejoined Universal in '27 for a series of NW Mounted Police two reelers and a few western features. Perrin had a likeable screen persona, looked fit and with a good voice, sound came easy to Jack, however he was unable to land a series with one of the major studios. But his charming personality held him in good stead with fans even though the budgets were minimal at Big 4, Syndicate, Cosmos, Reliable and Atlantic. By the time of his final series for Atlantic, Jack had already begun to accept character and heavy roles opposite Bob Steele, Ken Maynard, Rex Lease, Tom Tyler and others—which he continued to do on through 1961's FLOWER DRUM SONG. Retiring in '62, he lived on a modest income until his death in '67 at 71.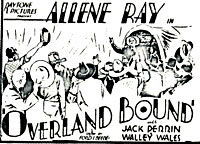 OVERLAND BOUND ('29 Raytone) Not available for viewing.
BEYOND THE RIO GRANDE ('30 Big 4) Not available for viewing.
RIDIN' LAW ('30 Big 4) Not available for viewing.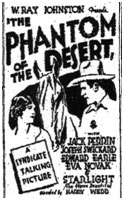 PHANTOM OF THE DESERT ('30 Syndicate) Sorta like a drawn out Bud 'n' Ben short as Perrin and Ben Corbett hire on as top hands to corral a phantom white horse (Jack's steed Starlight) supposedly running off with a rancher's herds. The real horse thieves turn out to have two legs instead of four. Taking advantage of early sound techniques, a lackluster music group moans "Roll On Little Dogies". Under Harry Webb's boring direction, this "feature" would have been better edited down to a two-reeler.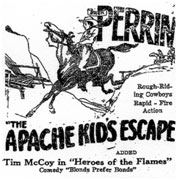 APACHE KID'S ESCAPE ('30 Robert J. Horner Prod.) Robert J. Horner's westerns are the absolute barrel scrapings. He produced 14 rag-tag grade Z westerns with Buffalo Bill Jr., Bill Cody, Ted Wells and Jack Perrin from '30-'35. Don Miller's HOLLYWOOD CORRAL says his "small resources and artistic pretensions were forthrightly nonexistent." Horner was practically a one man show, as in this Perrin where he's producer, director and screenwriter. He'd begun his low budget productions in the silent days of the '20s with Art Acord, Perrin, Ted Wells and others. Sound didn't help his films a bit. In fact, it may have hurt when you consider some of the stilted, awful dialogue. This film's one redeeming factor is the opportunity to see and hear silent star Fred Church in his biggest sound role as Perrin's friend.
WILD WEST WHOOPEE ('31 Robert J. Horner Prod.) Not available for viewing.
KID FROM ARIZONA ('31 Robert J. Horner Prod.) Not available for viewing.
SHERIFF'S SECRET ('31 Robert J. Horner Prod.) Not available for viewing.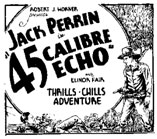 LARIATS AND SIXSHOOTERS ('31 Robert J. Horner Prod.) Not available for viewing.
.45 CALIBRE ECHO ('32 Robert J. Horner Prod.) Not available for viewing.
ZERO JAWS OF JUSTICE ('33 Principal) Elements of Edgar Allan Poe's "The Gold Bug" sneak into this dreadful Perrin (here billed as Richard Terry for some unexplainable reason) alongside a Mountie/dog (Kazan with an amputated tail!). Kazan belonged to the producer, Jack King, who also produced and starred in a low-budget B himself, "Fighting Fury" (aka "Outlaw's Highway") in '34—also with Kazan. Leading lady Ruth Sullivan was later married to badman Dick Curtis.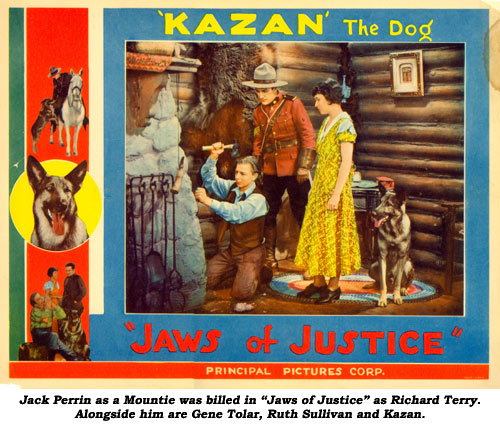 ZERO GIRL TROUBLE ('33 Reliable) An oft used marital mix-up plot makes this Bud 'n' Ben 30 minute featurette simply a comedy short in a western setting. Bud is Perrin and Ben is Ben Corbett. May be your only chance to see Perrin in drag—if you really care to.

ARIZONA NIGHTS ('34 Reliable) Minor three reeler has Rangers Bud 'n' Ben (Perrin and Ben Corbett) run afoul of crooks posing as archeologists who are smuggling aliens across the Mexican border as ancient mummies. Now there's a new twist! More action oriented than many Bud 'n' Ben shorts that were often played for comedy. This one's pretty much all Perrin and very little Corbett and, by the way it plays, it feels more like a feature that was edited down to a short subject.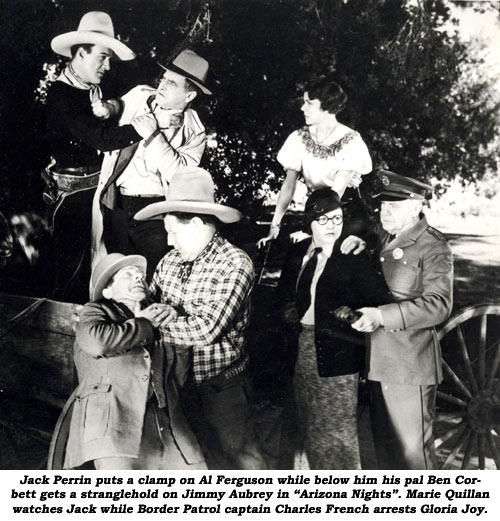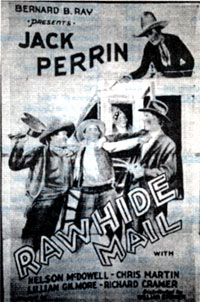 RAWHIDE MAIL ('34 Reliable) Three good-hearted bandits, Perrin and his silly-billy pals, Shakespeare-spouting ex-lawyer Nelson McDowell and Mexican Chris Pin Martin, help out Lillian Gilmore (a real non-actress) when smarmy Richard Cramer cheats her out of a saloon/dance hall she's come west to inherit. Jack opens up a rival saloon to thwart Cramer. The plot explains where Jack gets the liquor to open but fails to detail where the dealers, girls, cards, tables, musicians and gaming equipment came from. I'm sure producer/direc-tor B. B. Ray figured, "Aw, who cares? It's just another cheapie western." It's that type of slipshod non-caring thinking that brought so many of these lowbudget oaters to their knees. Remade, with no improvement, as PIONEER DAYS with Jack Randall ('40) (see WC #87).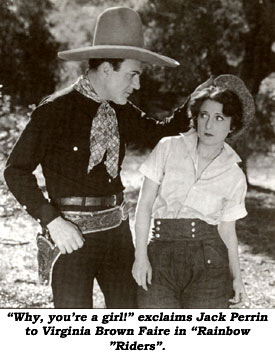 ZERO RAINBOW RIDERS ('34 Reliable) Silly yarn has Bud (Perrin) and Ben (Corbett) saving stubborn, contrary Virginia Brown Faire's Sanitarium Ranch from the clutches of evil Ethan Laidlaw. Several absolutely ludicrous plot devices destroy this 27 minute short western.
RIDIN' GENTS ('34 Reliable) Ben 'n' Ben two reeler not available for viewing.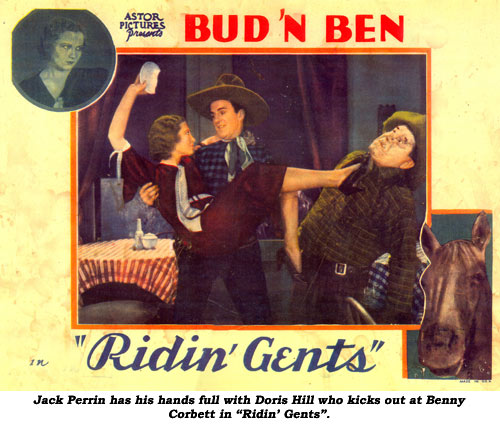 CACTUS KID ('34 Reliable) Perrin tracks down the harmonica playing half breed who killed his partner (Fred Humes) and robbed him of a $1,000 payment for wild horses. Slow as draining the last drop from the maple syrup bottle, due primarily to Harry Webb's ponderous direction.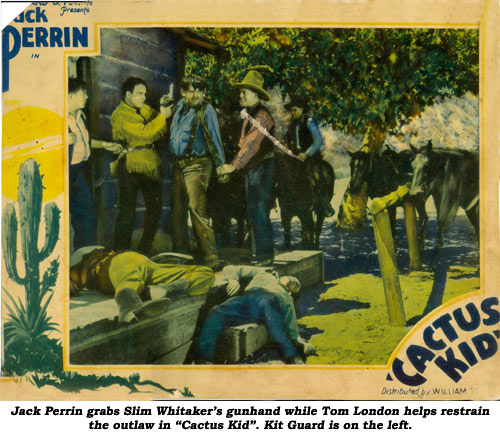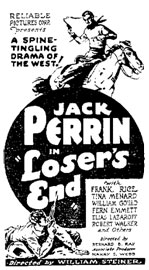 LOSER'S END ('35 Reliable) Typical of the "you mean its only half over?" B. B. Ray/Harry S. Webb school of poverty row westerns. Rambling, unfocused, meagerly plotted (William Gould smug-gling contraband) Perrin western with plenty of action but of the badly staged, push and shove variety. Uni-maginative photography, static direction and too much nonsense with potbellied side-kick Frank Rice, forlorn-faced Fern Emmett and wise-acre blonde Rosemary Joy (in her only film, thank God!).

NORTH OF ARIZONA ('35 Reliable) Loose story barely survives close scrutiny. Director B. B. Ray allows some awful continuity lapses between the first and second major scenes in this Perrin quickie. Then, at the end, Jack has George Tully (Al Bridge), Ray Keeler (Lane Chandler) and Joe Borga (Frank Ellis) sign an express robbery confession, but, a moment later, it appears signed by George Tully, Joe Borga and—Dick Smith—who is George Chesebro, knocked out by the roadside miles away! At about the 28 minute mark, as Perrin rides by the camera, you can see the shadows of some of the crew in the foreground. Later, as Jack and his Indian friends load scrap iron into a strong box in place of gold, you can hear director B. B. Ray, off screen, say, "That's enough." Constant movement with plenty of those wild swinging, push and shove fights save this from total disaster.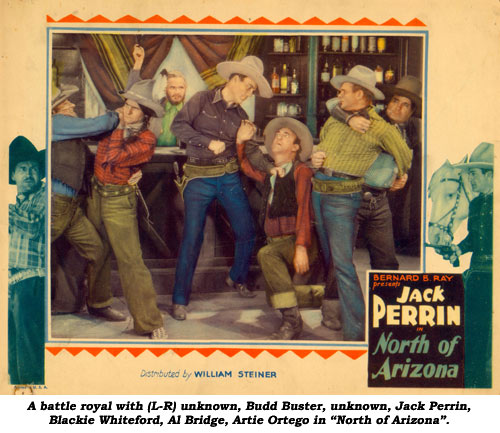 WOLF RIDERS ('35 Reliable) Government agent Perrin, raised by Indians, goes after a fur thief who has framed him for the murder of another fur thief (a delightfully over-the-top George Chesebro) when Chesebro and William Gould clash over the cheap flirt who sings in Gould's saloon.

TEXAS JACK ('35 Reliable) Perrin's sister takes a "schoolteacher job" but is forced into a cheap dancehall job across the border by saloon owner Robert Walker. She writes Jack for help, explaining she's taking her own life as there's "no way out". Although unable to save his sister, Jack goes undercover with a medicine show and is able to save schoolteacher Jayne Regan from the same fate. Oscar Gahan (Nip) and Jim Oates (Tuck) perform a blackface comedy act. Williams offers up the best line, "There may be some promiscuous shooting." The unusual-for-a-B-western adult themes of prostitution and suicide lift the interest in this otherwise dull effort.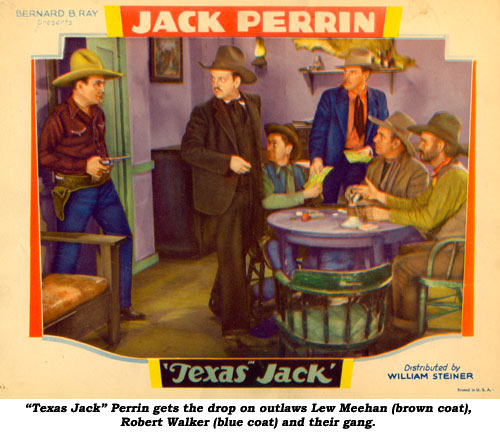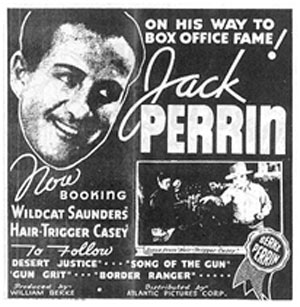 WILDCAT SAUNDERS ('36 Atlantic) Operating in the last half of the '30s, Atlantic Pictures Corp. was primarily a re-releasing outfit for bigger films made earlier in the '30s. They also distributed four slightly different William Berke produced "Blue Ribbon" Perrin westerns, all of which, while still done on the cheap, nonetheless tried to be different from the usual sagebrush dramas therefore looked and played better than much of the other independent westerns being released at that time. This was the first of the four and overall, these were the best sound westerns Perrin made. Already 40, Perrin looks younger, and does a good job as the slightly out of shape prizefighter who comes to the wide open spaces with his manager (William Gould—in a surprisingly offbeat comedic role for the usual heavy) and assistant, Fred "Snowflake" Toones, to get back in shape. Arriving at a ranch to train, they're immediately embroiled in a $100,000 Wells Fargo robbery and a case of who's got the jewels. Snowflake always played a stereotyped (for the times) black man—but it seems even more pronounced here, especially with the hateful way Tom London calls him "black boy", "Rastus" and "Crow's meat". Even Snowflake demeans himself saying he's named that "'Cause I'm so lily white!" That's the main reason you'll never see this western on TV!

HAIR TRIGGER CASEY ('36 Atlantic) Directed by Harry Fraser from his own screenplay (under the pseudonym Weston Edwards), "Hair Trigger Casey" simply doesn't measure up to the other three in the Atlantic series. Making it difficult to watch are the numerous references to genial black comedian Fred "Snowflake" Toones as "boy" and crass remarks and jokes by not only the bad guys, but Perrin as well. This degradation runs all through the picture, giving it a distinct unlikability. Plot has Army Captain Perrin called back to his ranch near the Mexican border because of mysterious activities there. Perrin and his brother Wally Wales discover Perrin's ranch foreman, ranch hand and cook secretly smuggling Chinese into the U.S. via Mexico. Oddest part is the flashback war-montage that lasts up to three minutes revealing what is going through Perrin's mind when he realizes someone has betrayed him. Berke wanted the Perrin pictures different…this is.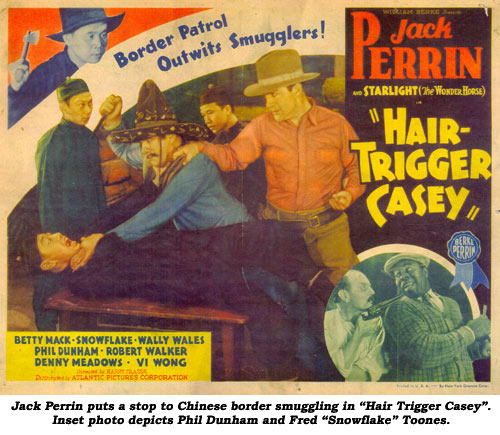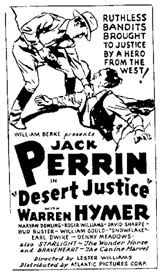 DESERT JUSTICE ('36 Atlantic) Modern day western has horses being used by the city police force being phased out. Police officer Perrin is so incensed that his mount Starlight will be sold at auction, he resigns from the force. After obtaining Starlight at the auction, Jack and Starlight leave the city for his place on the desert—which just happens to be where Jack's brother, Dave Sharpe, and his bank robber pals are hiding out. Rousing ending atop Pacoima Dam. Lee Zahler's music score in this sequence greatly enhances the excitement.

GUN GRIT ('36 Atlantic) Eastern FBI agent Perrin is sent to help western ranchers who are besieged by big city racketeers operating their protection racket on cattlemen. Striving to be different, producer William Berke (directing

under his Lester Williams alias) creates one of the most bizarre scenes in B-western history as one of the gangsters calmly plays classical music on his violin while another violently and gleefully guns down steer after steer with his rifle. Williams/Berke's direction and Robert Cline's photography is exceptional at times while bordering on amateurish home-movie-style work at others. Note: The baby in "Gun Grit" is Berke's new born son.