DON BARRY (Pt. 2)
Ratings: Zero to 4 Stars.

SUNDOWN KID ('42 Republic) With two bang up fist fests in the first 10 min., this is absolutely one of Barry's most action-packed B-westerns. Don's a Pinkerton agent after counterfeiter Ian Keith when he stumbles across his long lost mother…who has a lode of the funny money. First scene shows how good a director Elmer Clifton could be. In what could be a very stagnant scene in a cramped jail cell, Clifton turns what could have been a very dull scene into an excellent scene. Clifton's career reaches as far back as 1917, but for whatever reason, his sound work is primarily bottom rung studio stuff–Puritan, Reliable, Superior, PRC, with a few bursts of excellent work at Universal ("Deep in the Heart of Texas") and Republic (this one and Barry's "Days of Old Cheyenne", "Blocked Trail" w/3 Mesquiteers, "Capt. America" serial). Watching his unique work here, why he wasn't employed more by better studios is a mystery to me.

DEAD MAN'S GULCH ('43 Republic) It's friend against friend when Deputy Marshal Barry's ex-pony express pal, Bud Mc-Taggart, goes wrong and sides with bad company trying to maintain freight line control in the territory and oppose statehood. Comedy relief provided by Emmett "Fiddlefoot" Lynn.

CARSON CITY CYCLONE ('43 Republic) Many of Barry's films had unusual twists, different from the usual plots found in standard B-westerns. It elevated Barry's series. Here's one of the best with a script by Norman S. Hall that must have inspired director Howard Bretherton to put a little extra into it. Matching brain against brawn, Barry is a frontier lawyer, defending and getting off murderer Curley Dresden as he opposes prosecutor Roy Barcroft in front of his disapproving father, judge Noah Beery Sr. Then, when the bank is robbed and Don's Dad killed by respected Dr. Bryant Washburn, the secret leader of an outlaw gang (cleverly using a doctor's stethoscope to hear the bank safe tumblers), Don is arrested for the crime.

DAYS OF OLD CHEYENNE ('43 Republic) Barry projected a certain quiet, authoritative menace, often playing a man on the edge, a reformed outlaw or a vengeance bound gunfighter. "Days of Old Cheyenne" runs neck and neck with "Tulsa Kid" for Barry's best; certainly his most unusual plot-wise—for that matter, of all B-westerns. Wild, unsettled Barry is offered the job of town marshal by political boss William Haade and accepts in the belief Haade is really interested in cleaning up the town. Working with crusading newspaper editor Charles Miller, his daughter Lynn Merrick and their adopted son Harry McKim, Barry soon discovers Haade is the power behind an outlaw gang. Even so, Don becomes head of the territorial Rangers after busting up a bank robbery in which young McKim is killed. When Governor Herbert Rawlinson, formerly under Haade's thumb, decides to go straight, Haade has him killed and through his devious political machinations has Barry appointed temporary territorial Governor, believing he can still control Barry. Haade soon learns this is not the case as Don turns the tables on the crooked political boss and brings the gang to justice. "Days of Old Cheyenne" shows what can be done within the confines of the B-western when in the capable hands of talents like director Elmer Clifton, screenwriter Norman S. Hall and Barry. As Mike Nevins wrote in WESTERN CLIPPINGS, "When Clifton was bad, he was horrid, but when he was good, he was very, very good," as he is here, adding neat touches such as overhead camera shots during a barroom brawl, and at the end, after standing alone gunning down Haade, Barry walks slowly out as Clifton has the camera pan down while Barry empties his spent six-gun shells on the floor.

FUGITIVE FROM SONORA ('43 Republic) Likely Barry's most un-usual western in possibly the most unrecognized, under appreciated B-west-ern series ever made. Don's character here is much in the vein of William S. Hart's good/badman roles. Territorial Parole Commissioner Harry Cording concocts a scheme whereby he will parole certain hardened convicts on the condition they become part of henchman Ethan Laidlaw's gang or be killed. The outlaws then target the ranchers and homesteaders on coveted land. One of the parolees, Barry, is riding with Laidlaw's gang when a traveling preacher (also played by Barry) arrives to help leading lady Lynn Merrick and other ranchers. Barry and the preacher are twin brothers, Barry having run away from home as a boy to become an outlaw. At first denying his brother, Barry and his brother eventually reconcile as Don vows to end Cording's evil reign of lawlessness.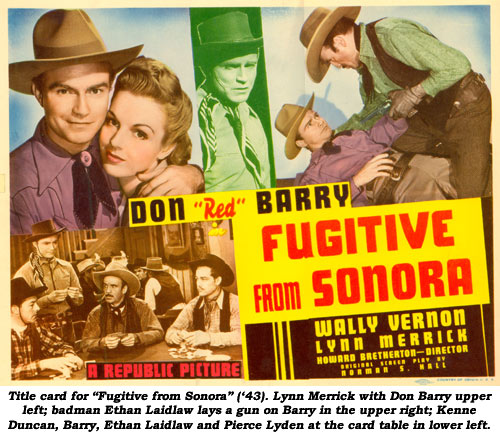 BLACK HILLS EXPRESS ('43 Republic) Although Don is an outlaw with a price on his head, the general manager of Wells Fargo is sure Don's the only man tough enough to stop the holdups. At first Don refuses the job, but when he and comedy-character deputy sheriff Wally Vernon learn Ariel Heath has been orphaned by a particularly brutal holdup of a Wells Fargo stage, Don agrees to take the job and ferrets out the bandits. Watch for the two X'd out wanted posters as dead "outlaws"—Roy Barcroft and Yakima Canutt.

MAN FROM THE RIO GRANDE ('43 Republic) Domineering Harry Cording, as executor of the estates of his niece Nancy Gay and precocious young ice skater Twinkle Watts, plots to do away with the two girls. Then he'll accept the railroad's half million dollar offer to run a right of way through the vast property. Newspaperman Kirk Alyn opposes Cording's stranglehold on King City and is joined in the fight by Barry and his New Yawker vaudeville sidekick, Wally Vernon. This western marks the auspicious debut of Twinkle Watts, a professional ice skater from early childhood; however, the lengthy sequence midway given over to her talents on ice puts a real drag on this otherwise fine action-packed Barry western. Off camera, Barry was known to refer to the troublesome tot as "Winkle Twats".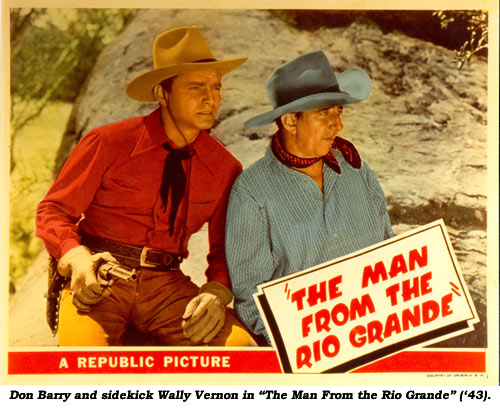 CANYON CITY ('43 Republic) Crooks temporarily disrupt service from a power company dam so ranchers (led by Roy Barcroft in a good guy role for a change) will not be able to grow crops or sell their cattle. When the ranchers go broke and cannot meet their mortgages, the badmen foreclose, then sell the property to the power company for a huge profit. Undercover, Barry (and Bronx pal Wally Vernon) investigate. Once again, Republic found a way to work their poor man's Shirley Temple, Twinkle Watts, into the plot.

CALIFORNIA JOE ('43 Republic) Efforts are being made by the Knights of the Golden Circle to get California to secede from the Union during the Civil War with Confederate operatives tapping the new telegraph line into California and sending out false orders, costing the Union valuable gold shipments. Union Lt. Barry (with his pals Wally Vernon and hot-headed Terry Frost) is assigned to find the intelligence leak. Meanwhile, Governor Edward Keane is planning to doublecross the Confederacy and establish the Empire of the Pacific, aided by Napoleon in France. Engaging, original plot. Yeah, obnoxious tyke Twinkle Watts is worked into the plot.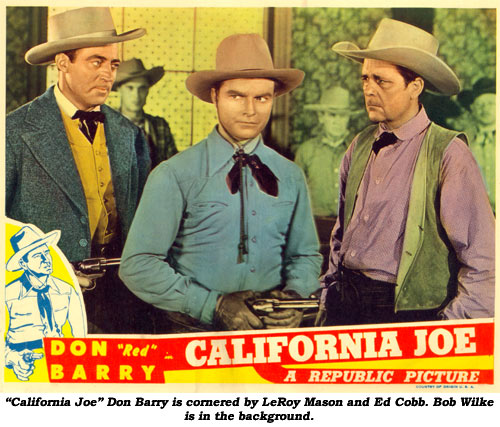 OUTLAWS OF SANTA FE ('44 Republic) Barry, who has ridden the rene-gade trail believing he is the son of outlaw Charles Morton, learns he is not Morton's son but is in actuality the son of a murdered marshal in Santa Fe. Traveling to the New Mexico town, Barry is appointed Marshal and helps rancher Helen Talbot (and her young sister Twinkle Watts) oppose the gang who rule the cattle country with a stranglehold. Trouble arrives when an old member of the Morton/Barry gang shows up with knowledge Don was once an outlaw. With this, Barry ended a four year, 29 westerns run with Republic. Vernon and Watts were moved over to the Allan Lane pictures that replaced Barry's.

THE DALTON GANG ('49 Lippert) After five years out of the saddle, Barry re-alized that's really where audiences appreciated him most, so he struck a production deal with Robert L. Lippert. When the Rincon Land and Water Co. hires former members of the Dalton Gang to drive the Indians off their land, U.S. Marshal Barry is sent to investigate, helped out by newspaper editor Byron Foulger, Betty (later Julia) Adams, daughter of a murdered land agent, and Sheriff James Millican. As produced by stockmeister Ron Ormond, the film opens with nearly a reel of stock footage about the old west.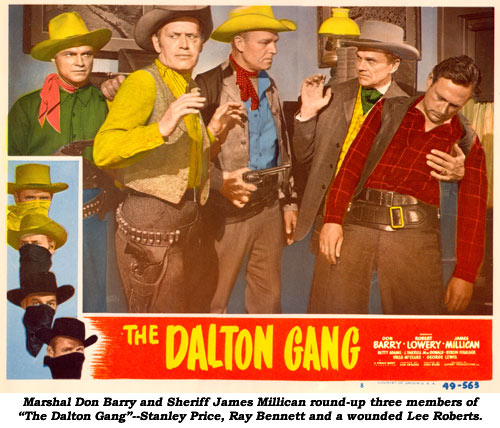 SQUARE DANCE JUBILEE ('49 Lippert) Barry turns singing cowboy (for one song) in a picture that combines a traditional western story with a "Let's put on a show" musical revue. While searching for authentic western entertainers to place on Spade Cooley's TV show, talent scouts Barry and Wally Vernon encounter cattle rustlers who are victimizing pretty young rancher Mary Beth Hughes. Listen for the inside joke: Don Barry: "We were looking for the old west—we've found it. An old town, a beautiful blonde, changing brands, rustlers, dry gulching…reminds me of a Don 'Red' Barry western." Wally Vernon: "Don 'Red' Barry? He's my favorite actor. Did you see the picture where—" Don (interrupting): "I never liked him!"

RED DESERT ('49 Lippert) Overlooked little gem as U. S. Marshal Barry tracks down jewel thieves Tom Neal and Jack Holt. There's a terrific barroom scene where Barry humiliates and makes a complete fool of heavy John Cason. Stark and unusual in its inspired, effective use by Walter Greene of an organ as the only background music for the lengthy desert trackdown scenes which gives the sequence the eerie, bleak, dry, hot feel needed. For those keeping track of presidents in movies—Joseph Crehan plays President Grant.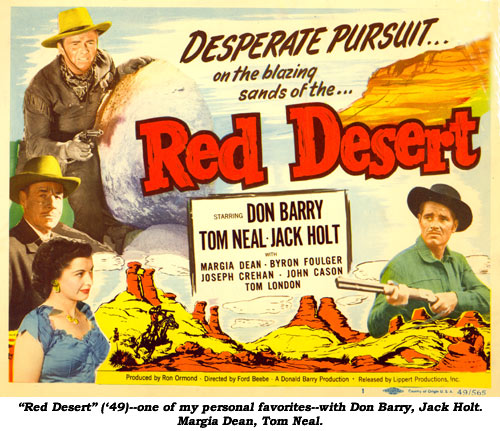 TOUGH ASSIGNMENT ('49 Lippert) Slow moving modern day western as newspaper reporter Barry and his new wife go undercover as migrant ranch-hand workers to capture a vicious gang of truck rustlers who deal in bootleg beef.

GUNFIRE ('50 Lippert) Revisionist history has outlaw Barry, a dead ringer for now retired Frank James, staging a series of robberies, laying the blame on the real Frank. Finally, Frank (Barry in a dual role) has to come out of self imposed retirement and track down his doppelganger. Hysterical historical inaccuracies continue with Marshal Robert Lowery of Creed, CO, killing Bob Ford in a duel over Pamela Blake!?! The story comes to a dead halt twice when Wally Vernon comes on to pad the running time with faded vaudeville material and a drunk act.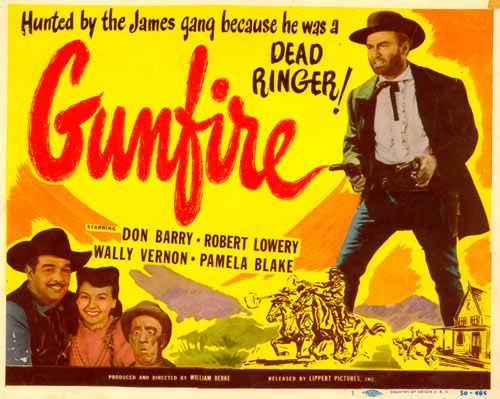 I SHOT BILLY THE KID ('50 Lippert) Barry was 38 when he played cocky kid outlaw Billy the Kid, supposedly 21 or so. Otherwise, basic facts of the Lincoln County War in New Mexico and Sheriff Pat Garrett's trackdown of him are fairly accurate. The casting of Wally Vernon as a Mexican compadre of Billy's is a little hard to swallow.

TRAIN TO TOMBSTONE ('50 Lippert) "Stagecoach" on a train as a diverse group of passengers head into Indian country. Pretty claustrophobic on that one train set after a while and the battling-off of rear projection screen Indians is scandalous.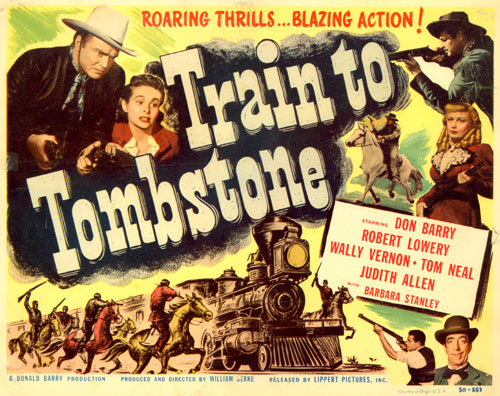 BORDER RANGERS ('50 Lippert) Texas Ranger Barry infiltrates Robert Lowery's gang in order to lure them back across the border where rangers lie in wait.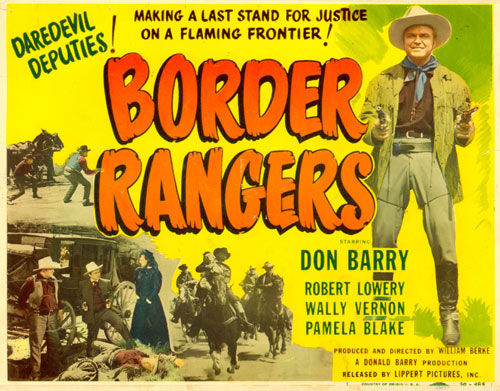 ZERO JESSE JAMES' WOMEN ('54 Panorama) Barry as an actor was fine. Barry as a producer/director guiding his own work is inept. As Jesse James, he vainly romances, trifles, and quadruple-times four women: a saloon lady from New Orleans (Lita Baron), Cattle Kate (local Mississippi actress Betty Brueck), saloon owner Peggie Castle and banker's daughter Joyce Reed. Highlight of the boring film is a clothes-ripping, hair pulling cat-fight between Brueck and Castle. Rambling plot makes it easy to see why this was Barry's only directorial job. Financing for this oddity came from Lloyd Royal who owned the Royal Theatre Circuit in Meredian, MS. Filled with plenty of local actors, this was shot on location in Silver Creek, MS.

WAR PARTY ('65 20th Century-Fox) Cavalry patrol Vs. Comanche B-plus is better than some of the "trek and talk" westerns of the late '50s-early '60s. Barry gets top billing as the hard-bitten, cigar chomping Cavalry sergeant assigned at all costs to deliver a message to the troop via a mountain pass, but unknown Michael T. Mikler as an Army Scout is the real hero. Former B-sidekick Guy Wilkerson steals every scene he's in as nutso Indian Woodenface.
ZERO FORT COURAGEOUS ('65 20th Century Fox)
Prepare for a long trek across the desert with hackneyed, trite dialog. Coming at the tail end of the '50s-'60s Cavalry cycle, FORT COURAGEOUS was filmed in Kanab, UT, back to back with CONVICT STAGE with basically the same cast. Cavalry Sgt. Fred Beir, falsely accused of rape, becomes the leader of a small troop when their Captain is badly wounded. Eventually trudging their way to Fort Courageous with an Indian chief's son as captive, they find Major Don Barry a lone survivor after a vicious Indian raid—with more still to come. Often brutal and sadistic with an unsatisfying ending.

CONVICT STAGE ('65 20TH Century Fox) Angry Harry Lauter's on the revenge trail for the killing of his sister by two vicious brothers led by their mother. Before Lauter can satisfy his bloodlust, Marshal Barry captures the brothers and lectures Lauter on the danger of living by the gun while Barry attempts to get the killers to territorial prison before their savage mother sets them free.