ROD CAMERON
Ratings: Zero to 4 Stars.

BOSS OF BOOMTOWN ('44 Universal) Rod Cam-eron and Tom Tyler make a terrific team as friendly but brawling Cavalry Sergeants. One wishes Universal had continued to team them in future B-westerns but, for reasons explained in WC #72, pg. 9, Universal opted in-stead for Eddie Dew, recently dropped by Republic. Cameron had been around Hollywood for several years at Paramount and Universal and had starred in two action-packed serials at Republic when Universal tapped him for their series western lead. Here, associate producer Oliver Drake employs his tried and true "battling buddies" formula with Cameron and Tyler breaking up a band of Army payroll bandits. Fuzzy Knight, customary sidekick to everybody at Universal (what sort of spell did he hold over Universal execs?), is along for "laffs" pursued with wedlock on her mind by diminutive Brooklynese Marie Austin. Ray Whitley's Bar-6 Cowboys contribute a few songs as Cavalry troopers. Vivian Austin, aka Vivian Coe in Republic's "Adventures of Red Ryder" serial, is the leading lady in this and the next Cameron.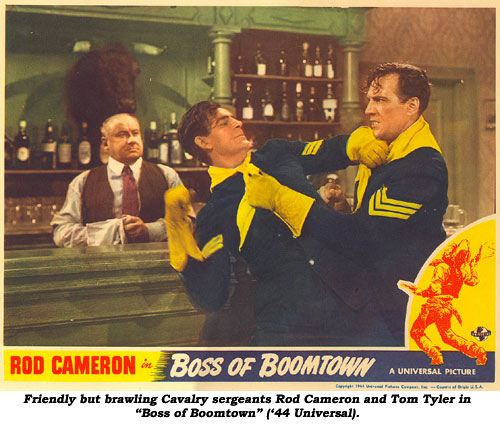 TRIGGER TRAIL ('44 Universal) Rod Cameron returns from law school to find many of his friends illegally jailed by deputy sheriff Lane Chandler who is working for land-grabbing crooked Eastern financier George Eldredge. Rod's old friend, Sheriff Eddie Dew, seems to legally have his hands tied. When young Buzz Henry is killed by Eldredge's men, Rod (along with Dew, ranch hand Fuzzy Knight, singer Ray Whitley, leading lady Vivian Austin and her Dad Budd Buster), take the law into their own hands to stamp out Eldredge's lawlessness. You don't normally think of Dew as a singing cowboy (that's usually left to Whitley and his Bar-6 Cowboys) but Dew nicely sings "Oklahoma Home" here. Fortunately, we aren't "treated" to a Fuzzy Knight song, but we are stuck with the smell of his ventriloquism with his pet skunk. Directed with speed and verve by Lewis Collins.

RIDERS OF THE SANTA FE ('44 Universal) Crooked town boss George Douglas appoints Fuzzy Knight as a figurehead Mayor he can control, but the scheme backfires when Fuzzy brings in famous lawman Cameron as town marshal who quickly hires singing Ray Whitley as his deputy and imposes a no-gun-totin' law. Douglas also seems to control water rights in the town causing lots of trouble for trail herder Eddie Dew and his sister Jennifer Holt (who is really a fifth wheel in this one). Whitley as well as Dew sing, as does—unfortunately—Fuzzy Knight. Big action windup as the badguys try to create roast beef on the hoof.

THE OLD TEXAS TRAIL ('44 Universal) A crooked businessman hires George Eldredge to thwart pretty Marjorie Clements and her father, Harry Strang, from putting a postal road stagecoach line through Texas before her option rights expire. Eldredge's man Art Fowler kills Strang, then wounds and trades clothes with Rod Cameron, a troubleshooter on the way to help finish the road. Meanwhile, the heavies have hired unscrupulous Virginia Christine (later Mrs. Olsen on TV coffeemercials) to operate a saloon where all Marjorie's men are influenced against finishing work on the road. Cameron is helped by silly insurance salesman Fuzzy Knight. With Cameron's credentials, and clothes, Eldredge has henchman Ed Cobb impersonate Cameron to fool Marjorie and Eddie Dew, her foreman. Now Cobb is in a position to sabotage the work. Cameron, meanwhile, is mistaken for Fowler by Christine and her bunch and manages to undermine Cobb's sabotage efforts. And if you think that plot's complicated, wait til you see the rest! It's a fast moving merry mix-up with screenwriter William Lively borrowing some plot elements from his "Billy the Kid's Range War" ('41). Windup is a wild stagecoach ride over an unimproved cattle trail. As usual in Universal westerns, some of the comedy elements are played too broadly by Knight. Merle Travis sings "Ridin' Down That Old Texas Trail" while Eddie Dew and Ray Whitley sing "Trail Dust" (not the same as the one heard in a Hoppy western).

BEYOND THE PECOS ('45 Universal) Suave artist and piano playing ("Don't interrupt me when I'm playing!") badman Gene Roth (who is attended by a whip wielding "guide", Henry Wills), and his cohorts stir up a range war between Robert Homans, his returning son Rod Cameron, and Eddie Dew in order to wrest control of Homans' ranch and the oil thereon. Two-fisted, two-gun action start to finish. Couple of nice songs by Ray Whitley. Only drawback is too much goofiness from Fuzzy Knight, this time as an elixir selling ex-sailor. Based on the "Oliver Drake formula" (he's producer here) of pitting two stars against one another at first (Cameron and Dew), then in the finale, joining forces to overcome the real badmen.

RENEGADES OF THE RIO GRANDE ('45 Universal) Pursued by two Texas Rangers (Eddie Dew, Fuzzy Knight) after he helped rob the Vista Grande bank, young John James makes a map to where the loot is buried and, before he dies, gives it to his brother Cameron who is then chased by Glenn Strange and his renegades. Much of the money in the bank belonged to the Salazar family of which Jennifer Holt is now mistress after her father was killed in the bank raid. Ray Whitley is Jennifer's foreman and provides a couple of songs. Thankfully, Knight only sings once. Pretty much non-stop excitement and action.
ZERO SALOME, WHERE SHE DANCED ('45 Universal) After six B-westerns, to Universal Rod Cameron looked like star material for bigger budgeted fare. Unfortunately, his first was a disaster! Actually, it was a Technicolor showcase for Yvonne De Carlo in her first major role. Episodic story has American Civil War correspondent Cameron meeting up with Viennese dancer Salome (De Carlo). They foil one of Bismark's top officers during the Franco-Prussian War and are forced to flee to America where they wind up in a small Arizona town. The locals—and local outlaw (drab, one-note actor David Bruce)—are so entranced by her dancing they rename their town after her. From there it's on to San Francisco where Salome becomes the toast of the Gold Coast, eventually finding true love in the arms of Bruce. Defying criticism, without a doubt this is a poorly scripted, badly acted, rambling film with an unbelievable script. So awful it must be seen to be believed. Universal actually spent $1.2 million to make this fiasco.

FRONTIER GAL ('45 Universal) Originally slated to star Jon Hall and Maria Mon-tez, the trouble-some Montez didn't like the script and refused to do the picture. Universal re-teamed Cameron and De Carlo elevating both to stardom in this delightful western. Story has good-badman Cameron on the run unjustly accused for killing his partner, flirting with saloon owner De Carlo. She believes he's serious about her and is embarrassed when she learns Rod really wants to marry schoolteacher Jan Wiley. At the point of a six shooter, De Carlo forces Rod to marry her. After a tempestuous wedding night, Sheldon Leonard, a gunman also in love with De Carlo, turns Rod into the law. After serving six years in prison, Rod returns to demand a divorce only to find he's the father of a daughter, Beverly Simmons. Also, in prison, Rod has learned Leonard is the man who killed his partner, the man he's been searching for. Highly entertaining western-comedy with plenty of action thrills.

BELLE STARR'S DAUGHTER ('47 20TH Century Fox) On loan-out from Universal, Rod tried his hand as a heavy. New Marshal George Montgomery raids the outlaw laden Cherokee Flats held by Belle Starr. Fleeing, nasty Bittercreek (Cameron) kills Belle in an argument. Belle's daughter, Rose of Cimarron (Ruth Roman), winds up working in a beanery in Montgomery's town, where they begin to fall in love…until Cameron's gang arrives and leads Rose astray, making her believe it was Marshal Montgomery who killed her mother. George may be the star, but Cameron steals the picture in the larger and far showier role as bandit Bittercreek.

PIRATES OF MONTEREY ('47 Universal-International) Action and adventure take a deep back seat to the romantic intrigue between Cameron, Maria Montez and Mexican officer Phillip Reed in 1840 California when American soldier of fortune Cameron is hired by the Mexican government to take a shipment of rifles from Mexico City to California. Deadly dull first 28 minutes, and putting up with the supposedly comic intervention of Mikhail Rasummy as Cameron's aide is pure torture.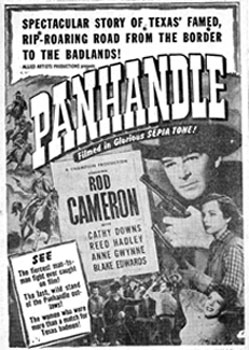 PANHANDLE ('48 Allied Artists) Ex-gunman Cameron buckles on his guns one more time to avenge the murder of his brother by saloon owner/town boss Reed Hadley. It's not the simple revenge plot that makes "Panhandle" shine, it's the style with which it's carried off, slowly building the tension between Hadley and Cameron to the final showdown in the rain on a dirty street. Anne Gwynne is Hadley's secretary who winds up (naturally) with Cameron who also spars with tomboyish Cathy Downs. Blake Edwards, who later found huge success with the Pink Panther films among others, wrote the script and is one of Hadley's gunmen as well. Edwards also wrote another of Cameron's best, "Stampede". "Panhandle", made in SepiaTone, contains one of the best screen brawls in westerns between Rod and Jeff York. A highly underrated western directed by Les Selander (pg. 39) who was so fond of it, he remade it in '66 with Audie Murphy as "The Texican", a definitely inferior film.

RIVER LADY ('48 Universal International) Domineering Yvonne De Carlo's logging syndicate, with her front man, Dan Duryea, is trying to squeeze all the small loggers out of business and monopolize the industry. Lumberjack Cameron and Duryea are rivals for the affections of De Carlo, who prefers Cameron. After much plotting and machinations by De Carlo she eventually realizes her ambitions have defeated her with Cameron's affections. This was Cameron's last film on his Universal contract; therefore they gave him, as star of the picture, third billing behind De Carlo and even Duryea to whom they were giving the buildup. Technicolor.

THE PLUNDERERS ('48 Republic) Leaving Universal, Cameron landed at Republic where he made some of his best westerns. The opening sequences have him murdering a sheriff, thus making him a wanted man. It's some time before we actually learn it's only a setup for undercover Army officer Rod to get in with outlaw Forrest Tucker's renegades. Tucker's character doesn't follow the accepted western pattern, allowing a strong bond to develop between he and Cameron, giving the film more than a little to say about friendship. When Cameron finally does bring Tucker to justice, an Indian attack on the fort has Tuck helping out but dying in the process. Female interest is split between Adrian Booth, Tucker's girl, and Ilona Massey, Cameron's romantic partner. Paul Fix is terrific, standing out as Tucker's right-hand man. In Trucolor, director Joe Kane adds his always expert pacing to the action.

STAMPEDE ('49 Allied Artists) Simply an all-out terrific western! One of Blake Edwards' earliest scripts (co-written and co-produced with John Champion) is uncharacteristic of the lighthearted comedies which later became his bread and butter. Cameron and Don Castle are cattle baron brothers who find their rangeland infringed upon when the government opens up the land to homesteaders. The tough film, directed perfectly by Les Selander, includes a brutal, graphic scene of cattle being stampeded over a cliff, a fistfight to rival the one in "The Spoilers", and a cute spanking scene with nester gal Gale Storm on the receiving end of Castle's slaps. Made in SepiaTone.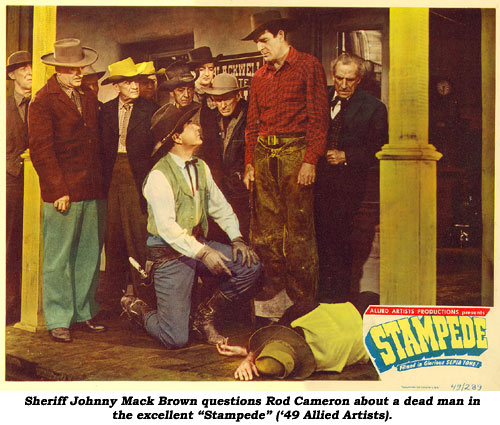 BRIMSTONE ('49 Republic) Rod Cameron stars but it's Walter Brennan's show all the way as grizzled old Brimstone Courteen, outlaw father of three sons—favored and eldest Jim Davis, dimwitted Jack Lambert and youngest and most honest James Brown, in love with settler Adrian Booth. Brennan creates one of the most memorable badmen in western screen history, even meaner and nastier than he was in "My Darling Clementine". Well written by Thames Williamson (from a Norman S. Hall story) with subtle nuances added to the script not usually found in a routine western. Veteran Joe Kane directs as Marshal Cameron appears in the renegade plagued community masquerading as an outlaw "Ghost", stealing from Brimstone's gang right after they've just pulled a job. Naturally, it's just a ploy to track down the inside man who turns out to be crooked Sheriff Forrest Tucker. In Trucolor.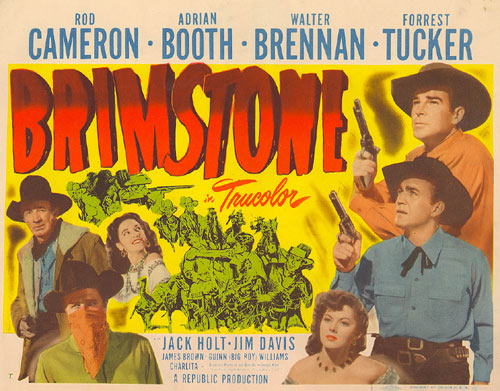 DAKOTA LIL ('50 20th Century Fox) As he was in "Belle Starr's Daughter" Cameron is a murderous bandit (he viciously strangles a train guard in the first scene) which brings Secret Service agent George Montgomery to Mexico to work his way undercover with counterfeiter Dakota Lil (Marie Windsor) and her accomplice, Cameron as Kid Curry of the Hole In the Wall Gang. Although Marie says Marni Nixon dubbed her singing, UCLA records indicate Anita Ellis was hired for the job.

SHORT GRASS ('50 Allied Artists) Cameron is blamed for the killing of Jack Ingram at Jonathan Hale's trading post, a murder actually committed by Ingram's partner Myron Healey. Struggling rancher Cathy Downs and her father Stanley Andrews save Rod's life after Rod and Healey shoot it out. Rod has recovered the money stolen from Hale and with that cash he helps Andrews and Downs buy valuable grasslands in Willow Creek. Big rancher Morris Ankrum and his young hothead brother Riley Hill also covet the grasslands. Much later, after Rod guns Hill in an argument and learns he bought into the grass with stolen money, Rod deeds his half of the ranch over to the wronged Hale and heads north. Time passes. Hale prospers, buying up grassland for Rod who eventually returns only to encounter the vengeful Ankrum who still wants to kill him for gunning his kid brother. Meanwhile, Cathy Downs has married a drunken lout and now runs the town newspaper for him. Rod is befriended by rancher Alan Hale Jr. and Marshal Johnny Mack Brown. Downs' drunken husband is killed when Rod tangles with Ankrum's gunman in a saloon shootout and the violence escalates as Ankrum tries to move his cattle onto the local ranchers' land. It's a great Tom Blackburn story not to be missed.

STAGE TO TUCSON ('51 Columbia) When Rebel sympathizers steal Butterfield stages in Arizona just prior to the outbreak of the Civil War, Cameron, a Union agent, is sent to investigate, enlisting the aid of stage driver Wayne Morris while they bicker over the affections of Kay Buckley. Action packed Lone Pine color photography.

OH! SUSANNA ('51 Republic) Republic's answer to John Ford's Cavalry epics has wise-and-popular-with troops Capt. Rod Cameron in a dramatic battle with his up-from-the-ranks, war-monger superior, Lt. Col. Forrest Tucker, to avoid the Sioux Indian wars in the Dakotas. It's gold hungry saloon owner Jim Davis who's stirring up the trouble. There's also a romantic contest between Cameron and Tucker for the affections of Adrian Booth, whose good girl/bad girl role is ill defined. Good build up to the action, which comes mostly at the end. The Trucolor effort is, unfortunately, hampered by Republic's cost cutting penchant for indoor green-sets replacing needed outdoor shots.

CAVALRY SCOUT ('51 Monogram) At the time of C Custer's massacre at the Little Big Horn, cavalry scout Cameron and cavalry lieutenant Jim Davis work together to ferret out James Millican's gun runners who have stolen two Gatling guns and are swapping them to the Indians for fur pelts. Meanwhile, Cameron and Davis are rivals for the affections of saloon/hotel owner Audrey Long. As Millican's right hand man, it's interesting to see James Arness in one of his earliest important roles. In Cinecolor.

FORT OSAGE ('52 Monogram) Cameron is a scout hired to lead a wagon train through Osage Indian Territory. Greedy, unscrupulous Morris Ankrum and Douglas Kennedy have been charging emigrants outrageous prices and all the while have broken a food and supplies treaty with the Osages, stirring them to the warpath. Rod becomes fond of pretty Jane Nigh, daughter of Ankrum who eventually reforms and agrees to obey the treaty, but not Kennedy and his boys. Tough saloon brawl between Cameron and Fred Graham is well staged. In Cinecolor.

WAGONS WEST ('52 Monogram) Pretty tame wagon train tale with Frank Ferguson running guns to the Cheyenne. Gorgeous Peggie Castle is pretty much wasted in a routine role but former Rough Ridin' Kid Michael Chapin has a nice part, even saving star Cameron's life in the last reel by jumping badman Henry Brandon. In Cinecolor.

WOMAN OF THE NORTH COUNTRY ('52 Republic) Iron ore miner Cameron stakes out a rich claim in the wild Mesabi Range of Minnesota over the objections of cruel and ruthless Ruth Hussey's family who are already entrenched in the area and don't favor any competition. She's backed by her brothers—roughneck, stop at nothing Jim Davis, and spineless John Agar (really wasted in this film with only one decent scene) along with banker J. Carroll Naish who will do anything for the iron mistress he's in love with. When Cameron emerges victorious, the delectably treacherous Hussey charms Cameron into marriage. Blindly falling for her trick, Cameron jilts his true love, Gale Storm. Eventually, Cameron wakes up to the fact heartless Hussey is only after his money and is out to break him in revenge. Very similar in plot to "River Lady".

RIDE THE MAN DOWN ('53 Republic) One of those rare little movies where everyone is perfectly cast and every performance is dead-on in Luke Short's excellent SATURDAY EVENING POST short story. When the tough old Hatchet ranch owner dies, he leaves daughter (Ella Raines) and her weak-kneed brother (James Bell) to maintain thousands of acres as owners with strong-willed ranch foreman Cameron to preserve the fabulous ranch and save it from other greedy ranchers (Brian Donlevy and Forrest Tucker) who would move in on their grass. Stirred into the evolving story is a romantic foursome—Tucker loves Raines but Raines has always looked up to Cameron who thinks he's in love with haughty town girl Barbara Britton. Fine example of how good a Republic western can be.

SAN ANTONE ('53 Republic) Mexico is struggling under the leadership of Jaurez to overthrow foreign dictator, Maximilian. From the Civil War, Cameron and Forrest Tucker have a long standing dislike for each other stemming from a fight over love interest Arleen Whelan (who overacts with wild abandon). Tucker becomes a Rebel marauder, killing Cameron's father in a raid. Cameron swears revenge and when he heads up a cattle drive to Mexico he later locates Tucker, captured by Mexican revolutionaries when he tried to join Maximilian. Along with Cameron on the drive is Rod's Mexican girlfriend Katy Jurado, whose brother, Rudolph Acosta, is the revolutionary holding Tucker ransom for 500 head of cattle, and the double-dealing Whelan, now Tucker's fiancée. Whelan and Jurado's hatred for one another finally erupts during the trail drive into a mean cat-fight. It's a complicated 90 minutes, and director Joe Kane strives for an epic sweep, the Civil War, President Lincoln, Lee's surrender to Grant, the Mexican revolution and the Battle of Monterey, but it all comes off a bit flat. One of the highlights is Harry Carey Jr., Bob Steele and James Liburn (using their real names (Dobe, Bob, Jim) singing "Ten Thousand Cattle", "Streets of Laredo" and "South of San Antone".

SOUTHWEST PASSAGE ('54 United Artists) Adventurer Cameron on a map-making expedition of the desert Southwest is also promoting camels as ideal beasts of burden for the dry, arid land. Posing as a doctor for the group, outlaw John Ireland (and his girl Joanne Dru) becomes part of the trek in an attempt to avoid a posse that is after him for robbing a bank. Cameron's mean muleskinner John Dehner gets wise to Ireland's true identity and the fact he has $20,000, threatening to expose Ireland unless he splits with him. Cameron may receive top billing, but the picture belongs all the way to Ireland. Originally lensed in 3-D and color, existing prints seem to be in 2-D b/w.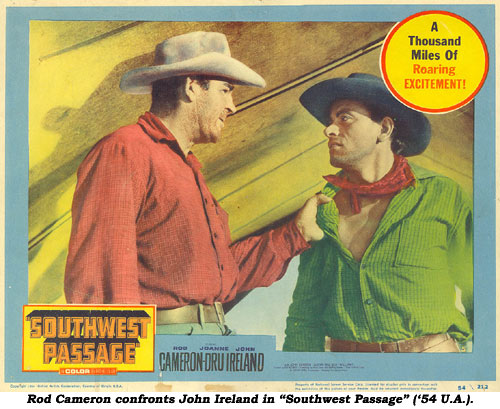 SANTA FE PASSAGE ('55 Republic) Accused of betraying a wagon train to Apache Indians led by George Keymas, John Payne is unable to find another job as wagon train scout. Enter Cameron who gives him another chance, hiring Payne to guide a large cargo of guns and munitions bound for the Mexican Army in Santa Fe through Keymas' hostile territory. The cargo is co-owned by gorgeous Faith Domergue who Cameron believes will marry him once they reach their destination. Naturally, Indian-hating Payne also falls for her, unaware she is a half-breed. When Payne learns of her heritage he must face his prejudices as well as rival Cameron. Interesting themes and stunt filled Trucolor action sequences expertly handled by director Bill Witney.

YAQUI DRUMS ('56 Allied Artists) Cameron settles on land once owned by his brother, who was driven off and murdered by nasty saloonkeeper and landgrabber Roy Roberts. When Roberts tries to evict Cameron, he tangles with more than he bargained for as Cameron is helped by Yaqui bandit J. Carroll Naish whose life Cameron once saved. Tries hard, and fails, to incorporate adult themes with traditional western material. Naish chews up all the scenery in sight from a script that is talky and slow.

SPOILERS OF THE FOREST ('57 Republic) Good lumberjack drama, set in Montana, starring Vera Ralston (and her thick Czech accent—no explanation given) as owner of 64,000 acres of rich timberland who battles the efforts of unscrupulous big lumber company operator Ray Collins and his foreman Cameron to cut down the trees. Cameron romances Ralston in hopes of getting her name on a contract to cut all the trees rather than investing in reforestation. As true love develops, Cameron sees where he was wrong, and opposes Collins. Hairy, no-brakes-wild-ride finish!

THE GUN HAWK ('63 Allied Artists) Aging gunfighter Rory Calhoun meets up with a wild kid, Rod Lauren, who reminds Calhoun of his younger days. Protecting his drunken sot of a father, Calhoun guns down the rotten Sully brothers which sets his respectful old friend, sheriff Cameron, and ambitious deputy, Morgan Woodward, on his trail. In pursuit, Cameron wounds Calhoun who is helped back to his outlaw fortress of Sanctuary by Lauren. Calhoun, slowly dying from the gunshot wound's infection, bullies Lauren into a gun duel so he may die with his own kind of dignity, and at the same time save Lauren from a wasted life like his own. In some ways surreal and surprisingly moving.

BULLETS DON'T ARGUE ('64 Walter Manley Enterprises) With the success of Clint Eastwood in "A Fistful of Dollars", many westerners headed for Europe to make films. Cameron was no exception. Outlaws rob a bank on the day of town sheriff Cameron's wedding. He pursues the pair to Mexico, captures them, then, to bring them back, has to fight the blazing desert as well as bandidos who want the stolen bank money.
ZERO BULLET AND THE FLESH ('65 Walter Manley Enterprises) Love and hatred drive this early Romeo and Juliet-ish Euro-western that plays out like Greek tragedy. The white daughter of bullish rancher Cameron and Indian brave Chato are secretly in love, making Cameron furious when he learns his daughter plans to wed "a redskin."

REQUIEM FOR A GUNFIGHTER (1965 Embassy) Hired gun Rod Cameron, befriended by circuit riding judge Tim McCoy, takes McCoy's place when the judge is gunned from ambush by outlaw Bob Steele. Riding into a town controlled by Stephen McNally and his boys, only a local couple learn Cameron's true identity and convince him to stage a trial for McNally's man Lane Chandler who has "accidentally" killed bartender Rand Brooks. Just as young orphan boy Chris Hughes reveals he witnessed McNally and his men murder Brooks, hotheaded gunslinger Dick Jones interrupts the trial and exposes Cameron as a phony judge, challenging Cameron to a gunfight. In the duel Cameron shoots the gun out of Jones' hand and, having learned the difference between gun law and law book justice, throws his weapons in the street and rides out of town. After McNally's gang is arrested by the citizens, led by storekeeper Johnny Mack Brown, young Hughes rides after Cameron, convincing him to return to the thankful town. Also in the cast are Frank Lackteen as a gambler, Zon Murray as a gunman, Raymond Hatton, Ed Cobb and Dick Alexander as townsmen. Boyd "Red" Morgan and Tom Steele provided the stuntwork for producer Alex Gordon and director Spencer Gordon Bennet.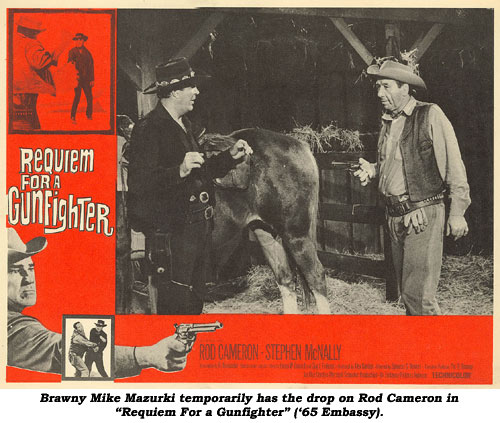 THE BOUNTY KILLER (1965 Embassy) Mild mannered Eastern tenderfoot Dan Duryea comes west, joins up with old-timer Fuzzy Knight and accidentally wipes out an outlaw gang led by Boyd "Red" Morgan. Impressed by the bounty he collects on Morgan's head, and thinking it easy, Duryea foolishly elects to become a bounty hunter in order to carve out a future for the saloon girl, Audrey Dalton, he's fallen for. Attempting to take in notorious outlaw Buster Crabbe, Knight is killed and Duryea brutally wounded. Found and nursed back to health by Dalton and her father, Richard Arlen, and mourning Knight's useless death, Duryea changes into a bloodthirsty bounty killer with a mare's laig sawed-off shotgun. Drinking heavily, Duryea uses the law to satisfy his craving for revenge killing. He eventually tracks down Crabbe and his gang, cold bloodedly murdering them all, including the kid brother of Rod Cameron, a gunfighter who once saved Duryea's life when he first came west. Gunning for Duryea, Cameron is killed by the now soul-tortured Duryea. Obnoxious and drunk, Duryea kills bartender Emory Parnell when Sheriff Johnny Mack Brown attempts to arrest him. Now on the run himself, Duryea is killed by youngster Peter Duryea (Dan's real life son) trying to make a name for himself. Strong stuff, with much to say about killing; well done by all concerned. Also in the cast—Grady Sutton as a preacher, Norman Willis as a mean miner, Bob Steele and Bill Foster as members of Crabbe's gang, Eddie Quillan as a piano player, Dan White as a territorial marshal, I. Stanford Jolley as a sheriff, Frank Lackteen as a bartender, Ed Cobb as a townsman—and—85 year old Broncho Billy Anderson with one line as a barfly. This and REQUIEM FOR A GUNFIGHTER were producer Alex Gordon's star-packed tributes to the westerns we all revere.