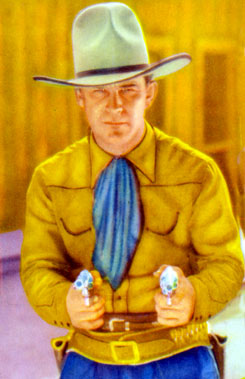 BIG BOY WILLIAMS
Ratings: Zero to 4 Stars.

THUNDER OVER TEXAS ('34 Beacon)
Probably the only profitable pictures produced by Max and Arthur Alexander's Beacon Pictures in its short existence in 1934-1935 were the five minimal budget westerns starring Guinn "Big Boy" Williams. Actually, Beacon only turned out eight films total in their one year existence. Williams was a likeable cowboy, a mite on the oafish side, whose career stretched back to silent oaters. His baffled dumbness combined with his huge frame made him more natural for comedic sidekick roles which he began to play consistently after his Beacon series ended. He worked up until '61, just before his death in '62. This first of Big's Beacon westerns produced by Max Alexander is also interesting because it was directed by a slumming Edgar G. Ulmer under the name of John Warner, based on a story by his wife, Sherle Castle. Once a top name at Universal, Ulmer angered the powers that be there (speculation runs rampant on exactly how) and wound up on poverty row. Actually, "Thunder Over Texas" is a weak western held together by Ulmer directing cameraman Harry Forbes (who never displayed any talent elsewhere) with some innovative photography. Noteworthy too is the little girl played by Helen Westcott who by the '50s was a leading lady in major films like "The Gunfighter", "Charge at Feather River" and "God's Little Acre". Perhaps the most amusing plot ploy of "Thunder…" has Big's pals (Vic Potel, Ben Corbett, Tiny Skelton) as three dopey, radio program crazy ranch hands, constantly doing impersonations of Kate Smith, Joe Penner, Rudy Vallee, Amos 'n' Andy, Ted Lewis and Baron Munchausen. The phrase "must be seen to be believed" applies! Basic plot has Big Boy protecting the daughter of a man killed in a car wreck engineered by a crooked banker and sheriff attempting to obtain railroad right of way maps. Siding with Big is pretty schoolmarm Marion Shilling.

COWBOY HOLIDAY ('34 Beacon)
Watching Big Boy Williams as the hero of a B-western is a little like watching a loveable country bumpkin sidekick in the lead. Big, as he was referred to by Will Rogers and other polo playing friends, was physically better suited to saddle pard roles (opposite Roy Rogers, Rod Cameron, etc.) and character roles. Falsely accused of a murder by leading lady Janet Chandler, Big has to track down the real killer, Dick Alexander, masquerading as the Juarez Kid (Julian Rivero) who is really an old pard of Big's. Partly filmed around Lone Pine, CA.

BIG BOY RIDES AGAIN ('35 Beacon)
A title misnomer to be sure, as Williams is never addressed by anything other than Tom. The title is simply intended by producers to let the juvenile audience plainly know that one of their favorite stars, hopefully, is back in another western. It's also worthy of noting, Big Boy wasn't relying on these Beacon B-westerns for his sole income. Also in '35 he played two highly praised dramatic roles at Paramount as a sadistic thug in "The Glass Key" and a dangerous madman in "Private Worlds". In this William Nolte story, infirm, grouchy old man Charles French is murdered one dark and rainy night. In a note, French, who is Big Boy's Dad, leaves $50,000 in cash hidden in the house but he is murdered by a masked intruder before he can complete the note. Big and his pal, Bud Osborne (in his only sidekick role?), have several suspects to contend with: lawyer William Gould, foreman Victor Potel, Chinese cook Louis Vin Cenet and neighboring rancher Lafe McKee. The answer is pretty obvious to loyal B-western watchers, and besides, several of the suspects are eliminated way too prematurely to give the story much suspense or surprise. A trail of crudely scratched X's all over the house eventually leads to a hidden trap door and a tunnel underneath the house. The ambiguous ending leaves unanswered why the Chinese cook poisoned the poor little dog and what he was looking for—even at the end? Cowboy Cancer Alert: Big smokes a pipe in one scene then later states, "I'd give anything for a cigarette!" William Nolte let Earl Snell and John Vlahos take credit for his story on "Saddle Mountain Roundup" ('41) with the Range Busters. Nolte was production manager on that series. The remake did a better job of keeping the cloaked killer's identity secret a bit longer.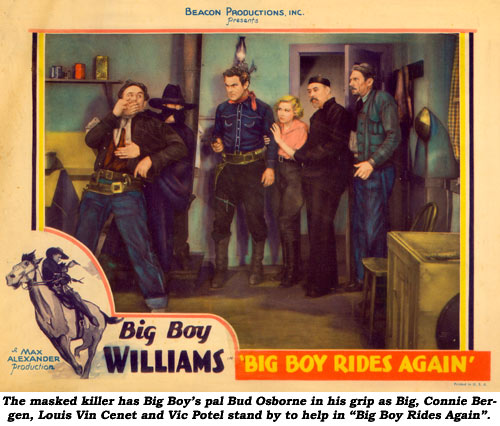 DANGER TRAILS ('35 Beacon)
The best of Williams' starring quintet for Beacon has him coming west to find the father he's never seen (since age 2) only to find him a notorious outlaw and Big has three outlaw half brothers. Big falls for the Sheriff's daughter and not only must make peace with his badman Dad but rescue the girl from his evil half brothers. Distinctive use of terrific Lone Pine locations. By the way, there's a scene where Big and his horse, Sonny, share an intimate moment, the hero really does kiss his horse!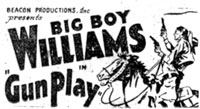 GUN PLAY (aka LUCKY BOOTS) ('35 Beacon)
Unique plot as the secret to a Mexican revolutionary leader's hidden treasure is concealed in a pair of boots which Big Boy comes across in strange fashion. The treasure, hidden on a ranch is sought by crooked lawyer Tom London and his henchie, Roger Williams—via the boots. Interesting is Big Boy's "singing" of "Home On the Range". Not sure if they were parodying singing cowboys or—they certainly weren't trying to outdo Autry, not with Big's voice! Max and Arthur Alexander, immigrant siblings from Germany, formed Beacon Pictures in 1934 (and later Colony in 1936), producing westerns with Big Boy Williams (and Rex Bell and Ken Maynard at Colony). The Alexander brothers first became associated with movies in their native Germany, working for Universal in Frankfurt. Nephews of Universal honcho Carl Laemmle, they migrated to Hollywood with the coming of sound. The Alexander brothers, even though obviously working in the lowbudget independent end of B-westerns, somehow managed to give their pictures a bit classier, more professional look…both the ones at Beacon and Colony. When the brothers' Beacon Pictures began to fail due to lack of operating capital and poor distribution, they aligned themselves with First Division as their distributor. The final Williams starrer, "The Law of 45's", came out under Arthur Alexander's quickly formed Normandy banner. Then the Alexanders aligned themselves with Rex Bell and formed Colony.

THE LAW OF 45'S ('35 Normandy/First Division)
When the Sheriff's law fails, Big Boy employs the law of his '45s to bring down crafty shyster attorney Ted Adams, as nastily smooth as he ever was in any western. The story itself is a fairly faithful adaptation of William Colt Macdonald's 3 Mesquiteers characters (predating the Republic series by a year). Still, Bob Tansey's script changes Stony Brooke to Stoney Martin and places him in the role of comic sidekick. Big Boy has the lead as Tucson Smith. Macdonald's source novel is THE LAW OF THE FORTY-FIVES and print advertising calls the film "The Law of the 45's", but the on-screen title is "The Law of 45's". Jack Kirk's ad-hoc musical group, the Wranglers (including Glenn Strange), sing by a campfire—and even Big Boy attempts a few notes.
[Although now relegated to the titular sidekick role, "Powdersmoke Range" is worth listing here because it is again a 3 Mesquiteers film, before Republic latched on to the threesome.]

POWDERSMOKE RANGE ('35 RKO Radio)
RKO certainly was not about to launch a series of Three Mesquiteers westerns, but they packed every western star they could lay their contracts on for this sagebrush oddity, and therein lies its charm, fame and reputation today because, in reality, it is a rather dull, talky, lethargic, Wallace Fox directed, Adele Buffington scripted western. And other than Tom Tyler's cold-eyed Sundown Saunders gunman, the performances are pretty routine. The film was wisely advertised for its all star cast, thereby receiving playdates in theatres not normally known to book standard B-westerns. Based on a novel by William Colt MacDonald, Harry Carey is Tucson Smith, Hoot Gibson is Stony Brooke and Big Boy Williams is Lullaby Joslin. A quite different casting approach than that taken by Republic a year later. Also in the star-studded cast are Bob Steele, the aforementioned Tom Tyler (both later to be Mesquiteers themselves at Republic), Wally Wales, Buzz Barton, Art Mix, Buddy Roosevelt, Buffalo Bill Jr., Franklyn Farnum, William Desmond, William Farnum—many in don't-blink-or-you'll-miss-'em cameos. The stale plot has Carey/Gibson/Williams opposing a corrupt town sheriff and Mayor. Necessary to see as a B-western curio, nothing more.