GARY COOPER
(Pt. 2)
Ratings: Zero to 4 Stars.
Returning to the saddle after three years Gary Cooper was now 49 and about to embark on some of his most action packed, best remembered Westerns—along with his Academy Award winning role as Marshal Will Kane in "High Noon".




DALLAS ('50 Warner Bros.) We first see ex-Confederate Colonel Cooper as gunslinging Blayde "Reb" Hollister facing off in a sun-baked street against Marshal Wild Bill Hickok (Reed Hadley). Believed killed by Hickok in the ensuing

gunfight it's soon revealed as only a ploy allowing Cooper to switch identities with newly appointed dude U.S. Marshal from Boston Leif Erickson who has been sent to clean up the rustling in Dallas. When Cooper rides into Dallas posing as the Marshal with Erickson as his deputy he soon discovers the rustling Marlow brothers (Raymond Massey, dim-witted Steve Cochran and quick-tempered Zon Murray) are the same carpetbaggers who burned down Cooper's home in Georgia during the Civil War. Erickson is also the fiancé of Mexican rancher Antonio Moreno's daughter Ruth Roman, but that soon changes with Cooper's arrival. Voluptuous Barbara Payton is totally wasted in two brief scenes but offers one scathing line to Cochran, "You'd get your pockets picked in a graveyard!" One reviewer summed up "Dallas" perfectly—"Director Stuart Heisler keeps the pace flowing like the local saloon's liquor. Max Steiner's score gallops like a Hell-for-leather posse and prolific screenwriter John Twist fires scene after scene with great dialogue."




DISTANT DRUMS ('51 Warner Bros.) In this fresh take on Westerns, buckskin clad Indian fighter Capt. Quincy Wyatt (Cooper) leads a military expedition consisting of 40 hardened Indian fighters with scout Arthur Hunnicutt into the Everglades to blow up a Spanish fort supplying munitions to the warring Seminoles under the leadership of Ocala (Larry Chance). In blowing up the fort they also rescue lovely Mari Aldon. Pursued by the hostiles, Cooper must then lead his men through the swamps to the safety of his own island refuge. Heavily outnumbered, Cooper challenges Chance to one-on-one man-to-man combat. Action director Raoul Walsh provides plenty of thrills in a loose remake of his own WWII film "Objective Burma".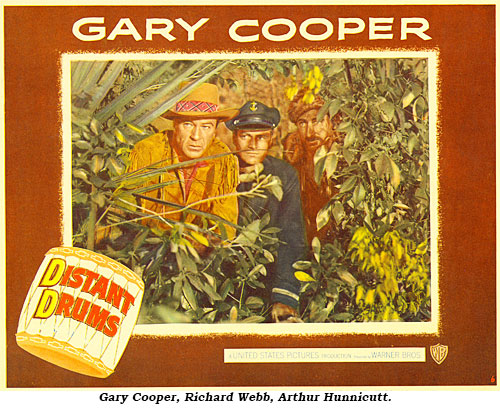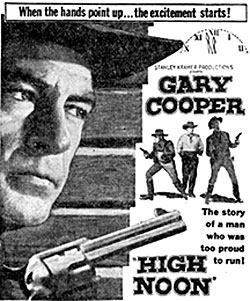 HIGH NOON ('52 UA) The definitive statement on heroism, love and devotion and doing the right thing. A superb work of climactic suspense from director Fred Zinnemann who was nominated for an Academy Award. The intense, heart-stop-ping performance by Cooper won him his second best actor Oscar. Elmo Williams and Harry Gerstad won for editing and Dimitri Tiomkin won for best score and best song along with Ned Washington's lyrics. For those who have never seen this Western classic (hard to imagine) it's the story of the town of Hadleyville and its Sunday citizenry with Marshal Will Kane (Cooper) at first surrounded by all his friends after just marrying Quaker bride Grace Kelly. The couple is about to leave town and peacemaking behind when news arrives that Ian MacDonald, a "kinda crazy" killer Cooper sent to prison five years ago, has been pardoned and will arrive in Hadleyville on the noon train, bent on revenge. MacDonald's brother (Sheb Wooley) and two hardcases (Lee Van Cleef, Bob Wilke) are waiting at the train depot to help gun down Cooper. Kelly begs Cooper to leave town but he realizes MacDonald would pursue them wherever they went. He must stay and see it through. "I've never run from anyone before." Cooper tries to enlist the aid of his fellow townsfolk, but one-by-one his cowardly, hypocritical "friends" all abandon him (Judge Otto Kruger, townleader Thomas Mitchell, good friend Harry Morgan, deputy James Millican, retired lawman Lon Chaney and brash deputy Lloyd Bridges who wants the Marshal's job for himself). A subplot involves Katy Jurado, a Mexican lady of dubious reputation who has had affairs with both Cooper and Bridges. As the clock edges in real time toward noon with magnificent close-ups of Cooper's anxiety ridden face and Tex Ritter's ominous song warning of impending doom, the Marshal knows he must go it alone. The tension is full tilt as the clock ticks off high noon when MacDonald's train arrives. The imminent gunfight is still one of the most realistic ever filmed. From its tension-ridden, unspoken opening to its dramatic finale, not a frame is wasted in this masterful landmark Western, brilliant in its honest simplicity. To further heighten the film's tension, Dimitri Tiomkin and Ned Washington wrote "Do Not Forsake Me, Oh My Darlin'" sung by Tex Ritter. A song that has become a Western classic. The song and Tiomkin's score both won Oscars.
Cooper was perfect in the role, stating, "It was a challenging role—and I loved it, but it took everything I had—and I gave it everything I had." Cooper was ill during the 31 days of filming but director Zinnemann remembered, "It didn't stop Cooper from working very hard, long hours. He did, in fact, look haggard and drawn, which was exactly what I wanted for the character."




SPRINGFIELD RIFLE ('52 Warner Bros.) Although it follows a standard Western blueprint of the hero (Cooper) going undercover to crack open an outlaw gang, Andre De Toth's action-laden direction filled with wild, hairy-assed stunts, Cooper's expert playing (along with others) and a better than average script from Charles Marquis Warren and Frank Davis (from a story by Sloan Nibley who supplied Republic with the same plot in B-Westerns) lifts "Springfield Rifle" into lofty A-Western territory. As a Union Major out west during the Civil War, Cooper purposely clashes with Captain Phil Carey in order to get himself court martialed out of the Cavalry on charges of cowardice in order to infiltrate a Confederate gang of horse rustlers led by David Brian and put his counterespionage plan into effect. Perfectly orchestrated attacks on Cavalry horse arrivals leads Cooper to believe an insider is supplying Brian's raiders with secret information. The finale has Cooper breaking open the gang with the Union's untested Springfield rifles. Second billed Phyllis Thaxter as Cooper's wife has little to do. Brian's gang includes Lon Chaney, Alan Hale Jr. and Jack Woody. James Millican is offered as a red-herring for the insider spy. Lt. Colonel Paul Kelly is Cooper's long-time family friend and commanding officer. Rest of the superb cast includes Big Boy Williams, Martin Milner, Michael Chapin (as Cooper's young son), Ben Corbett, William Fawcett, James Brown, Rory Mallinson, Richard Hale, Fess Parker, Holly Bane, Ewing Mitchell, Ray Bennett, George Eldredge.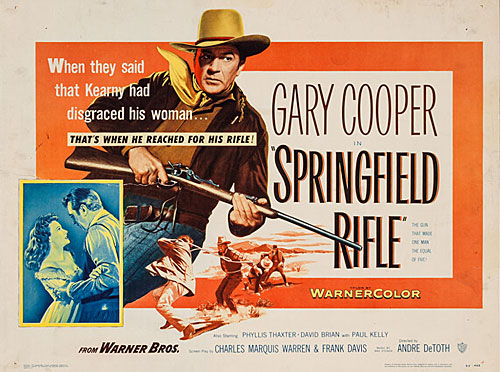 GARDEN OF EVIL ('54 20th Century Fox) Spectacular Mexico locations and above average acting highlight this routine tale of gold, greed, lust and hatred as three stranded adventurers, the strong silent Cooper, cynical gambler Richard Widmark, lustful, greedy Cameron Mitchell, and one Mexican Vaquero, Victor Manuel Mendoza, are tempted by the lure of money and gold to journey deep into Mexico to help fiery Susan Hayward free husband Hugh Marlowe who is trapped by a landslide in their gold mine. Passion, jealousy and greed flare as the party is besieged by murderous Indians. Photographed in Cinemascope and directed by Henry Hathaway. Terrific psychological thriller.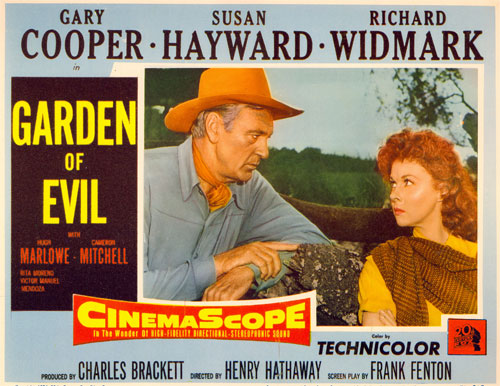 VERA CRUZ ('54 U.A.) A relentlessly exciting game of intrigue and inventive
one-upmanship between grinning gunfighter Burt Lancaster and sober, laconic ex-Southern officer Gary Cooper. Exaggerations, improbabilities, reversals and variations on the traditional Western as the two soldiers-of-fortune adventurers meet in war-torn Mexico and take a job for Emperor Maximilian (George Macready) to escort a shipment of gold bullion and the Emperor's aristocratic lady (Denise Darcel) from Mexico City to Vera Cruz. Cooper and Lancaster are to protect the caravan—with the aid of imperial troops led by nasty German Lancer officer Henry Brandon and Maximilian's trusted general Cesar Romero—against raids by Juarez's rebels. As all these factions meet on the action-filled journey to Vera Cruz, each traitorously plots to steal the Emperor's carriage in which the gold is secreted. Also with Charles Bronson, Ernest Borgnine, Jack Elam, James Seay, Charlie Horvath, Jack Lambert, Morris Ankrum and Sarita Montiel as a sexy, plotting Juarista. Pure over-the-top, lavishly-photographed, outrageous Western fun!


FRIENDLY PERSUASION ('56 Allied Artists) With the coming of the Civil War a peaceful family of Indiana Quakers face the conflict that disrupts the family when Anthony Perkins, the son of Cooper and Dorothy McGuire, feels a determined duty to fight for the Union even though he's morally opposed to war. After a battle in which Perkins is injured, an embittered Cooper goes into the war zone to save his son. The title tune sung by Pat Boone became a huge hit. Director William Wyler injected a great deal of homespun humor into the film which is overlong at 137 minutes and often a bit preachy.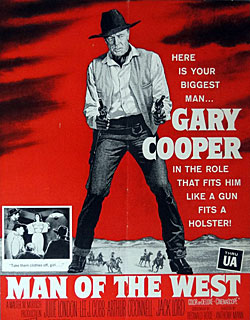 MAN OF THE WEST ('58 U.A.) Anthony Mann's many unique '50s Westerns with James Stewart, Robert Taylor and Henry Fonda definitely label the director as the "Man of the West". This one with Cooper is unflinchingly his masterpiece. The theme revolves around Cooper's relationship between his violent past and his present peaceful existence. Once the right arm of half-mad outlaw leader Lee J. Cobb, Cooper is hauntingly fearful of being sucked back into his sordid past. He realizes to finally destroy that past and survive in his respectable present he must revert to his cold, brutal, lethal ways and kill all the gang members. "Man of the West" is a stark, raw, deeply psychological, but powerful look at a struggling changing West where these savage men no longer have a place, typified by the bleak ghost town in which the final confrontation takes place. Superb performances by not only Cooper and Cobb, but a cruel Jack Lord, a trapped Julie London, mute killer Royal Dano, nervous, weak con man Arthur O'Connell and John Dehner who has replaced Cooper as Cobb's trusted second-in-command. Also with Bob Wilke, Jack Williams, Guy Wilkerson, Chuck Roberson, Frank Ferguson, Lloyd Corrigan, Tom London. Not to be missed!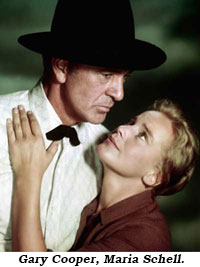 THE HANGING TREE ('59 Warner Bros.) Cooper is an embittered doctor with a sordid past who establishes a practice in a backwoods Montana mining community. After rescuing sluice box robber Ben Piazza from a lynch mob and reforming him, Cooper then gently and lovingly heals Swiss girl Maria Schell, the injured and temporarily blinded sole survivor of a stagecoach robbery. Unbeknownst to them, Cooper grubstakes Schell and Piazza to buy into a gold claim with disreputable Karl Malden. After striking it rich, the lecherous Malden attacks Schell which prompts Cooper to kill Malden. Tempers flare and tensions rise as the angry mob of townspeople, egged on by over-zealous, wild-eyed preacher George C. Scott, take Cooper to the hanging tree to lynch him but Schell and Piazza buy them off with their gold, thus returning the favors Cooper bestowed upon them. Excellent performances overshadow some of the minor script flaws. Well directed by Delmer Daves with a terrific story telling title tune written by Mack David and Jerry Livingston and sung by Marty Robbins.



ALIAS JESSE JAMES (59 U.A.) Cooper has a cameo along with Roy Rogers, Gail Davis, Jay Silverheels, Hugh O'Brian, Ward Bond, Fess Parker and James Arness who all, in their respective Western roles, come to the aid of insurance salesman Bob Hope who stupidly sells Jesse James (Wendell Corey) a $100,000 life insurance policy, then has to keep Jesse alive.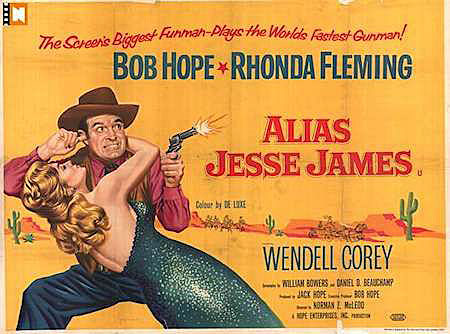 THEY CAME TO CORDURA ('59 Columbia) Major Cooper is branded a coward after a moment of hesitation in a battle against Pancho Villa forces in Mexico in 1916. In exchange for not being disgraced, Cooper is being punished and assigned by his commanding officer, Colonel Robert Keith, the public relations task of writing up Medal of Honor awards for soldiers in the campaign against Villa's revolutionaries. Angry when Cooper selects men for whom Keith does not approve, and is himself not written-up for a medal by Cooper, the Colonel orders Cooper and the men (Van Heflin, Tab Hunter, Richard Conte, Michael Callan) across the desert to a rear military base at Cordura. Keith expects them all to die during the forbidding desert trek. Along with them is Rita Hayworth who is to be taken back as a traitor. During the arduous trek, all order begins to break down and the heroes begin to display their worst sides while Cooper shows his inner strength trying to keep the now mutinous group together—even at gunpoint. The film is about a man's discovery of true courage but at 123 minutes the journey to Cordura is slow and bleak. It wasn't helped by apparent studio re-editing of director Robert Rossen's work. Unaccepted by the public, the film ended up losing more than $5 million.