DICK FORAN
Ratings: Zero to 4 Stars.

MOONLIGHT ON THE PRAIRIE ('35 Warner Bros.) Billed as "First of the new Warner westerns," it was WB production supervisor Bryan Foy's decision to get back into series wes-terns, a genre they'd abandoned since the '32-'33 John Wayne west-erns, which were mostly remakes of their Ken Maynard silents. Foy at first sought out WB leading man Lyle Talbot who had a good, but seldom used, singing voice, but Talbot declined as he was not fond of horses. Foy then turned to Dick Foran who possessed a trained singing voice and projected a likeable personality. Although the Foran westerns have solid production values and the benefit of strong casts, what Warner Bros. never got right was what historian Les Adams called "that self-taught, down-home, Mama-and-all-them brand of Americana so easily and naturally projected by Gene Autry, Tex Ritter and Roy Rogers among the singers, and John Wayne, Buck Jones, Bill Elliott and Johnny Mack Brown among the straight action performers." This first Foran has Dick blamed for a killing he didn't commit. Learning the murdered man's son, little Dickie Jones (and his Mom Sheila Manners), will lose his father's ranch unless he occupies it by midnight and stays on the property til he's 21, Foran pitches in to help, eventually rooting out the real killer trying to prevent Dickie from inheriting the ranch. Foran's sidekick (he didn't have a steady one as most B-western stars did) is always-hungry George E. Stone. Gordon (Wild Bill) Elliott has a small role as a cattleman's investigator. WB used him this-a-way in a couple more Foran westerns before Elliott became a star with producer Larry Darmour through Columbia and, of course, later Republic.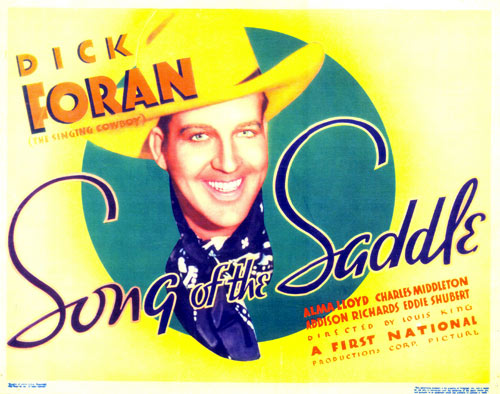 SONG OF THE SADDLE ('36 Warner Bros.) Snaky trading post operator Charles Middleton and his boys rob and murder young Foran's father. Young Dick recognizes the owlhoots and swears revenge. 15 years later, a young man known only as the Singing Kid comes to town and begins robbing Middleton-owned stages. At one odd point, outlaw Gene Alsace bursts into song—and his voice is dubbed by Bob Nolan. Oddly, Nolan and the Sons of the Pioneers are also in the picture.


TREACHERY RIDES THE RANGE ('36 Warner Brothers) When a treaty between the U.S. government and the Cheyenne makes it illegal for white hunters to shoot buffalo, contemptible buffalo hunters hatch a scheme to force the Indians to break the treaty. It's up to Cavalry Captain Foran to restore peace. Fast paced, but not as involving as most of Foran's B's.

CALIFORNIA MAIL ('36 Warner Bros.) To award the mail contract, a 4th of July stagecoach race is devised over dangerous territory. The bad guys rig the race by sabotaging Foran's coach then later steal his horse, Smoke, in order to blame a robbery on Foran by using the recognizable Smoke and a lookalike Foran (Bob Woodward). Let's just say Smoke metes out justice! One glaring error midway: Foran, for a time, is riding a pinto when he comes upon a stage holdup. Cut to the holdup. Back to Foran—on a black horse! Back to the holdup then back to Foran once again on the pinto! Roy Rogers fans will be pleased to hear him call a square dance…and the Sons of the Pioneers all back up Foran on a song. This one is worth watching alone for some of the very funny moments with comedic outlaw Glenn Strange.

TRAILIN' WEST ('36 Warner Bros.) President Abraham Lincoln sends secret service operative Lt. Dick Foran to investigate enemy activity and quell an uprising of guerilla warfare. To do so, Foran enlists the aid of undercover secret service agent Paula Stone, posing as a dance hall girl in a gambling establishment, and Eddie Shubert (as designated sidekick Happy). Extremely well directed with a flair for excitement, speed and movement by Noel Smith, such as the scene where Dick edges his horse, Smoke, narrowly over a fallen tree resting atop a dangerously deep chasm. Also when Foran and Addison Richards tangle midway over Paula Stone, it's a slam-banger! A bit jarring in retrospect to witness Bill Elliott as the boss heavy after seeing him as the stalwart hero in scores of Columbia and Republic westerns, but at the time this was made his starring days were still a couple of years away.

GUNS OF THE PECOS ('37 Warner Bros.) Belting out "The Prairie is My Home" Foran is hell-bent for thrills riding with the Texas Rangers to bring law and order to a gang of horse rustlers. Certainly no new ground is broken in this formulaic plot, but it's well handled with a big battle finish. Bill Elliott cameos as a loud talking dude.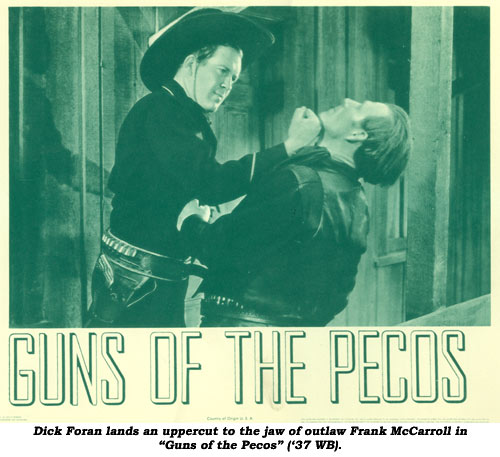 LAND BEYOND THE LAW, THE ('37 Warner Bros.) When his father is murdered by rustlers, young Foran becomes Sheriff of a lawless town in New Mexico. Supposedly a remake of Ken Maynard's "Land Beyond the Law" ('27) and John Wayne's "Big Stampede" ('32) but only the barest essentials are evident. This one has absolutely everything that's worthy in a top flight B-western—fast paced, thrilling action, a rousing original music score, a pretty girl (Linda Perry), a smart horse, nefarious badmen, rescues, chases—all extremely well put together by director B. Reeves "Breezy" Eason. Often not placed there, but Eason belongs in the 'classic action directors' category alongside Bill Witney, Spence Bennett, Yakima Canutt, John English and Joe Kane. Eason helped (uncredited) on the burning of Atlanta sequence in GONE WITH THE WIND. A young Wayne Morris is Foran's best friend. At their best, like this one, the Foran films came as close to hitting the mark in the mix of real and fantasy-world west of Gene Autry as any other singing cowboy series. At times wildly unrealistic, but pure musical cowboy entertainment.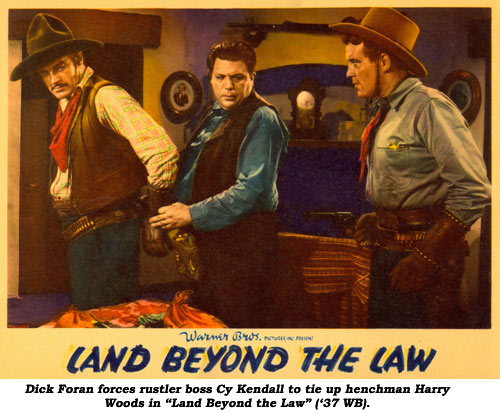 CHEROKEE STRIP ('37 Warner Bros.) This is the well remembered B-western in which Dick sings "My Little Buckaroo" lullaby to young Tommy Bupp (who at one point sings with Foran on another song). Matter of fact, the working title for this Oklahoma landrush western was "The Little Buckaroo". Apparently, Warner Bros. felt that was too tame to sell. Leading lady is Jane Bryan (born 1918), Bette Davis' protégé at WB. Vastly talented, she left the screen in '40. A few months earlier, in '39 at 21, she'd become the wife of rising young Walgreen's executive Justin Dart. He later formed Dart Industries, maker of Tupperware. Their daughter, Jane, became the wife of Richard Nixon aid John D. Ehrilichman. Bryan herself served on the federal arts commission in Washington. She's also served as governor of the L.A. Natural History Museum. Frank Faylen as Ed Cobb's right hand gunman shows why he quickly moved up to the A list of character actors. Dwyane Hickman's daddy on TV's "Dobie Gillis", he was married to Carol Hughes, frequently an Autry/Rogers leading lady. Former silent star Jack Mower came to Hollywood circa 1914. He starred in nine westerns for Westart in '21 and played the lead in eight silent serials over the years, then later starred in several Universal two-reel silents in '23-'26. In '24-'26, for unknown reasons, he made several starrers under the name Jack Meehan. He made the transition to sound easily and worked until the late '50s, quite often at Warner Bros. Here he's David Carlyle's business partner. Carlyle, incidentally, dropped that moniker after a year and became much better known at Universal as Robert Paige. His wife in "Cherokee Strip" is Helen Valkis who moved up to Foran's leading lady in his next western. Notice Glenn Strange playing his fiddle with the music group. Many of the land rush scenes are culled from William S. Hart's last silent, "Tumbleweeds".

BLAZING SIXES ('37 Warner Bros.) Foran and his pal, Pee Wee (Glenn Strange), are undercover government agents out to capture "respected citizen" John Merton and his desperadoes who rob gold shipments being sent from the mint to local banks and then smelt it down and ship it out of the country. Helen Valkis and her Aunt upset the bandit's plans when they arrive from the east, having inherited the ranch Merton is using as a hideout for his crooked smelting operation.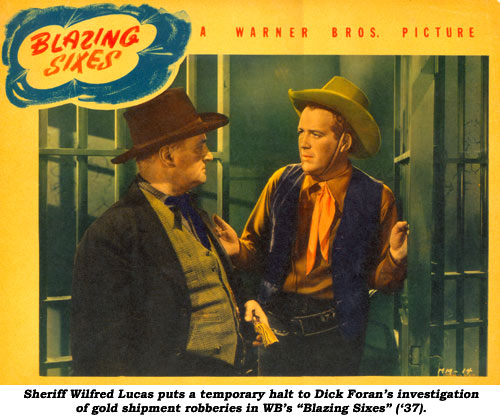 EMPTY HOLSTERS ('37 Warner Bros.) The better the villain, the better the hero looks, and Emmett Vogan's murderous, lecherous Ace Cain is one of the nastiest villains in B-western history as he railroads Foran into prison for five years just because they dote on the same girl. When Foran is released—look out! Usual heavy Glenn Strange is Dick's sidekick. Watch for the terrific close-up of silent star Neal Hart as Pete.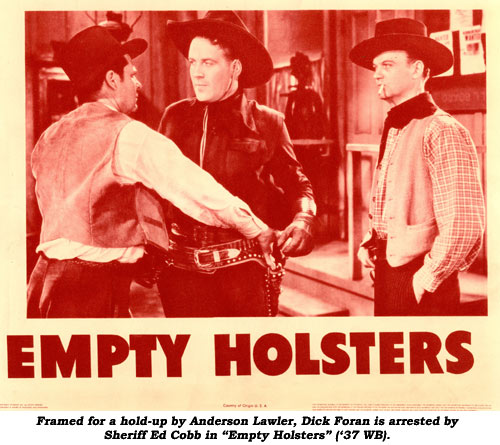 DEVIL'S SADDLE LEGION ('37 Warner Bros.) Framed for a murder he didn't commit, Foran is thrown onto an illegal dam building gang headed by snarling George Chesebro and the Ordley family who are building the dam to change the course of the Red River, taking land away from Texas and giving it to the Ordley ranch in Oklahoma. And that's only the basics of a very convoluted plot! Noteworthy in the Foran series is that each film was individ-ually scored, quite unusual for '30s westerns. Glenn Strange is again Foran's sidekick Pee Wee. This was the first role in movies for Willard Parker and he's obviously not yet comfortable with line delivery. Parker became the star of TV's "Tales of the Texas Rangers" ('55-'58).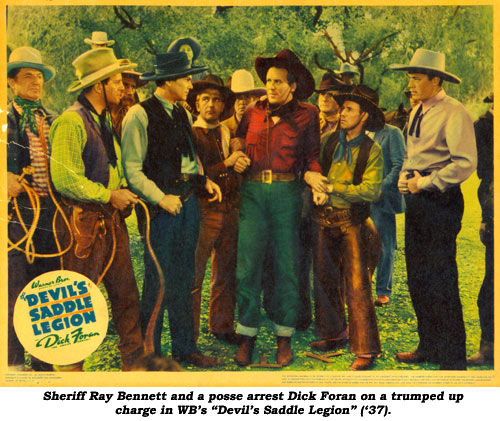 PRAIRIE THUNDER ('37 Warner Bros.) The final Foran B-western has a "wrap-it-up" cheap feel to it from the overuse of Indian-raid stock footage from Ken Maynard silents. Army scout Foran and Cavalry Corporal Frank Orth are assigned to duty along the telegraph lines where wagon freighters are stirring up the Kiowas to fight the intrusion of the singing wire and the iron horse.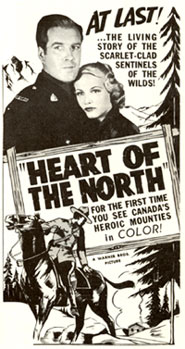 HEART OF THE NORTH ('38 Warner Bros.) Gorgeous in Technicolor Northwest Mountie pic that fully utilizes the red coats of the RCMP and the stunning Cedar Lake/Big Bear, CA, locations, highlighted by an array of chase scenes in canoes, boats, airplanes and on foot—as well as a clifftop battle between Mountie Foran and river pirate Joe Sawyer. "Prairie Thunder" marked the end of Foran's series westerns at Warners, though he remained under contract with them performing in non-western roles, that is until they cast him in this B+ Technicolor special. When the Arctic Queen freighter is robbed of its valuable furs and Mountie Patric Knowles killed, Foran and his Mountie pals pursue the rogues. I'd rate this Foran even higher if Warners hadn't elected to use this film to promote their cloying, annoying wannabe Shirley Temple, five year old Janet Chapman. (Every studio had one.)

WINNERS OF THE WEST ('40 13 Chapter Universal serial) Fight-ing to advance the Transcontinental Railroad through Hellgate Pass, engineer Foran and his trail-blazing pals, James Craig and Tom Fadden, assist the president of the line when progress is blocked at every opportunity by self-styled ruler of the prairie domain, trading post owner Harry Woods. Chapter endings are typical uneventful dust-off-and-move-on Universal cliffhangers.

RIDERS OF DEATH VALLEY ('41 Universal 15 Chapter Serial) Grossly over-rated "Million Dollar Serial" has a great cast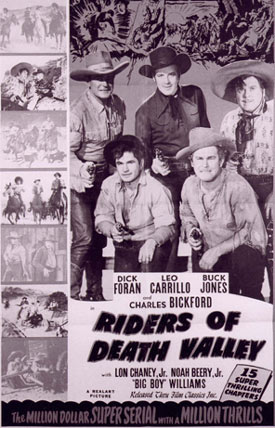 but Oliver Drake's plot amounts to nothing more than one long running gun battle. You've never seen so many shots fired with so few men being hit in any western in your life. As for the large cast of name players, they simply serve to get in one another's way, leaving most of them with nothing to do but ride, shoot and say a few lines here and there. As a matter of fact, with no explanation, you'll notice one of Foran's "riders", Noah Beery Jr., disappears completely halfway through the serial. Simple plot has Foran and Jeanne Kelly (aka Jean Brooks) inheriting a lost Aztec mine. Swindlers want to grab it away and hire outlaw Charles Bickford and his gang to do so. Foran's 'Riders of Death Valley' pals, Buck Jones, Leo Carrillo, Big Boy Williams, Noah Beery Jr., Glenn Strange, ride and fight to help Foran for 15 chapters of mediocre material. Producer Henry MacRae should have spent more on a story instead of his "million dollar" cast.

ROAD AGENT ('41 Universal) With the Universal production team behind this, you'd think it would be good. The promise and premise are there, but, overall, it's just boring. It's actually part of the Foran/Leo Carrillo/Andy Devine action/adventure series Universal was turning out. Remade in '46 as "Gunman's Code" with Kirby Grant, a better version.