BILL ELLIOTT
(Part 1)
Ratings: Zero to 4 Stars.

GREAT ADVENTURES OF WILD BILL HICKOK ('38 Columbia 15 ch. serial) Realizing new settlers could destroy their hold over the territory around Abilene, KS, the black-hearted Phantom Raiders attempt to keep the vast herds of Southern cattle from reaching Abilene as well as slowing the railroad's progress. U.S. Marshal Wild Bill Hickok (Gordon [Bill] Elliott), with the aid of wagon train settlers and a group of youngsters Bill organizes as The Flaming Arrows (Dick Jones, Sammy McKim, Frankie Darro, others) who use the code words "Our Country" when in danger, beat back the endless supply of Phantom Raiders at every turn. Action packed, it's considered by many as probably the best Columbia serial. Its popularity over 15 weeks led to Elliott becoming a major western star.

IN EARLY ARIZONA ('38 Columbia) Elliott's first starrer is action-packed but so historically distorted as to be ludicrous, lumping together a thinly veiled Tombstone saga with Arizona statehood and women's voting rights. Tombstone was a rowdy frontier town in the early 1880s while Arizona didn't achieve statehood til 1912 and women gained the right to vote in 1920. Talk about scrambling history! Tombstone Marshal Jack Ingram sends for Bill and his pals Charlie King and Art Davis to bring gun-law to Tombstone. Thrown into the mix is a thinly disguised Doc Holliday. It's a rousing good start to Elliott's Larry Darmour produced Columbia-released westerns, but historically, fergetaboutit!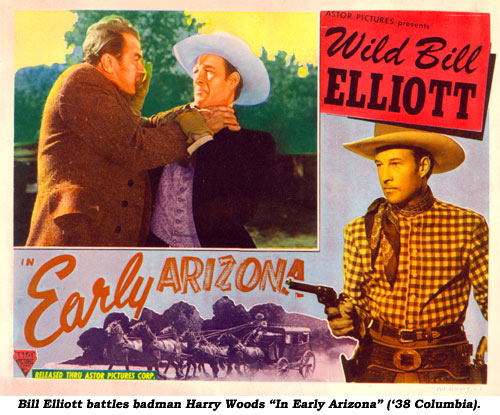 FRONTIERS OF '49 ('39 Columbia) In 1849 a struggle for control of land in California rages between America and Spain. Into this historical context comes Charlie King's all powerful Lower California Company, an agency commissioned by the U.S. government to administer laws and collect taxes in the region. Charlie's reign of terror and misuse of power by levying exorbitant taxes brings Elliott and scout Hal Taliaferro to clean up the trouble. Note the famous "End of the Trail" Indian painting on the wall wasn't done til long after 1849. Still more—at one point Charlie tells his men to "loot the town—Wells Fargo and all." However, Wells Fargo wasn't formed til 1851. And one thing more—you need to do something about those plaid pants, Charlie!

LONE STAR PIONEERS ('39 Columbia) The Civil War over, West Texas soldiers have returned to find their homes and lands infested with thieving, murdering outlaws. U.S. Marshal Pat Barrett (Elliott)—a word play on Pat Garrett—poses as northern guerilla raider Bob Cantrell (another word play on William Quantrill) and infiltrates the band of buzzards, bringing them to gun judgment. As an outlaw, Art Davis sings a partial song.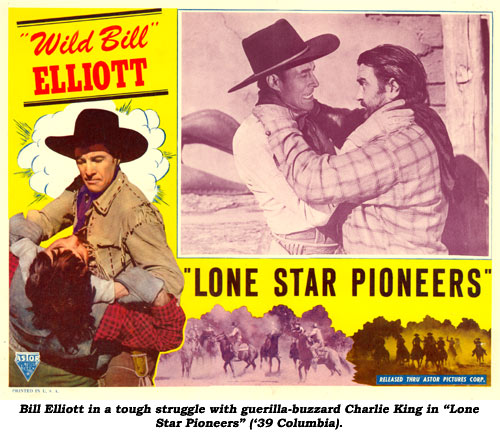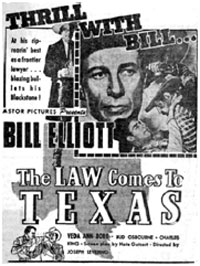 LAW COMES TO TEXAS ('39 Columbia) The fourth and last of Elliott's independently produced Larry Darmour productions released through Columbia. After this, Elliott's Columbia titles were in-house productions. Young attorney Elliott is appointed by the governor of Texas to investigate a law preventing peace officers from following outlaws across county lines. In disguise as a wanted criminal, Bill joins crooked judge Bud Osborne's surly band and discovers corruption near the top in the guise of Lt. Governor Lee Shumway. Leading lady Veda Ann Borg could have knitted 5 sweaters the week this was made she has so little to do. Delightful to see Charlie King on the right side of the law as Elliott's pal, Kaintuck.

OVERLAND WITH KIT CARSON ('39 Columbia serial) For 15 thrill packed chapters Kit Carson (Elliott) and Lt. Brent (Richard Fiske) undertake the dangerous mission of combating an outlaw organization of Black Raiders headed by a ruthless figure known as Pegleg who spreads terror and destruction in an effort to control a rich, new territory. Unusual, picturesque Zion National Park locations give this serial a fresh, unique look and gorgeous Iris Meredith is always a treat to look at. There's the usual highly implausible Columbia cliffhanger escapes, but one or two of them will surprise you. Stirring original music score by Lee Zahler is a definite asset.

TAMING OF THE WEST ('39 Columbia) After "peaceable man" Wild Bill Saunders (Elliott) brings in killer Lane Chandler (in one of the most exciting, dramatic beginnings to any B-western), the decent town citizens appoint Bill marshal to tame the town's helldorado gang. Unadulterated excitement all the way. One of Wild Bill's finest hours.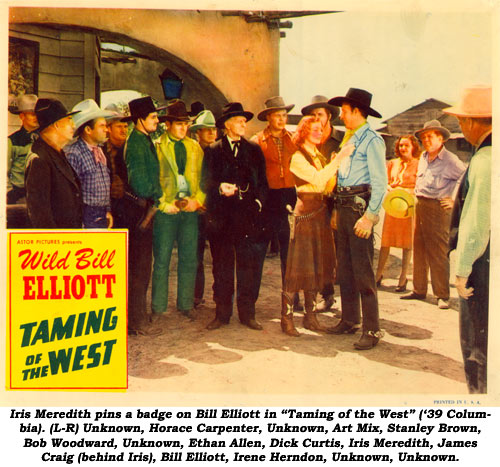 PIONEERS OF THE FRONTIER ('40 Columbia) Cruel, ambitious ranch foreman Dick Curtis kills his employer and rules other landowners like a tyrant. Even though Elliott is framed for murder by Curtis, the "peaceable man" smashes the gang in a blazing hurricane of action. Boo Boo: Outlaw Stanley Brown has a sling on his arm in a scene before he's wounded in a gunfight by Elliott.

MAN FROM TUMBLEWEEDS ('40 Columbia) "Peaceable man" Elliott is sent by the Governor to clean out Ray Bennett and his outlaw gang who have just killed spunky Iris Meredith's father. Wild Bill brings along several paroled prison inmates to act as state rangers. The idea had been mined before, but the beauty here is in the execution by director "Wagon Wheel" Joe Lewis. Tough, lean and mean, this is the stuff the best Elliott's were cut from.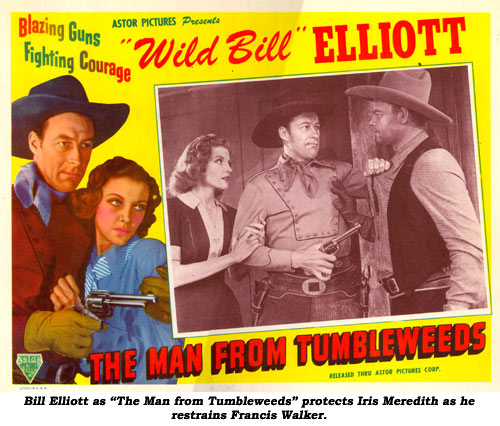 RETURN OF WILD BILL, THE ('40 Columbia) The last of Elliott's foursome as Wild Bill Saunders—in his next western he became Wild Bill Hickok. Elliott returns home to find his father dying of gunshot wounds inflicted by brutish vigilante George Lloyd and his brothers who hang pretty Iris Meredith's father as they're framing wealthy ranchers then meting out their vigilante justice in order to gain control of several valley ranches. Lloyd's daughter, Luana Walters (in a superb performance), disavows her father, coming to the aid of Wild Bill and Iris. Several unusual plot twists, more character development than usual with good sequences made all the better by Joseph H. Lewis' expert direction. Bill's usual sidekick, Dub "Cannonball" Taylor, plays only a minor role in this one.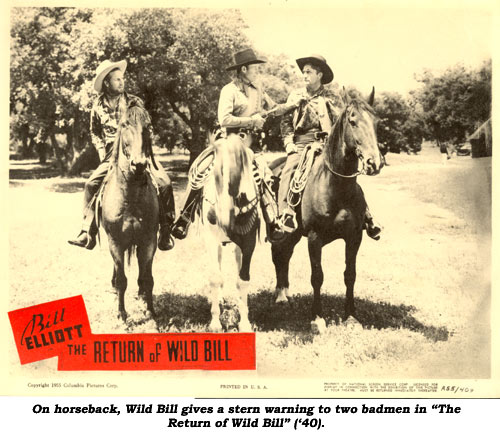 PRAIRIE SCHOONERS ('40 Columbia) Peaceable man, Wild Bill Elliott, comes to the assistance of farmers in battling profiteers taking advantage of a drought in Kansas to stage a land grab. Wild Bill leads the pioneers 1,000 miles on a wagon train to Colorado, fraught with floods, Indian raids and a heap more dangers. Suffers from a weak ending.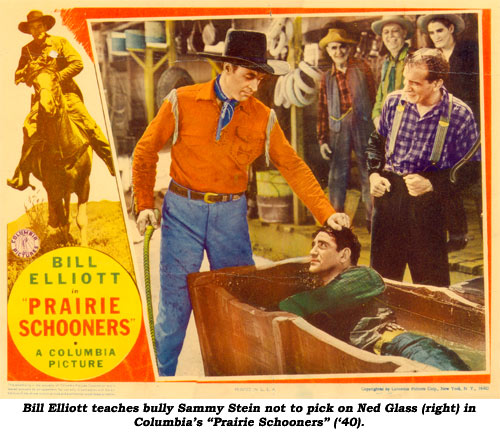 BEYOND THE SACRAMENTO ('40 Columbia) Cannonball (Dub Taylor) recognizes saloon-keeper Bradley Page and newspaper owner Frank LaRue as notorious swindlers and sends for his pal, Wild Bill Hickok (Elliott), to expose the crooks' phony bond scam. Good, but town-bound—not Elliott's best. It was Evelyn Keyes only B-western. She went on to major acclaim in "Gone with the Wind" among other films.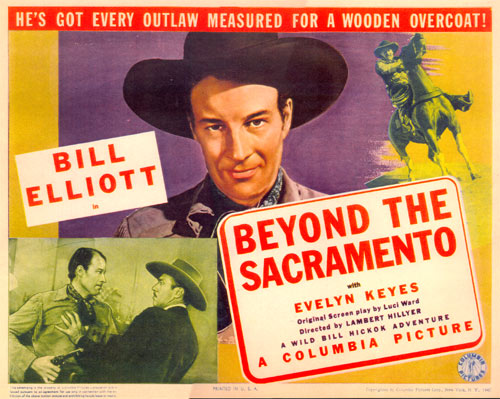 WILDCAT OF TUCSON ('40 Columbia) Stanley Brown as Dave Hickok, brother of Wild Bill Hickok (Elliott), gets himself embroiled in Kenneth MacDonald's shady but within-the-law land grab plot when it involves Judge Ben Taggart and his daughter, Evelyn Young, with whom young Hickok is in love. Winding up in jail for attempted murder, Dave has pal "Cannonball" Taylor send for Wild Bill, who takes the law into his own hands. To see Elliott at his best, the epitome of "western cool", this is the one.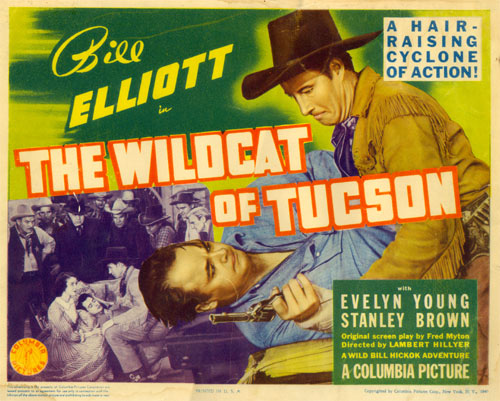 ACROSS THE SIERRAS ('41 Columbia) Hardcase Dick Curtis returns to town after six years in prison to even the score with storekeeper John Dilson and Wild Bill Hickok, the two men who "framed" him into jail. But Elliott has plans to buy a section of land, settle down, and marry Luana Walters! However, she requires Bill to hang up his guns first and really become a "peaceable man". Can he do it with Curtis pushing him hard? An unusual bittersweet ending for a B-western.

NORTH FROM THE LONE STAR ('41 Columbia) Action aplenty as Wild Bill Hickok (Elliott) helps "Cannonball" Taylor, Dorothy Fay and brother Richard Fiske clean up Deadwood of its outlaw element. Bill even has another girl to contend with—Claire Rochelle. You could always count on a good one when Charles Francis Royal's name was on the script. He penned "Between Men", "Courageous Avenger" and others for Johnny Mack Brown; "Colorado Kid"," Lightnin' Crandall", etc. for Bob Steele; "Colorado Trail", "Rio Grande", "Texas Stampede" for Charles Starrett; "A Tornado in the Saddle" for Russell Hayden as well as "Taming of the West", "Man from Tumbleweeds" and this one for Wild Bill.

RETURN OF DANIEL BOONE ('41 Columbia) Town boss and saloon owner Ray Bennett is raising taxes on all the area ranches, forcing ranchers to forfeit their property which Bennett buys up cheap at foreclosure auctions. About this time the grandson of Daniel Boone (Elliott) rides into town, accepts the vacated post of tax collector and quickly realizes how crooked Bennett is and sets out to bring the connivers to justice. If you're not a fan of Dub Taylor, this one may be a bit too much Cannonball for you as he gets in a marital mix-up with twin sisters.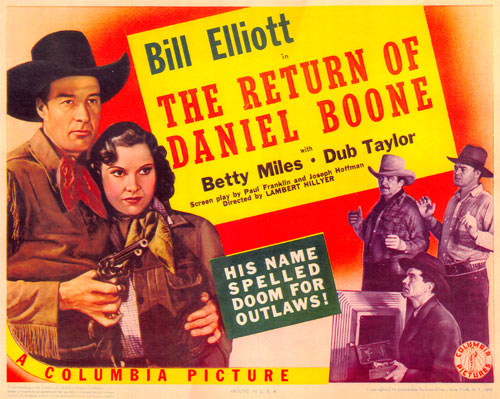 HANDS ACROSS THE ROCKIES ('41 Columbia) Elliott accompanies ol' pal Cannonball to Independence to find the killer who drygulched Cannonball's Dad. Meanwhile, the killer, Kenneth MacDonald, is making a cash deal to marry the only witness to the murder, young Mary Daily who has a family of brutal backwoods hillbillies. Naturally, sweet Mary is against the slimy plot as she loves headstrong young Stanley Brown. This otherwise good Elliott bogs down terribly at the midway point with a prolonged courtroom trial.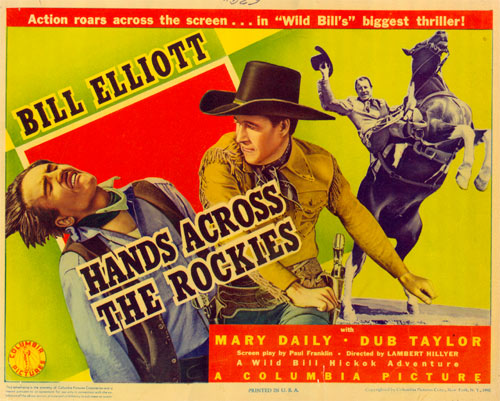 SON OF DAVY CROCKETT ('41 Columbia) "In about one minute you won't be king any longer," Elliott(as the son of Davy Crockett) forcefully tells town boss Kenneth MacDonald during their final showdown. President Grant has delegated two-fisted Bill to overthrow the tyrannical MacDonald who rules the unclaimed Yucca
Valley strip with an iron grip but the two men build up a wary respect for one another unlike no other B-western. Elliott and MacDonald (sans mustache for a change) are at their best. One fine example of a B-western.