BOB STEELE (Pt. 3)
Ratings: Zero to 4 Stars.

GREAT TRAIN ROBBERY, THE ('41 Republic) In early '41, while Bob was still operating as a member of The 3 Mesquiteers, the studio starred him alone in this throwback-to-the-'30s action melodrama with lots of western overtones. Only the title bears any kinship with the 1903 10 minute western but much of the "long forgotten railroad spurline" plot was recycled for Republic's "Last Bandit" ('49) with William Elliott, directed as this was by Joe Kane. Steele is a short-fused railroad detective assigned to guard a million dollar gold shipment. Another detective (Hal Taliaferro) suspects Steele's train-robber-father genes may have been passed along to Bob. However, it's Bob's no-good bar-owner brother, Milburn Stone, who frames Bob, robs the train and steers it onto an abandoned mining spur, covering the path with a landslide.

PRAIRIE PIONEERS ('41 Republic) Shortly after the Mexican-American War and California's admission into the U.S., the 3 Mesquiteers (Livingston, Steele, Davis) lead a group of settlers to the Provendencia Valley in California where Spanish land owners are being invaded by Americano hydraulic mining land-grabbers.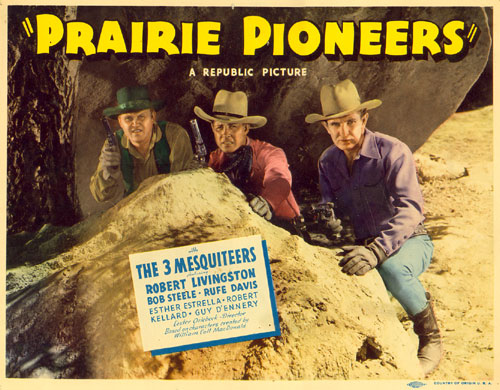 PALS OF THE PECOS ('41 Republic) Action all the way as the Three Mesquiteers (Livingston, Steele, Davis) have a tough time proving to Sheriff Tom London that they are innocent of the murder of Dennis Moore, son of honest Pat O'Malley who is building the Sierra Express, a tough overland stage route. Watch for a young Eddie Dean who has a brief fight with Livingston in Roy Barcroft's bar. Many elements of Oliver Drake's story found their way into "Old Texas Trail" ('44) with Rod Cameron—produced by Drake.

BILLY THE KID'S FIGHTING PALS ('41 PRC) Billy the Kid (Steele) finds trouble in Paradise, NM, which is being ruled by gun mob. Billy and his pals, Fuzzy St. John and Carleton Young, eventually learn the community is strategically important to the outlaws for their smuggling operations. A few twists at the end help the watchability of this otherwise routine PRC. Politically incorrect today: Fuzzy in blackface does a "Yas-suh" as Steele cracks wise with Uncle Tom and Mammy jokes.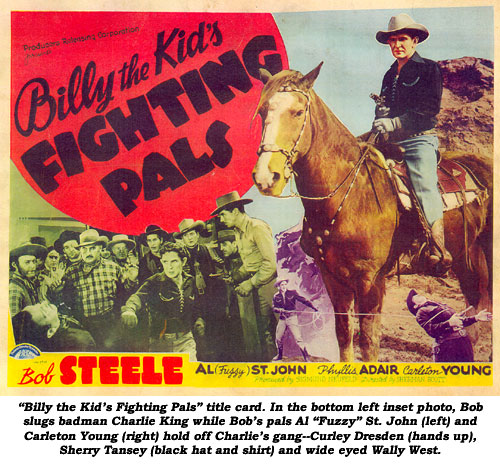 SADDLEMATES ('41 Republic) Lesser entry in the Three Mesquiteers (Livingston, Steele, Davis) canon is a direct remake of Gene Autry's "Ride Ranger Ride". The Mesquiteers join the Cavalry when the Rangers are disbanded and discover a half-breed is only pretending to help the Army as an interpreter but is secretly leading the Indians on the warpath.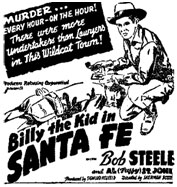 BILLY THE KID IN SANTA FE ('41 PRC) A remake, sometimes line for line, of Tim McCoy's "Lightnin' Bill Carson" ('36). Arthur Durlan wrote the original story for the McCoy on which Joseph O'Donnell was story editor, here credited with the screenplay. Bob (Billy the Kid) and his saddle pards, Fuzzy St. John and Rex Lease, come to Santa Fe to clean up the outlaw element. Believing crooked gambler Dave O'Brien guilty of the murder of a deputy, a posse wrongfully hangs O'Brien before Steele discovers the real killers. Things get sticky for Steele when O'Brien's brother, quiet bookworm Dennis Moore, begins to exact revenge on each member of the illegal posse. Note that Rex Lease is in both films, playing completely different characters. In the former he had the pivotal crooked gambler role played here by Dave O'Brien.

GANGS OF SONORA ('41 Republic) The 3 Mesquiteers (Livingston, Steele, Davis) stop the lawlessness running rampant in Wyoming territory. Homely leading lady June Johnson is the daughter of comedian Chic Johnson of Olsen and Johnson fame. Livingston's last as a Mesquiteer is as good as they come.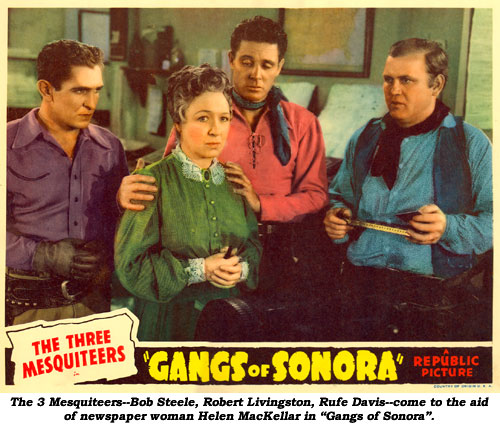 OUTLAWS OF CHEROKEE TRAIL ('41 Republic) Roy Barcroft and his murdering band begin killing all the jurors that valiantly convicted his young brother. The renegades' hideout is in the Cherokee Strip where Texas Rangers aren't allowed to trespass and arrest them, but the 3 Mesquiteers (Tom Tyler, Steele, Davis) devise a way…disguised as Indians. From start to finish, you want action; this one has it two-fold.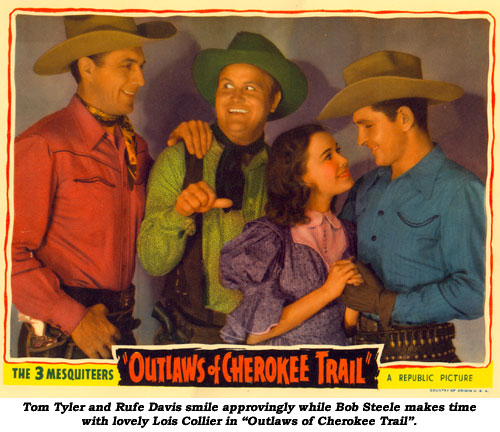 GAUCHOS OF EL DORADO ('41 Republic) The fifth and final time around for this plot! When a bandido known as The Gaucho (Duncan Renaldo) is killed by his outlaw gang while trying to take $5,000 to the mother he hasn't seen for many years in order to pay off her upcoming mortgage, the 3 Mesquiteers (Steele, Tyler, Davis) intervene but the mother (Rosina Galli) mistakenly believes Bob to be her long lost son. From there it's a merry mix-up of action and adventure in this uncredited remake of Jack Hoxie's "Gun Law" ('33) written by Oliver Drake. Also remade as "Cyclone Ranger" with Bill Cody ('35), "Melody of the Plains" with Fred Scott ('37) and "Bullet Code" with George O'Brien ('40).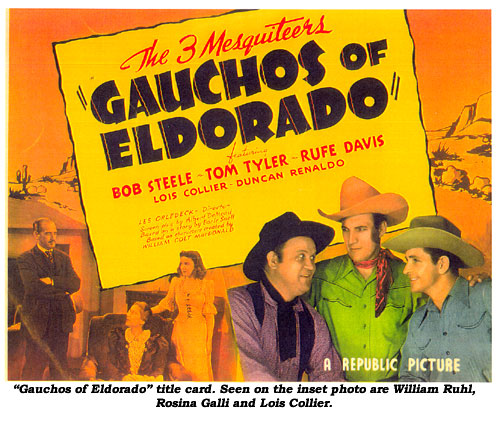 WEST OF CIMARRON ('41 Republic) Following the Civil War, the 3 Mesquiteers (Tyler, Steele, Davis) find carpetbaggers in reconstruction Texas. The Mesquiteers aid a group of Southerners who are resisting the stringent over-taxation by crooked troopers. Not exactly "politically correct," Rufe dons blackface to disguise himself as a Negro—sings a song about "Watermelon" and is called Sambo! A young black kid is named Rastus (and chomps away furiously on a watermelon during the action). Also a joke is made about "stealing chickens"! Remake of John Wayne's "Lonely Trail" ('35).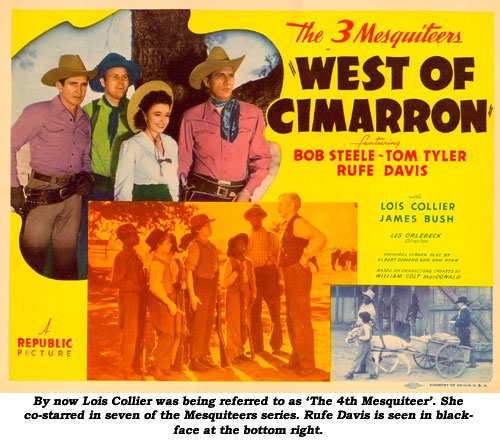 CODE OF THE OUTLAW ('42 Republic) The 3 Mesquiteers adopt and straighten out the son of an outlaw they've gunned down.

RAIDERS OF THE RANGE ('42 Republic) Serial-like in construction as the 3 Mesquiteers (Tyler, Steele, Davis) fight oil well sabotage by crooks who hold a second option lease on the property. Plenty of thrills make this one of the best latter-day Mesquiteer adventures.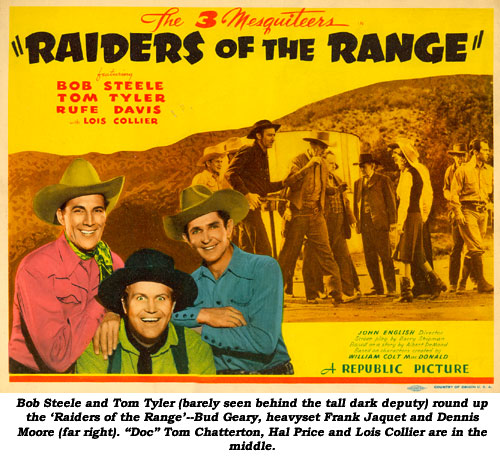 WESTWARD, HO! ('42 Republic) Lady banker Evelyn Brent is the suave secret leader of a gang of bandits who are terrorizing Spring Valley. Fed up, the banker's association, of which Brent is president, offers a $5,000 reward for any member of the gang—dead or alive. The gang frames the unsuspecting Rufe Davis as he and his Three Mesquiteers pals (Tyler, Steele) arrive in town. A neat series of crosses and double crosses ensues as the Mesquiteers get in with the gang. Action packed with a very original plot. Due to the John Wayne film of the same title in '35, Republic released this western to TV as "Riders for Justice".

PHANTOM PLAINSMEN ('42 Republic) On the home front in '37, the 3 Mesquiteers (Tyler, Steele, Davis) battle Nazis who hold horse rancher Charles Miller's son (Richard Crane) prisoner in Germany forcing Miller to sell the Nazis horses for their Army rather than to farmers here. At this period in the Mesquiteers film canon, settings would bounce from contemporary (as witnessed here) back to the Civil War era. Although Steele didn't usually require a stunt double, Dave Sharpe is obviously doubling Bob here as Steele had turned his ankle and was hobbling about.

SHADOWS ON THE SAGE ('42 Republic) The Curly gang terrorize the citizens of Holbrook in a reign of fear. Holding the mortgage on Griff Barnett's rich mine, nasty banker Bryant Washburn is determined to foreclose and sends his men out to raid each shipment. An old friend of Steele's Dad is appointed Sheriff and sends for help in the form of the 3 Mesquiteers who discover the leader of the Curly gang is a dead ringer for Steele. From there on, it's full bore action. This was the first Mesquiteers adventure for Jimmie Dodd (replacing Rufe Davis), the biggest Mesquiteer misfit in the history of the long running series, and Republic let him loose with his sing-song ditties.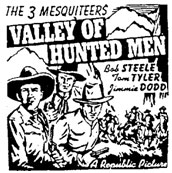 VALLEY OF HUNTED MEN ('42 Republic) Made just before Pearl Harbor, this 3 Mesquiteers (Tyler, Steele, Dodd) adventure finds a murderous trio of Nazis breaking out of a Canadian POW camp and immediately crossing into Wyoming for safe refuge. Two of the Sig-Heilers are killed but one hides out on a ranch by impersonating the rancher's nephew.

THUNDERING TRAILS ('43 Republic) The Texas Rangers are disbanded and overnight, the state becomes the haven of the lawless. If ranchers don't subscribe to the protection the corrupt new county police offer, they find their cattle stolen and ranches burned. The Three Mesquiteers (Tyler, Steele, Dodd) are three ex-Texas Rangers who fight back on their own when Tyler's father, also a Ranger is killed in a stage robbery and Tyler's hot-headed younger brother unwittingly becomes the head of the county police. Politically incorrect now, but standard fare in '43, Jimmy Dodd sings a song in blackface.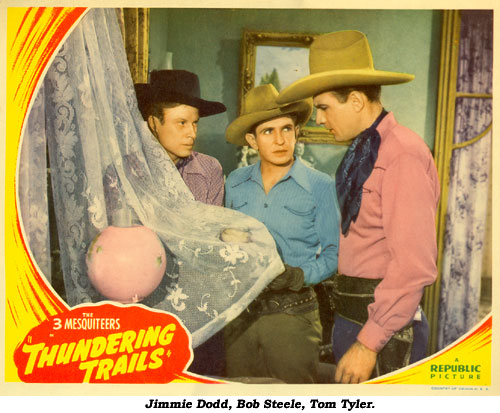 BLOCKED TRAIL ('43 Republic) When an eccentric, mysterious old prospector who lives alone with a dwarf horse, Brilliant, is murdered by a mystery killer and a phony old Indian (strangely played by Earle Hodgins) gives Jimmy Dodd a map to a lost gold mine, it adds up to mystery, thrills and comedy for the 3 Mesquiteers (Dodd, Tyler, Steele). Only Brilliant knows the identity of the killer.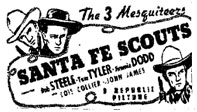 SANTA FE SCOUTS ('43 Republic) The title of the couple-months pre-vious Mesquiteers, "Blocked Trail" more appropriately fits this film and it's always been my suspicion, somehow, the two titles became reversed in production. The 3 Mesquiteers (Tyler, Steele, Dodd) run into plenty of trouble attempting to keep carefree young John James, son of their ranch owner employer out of trouble.

RIDERS OF THE RIO GRANDE ('43 Republic) One of the smartest, bright-est, funniest, most exciting Three Mesqui-teers is their last one. Not a dull se-cond, it pulls out all the stops in western adventure. The plot differs in more than one respect, not the least of which is when benign elderly town leader, banker Edward Van Sloan, decides to make the supreme sacrifice in arranging to have himself bumped off in order to make up for the mistakes of his wastrel son (Rick Vallin). Through a humorous switch in circumstances, Sloan believes The Three Mesquiteers (Tyler, Steele, Dodd) are the notorious Cherokee Boys that he hired, whereas it's really Roy Barcroft, Charlie King and Jack O'Shea who were retained to do the dirty deed. Unbelievable, sure, but the identity mix-up provides us with a complicated but delightful plot full of action, thrills and laughs. A wonderful exit to a terrific series of B-westerns.

DEATH VALLEY RANGERS ('43 Monogram) Steele makes his initial Trail Blazers appearance and there's no pretense to art, just Saturday afternoon B-western action in its purest form as the Trail Blazers (Ken Maynard, Hoot Gibson, Steele) break up crooked mine owner Weldon Heyburn's plot with chemist Karl Hackett who has discovered a formula for reheating gold and pouring it back into the rock where it cannot be distinguished from virgin ore as Heyburn runs the stolen gold through his mine. Heyburn's character is named James T. Kirk. What are the odds a young Gene Roddenberry watched this western back in his youth? Director Bob Tansey recycled his plot from "Gun Packer" ('39) with Jack Randall for this one. Adele Buffington purloined it for her own in '49 as "Rangeland" with Whip Wilson.

WESTWARD BOUND ('44 Monogram) As pure a Saturday afternoon no-brainer western as you can get. The Trail Blazers (Maynard, Gibson, Steele) ride, fight, rope and provide plenty of adventure, thrills and fun as they go into nearly constant action against a land grabbing bunch of owlhoots who would use oncoming Montana statehood to their own greedy advantage.

ARIZONA WHIRLWIND ('44 Monogram) The Trail Blazers (Maynard, Gibson, Steele) combat crooked banker Karl Hackett who has hidden uncut diamonds in a stagecoach to be received by gangster Ian Keith. Meantime, Hoot and Ken find time to string telegraph wire while Bob romances Myrna Dell who once told me, "I adored Bob Steele, he wasn't as old as Ken and Hoot. Gawd! They were old enough to be my grandfather!" Young Don Stewart, who was performing in rodeos at age 5 or 6, is the Trail Blazers' young pal. He was also in their "Wild Horse Stampede" and Tom Keene's "Where Trails End" then disappeared from sight. This was Maynard's last ride with the Trail Blazers; he quit the series citing monetary reasons.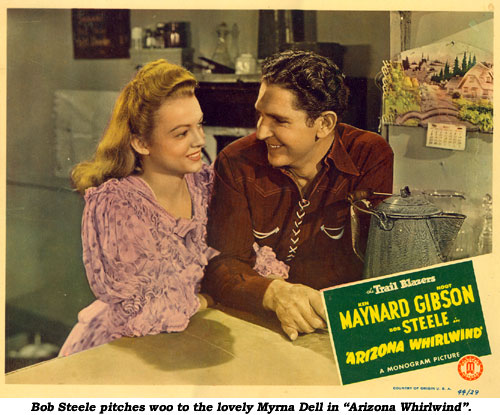 OUTLAW TRAIL ('44 Monogram) Through the iron fists of his henchmen, Cy Kendall controls Johnstown and the local ranchers by issuing his own "script", then forcing them to comply with his terms or go bankrupt. That intrepid team of Trail Blazers (Gibson, Steele, Chief Thundercloud) topple the domination of the oppressors. Producer/director Bob Tansey and all concerned seemed to know the end of the trail was in sight as everyone just seems to be going through the motions in this one—even though it's filled with plenty of action. Story credit goes to Alan James who used bits and pieces of his "Trail Drive" written for Ken Maynard in '33.

SONORA STAGECOACH ('44 Monogram) Action all the way as Charlie King's outlaw gang is determined to kill Rocky Camron before "the toughest lawdogs in the west," the Trail Blazers, are able to escort him safely to Sonora for trial. Rocky will hang them all for an express robbery and murder if he arrives alive for trial. Technically, this was the last of eight very popular Bob Tansey produced Trail Blazers B's that had seen the group go from just Maynard and Gibson to adding Steele in the fourth film and dropping Maynard after the sixth film replacing him with Chief Thundercloud, who seemed extremely happy to be starring but operated like a fifth wheel. Without him, Steele and Gibson continued on, under a completely different production setup, for three more titles.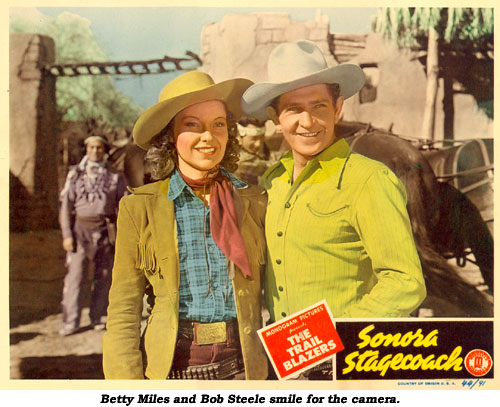 UTAH KID ('44 Monogram) Steele/Gibson co-starrer is a remake of John Wayne's "Man from Utah" ('34). Lindsley Parsons wrote the Wayne film (weakest of his Lone Star series) and was now producer of this picture. Steele and Gibson uncover a gang who have made a racket out of fixing rodeo events. Pretty slim stuff with a weak plot and nondescript heavies burdened by too much rodeo stock footage (over 8 minutes) and rodeo announcer "comedy antics" from Earle Hodgins.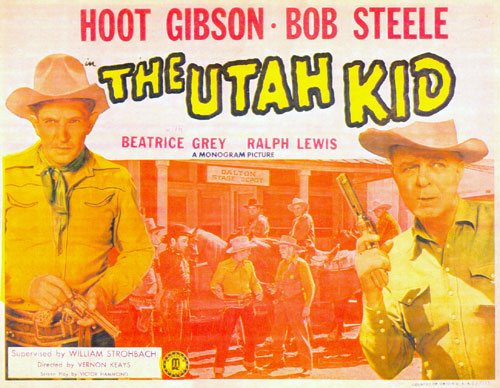 MARKED TRAILS ('44 Monogram) After Bob's lawman uncle is knifed and killed by criminals Mauritz Hugo and femme fatale Veda Ann Borg, Steele gets hot on the trail of the rangeland Bonnie and Clyde who are now pulling some sort of convoluted oil swindle in another town. Bob's pal, Hoot Gibson (basically assuming a sidekick role here), goes undercover, posing as a dude town-builder. Bit of an unfocused mish-mash plot.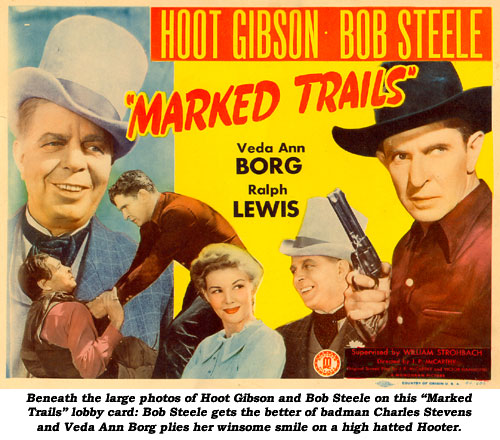 TRIGGER LAW ('44 Monogram) Not available for viewing.

WILDFIRE ('45 Action Pictures/Screen Guild) Pretty typical producer/director Bob Tansey stuff as horse traders Steele and Sterling Holloway aid (bad actress) Virginia Maples and the law, Sheriff Eddie Dean and Judge William Farnum, to bring horse thieves to justice. John Ford's brother, Francis, is given the female gender-bender spelling of "Frances" in the credits. Dean's role, and his vocalizing of "On the Banks of the Sunny San Juan" possibly influenced "Wildfire" director Tansey to star Dean in his own series less than six months later. In '45, Robert L. Lippert headed up Action Pictures with releases through Screen Guild, a new firm for which Lippert served as executive vice president. In '49, Lippert reorganized Screen Guild, assumed the post of president, and by summer was releasing films under the company's new name, Lippert. "Wildfire" was the first film released by Action Pictures. It's in Cinecolor.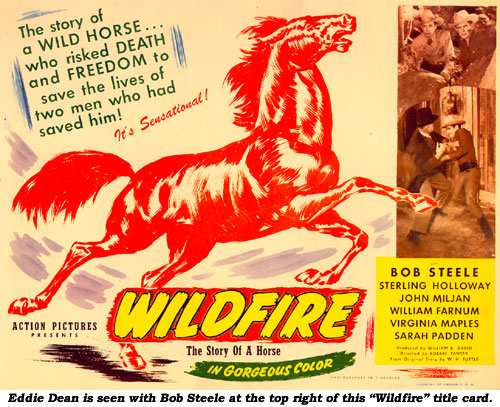 NORTHWEST TRAIL ('45 Action Pictures/Screen Guild) Bob's a Cinecolor Mountie helping Joan Woodbury recover $20,000 stolen from her as he uncovers an illegal gold smuggling plot. The color and Lake Arrowhead area locations save this otherwise routine affair.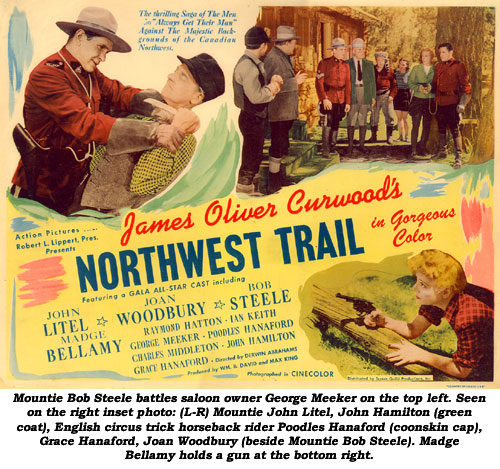 NAVAJO KID ('45 PRC) Bob's tracking down the murderer of father #643. Or is he? The Indian agent Bob believed was his Dad is murdered and robbed. At that point Bob discovers the agent is only the man who raised him with the Navajos after Apache raiders killed his parents. He also discovers his real father is alive and turns out to be—Well, watch and see. It's the one surprise in an otherwise routine PRC.

SIX GUN MAN ('46 PRC) There's plenty of gun blazing fast action when U.S. Marshals Steele and Syd Saylor (of the bobbing Adam's apple when he's scared) go after trail rustling range rats. Writer/director Harry Fraser's story is borrowed quite noticeably from Buster Crabbe's "Cattle Stampede" ('43). There seemed to be "no shame" amongst B-western writers and directors, borrowing (swiping) stories from one another. I reckon they figured it all evened out in the end.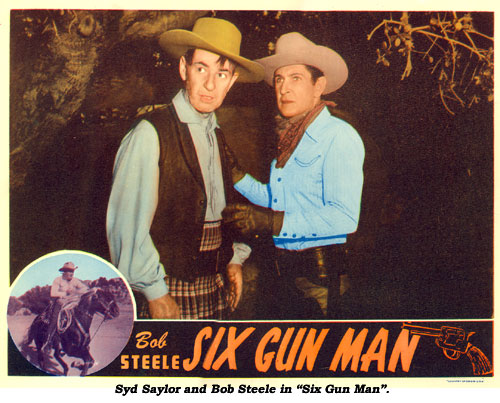 AMBUSH TRAIL ('46 PRC) Cattle rancher Steele, his pal Syd Saylor and Sheriff Kermit Maynard lead other ranchers against a power-mad gang who are raiding supply wagons of tools and grain forcing the ranchers to sell out so they can take over for a Chicago combine. The secret to the ranchers' missing money lies in "horns over a bar". You'll figure it out quicker than Bob and Syd do. Steele wore a mustache in this and "Thunder Town", a sight seldom seen on a B-western hero. Bob once explained the lip hair was for a role in another bigger budget film and he wasn't about to shave it off for a PRC B-western.

THUNDER TOWN ('46 PRC) Having learned about ballistics while in prison for a robbery he didn't commit, mustachioed Steele, returns to his hometown to prove himself innocent of bank robbery, and that his former partner didn't commit suicide. Warned to stay out of trouble while on parole, Bob takes a lot of abuse from the gang until he busts loose! Remake of Oliver Drake's "Lawless Valley" ('38) with George O'Brien. Drake used the pen name James Oliver here. After starring in various B-western series at Syndicate, Tiffany, World Wide, Monogram, Supreme, PRC, Republic and Metropolitan since sound came in, this was Bob Steele's final series. From here on he concentrated on character roles in films like "The Big Sleep", "South of St. Louis", "Savage Horde", "San Antone", "Giant From the Unknown" and many others, including TV's "F-Troop".