GEORGE O'BRIEN
Ratings: Zero to 4 Stars.



LONE STAR RANGER ('29 Fox) Excellent George O'Brien remake of a Zane Grey story previously made by both William Farnum ('19) and Tom Mix ('23) although the story is really "Last of the Duanes". With great locations, including Monument Valley, this Western came at a time when sound was just coming in. Nearly all the dialogue is on cards as in silent days, but there are miscellaneous voices, horses, sound effects and song. All of Fox's O'Brien Westerns were top caliber productions budgeted at up to $200,000 with 4-6 weeks allotted for production of each film. They truly surpassed in quality those being made by Jones, Maynard, McCoy and Bob Steele. Grey stories alternated with non-Grey yarns. All the typical O'Brien touches are here and, yes, he gets a chance to show off his barrel chest in a scene where he rides naked to the waist.

ROUGH ROMANCE ('30 Fox) In this badly dated early talkie, Northwest lumberjack O'Brien vies for the affections of Helen Chandler against the villainous Antonio Moreno. Exciting ending amidst a wintry logjam but not much else, other than a brief bit by John Wayne you'll catch if you don't blink. Low-spot is the "singing" and vaudeville-like act by O'Brien and Eddie Borden.



LAST OF THE DUANES ('30 Fox) A good O'Brien Western based on Zane Grey's novel has George becoming an outlaw after he guns down James Mason, the man who got his Dad in the back. He enters outlaw Walter McGrail's hideout where he rescues Lucile Browne from McGrail's clutches, all the while being romantically pursued himself by McGrail's wife, Myrna Loy. A Spanish language version, starring George J. Lewis, was made simultaneously. The story was remade once more by Fox in '41 starring George Montgomery.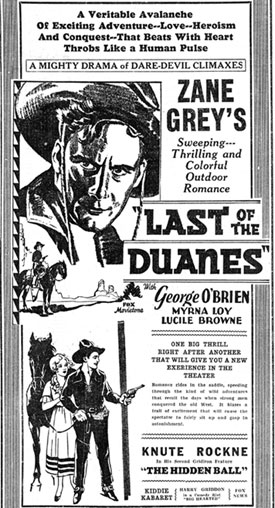 FAIR WARNING ('31 Fox) Not available for viewing.


A HOLY TERROR ('31 Fox) Directed by onetime silent star Irving Cummings, "A Holy Terror" is taken from Max Brand's 1920 novel, TRAILIN', which was made into a more exciting western in 1921 starring Tom Mix. This early talkie O'Brien version retains the same complex father/son plot but relies too heavily on conversation instead of action which is held until the conclusion, and then is quite mild. Supporting cast is capable, Sally Eilers as the girl, Robert Warwick, James Kirkwood and a snarling young pre-Warner Bros. Humphrey Bogart which gives the film a curio effect.



RIDERS OF THE PURPLE SAGE ('31 Fox) The third Fox version of Zane Grey's classic Western story stars George as good/badman Lassiter who has come to Arizona searching for the man who killed his sister and abducted her baby daughter. When O'Brien arrives, he finds himself pitted against an illegal Law and Order organization trying to drive lady rancher Marguerite Churchill from her land. Heading the gang is Judge Noah Beery Sr., who turns out to be the man O'Brien is seeking, and his paid gunmen Frank McGlynn and Stanley Fields. Fields is revealed as the man who has actually raised O'Brien's niece, Yvonne Pelletier. With the help of one of Churchill's riders, James Todd, O'Brien discovers his niece and rescues her. She quickly falls in love with Todd and as Todd, Pelletier, O'Brien, Churchill (and her adopted daughter Shirley Nails) are pursued by McGlynn, O'Brien sends Todd and Pelletier away while he, Churchill and Nails are trapped in Surprise Valley when they roll a huge boulder down on the gang, effectively closing off the trio's escape from the valley (forever?). Unfortunately, at a quick 55 minutes, there is no time for this involved, complicated story to evolve naturally and for much needed character development. Earlier versions starred William Farnum in 1918 and Tom Mix in 1925. Another was made in '41 with George Montgomery. Marguerite Churchill (1910-2000) was the real life wife of O'Brien.


RAINBOW TRAIL ('32 Fox) The sequel to "Riders of the Purple Sage" finds O'Brien (and everyone else) playing a completely different role. It's now eight years later when prospector O'Brien, searching for the legendary gold-filled Surprise Valley, comes across a dying man (the James Todd character now played by James Kirkwood) who has returned to try and rescue the three who were previously trapped in Surprise Valley—now played by Edward Hearn, Alice Ward and Cecilia Parker. O'Brien vows to rescue them, then learns Parker has been taken by the gang-leader judge (now played by W. L. Thorne) to his quasi-brothel in a mountain hideaway run by his "lieutenant," Niles Welch. With the aid of the local Navajo Indian leader (Robert Frazer), O'Brien frees Parker from the outlaw stronghold as well as rescuing Hearn and Ward from Surprise Valley. Director David Howard (who later helmed many of O'Brien's RKO Westerns) allows into the film too much unneeded silliness from Roscoe Ates and J. M. Kerrigan. This sequel was made twice before in 1918 with William Farnum and in 1925 with Tom Mix.
GAY CABALLERO ('32 Fox) Not available for viewing.




MYSTERY RANCH ('32 Fox) The O'Brien Fox Westerns were obviously aimed more at adult trade than the average Saturday afternoon B-Western. All were crafted with the utmost technical care. Casts were far superior to that of even Jones and Maynard. Full musical scores were written, used most effectively for suspense and climatic action sequences. Loaded with moody, atmospheric camerawork by Joseph August and George Schneiderman, this David Howard directed film noirish picture is told in Gothic quasi-horror movie fashion. Erudite, piano-playing, but brutal, sadistic Charles Middleton rules his private Arizona valley with a tyrannical iron hand. Holding his dead partner's daughter, Cecilia Parker, hostage, the ruthless Middleton schemes to compel her to marry him so as to legally control her land. Holding grisly sway over his valley, the tyrant has imposing deaf mute Noble Johnson and sneering half-breed Charles Stevens strangle or hang anyone (including the Sheriff) who interferes with his plans. Ranger O'Brien is warned by a friend in town, former silent star Roy Stewart in one of his better sound roles, to avoid the impending danger of Middleton's valley, but O'Brien finds he must rescue the trapped girl. Director Howard hones the suspense, finally busting loose in a large-scale action sequence played out atop mountain crags.


THE GOLDEN WEST ('32 Fox) An elaborate remake of Zane Grey and Fox's silent "The Last Trail" ('27, Tom Mix) is an epic melodrama that begins in Kentucky in 1847. After a family feud breaks up a romance between O'Brien and Janet Chandler, O'Brien heads west to Wyoming where he meets and marries Marion Burns after rescuing her from a buffalo stampede. They give birth to a son. Back in Kentucky, believing O'Brien dead, Chandler marries young engineer Onslow Stevens and has a daughter. Out West, Burns is killed in an Indian raid and George and his son are captured. 20 years later, the Union Pacific railroad is beset by Indian raids led by a mysterious white chief, Motano (also played by O'Brien [above] in a dual role). Coincidentally, Stevens is the new chief engineer for the railroad and is out West with his grown daughter (played also by Janet Chandler). Through a set of circumstances only found in the movies, Motano and the girl find the true love their father and mother had missed due to the feud early in their lives. "The Golden West" covers a lot of territory in 70 minutes with O'Brien sporting an unbecoming mustache and sideburns in the first half and baring his barrel chest as Indian Chief Motano in the second. Plenty of stock footage from "The Iron Horse" and other silent epics is employed.


ROBBER'S ROOST ('33 Fox) Benefiting from a classy cast for a B-Western and real chemistry between Maureen O'Sullivan (Jane in Tarzan films) and O'Brien, "Robber's Roost" should have been a better film, but it lacks real energy, even under the direction of talented Louis King. Sticking with Zane Grey's original story, O'Brien is an innocent man suspected of being in league with rustlers William Pawley and Walter McGrail who have hired on to protect naïve Englishman Reginald Owen's cattle which they secretly plan to drive across the border. O'Sullivan is Owen's sister who arrives from England and promptly becomes involved with O'Brien—even though she believes him to also be a rustler.



SMOKE LIGHTNING ('33 Fox) A thrilling finale aboard a train and a film noirish opening amidst an electrical storm highlight this excellent O'Brien adaptation of Zane Grey's CANYON WALLS. Arriving in town, O'Brien and English pal Frank Atkinson thwart crooked Sheriff Morgan Wallace and his card-sharp partner Clarence Wilson from cheating rancher E. A. Warren. Later, the conniving pair murder Warren and hire outlaw Douglas Dumbrille to impersonate Warren's long-lost brother—and the supposed uncle of Warren's young daughter, Betsy King Ross—in a plot to take over her ranch, Canyon Walls. The plotters also attempt to frame O'Brien for the murder of Betsy's father. In a last ditch attempt, Sheriff Wallace tries to kidnap young Betsy from schoolmarm Nell O'Day's house, planning to spirit her away by train. In the end, O'Brien is appointed Betsy's guardian and plans to marry O'Day.


LIFE IN THE RAW ('33 Fox) While "Life in the Raw" doesn't rank with earlier O'Brien Westerns, it is based on a Zane Grey short story, "From Missouri", and moves quickly under director Louis King. Eastern based Claire Trevor arrives in Arizona to visit her brother Gaylord (later Steve) Pendleton who owes gambling debts to notorious Alan Edwards. To pay his debts, Pendleton agrees to help sleazy Warner Richmond rob the express office. Even though Trevor at one point accuses O'Brien of complicity in the robbery, he helps her and her brother out of their predicament.

LAST TRAIL ('33 FOX) The screwball comedy elements prevalent in films of the '30s are stressed over Western action—the little of which there is all comes in the last few minutes. Also the comedy situations with El Brendel and O'Brien's gangster friend Matt McHugh are far too broad. Worst of all, and embarrassingly unfunny, is a drunk scene between Brendel and McHugh. Slim plot has J. Carroll Naish and his big city gangsters operating their protective association racket from the ranch of O'Brien's late uncle. When George returns, the gangsters unknowingly recruit him to impersonate his uncle's long-lost nephew—himself! O'Brien then falls for Claire Trevor, supposedly Naish's "moll" but actually an undercover policewoman.
FRONTIER MARSHAL ('34 Fox) Not available for viewing.




DUDE RANGER ('34 Fox) Pure entertainment in a Western that builds its mystery angles suspense-fully to a stirring climax amidst the gorgeous grandeur of Zion National Park in Utah. Easterner O'Brien inherits a ranch and moves west only to discover rustlers working his land. At first he suspects Henry Hall, father of the girl he's fallen for, Irene Hervey—a spoiled thing who has a habit of having her own way. But she's never met anyone like O'Brien! Eventually, foreman LeRoy Mason is discovered to be the true "brains" behind the rustling. Not a lot of hard riding action, it's O'Brien's bright, sassy charm and the clever, witty, suspenseful script by Barry Barringer (based on Zane Grey's story) that carries this one though. Supposedly remade as "Roll Along, Cowboy" in '37 with Smith Ballew, but that film bears no resemblance to this superior title. Although still being released by Fox, O'Brien's films, as this one, were now being made independently by Sol Lesser's Atherton Productions, doubtless an economic move on Fox's part, freeing up their own facilities and cash while still giving them a series of Westerns for release.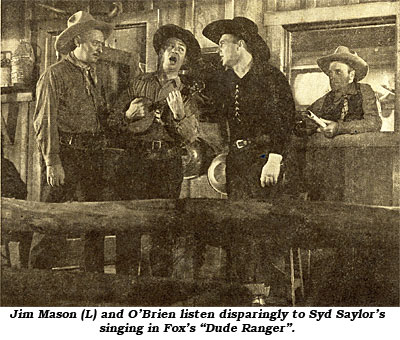 WHEN A MAN'S A MAN ('35 Fox) After squandering his inheritance, looking to change his life, playboy O'Brien heads west, landing at Dorothy Wilson's troubled ranch where Paul Kelly is foreman. Nasty neighbor Harry Woods is withholding all the water in an attempt to buy off Dorothy's ranch dirt cheap. George and Paul vie for Dorothy's affections as the shy-on-excitement but superior-in-story film builds to a climax. Re-released as "Saga of the West". Based on a Harold Bell Wright story, this was previously filmed as a silent in 1924 starring John Bowers.
ZERO COWBOY MILLIONAIRE ('35 Fox) Easy-going, light-hearted O'Brien "Western". George and pal Edgar Kennedy work for a dude ranch but are quitting to work their newly acquired gold mine. Before leaving, George accepts a $10 bet that he can have high-tone English heiress Evalyn Bostock "eating out of his hand" by week's end. Before he knows it, he truly falls in love with her, but she's found out about the bet. Hurt, she returns to England. Meanwhile, her snooty English beau, Alden Chase, has swindled Kennedy out of the rich mine and also fled to England. George and Kennedy both travel to England for the all too welcome ending to one of O'Brien's dullest pictures.


THUNDER MOUNTAIN ('35 20TH Century Fox) Based on Zane Grey's novel which was published the same year this film was released, "Thunder Mountain" downplays action in favor of dramatics. After O'Brien and pal Dean Benton make their gold strike, Benton goes to file on the claim but is dry-gulched and left for dead by corrupt saloon owner Morgan Wallace. When George investigates, he finds their claim jumped and the area inundated with prospectors. The strong plot finds George hooking up with old prospector Gabby Hayes to try and reclaim his strike while he inadvertently falls in love with the wrong girl—mercenary Barbara Fritchie—when he should be looking toward saloon singer Frances Grant who works for Wallace. Good results from director David Howard in this the final of O'Brien's Zane Grey series.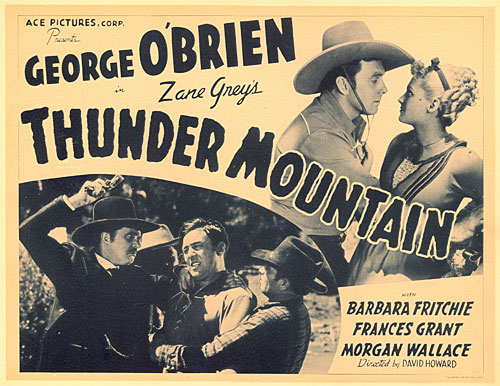 WHISPERING SMITH SPEAKS ('35 20TH Century Fox) Crooked businessman Edward Keane and lawyer Kenneth Thompson deviously plot to obtain the property of Irene Ware and Maude Allen for the tungsten on their land. To get the ore out, they also need the nearby railroad line managed by Ware. O'Brien is the son of a wealthy railroad president who prefers to work for a living instead of taking the easy way to advancement through his Dad. He ends up working for Ware and soon discovers what the culprits are plotting. Not sure where the "Whispering" comes in, as O'Brien is never referred to by that name and the film has nothing to do with writer Frank Spearman's railroad detective (about which an Alan Ladd A-Western was made). This is a light outdoor romance, stressing O'Brien's way with light comedic elements.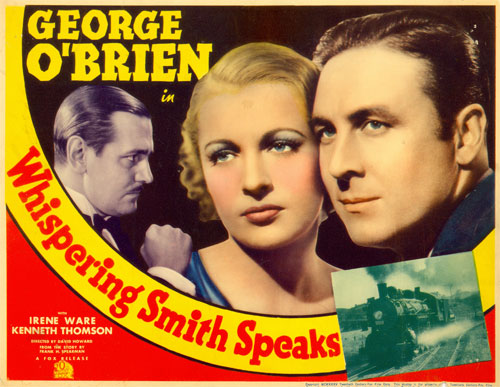 O'MALLEY OF THE MOUNTED ('36 20TH Century Fox) The River Gang hides in Canada after raiding American border towns. Mountie O'Brien poses as an outlaw, having himself thrown in jail with James Bush who is suspected of killing a Mountie. Aided by Bush's sister, Irene Ware, the pair breaks jail and Bush leads them to the hideout of outlaw Stanley Fields and his gang. The original story was by William S. Hart and was filmed by him in 1921. Produced by Sol Lesser's Atherton Productions for Fox, this is a pretty tame affair, saved only by O'Brien's ebullient personality.

BORDER PATROLMAN ('36 20TH Century Fox) Tepid O'Brien modern day Western was the last of his Sol Lesser produced Principal Productions distributed by Fox. It owes as much to '30s romantic comedies as it does western action films. A few miles from the Mexican border, border patrolman O'Brien encounters spoiled, wild-living Polly Ann Young (real life sister of Loretta Young), granddaughter of wealthy William P. Carlton living at the Desert Springs Hotel (actually Furnace Creek Inn at Death Valley). Following a fiery spat with Young, O'Brien resigns from the service and hires out to Carlton as willful, headstrong Young's "guide", eventually preventing her from foolishly marrying smooth playboy/diamond smuggler LeRoy Mason and breaking up Mason's smuggling ring (Mary Doran, Al Hill, Tom London). There's no action til the 50 minute mark, the film is carried along by O'Brien's natural charm. Smiley Burnette adds a couple of songs and a bit of comedy. Although Smiley was already making B-Westerns with Gene Autry, "Border Patrolman" was filmed in May '36 just prior to when his term contract with Republic began in July.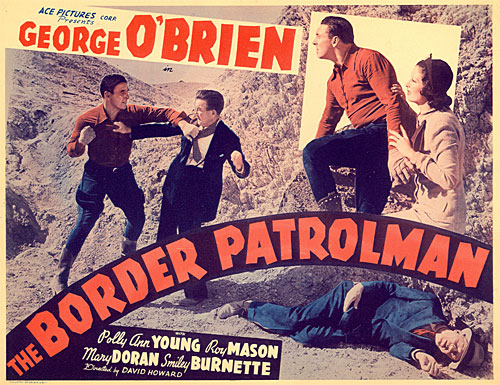 DANIEL BOONE ('36 RKO Radio) In 1775, 30 settlers prepare to follow frontiersman Daniel Boone (O'Brien) from their home in North Carolina across the mountains to Kain-tu-kee, called by the Indians, "The dark and bloody ground." They are put upon by Simon Girty (John Carradine), a vicious white renegade and leader of a small band of outlaw Indians who are ravaging the frontier settlers with fire and massacre. Additionally, Daniel has trouble with "dandy" Ralph Forbes, who is in love with aristocratic settler Heather Angel, as is Dan'l. Unknown to the settlers, Forbes and his wealthy Richmond, VA, cohorts are plotting to seize the land settled by Boone on a legal technicality. Consequently, as soon as Boonesborough is developed, Daniel is forced to ride to Richmond to try and save it from the conniving politicians. Forbes' group refuses and, dejected, on the way home Boone is captured by Girty. Escaping, with aid from his Indian friend George Regas, Daniel now finds Boonesborough under siege from Girty's Indians. A nine day battle ensues in which Girty kills Daniel's young friend Dick Jones. Daniel ekes out revenge on Girty, then leads the surviving settlers on to pioneer new territory. In truth, Boonesborough was incorporated by Virginia as a county, and it was besieged by Indians—but not led by Simon Girty who didn't arrive as a renegade in the area til 1778. This was O'Brien's first of four pictures for independent producer George A. Hirliman to be released through RKO. Hirliman poured a lot of production into this 75 minute film, but, although O'Brien makes a respectable Boone, ultimately this remains a rather stodgy, minor historical epic that never seems to come alive.

PARK AVENUE LOGGER ('37 RKO) Slight melodrama in which Eastern lumber magnate Lloyd Ingraham sends his son, O'Brien, to his Timberlake, Oregon, lumber field under an assumed name to check out field manager Willard Robertson whom Ingraham believes is conspiring with the field boss (Ward Bond) of a competing company to take over their logging business.

HOLLYWOOD COWBOY ('37 RKO) A minor entry in the O'Brien canon of westerns, but an all-important one to director George Sherman and those of us who benefited from his work for four decades. While on location in Lone Pine, CA, director Ewing Scott was injured in a car accident. O'Brien suggested assistant director Sherman take over. So happens, Sol Siegel and a Republic crew were in the area and saw little Georgie directing O'Brien, a major Western star. Back at Republic they gave him a full-shot, helming the Three Mesquiteers "Wild Horse Rodeo" ('37) which proved to be one of the best of their series and a major directorial career was launched. Movie cowboy O'Brien and sourpuss pal George Caits get involved with a city administration fighting to kick out the gamblers and grifters (Charles Middleton) forming a Cattleman's Protective Association, the old shakedown game, charging cattlemen (and women—like tough ol' Maude Eburne and her lovely niece Cecilia Parker) one cent a pound. Retitled "Wings Over Wyoming" for TV.




GUN LAW ('38 RKO) This is the first of 16 O'Brien B's for RKO. David Howard directed 14 of them, including "Gun Law". Marshal O'Brien impersonates notorious outlaw The Raven (Edward Pawley) to infiltrate the lawless element (Mayor Paul Everton, saloon owner Robert Gleckler and henchies Ward Bond, Francis MacDonald) of Gunsight, AZ. Then the gang gets the bright idea to have 'The Raven' impersonate the Marshal who he's supposed to have killed. From there on it's a round-robin who's who! Ray Whitley is George's singing waiter undercover pal. It's one of screenwriter Oliver Drake's best. Watch for Art Davis on fiddle with Whitley's group.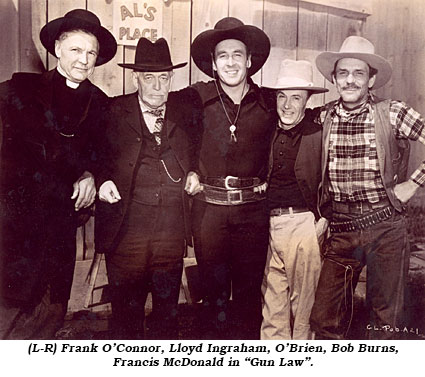 BORDER G-MAN ('38 RKO) You have to put your mind in a 1938 pre-World War II mode for this one as Justice Department investigator O'Brien comes to Texas to rout out John Miljan whose company has been involved in questionable horse buying and apparent cavalry training of men, a violation of the Neutrality Act in force at the time. Blackmailing a senator's son (William Stelling) to give him a cloak of respectability, Miljan, his men (Edgar Dearing and Edward Keane) and girl friend (Rita La Roy), plan to smuggle not only horses but munitions out of the country by boat. The inland cove-waterway action finale gives this one a bit of a twist. Stelling's young sister is played by Laraine Johnson (later Laraine Day). This is the first film in which "Back In the Saddle Again", which was to become Gene Autry's themesong, was performed by writer Ray Whitley. Whitley was awoken at 5am one morning by director David Howard who told Ray he quickly needed a song to be performed during a barn-dance scene to be filmed that day. Whitley sleepily rolled out of bed and told his wife,
"They need a song. Looks like I'm back in the saddle again." His wife Kay happily exclaimed, "You just wrote the title right there." Watch for Art Davis on fiddle with Whitley at that dance scene. Gene Autry heard it, used it in "Rovin' Tumbleweeds" ('39) and made it the title of his 1941 film. It's been identified with Autry ever since.



PAINTED DESERT ('38 RKO) Laraine Johnson (later Laraine Day) and her grandfather Lloyd Ingraham stake out a mining claim on land belonging to O'Brien who doesn't drive them off as he fancies Laraine. Crooked mining-engineer Fred Kohler buys the claim from Ingraham, although he doesn't think it valuable. He just wishes to make trouble for O'Brien whom he hates. For Laraine's sake, George buys the claim—his own land, really—from Kohler, then learns the mine actually holds valuable tungsten deposits. Realizing Laraine still thinks she owns the claim, O'Brien and his pals (Ray Whitley, Stanley Fields) offer to become her partners since she can't operate without capital. As their operation gets underway, Kohler, realizing he sold a valuable claim for peanuts to O'Brien, dispatches his men to make trouble for O'Brien and the girl, eventually going so far as to dynamite the mine. Little bit different entry in O'Brien's RKO series.


RENEGADE RANGER ('38 RKO) Crooked tax collector and big rancher William Royle and his hirelings cover up their greedy land-grab by stealing Rita Hayworth's land and making her a fugitive in a trumped up murder charge. Forming a renegade band to strike back at Royle, the gun-toting Hayworth is outlawed by the Texas Rangers who send O'Brien into the valley to bring her to justice. Young Ranger Tim Holt has had a disagreement with O'Brien and left the Rangers to join Rita's band. When O'Brien tires to infiltrate her organization, he's exposed by Holt. Story idea was developed by Forrest Sheldon for Buck Jones' "Texas Ranger" in '31, then was "appropriated" by Bennett Cohen for Tom Keene's "Come On Danger" in '32 at RKO. Oliver Drake reworked the plot here for "Renegade Ranger", then Norton S. Parker had a go at it with Tim Holt's also titled "Come On Danger" at RKO in '41. RKO borrowed Rita Hayworth from Columbia for this picture. Onetime silent star Neal Hart has a nice role as the sheriff.




LAWLESS VALLEY ('38 RKO) One of the best Westerns of O'Brien's three year RKO reign is "Lawless Valley", due in great part to the villainy of unruly real life father and son, Fred Kohler Sr. and Jr. Paroled from prison for a robbery he didn't commit, O'Brien returns home hoping to prove his innocence and that his father was murdered and did not commit suicide as claimed by no-good sheriff Earle Hodgins, under the thumb and in the employ of the Kohlers who framed O'Brien a year ago. George wants to see his old sweetheart, Kay Sutton, who is Kohler Sr.'s ward and whom he plans to have marry Jr. so he can legally obtain Sutton's ranch. Tracing a tampered-with six gun belonging to his father, George proves his innocence and thwarts all of Kohler's evil plans. Ray Whitley had been—and would be—providing the musical element to O'Brien's westerns, but this time, due to the more serious tone of the story, his group is supplanted by a group of five blacks who harmonize during a freight train opening to the picture. Oliver Drake rewrote his story for Bob Steele's "Thunder Town" in '46 using the pen name James Oliver.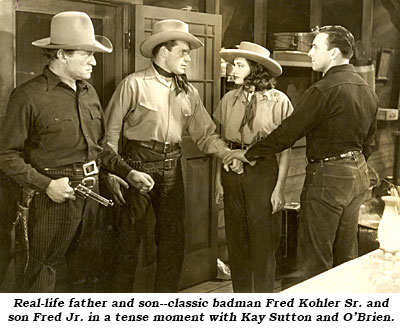 ARIZONA LEGION ('39 RKO) O'Brien, working undercover to secretly form the Arizona Rangers with Judge Edward Le Saint, is ostracized by his sweetheart (and Le Saint's daughter) Laraine Johnson and other townsmen for his association with a gang of bandits led by Harry Cording. Because of his undercover work, O'Brien nearly loses his girl to unlikable, wimpy young Army lieutenant Carlyle Moore Jr. before O'Brien learns Cording's gang is secretly bossed by Commissioner Tom Chatterton and saloon owner William Royle. This is the first of several films with Chill Wills as O'Brien's sidekick Whopper Hatch, bold teller of tall tales. Okay, but nothing special for O'Brien. Remade as "Fighting Frontier" ('43) with Tim Holt.


TROUBLE IN SUNDOWN ('39 RKO) When the Sundown bank is robbed of $90,000, the night watchman murdered and suspicion pointed at bank president John Dilson, Ward Bond and Monte Montague, secretly working for the real crook, real estate agent Cy Kendall, try to incite a lynching. But O'Brien, sweetheart of Dilson's daughter Rosalind Keith, comes to the rescue with his two pals, Ray Whitley and Chill Wills. O'Brien hides Dilson out until he can prove how Kendall pulled the baffling robbery. The whole thing is a bit constricted, with much of the action taking place inside the bank rather than on the open range. The ending is clever but with little
action. Co-scripter Oliver Drake recycled his story for a Cisco Kid TVer in '54, "Trouble in Tonopah" while his co-writers Dorrell and Stuart McGowan reused it for a Gene Autry TVer, "Thunder Out West".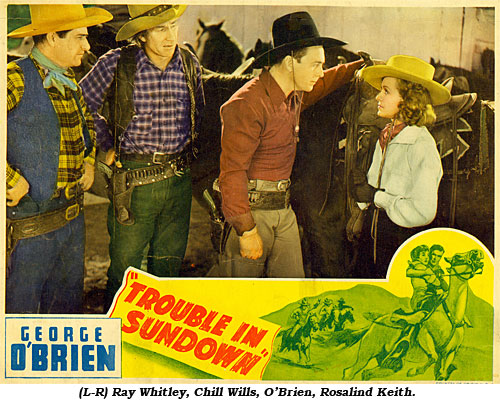 MARSHAL OF MESA CITY ('39 RKO) A superior remake of Richard Dix's "The Arizonian" ('35) as town-taming ex-marshal O'Brien brings his unique light touch to his assuredly best series Western. The fine performances of Henry Brandon as O'Brien's gunslinging friend and Leon Ames as the crooked town boss, who has his cap set for Virginia Vale until George intervenes, lift this film far out of the routine. The grim, gun-blazing finale in the dimly-lit street is expertly handled by director David Howard. A true classic of the B-Western genre. Watch for Spade Cooley as a fiddler at the dance.




RACKETEERS OF THE RANGE ('39 RKO) This is a Gene Autry movie in George O'Brien clothing. Former Autry scriptwriter Oliver Drake wrote this "taming of the spoiled girl" (Marjorie Reynolds) modern day rustlers plot for O'Brien and the similarities to the customary Autry ingredients and plot are staggering. If you watch it with that in mind, you'll be amazed! Exceptional production values and a rousing climax aboard a train highlight D. Ross Lederman's tight direction. O'Brien's pleasing personality and forceful presence make it all come together wonderfully. A true highlight is watching George jitterbug to a western swing version of "Red River Valley" by Ray Whitley, Chill Wills and Frankie Marvin.




TIMBER STAMPEDE ('39 RKO) Planning to despoil the rich Wagon Wheel country, a lumber baron (Morgan Wallace) and a railroad magnate (Guy Usher) combine forces to build a road through the heart of the area (on the premise of building a railroad) but actually plan to log off all the timber. Cattleman O'Brien and his uncle, newspaperman Earl Dwire, learn of their scheme and fight back. The two swindlers dispose of Dwire and put naïve eastern journalist Marjorie Reynolds in his position. The robber barons also murder the sheriff and elect expressionless, steely-eyed gunman Robert Fiske (in his most cold blooded role) as their hip-pocket lawman. Fiske tells them, "I always give a man an even break—unless I know he's faster on the draw than I am." One of O'Brien's best with a wild action finish.


FIGHTING GRINGO ('39 RKO) This plot-heavy entry isn't quite up to par with other O'Briens. Gunfighting troubleshooters O'Brien and his pals (Slim Whitaker, Cactus Mack and about nine others) save the rancho for Lupita Tovar and her father from land grant land grabber William Royle. This was former minor-league cowboy star Bill Cody's last decent role (as the gray-templed sheriff). On the other hand, watch for a quite young Ben Johnson as a Mexican in the cantina. This is certainly one of his very earliest roles…he was probably involved in the stuntwork for this title also.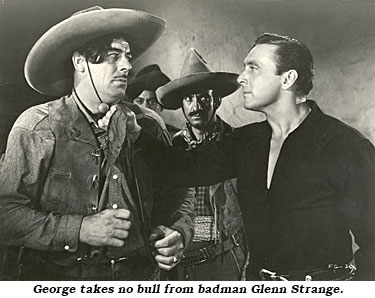 LEGION OF THE LAWLESS ('40 RKO) Lawyer O'Brien comes to Ivestown where he finds vigilantes led by ruthless Norman Willis have split East Ivestown off, extricating it into a separate village. This will allow the vigilantes to dominate when the railroad comes through Ivestown proper. The actual instigator of the vigilantes, kindly Hugh Sothern, is being duped by Willis and his men (Monte Montague, Slim Whitaker, Bud Osborne, Richard Cramer) into believing they are doing the right thing. As O'Brien opposes the strong-arm tactics of Willis, Sothern decides to disband the vigilantes when it's learned the railroad will come through East Ivestown and not Ivestown. Enraged, Willis murders Sothern and tries to grab control of East Ivestown as well. Virginia Vale as Sothern's daughter and O'Brien's love interest is at her best.



BULLET CODE ('40 RKO) When O'Brien's pal Bud (Robert Stanton—later and better known as Kirby Grant) is killed during a rustler's raid, George believes he's responsible. Before he dies, Bud asks George and sidekick Slim Whitaker to inform his sister (Virginia Vale) and Dad (Howard Hickman) of his death. It's then George discovers devious Walter Miller and his gunslicks are trying to run Dad and Virginia off their ranch, which borders on Mexico, so they can run stolen cattle across the border without detection. In righting that injustice, George also uncovers Bud's real killer.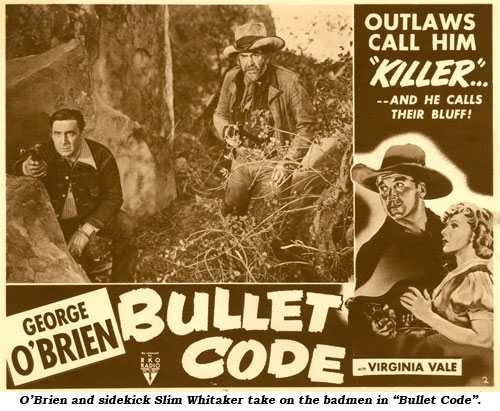 PRAIRIE LAW ('40 RKO) O'Brien's wit, charm and fists bring justice to rustler Cy Kendall (who butchers cattle) as well as crooked judge Paul Everton trying to move the county seat for political gain. Bright, clever script by Doris Scroeder and Arthur Jones with a fine action windup. Expertly directed, as most of the O'Briens were, by David Howard. Very oddly, although not seen on screen, Ray Whitley sings the memorable and hum-able "Rocky Road" while some unknown group lip-syncs the tune.




STAGE TO CHINO ('40 RKO) Virginia Vale comes into ownership of a stageline between Prescott and Chino, unaware her devious uncle, Carl Stockdale who is managing the line, is secretly plotting with saloon owner and rival stage line owner, fancy dressing dude Roy Barcroft, to force Virginia to sell out at a ridiculously low figure. Postal inspector O'Brien, even more cock-sure of himself than usual, comes to beleaguered Virginia's aid as a stage driver. Barcroft's men do everything they can to wreck Virginia's chances of success. There's some well-developed friendly camaraderie between O'Brien and roughneck rival stageline driver William Haade. Hobart Cavanaugh as a timid drummer passes for what is usually termed "comic relief". Fleming Allan's title tune is sung (over the credits) by Ray Whitley although he's not seen in the picture. The three songs come from yodeler Nora Lou Martin and the Pals of the Golden West, a group also seen in Universal's "Boss of Hangtown Mesa" and "Silver Bullet" both with Johnny Mack Brown in '42.




TRIPLE JUSTICE ('40 RKO) Intricate plot has George arriving in Star City for his friend LeRoy Mason's wedding, but being immediately blamed for a $30,000 bank robbery and murder of the bank teller. The only one who can save him is Mason, who has been severely wounded. One by one, O'Brien tracks down the robbers (Paul Fix, Bud McTaggart, Glenn Strange) unaware there is a fourth man—deputy sheriff Harry Woods who is hell-bent to kill O'Brien before he can learn Woods' identity. Along the trail to triple justice are many sideroads, including a romance with McTaggart's sister, Virginia Vale (whom O'Brien finally kisses on screen in this their sixth and final film together). Writers Arthur Jones and Marion Grant packed their intelligent screenplay with some very clever dialogue. At age 40, O'Brien concluded his RKO Westerns with this film and returned to his military career.


GOLD RAIDERS ('52 Jack Schwartz/United Artists) A meeting of two genres—B-Western and slapstick comedy—as the Three Stooges come to the aid (as best they can) of George protecting gold shipments from outlaws (Lyle Talbot, John Merton). Written by longtime Stooges scripter Elwood Ullman and directed by Stooge director Edward Bernds. Filmed at Iverson's in five days between Christmas and New Years. Some purists pooh-pooh this one, but it's pure fun and nowhere near as bad a straight Western as you might think. I've seen worse sidekicks and sillier humor than the Stooges provide. Good supporting cast—Fuzzy Knight, Sheila Ryan, Clem Bevans and Monte Blue. Stuntman Hugh Hooker (doubling O'Brien) does an eye-catching backwards somersault off a horse.