Ratings: Zero to 4 Stars.

THE RANGE BUSTERS ('40 Monogram) To save lovely Luana Walters' ranch, the Range Busters (Ray "Crash" Corrigan, John "Dusty" King, Max "Alibi" Terhune), must find a phantom killer who has murdered Luana's father and is trying to wrest control of the ranch for a hidden vein of gold. The boys are menaced by abusive rival rancher LeRoy Mason and his gun-runners, using a tunnel and an abandoned mine as a hideaway. Then there's crusty, crotchety old Earle Hodgins, Luana's supposedly blind uncle. A good B-western with a neat mystery angle and three suspects. John Rathnell is credited with the screenplay, which is actually a plagiarized remake of Earle Snell's "Desert Phantom" ('36) which probably owes at least a nod to Harry Fraser's "Night Rider" ('32). The common thread between Johnny Mack Brown's "Desert Phantom" and "The Range Busters" is director S. Roy Luby who handled both films. Note that Karl Hackett who played the disabled uncle in "Desert Phantom" is the Sheriff this go-round. Both Corrigan and Terhune had been part of the 3 Mesquiteers trio at Republic since '36. Corrigan, disgruntled at being second lead to Bob Livingston then John Wayne, left Republic and moved to Monogram where he could be top dog in an all new trio, bringing along Terhune who had been Lullaby in the Mesquiteers. To cover viewer's confusion, Crash and Dusty ask Terhune as he first rides up, "Why did you change your name from Lullaby to Alibi?" followed by a convincing explanation. 'Nuff said. Ground covered. On with the adventure.

TRAILING DOUBLE TROUBLE ('40 Monogram) The addition of a baby to the plot gives an otherwise routine western a hint of novelty for the Range Busters. Attempts to gain control of a state contract for gravel held by the Bar H are tied up with the murder of its owner and the kidnapping of his sister. When the Bar H owner dies, the boys are left to care for a baby. There's a fine lullaby from John King to the baby (who is actually his real daughter, Nancy Louise King) and some music by Jimmy Wakely and The Rough Riders while Rex Felker does some rope spinning (he's the one seen twirling rope at the start of all Range Busters westerns). Max Terhune gets in some delightful moments changing the baby's diaper and plying his ventriloquist skills when he swaps dummy Elmer for the baby as outlaws attempt to kidnap the infant.

WEST OF PINTO BASIN ('40 Monogram) When the ranchers of Pinto Basin are in danger of losing their drought-stricken land because frequent robberies of the stagelines endanger an irrigation project, the Range Busters come to investigate. Clever scene in which Alibi loses all their horses in a poker game and Crash wins them back by busting up Tris Coffin's stacked-deck card game. Singer Jerry Smith (1910-1986), the yodeling cowboy of the WHO Barn Dance, Des Moines, IA, is spotlighted with two songs. He simply didn't photograph as well as he sings and was never heard from again on film. Bit of a weak windup as the round-up of the badmen is only mentioned, not shown.

TRAIL OF THE SILVER SPUR ('41 Monogram) One of The Range Busters most remembered, but in actuality, not one of their best. With hidden gold in a desert ghost town, a spooky old hotel, a mystery gunman, secret passageways behind a grandfather clock and a wild-eyed villain named The Jingler (because of his jingling silver spurs), this should have been a top-notch thriller. All the elements are there, but writers Elmer Clifton and Earle Snell fail to make it all come together. The Range Busters are dispatched by the government to track down The Jingler (I. Stanford Jolley), who killed two men and is hiding in a ghost town amongst gold bars stolen from the Denver Mint. The Jingler attempts to scare everyone off through "ghost messages" while another outlaw, George Chesebro, is after old timer Milburn Morante's mine while trying to kill The Jingler. John King sings two songs, with Eddie Dean (as a miner) helping out on "Goodbye Old Paint". An entertaining enough entry, but so much more could have been done with the story elements.

THE KID'S LAST RIDE ('41 Monogram) Starts off a bit weak as the Range Busters have their horses snookered away, making them the laughing stock of the town, then Crash has to "shoo" a skunk underneath the schoolmarm's schoolhouse, but they redeem themselves in the second half of the film. A remake of Ken Maynard's "Branded Men" ('31), the plot centers on weak "juvenile delinquent" Edwin Brian (who needed his teeth fixed if he was going to stay in films—which he didn't) who falls into bad company through overdue gambling debts. A key role goes to Corrigan's white horse who identifies one of the bad guys. Crash and Glenn Strange stage one of the best fights of the Range Busters series. The comic tune "It's All A Part of the Game" sung by all three Busters and Elmer while they have to walk into town is also a standout.

TUMBLEDOWN RANCH IN ARIZONA ('41 Monogram) Unique, original plot idea. In 1941, Western University of Tucson student John King studies the fourth dimension. He meets Ray Corrigan and together they discover they're the sons of Crash and Dusty of the Range Busters. When he's thrown from a horse at a rodeo and knocked cold, King "does" go through the 4th dimension back to the old west where Dusty, Crash and Alibi get mixed up with crooked politicians. Pity, the exceptional premise only segues into a less than routine B-western with an uneventful windup. Somebody on "Matlock" ('86-'95) was a B-western fan, as the premise for this Range Busters entry was recycled on an episode of the Andy Griffith detective series.

WRANGLER'S ROOST ('41 Monogram) On the trail of a notorious stagecoach bandit, the Range Busters learn he is extremely courteous, always carries an unloaded gun and has a habit of playing the number three in all gambling enterprises. Entering wide-open Apache Butte they find The Deacon (Forrest Taylor) trying to bring order via religion to the town while outlaws run a crooked gambling den. Several clues lead the Busters to believe The Deacon is really Black Bart. However, real stage bandits are laying blame on Black Bart's reputation. An offbeat story, an excellent role for Forrest Taylor, but with minimal action.

FUGITIVE VALLEY ('41 Monogram) The Range Busters go undercover as two outlaws and a ventriloquist to round up the stagecoach raiders in an outlaw town. Once there, they encounter Julie Duncan and her doctor father. Julie is secretly the Whip, whom the Range Busters believe is an outlaw, but is in reality working with her men (including singer Doye O'Dell) to get back the land and money the outlaws swindled from them. Fast start but the mid-section sags badly with comedy courtship of Duncan by Corrigan and King and magic tricks by Terhune—then back to a fast action windup. Whip Wilson's "Riders of the Dusk" ('49) borrowed a lot from Oliver Drake's original plot.

SADDLE MOUNTAIN ROUNDUP ('41 Monogram) In this strict remake of "Big Boy Rides Again" ('35), the Range Busters search for $50,000 hidden in the house of a murdered old man. Our suspects are lawyer Jack Mulhall, Chinese cook Willie Fung, foreman George Chesebro and neighboring rancher Steve Clark—the uncle of Lita Conway (with little to do). High on mystery and weak on action content. William Nolte wrote the original story in '35. Now production manager on the Range Busters series for producer George W. Weeks, Nolte let Earle Snell and John Vlahos tune up his old script. Included this time is Cousin Harold Goodman (out of WSM radio) with a pitiful song. Obviously, the idea was to add some regional entertainers to several of the films in hopes of securing a greater amount of playdates. But producer Weeks' selection of Goodman (and in other films Jerry Smith and Art Fowler) was from an inferior talent pool than that from which Republic and Columbia were selecting musicians for their Autry and Starrett westerns, so the idea was thankfully soon abandoned. The trained crow seen in this film is the same one, Jimmy, seen in "G-Men Vs. the Black Dragon" serial as well as "Enchanted Forest".

TONTO BASIN OUTLAWS ('41 Monogram) The Range Busters enlist in the Army during the Spanish American War and are sent to Wyoming, where Crash "grew up", to track down rustlers stealing government contract cattle intended to feed troops. Revisiting his youth, we get to see Crash give the ridiculous "Chipmunk" password—Wahoo! Better than average part for "the girl", Jan Wiley. Sometimes in their films, the vying-for-the-girl banter between Crash and Dusty seems strained or silly, but this one's handled very naturally. However, the whole film's a bit tongue-in-cheek.

UNDERGROUND RUSTLERS ('41 Monogram) Set in 1869—the blackest chapter in Wall Street history—this B chronicles the 'Great Gold Conspiracy' which shook the financial structure of a nation with Wall Street profiteers attempting to corner the gold market. The only way to lick the gold panic is for the Range Busters to see that every available source of gold reaches the Mint. While being the only plot like it in B-westerns, it's segmented and oddly uninvolving due primarily to weak villainy. There's more comedy than usual with Terhune's dummy Elmer taking a more active part as well as some humorous by-play between Corrigan and King over the affections of Gwen Gaze, who has one of her best roles.

THUNDER RIVER FEUD ('42 Monogram) It's a merry mix-up as the Range Busters, in order to become acquainted with ranch owner Jan Wiley, switch identities and become involved in an age old feud which is really being caused by outlaws. Corrigan becomes an eastern dude book writer while King masquerades as Crash. Terhune is the steadying influence. Bit different concept with some witty exchanges, but a bit light in the action department til the finale. Listen closely—to save a buck, Crash is the unseen rodeo announcer in the first scene.

ROCK RIVER RENEGADES ('42 Monogram) There's plenty of action when the Range Busters round-up phantom bandits and there's plenty of fun as they play cupid to old friend and federal marshal Kermit Maynard who's in love with the newspaper editor's headstrong daughter, Christine McIntyre. The phantom riders story falls down, however, with the implausible explanation of reversed horseshoes apparently leading to (but in reality) from a line shack.

BOOT HILL BANDITS ('42 Monogram) This surprising entry amongst the usually routine Range Busters westerns is a true delight, pure fun all the way! Both I. Stanford Jolley's swaggering Mesquite Kid and Glenn Strange's hulking, scarfaced, dim-witted killer, the Maverick ("That ain't friendly…"), are well-defined characters, two of the more interesting in B-westerndom. Filled with witty dialogue from Arthur Durlam, this one shows real style and flair in "Crash" Corrigan's barroom confrontation with Jolley when Crash kicks Jolley's gun from his holster, and the way Jolley strikes his match on Corrigan's gunbelt. Other nice touches are Jimmy Aubrey's drunk, Corrigan drinking milk—with sugar (!), a mystery boss angle and the repartee between heavy George Chesebro and Terhune's dummy, Elmer. Thoroughly enjoyable remake of Tim McCoy's "Frontier Crusader" ('40).

TEXAS TROUBLESHOOTERS ('42 Monogram) Opens with a real B-western oddity—Corrigan and King would rather snooze than stop Riley Hill from being shot by bandits. Only Terhune wants to help. But the mention of a beautiful young girl in trouble spurs our two heroes into action against ranch grabbers. Even then, it's sidekick Terhune who ropes up ringleader Glenn Strange when Corrigan is shot and King is locked in the shed. Naturally, they're in on the final gunfight, but, all told, the boys aren't at their Range Bustingist. There is one clever scene early on when Crash forces bar room baddie Frank Ellis to drink…milk!

ARIZONA STAGECOACH ('42 Monogram) When young Riley Hill (still using his earlier Roy Harris name) is accused of stage robberies and murder, the Range Busters come to the aid of he and his sister, Nell O'Day. As in a couple of other Range Busters adventures, Alibi's dummy, Elmer, bizarrely operates independent of Terhune. One of the songs is by unheralded Rudy Sooter, formerly with Tex Ritter's aggregation, who wrote quite a few songs for westerns. He can be seen with musical groups in "Riders of Pasco Basin" ('40), "Santa Fe Rides" ('37), "Moonlight on the Range" ('37) and several others.

TEXAS TO BATAAN ('42 Monogram) Powered by that rousing Frank Sanucci music, a new trio of Range Busters (John King, Dave Sharpe, Max Terhune), in a pre-Pearl Harbor west, round up Jap spies and transport a herd of horses to the Philippines as part of a special commission for the Army. Very patriotic ending as our heroes hear a radio report about the bombing of Pearl Harbor by Japanese forces and leave the ranch to enlist. This film is your only chance to hear "Home On the Range" in Filipino! Terhune's dummy, Elmer, operates "on his own" in several scenes, giving the film a surrealistic effect. This was the first of 3½ Range Busters B's in which Dave Sharpe replaced Corrigan. Sharpe left in the middle of the 4th film, "Haunted Ranch", to enter WWII for real. When Corrigan left the Range Busters for four films in a dispute with producer George Weeks, the director of all previous titles, S. Roy Luby, left also. Producer Weeks brought in Bob Tansey to direct. When Corrigan returned for the final four, Luby also returned. Somehow, a loyalty between Corrigan and Luby seems quite evident.

TRAIL RIDERS ('42 Monogram) When Charlie King's outlaw gang robs the bank and guns down the Sheriff, the Sheriff's Marshal father (Steve Clark) sends the Range Busters (King, Sharpe, Terhune) to restore peace and find the murderer of his son. Charlie and his gang are masquerading as Vigilantes and have roped rancher Forrest Taylor's son, Lynton Brent, into their employ. Eventually, seeing the error of his ways, Brent 'fesses up to the lawmen and his hard riding sister, Evelyn Finley.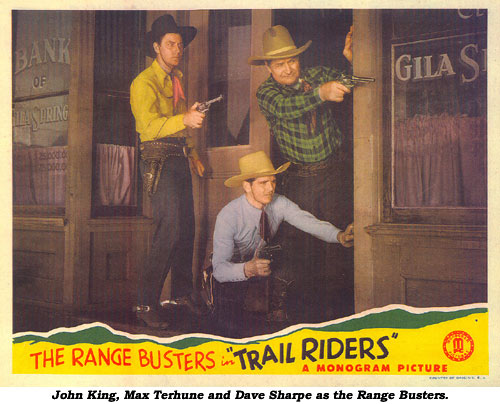 TWO FISTED JUSTICE ('43 Monogram) When bandits plague the stage routes, Wells Fargo calls in the Range Busters (King, Sharpe, Terhune). Leading lady Gwen Gaze is one we'd like to have "gazed" on more—unfortunately, after two Hoppy's, "The Secret of Treasure Island" serial and four with the Range Busters, the lovely brunette married and returned to her native British Columbia. I like the way she winks at the camera at the end.

HAUNTED RANCH ('43 Monogram) Curio Range Busters western for the fact Dave Sharpe actually entered WWII service before the film was complete. It's explained away on film that Davey has joined Teddy Roosevelt's Rough Riders. Rex Lease is brought in for the rest of the film to replace him, but by the next title in the series Corrigan returned and John King was gone (he also entered the service). Max Terhune remained the only constant throughout the whole series. In "Haunted Ranch","Dusty" replaces the heir to a ranch after the man is bushwhacked by heavies searching for hidden gold bullion on the ranch supposedly inhabited by evil spirits. Their idea is to kill or scare off all legitimate heirs. Now Dusty and the others (including black comic man-servant Fred "Snowflake" Toones in one of his biggest roles) must find the key to the bullion which revolves around Uncle Abe's favorite tune on the organ. Monogram mystery lovers will appreciate this one also.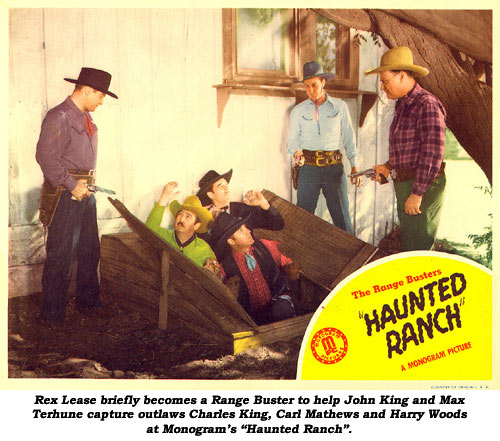 LAND OF HUNTED MEN ('43 Monogram) The last Range Busters trio (Crash Corrigan, Dennis Moore, Max Terhune), aided and abetted by black comic Snowflake, come to the aid of the Sheriff who's beset by mine payroll bandits. Things become a bit surreal when Terhune's dummy, Elmer, talks and acts "on his own". There's about 5 minutes of leading lady Phyllis Adair-centered embarrassment midway; possibly the silliest "girl-competition" segment ever in a Range Busters. This marked the return of Corrigan to the threesome after a layoff of four titles. This was also the first for Denny Moore, but the "spark" seems gone in this last trio. They were by now just going through the motions and Monogram was more interested in their new Johnny Mack Brown and Trail Blazers series.

COWBOY COMMANDOS ('43 Monogram) Pretty much non-stop excitement as the Range Busters battle lowdown Nazi saboteurs who are raiding local magnacite shipments and have killed leading lady Evelyn Finley's brother. Deputy Johnny Bond, helping out, cutely sings "I'll Get Der Feuher Sure as Shootin'". Even with all the action, there's time for Evelyn to show off some trick riding and for Terhune to exhibit his expertise with a deck of cards. Was Elmer, Terhune's dummy, on strike for better wages? He's oddly nowhere in sight!

BLACK MARKET RUSTLERS ('43 Monogram) The Range Busters are sagebrush commandos treating black marketeers rough and mean in an obvious outing by Monogram to back the War effort. Film opens with a foreword urging Americans not to buy black market beef from 5th columnists. At one point, Abili tosses a gun in a barrel labeled "Blast a Jap with Scrap" and Crash talks directly to the audience about buying from legitimate dealers and not from black marketeers. There's a specialty number by Art Fowler and Little Jean Austin, while Hank Worden performs an amusing little dance to a zesty version of "Wait For the Wagons" that will have you smiling.

BULLETS AND SADDLES ('43 Monogram) After 24 adventures, this spelled the end of the trail for the Range Busters. And it's nothing special; routine land grab stuff. After rancher Budd Buster threatens to form a vigilante band to stop the raids on valley ranchers by saloon owner Glenn Strange and his varmints, they frame him for a cattle buyer's murder. Budd's wife and daughter send for help in the form of the Range Busters. A year later, Monogram replaced the Range Busters on their production schedule with singing cowboy Jimmy Wakely—co-starring Range Buster Dennis Moore (at least for a while). Much of the climatic action footage is lifted from the Busters' "Fugitive Valley" ('41).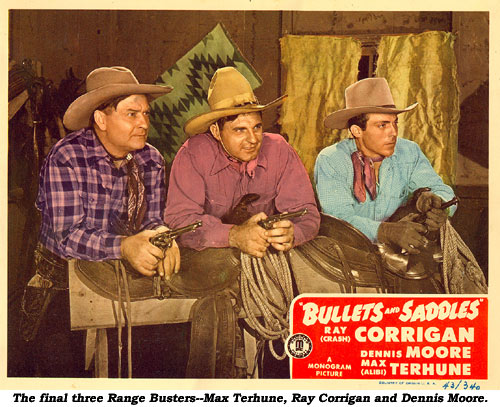 ---

Ray "Crash" Corrigan and Glenn Strange in "The Kid's Last Ride" ('41).
---

John King is the announcer's voice on the trailer for Buck Jones' last film, "Dawn On the Great Divide" (Monogram '42).
---