BOB CUSTER
Ratings: Zero to 4 Stars.
Bob Custer had an excellent career as a silent Western star in the mid to late '20s, but he ended up working for poverty row producers as talkies came in. He simply didn't fare well when it came to sound dramatics.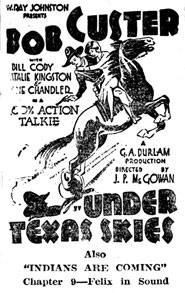 UNDER TEXAS SKIES ('30 Syndicate) Although it presents some offbeat aspects, it's still a long dry haul as orphaned Natalie Kingston tries to sell a herd of horses to the Cavalry for remounts. Badman Tom London (and his man Cliff Lyons) capture Army remount buyer Bill Cody and have a brutish, drooling, idiot named Dummy (Bob Roper) hold him prisoner in an old shack while London impersonates Cody as an Army remount officer in order to obtain Kingston's horses. Enter mysterious cowboy Bob Custer who seems to know London is an imposter. Later, secret service man Lane Chandler (who sings!) turns up to investigate. Yeah, it's pretty muddled (with even something going on with twin pintos) but sort of watchable—like a train wreck.

RIDERS OF THE NORTH ('31 Syndicate) After a fairly decent and interesting beginning, considering it's directed by a hack like J. P. McGowan, this Custer Mountie film sinks slowly in a sea of melodramatics. No-goods Eddie Dunn and George Regas frame Buddy Shaw, an unwilling accomplice, for murder and crime. Dunn pulls his usual sleaze act (lusting after Blanche Mehaffey just as he did in "Sunrise Trail" with Bob Steele the same year). Blanche wrings her hands and looks forlorn as only she can do. Buddy Shaw whines, cries and overacts badly while arrow-straight Custer delivers his lines as always in his flat, staccato style. The windup comes mostly from the Chief Inspector (rather than Custer), played with his customary stage demeanor by William Walling. An extremely good (but unbilled) cowboy band sings a quite listenable, up-tempo but plaintive song about Mounties always getting their man…the theme music of which recurs throughout the film as Mountie Custer gets closer and closer to his quarry. Watch for Wally Wales (unbilled) as another Mountie.
ZERO A SON OF THE PLAINS ('31 Syndicate) Deputy Sheriff Custer suspects the father (J. P. McGowan) of the girl (Doris Phillips) he loves is the notorious Polka Dot Bandit. The real Polka Dot (Edward Hearn) and his accomplice (Eve Humes) accuse our stoic hero of being the crook. Uncharacteristically for a hero, after being tricked by the outlaws, suspecting the wrong man and being framed by Polka Dot, it isn't even "hero Bob" who gives Polka Dot his final comeuppance! Dreadfully slow, cheaply made, badly acted (especially by Phillips in her only film) and padded midway by a broken down saloon girl (Jane Crowley) singing "On the Banks of the Wabash" while barfly Al St. John sobs nostalgically. Strangely, the oft used Jauregui Ranch stands in for a whole town in several scenes using outbuildings as part of the "town". Writer/director Robert North Bradbury reworked this storyline in '34 for John Wayne's "Blue Steel", a big improvement over the original.


LAW OF THE RIO GRANDE ('31 Syndicate) Caught in a lawman's ambush, when wanted outlaw Nelson McDowell is shot he instructs a member of his gang, Harry Todd, to take Custer, whom he's raised like a son, away and have him lead a straight life. In order to convince Custer to leave, Todd has to lie that McDowell has been killed. When Custer and Todd make a stop at a saloon they encounter former gang member Ed Cobb attempting to trick Betty Mack into marrying him. Custer rescues Betty and, as a reward, her father (Carlton King) gives him an honest job on his ranch. Then Cobb threatens to expose Bob as a former outlaw unless Bob helps him rustle King's cattle. Suddenly, McDowell arrives and Bob learns he is not dead. Together, they team up to bring Cobb to justice. Solid story betrayed by Custer's utter lack of enthusiasm and acting ability. Betty Burbridge and Bennett Cohen's screenplay was remade with Charles Starrett as "Two Gun Law" in '37. Some of the character names were even the same when Norman Sheldon abducted Burbridge and Cohen's story.

HEADIN' FOR TROUBLE ('31 Big 4) One good barroom battle between Custer and veteran heavy Robert Walker is about all this mild J. P. McGowan directed low budgeter about crooked gamblers has to offer. Jack Kirk's music group plays and young Andy Shuford spins ropes and dances.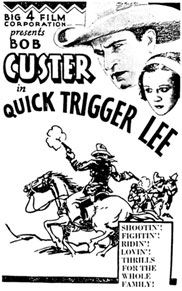 ZERO QUICK TRIGGER LEE ('31 Big 4) Some of the most lecherous "heh-heh-heh…" over the top acting ever seen in a poverty row Western comes from Lee de Cordova as a banker foreclosing on Richard Carlyle's mine. Carlyle's friend, Quick Trigger Lee (Custer), comes to his aid. At one point Custer rescues leading lady Caryl Lincoln from a holdup only to find he's ridden smack into the middle of a movie scene. At this point, some of the bit part lines are delivered so badly, I'm sure they were read by propmen and technicians. Why Custer is called "Quick Trigger" is beyond me, as he never wears, draws or shoots a gun in the whole picture! Directed by J. P. McGowan with his usual lack of any great ability.

MARK OF THE SPUR ('32 Big 4) Custer, the "fresh" new riding boss for tough old rancher Lafe McKee and adopted daughter Lillian Rich, saves the day when McKee's long lost wife (Adabelle Driver) and her apparent son, George Chesebro, arrive at the ranch. Turns out Chesebro is a swindler and thief who hooks up with two villainous ranch hands (Blackie Whiteford and Bud Osborne) who have a grudge against Custer. Actually, it's Rich who really solves the crime. The English born actress is very good, delivering her lines with quiet authority. Former silent star Franklyn Farnum is the sheriff. Director J. P. McGowan took full advantage of a light California snowfall for the early train arrival scenes. Jack Kirk's group sings a song behind the credits and another about Susie. There's a big Boo Boo towards the end—Custer jumps out an obviously open window—you can see the curtain blowing in the breeze—but we hear the sound of breaking glass.

SCARLET BRAND ('32 Big 4) Custer, mistaken for a rustler, is branded by cattlemen. Rescued by lanky Nelson McDowell, they set out to find the real rustlers but they too make a mistake and suspect honest rancher Frank Ball and his daughter Betty Mack when the real rustlers are Robert Walker and his boys. Starts off well for about 15 min. then bogs down midway with dull talk and facial pondering. Then in the end, it's actually McDowell that saves their bacon rather than Custer. Most viewers remember "Sundown Rider" ('33) w/Buck Jones and "Brand of the Outlaws" ('36) w/Bob Steele, but this is the precursor "branding the hero" B-western, probably forgotten because of low distribution from Big 4 and the fact it's not as well done as the Jones or Steele films. Golden opportunity to see what writer/assistant director/production manager William Nolte looks like. Nolte plays Lefty, and save for a couple of other minor acting jobs, this was his only appearance in front of a camera.


LAW OF THE WILD ('34 Mascot 12 Ch. Serial) Rex is a wild horse tamed and owned by rancher Custer. A devious employee of Bob's, Dick Alexander, steals Rex, thinking to turn him into a racehorse. Custer trails Alexander to the racetrack where Alexander's partner, Ed Cobb, kills Alexander and teams up with racetrack crooks Richard Cramer, Ernie Adams and Charles "Slim" Whitaker. The blame for Alexander's murder is put on Custer. Trying to help Bob prove his innocence and regain Rex for 12 chapters are the daughter of another racehorse owner (Lafe McKee), Lucile Browne, handyman and cross-eyed comic Ben Turpin and Bob's dog Rin Tin Tin Jr. All in all, surviving numerous ordeals before justice is served gets very repetitious in one of Mascot's lesser serials. Incidentally, once again the Rex vs. the pinto horse-fight-stock-footage is reused in Ch. 10.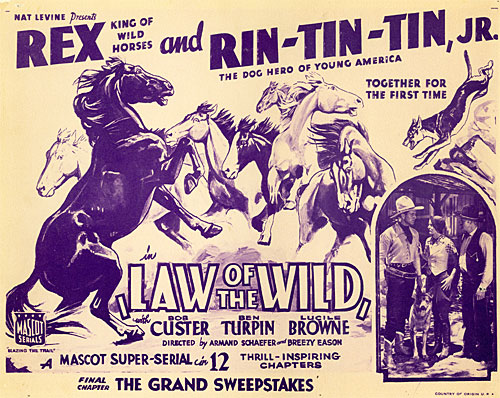 AMBUSH VALLEY ('36 Reliable) A remake of Tom Tyler's "Tracy Rides" as Marshal Custer prevents range war between cattlemen and nesters. Eddie Phillips does an effective job of playing John Elliott's no good spineless son whose sister, Victoria Vinton (who's as stiff as Custer), is in love with Bob. Vane Calvert, as Wally Wales' Ma, is also better than the material.


VENGEANCE OF RANNAH ('36 Reliable) When platinum blonde Victoria Vinton's Pop is murdered in a $10,000 stagecoach (actually a car in this modern western) robbery, insurance investigator Custer is put on the case. Bob discovers Pop's faithful dog Rannah (Rin Tin Tin Jr.) is the only one who can identify the killers—Eddie Phillips, Oscar Gahan and George Chesebro, secretly directed by banker Roger Williams. While the killers try to eliminate Rannah they also waylay a deputy (Wally West), replace him with their own man (Ed Cassidy) and try to frame Custer for the murder and robbery. Possibly the best of Custer's "epics" with an actionful ending high on the precipitous Kernville swinging bridge…even if it isn't Rannah who gets vengeance at the end. Actually, the dog disappears three-quarters of the way through the film?!? Boo Boo: As Bob interrogates a wounded Wally West, West's hat is on, off, back on again!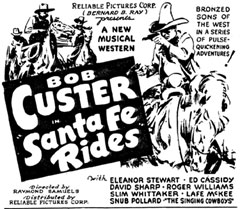 ZERO SANTA FE RIDES ('37 Reliable) Bob Custer—singing cowboy! It's Gene Autry plot 2-B as Bob becomes a "singer" for radio station promoter Snub Pollard in order to raise cash to re-stock his ranch with cattle lost during a drought. But Roger Williams, who craves Custer's ranch, does everything he can to prevent him from performing. Williams implicates Dave Sharpe (kid brother of Custer's fiancée Eleanor Stewart) in rustling and tries to blame Custer for the killing of Williams' henchman, Slim Whitaker, even though he knows it isn't true. Every low budget producer was forced to put music in their Westerns one way or another in the wake of the over-whelming popularity of Gene Autry at Republic. Custer was no singer! He looks either terrified or uncomfortable when he's "singing" (lip synching) three mournful Oscar Gahan songs, backed up by Lloyd Perryman, Rudy Sooter and Curley Hogg. Custer should look terrified—he was at the end of the trail. Real singing cowboys were in, old-time action heroes were out. Custer was handsome and handy—he looked good, fought well, his curse was—he simply couldn't deliver dialogue. Although released in February '37, this film was made just prior to September '36 when Lloyd Perryman became a member of the Sons of the Pioneers. This was Custer's last of only three features at lowly (but consistent from '33-'37) Reliable before Harry S. Webb and B. B. Ray's "studio" folded. Their customary leads were Jack Perrin and Tom Tyler, but when Tyler moved over to Sam Katzman's Victory Pictures in '36, Custer, who hadn't worked in a series since '32, was brought in to fill the void. Both Ray and Webb continued to make low budget westerns elsewhere but it was the end of the trail for Custer, at one time—in silents—a pretty fair name at the Saturday box office.