WILD BILL ELLIOTT
(Part 3)
Early Republic Years
Ratings: Zero to 4 Stars.

CALLING WILD BILL ELLIOTT ('43 Republic) This new Wild Bill Elliott series plugged the gap in Republic's schedule left vacant when Gene Autry entered WWII. Smiley Burnette moved over from Gene's films to support the now bigger-budgeted Roy Rogers pictures as Republic decided Gabby Hayes was of more value getting the fledging Elliott series off the ground than he was continuing with Roy. To instigate the series, this is the first and one of the few times in B-western history that the star's name was incorporated into the film's title. The crooked Governor of the territory rules with an iron hand, commanding his own private militia. When the grandfather of Gabby's young friend, Buzz Henry, is killed, the governor lays the blame on Wild Bill, sending the murdered man's son, Fred Kohler Jr., on a vengeance trail. Eventually, Bill brings the sagebrush dictator to his knees and clears his name.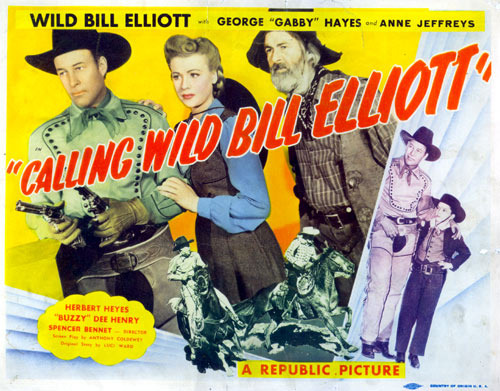 MAN FROM THUNDER RIVER ('43 Republic) When a gold hungry robber baron frames young John James for a murder he didn't commit to get him out of the way so he can steal ore from James' mine, "peaceable man" Elliott and saddle pal Hayes ride the justice trail. Possibly the best use ever of the Republic cave set. An action all the way winner!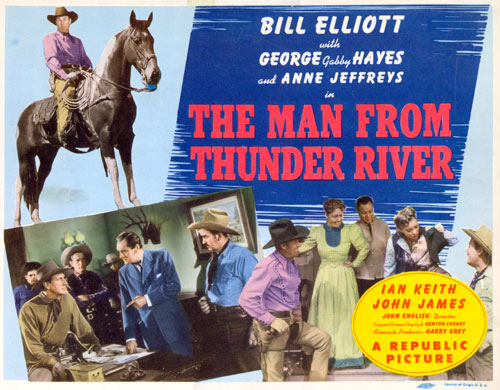 DEATH VALLEY MANHUNT ('43 Republic) After a wild bank robbery opening, Marshal Elliott turns in his resignation, vowing to retire, but, when he and pal Gabby find the independent oil drillers are being oppressed by gangsters, they resolve to help them.

BORDERTOWN GUN FIGHTERS ('43 Republic) Wild Bill and Gabby break up a crooked lottery scheme. Watch for Harry Woods in an unusual good guy role and a young Ben Johnson as an extra in the saloon.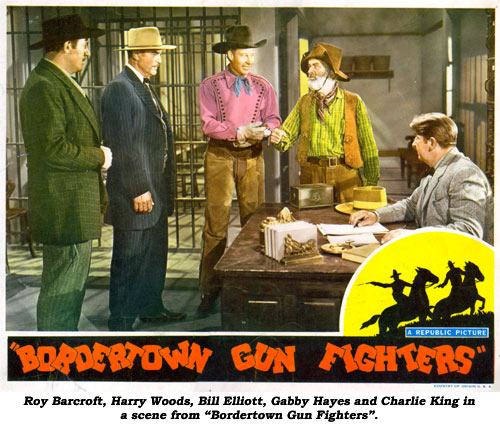 WAGON TRACKS WEST ('43 Republic) A young Indian medico returns from college just as his tribal chief father is murdered by evil medicine man Tom Tyler who is under the pay of a deceitful Indian Commissioner who has designs on making the Indian Territory a cattle empire. Bill and Gabby get involved in the Indian's plight when the young medico treats Gabby, stricken with fever from bad water. Anne Jeffreys, appearing regularly in Elliott films at this time, is completely wasted here as Indian girl Moonhush—she only utters a meager three lines!

OVERLAND MAIL ROBBERY ('43 Republic) Texas Ranger Elliott switches identities with Boston-come-west stageline owner, Kirk Alyn, who's not wise to the ways of the west. They, along with Gabby, have their hands full with a family of stage bandit killers headed up by Alice Fleming and banker Weldon Heyburn (whose bickering bad guy dialogue really brightens up this film) and cousin Nancy Gay, a devious femme fatale. The same Alice Fleming, so nasty here, in a few years, became Elliott's Auntie Duchess in Republic's Red Ryder series.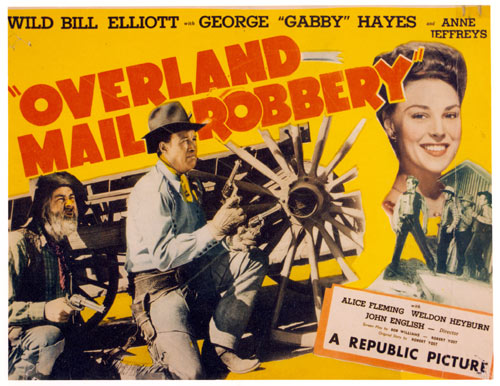 MOJAVE FIREBRAND ('44 Republic) Wild Bill cleans out the lawless elements in a frontier town founded by Hayes. At the same time, Bill helps young Harry McKim learn that hero worship of "a skunk of the frontier" like LeRoy Mason doesn't pay rewards. As action packed as they come! In the saloon brawl the punches look as real as any I've ever seen. A bonus—Gabby even sings (w/Anne Jeffreys) and dances a soft shoe! Few westerns have ever pointed up the dilemma of misplaced hero worship as well as this excellent film.

HIDDEN VALLEY OUTLAWS ('44 Republic) Roy Barcroft's land grab "heads righters" murder a rancher and, although caught, are acquitted. The rancher's son, headstrong John James, swears vengeance on the four against his sister Anne Jeffrey's protests. After James guns down two of the four, the fearful outlaws put into play an elaborate scheme, sending for legendary lawmen Wild Bill and Gabby to get James, dead or alive, on instructions from a phony sheriff, "actor" Earle Hodgins. Thinking they killed James, when it was really the land grab gang, Bill and Gabby are jailed by the real sheriff. Witty by-play between the badmen with Hodgins a standout as actor Hamlet. One point misfires—LeRoy Mason is called Canary, whistling all the time, but it's poorly done and too obviously dubbed in.