HARRY CAREY
Ratings: Zero to 4 Stars.
Harry Carey Sr., born January 16, 1878, in the Bronx, NY, worked in and starred in dozens of silent westerns from 1909 to 1928. With the coming of sound his first talkie was the smash hit "Trader Horn" in 1931 at MGM. At 53, he devoted the next eight years to serials at Mascot and B-westerns at Artclass, Ajax and RKO along with several supporting roles in Zane Grey westerns at Paramount and non-western character parts.

VANISHING LEGION ('31 12 chapter Mascot serial)
Mysterious influences are afoot to prevent the development of oil fields being worked by drilling contractor Harry Carey. Meanwhile, young Frankie Darro's father is trying to clear a murder charge against him. They are all plagued by a mysterious band of horsemen known as The Vanishing Legion. The master villain, whom the audience never sees til the last chapter, is The Voice who speaks via shortwave radio messages to his hirelings. Darro befriends a wild horse, Rex, and Carey befriends Darro as they strive to clear up the muddled mystery. It turns out, not all that coherently, that Edwina Booth (a terrible actress also seen with Carey in "Trader Horn" and in his later serial "Last of the Mohicans") is the rightful heir to the oil company. She has been working undercover (as a secretary) with the Vanishing Legion riders who want to see she receives her rightful inheritance.

CAVALIER OF THE WEST ('31 Artclass)
In this one Carey's an Army Captain, who with Sheriff George Hayes (effectively affecting an Irish brogue), is after horse rustlers Ted Adams and Hayes' crooked deputy. However, a preponderance of the picture is thrown over to romantic escapades between Spanish actress Carmen LaRoux (whose thick accent prevents the viewer from understanding half of what she says), Harry, Adams and Harry's kid brother, Cavalry Lieut. Kane Richmond, who has been transferred west to reform his drinking habit under Harry's supervision. Now Richmond also falls for LaRoux. (What do they all see in this woman that I'm missing?) It's all pretty tedious, with a long courtroom finale.

WITHOUT HONOR ('32 Artclass)
Pretty much like watching crabgrass grow as border rogue Carey's younger brother, awful actor Lee Sage, is killed by smugglers, so Harry changes his ways and becomes a Ranger. There's also a subplot about a "stolen at birth" baby and her real mother, Harry's friend, Australian born legendary silent star Mae Busch, who was by now slumming in bottom of the barrel independents.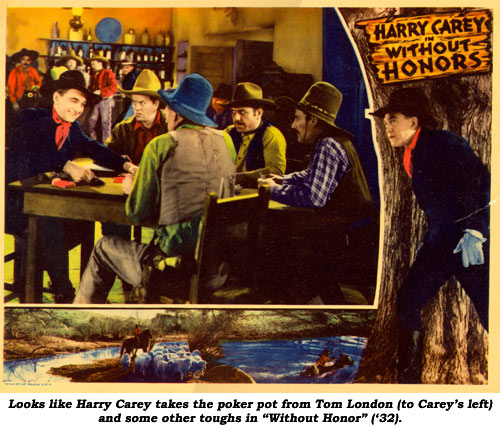 LAW AND ORDER ('32 Universal)
Beautifully done, very tense, superior western deserves every bit of its classic status. Known in the west a the killinest peace officer that ever lived, Saint Johnson (Walter Huston), and his partners Harry Carey, Russell Hopton and Raymond Hatton desire to settle down to a life of peace and quiet, so they head for Tombstone unaware it's ruled in a reign of terror by the sheriff the and his gun brothers. After much bloodshed on both sides, and the loss of all his partners, Huston cleans up Tombstone and realizes his destiny is not to settle down but to continue cleaning up lawless towns. Based on William R. Burnett's novel SAINT JOHNSON, the story (perfectly adapted here by Walter Huston's son John Huston) obviously owes much to the Wyatt Earp legend. Remade in '37 with Johnny Mack Brown as "Wild West Days" serial, again with Brown in '40 as "Law and Order" and finally with future President Ronald Reagan as "Law and Order" ('53). Nevertheless, director Edward L. Cahn's remains the definitive version. "Law and Order" was retitled "Guns A-Blazin'" and reissued in '50 by Realart to avoid confusion with the Johnny Mack Brown title. By '50 the marquee value of some of the cast members had changed. Huston still got top billing on print material, but bit player Walter Brennan was billed second, Andy Devine (in a wimpery, remarkable performance as the first man to be hanged in Tombstone) received third billing and Raymond Hatton was listed fourth, overlooking Harry Carey.
ZERO BORDER DEVILS ('32 Art Class)
The real devil in this Carey low budgeter with a yellow peril theme is the confusing, talky and practically actionless script (by sometime director Harry Fraser hiding under the pseudonym Harry C. Crist). Only worth watching for a few clever exchanges between Carey and George Hayes.

LAST OF THE MOHICANS ('32 Mascot serial)
Serial producer Nat Levine was certainly not the first to bring James Fennimore Cooper's classic LAST OF THE MOHICANS novel to the screen. As early as 1909 D. W. Griffith made a one-reeler, "Leatherstocking". Years later, two films, one German and one U.S., were released. The U.S. version was "Last of the Mohicans" ('20) with Wallace Beery. Now, 12 years later, Levine released what is arguably the best all around chapterplay Mascot produced. In 1757, during the war between France and England for possession of the new country, we find a party of four people—Cora Munro (Edwina Booth) and her sister Alice (Lucile Browne), daughters of British Army officer Edward Hearn on the way to his fort; their escort Major Duncan Heyward (Walter Miller) of the Royal Americans who is in love with Alice; and their singing teacher Nelson McDowell. They're attacked and captured, over and over, by Indians under the command of Magua (Bob Kortman), a cruel and vicious Huron chief whose allegiance is to the French, led by General Montcalm (Mischa Auer). The party is aided by woodsman Harry Carey, the Sagamore chief (Hobart Bosworth) and his son Uncas (Frank Coghlan Jr.), the last of the Mohicans (as it turns out). The principal action is constructed of chases and rescues back and forth but there are some expertly staged battle sequences (Yakima Canutt was on hand) and the story has a coherence and logic often lacking in other Mascot serials.

NIGHT RIDER ('32 Artclass)
Slowly—waaaaaayy too slowly—Carey uncovers the flesh and blood identity of the mysterious, bold night-riding bandit who has been robbing banks and raiding ranches in a ghostly reign of terror. What I wanna know is, how come the first robbery we see the night rider pull is in obvious daylight?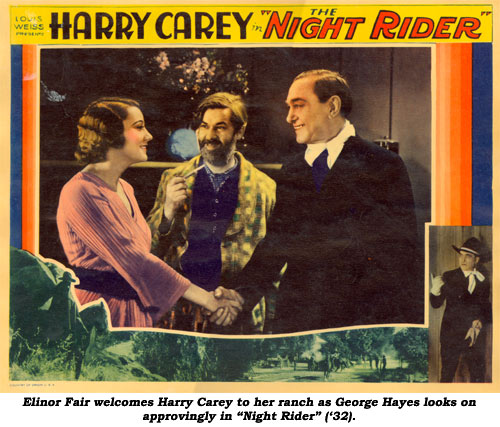 DEVIL HORSE, THE ('32 Mascot 12 Ch. serial)
The father of young Frankie Darro is murdered by thieves Noah Beery Sr. and J. Paul Jones, leaving the child an orphan. Ala a western-Tarzan-plot, the boy is adopted and raised by a herd of wild horses (rather than gorillas). Years pass, Darro, now a wild boy teenager, witnesses Beery and Jones trying to steal a race horse, El Diablo, and murdering a forest ranger, Lane Chandler. Before he dies Chandler inscribes the names of his killers onto his pinto's hoof. El Diablo escapes and becomes part of a wild herd as does the pinto. Seeking his brother's killer, Ranger Harry Carey finds and educates (as best he can) the wild boy. Some of the best scenes in the serial involve Carey teaching Darro the ways of civilized life. For 12 chapters Beery and Jones, with henchman Al Bridge, attempt to recapture El Diablo and present him as a "new discovery", but they are foiled at every turn by Darro who protects the horse who, in turn, protects him. Mascot honcho Nat Levine intended to use Rex, King of the Wild Horses, but for budgetary reasons purchased a 3 year old stallion, Apache, from stuntman/horse wrangler Tracy Layne. Stunts were performed by Yakima Canutt (doubling Carey) and Richard Talmadge (doubling Darro). Much wild horse footage was lensed in Arizona but, due to cost overruns on this, several recap chapters were inserted in the serial to cut expenses which resulted in, actually, only about nine episodes of original action. For the first chapter cliffhanger, Yak (doubling Carey) grabbed hold of Apache's mane with his hands and clamped his legs around Apache's neck from the front. Apache fought wildly to shake Yak loose, creating one of the most spectacular stunts ever filmed. (Yak explains in detail how the shot was accomplished in his biography STUNT MAN ('79). When Apache toppled over from Yak's 200 pound fame, Yak was knocked unconscious. The footage was reused in Gene Autry's "Comin' Round the Mountain" ('36).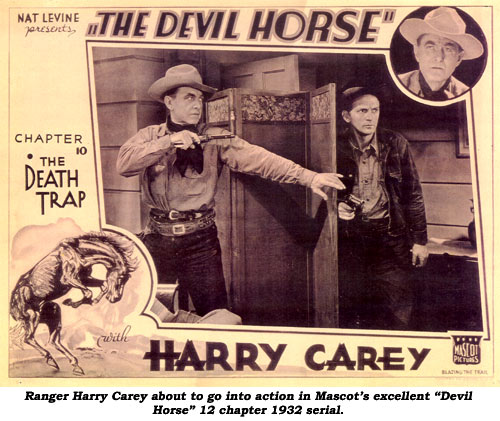 WAGON TRAIL ('35 Ajax)
It looks like Sheriff Carey is going to have to hang his own son, Edward Norris, after he arrests him for a stagecoach robbery and killing, not knowing his son was forced into the holdup by nasty saloon owner Roger Williams who holds Norris' IOU gambling notes. Complicating matters further is the fact Norris is in love with Williams' step-daughter, Gertrude Messinger, and can't bring himself to tell her that her "Dad" is a crook. Gertrude Messinger (1911-1995) was briefly married to famed stuntman Dave Sharpe. When Gertie's brother, Buddy, died in 1965, Dave married his widow, Margaret Messinger. Gertie later married cameraman Schyler Sanford (primarily at Paramount) who received an Oscar with the Todd-A-O group for "Around the World in 80 Days".

RUSTLER'S PARADISE ('35 Ajax)
Cheyenne Harry (Carey) rides headlong into a rustler's paradise to end his long search for his daughter (Gertrude Messinger) and wife who ran off with outlaw Ted Lorch. In retribution, when Harry finds him, he lets Lorch feel the sting of his bullwhip in a rather sadistic scene for a hero in a B-western. Harry uses the whip proficiently here long before Lash LaRue and Whip Wilson. Slim Whitaker sports one of the worst Mexican accents ever heard in a western. At 57, Carey was the oldest man ever to star in a series of B-westerns.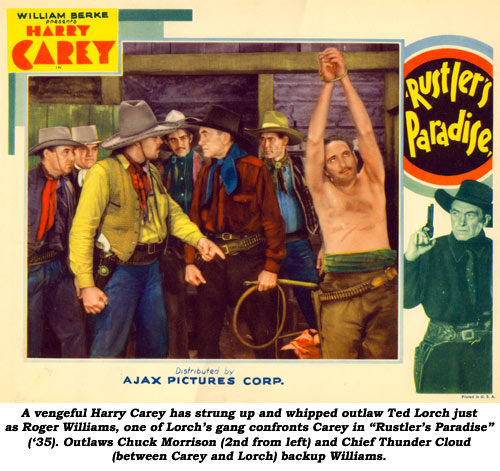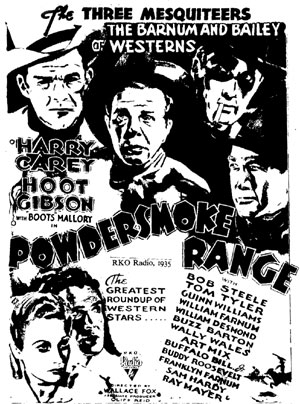 POWDERSMOKE RANGE ('35 RKO Radio)
RKO certainly was not about to launch a series of Three Mesquiteers westerns, but they packed every western star they could lay their contracts on for this sagebrush oddity, and therein lies its charm, fame and reputation today because, in reality, it is a rather dull, talky, lethargic western. And other than Tom Tyler's cold-eyed Sundown Saunders gunman, the performances are pretty routine. The film was wisely advertised for its all star cast, thereby receiving playdates in theatres not normally known to book standard B-westerns. Based on a novel by William Colt MacDonald, Harry Carey is Tucson Smith, Hoot Gibson is Stony Brooke and Big Boy Williams is Lullaby Joslin. A quite different casting approach than that taken by Republic a year later. Also in the star-studded cast are Bob Steele, the aforementioned Tom Tyler (both later to be Mesquiteers themselves at Republic), Wally Wales, Buzz Barton, Art Mix, Buddy Roosevelt, Buffalo Bill Jr., Franklyn Farnum, William Desmond, William Farnum—many in don't-blink-or-you'll-miss-'em cameos. Stale plot has Carey/Gibson/Williams opposing corrupt town sheriff Adrian Morris and Mayor Sam Hardy. (Both miscast! Why not some of the top heavies of the day as well in these roles?) Main interest in the film comes as the Mesquiteers try to convert gunslinger Tom Tyler to the right side of the law. At first refusing, in the final showdown Tyler takes a fatal shot meant for Carey.

LAST OF THE CLINTONS ('35 Ajax)
Seems Harry's excellent work here inspired everyone else in the film to do a better than usual job, even director Harry Fraser who wrote a better than average script under his alias Weston Edwards based on a story by Monroe Talbot (another of his many aliases). Oddly, Harry's pal, Vic Potel, is the Clinton referred to by the title—but nothing is ever made of the fact. Juvenile lead, Del Gordon, is not bad as outlaw Tom London's younger brother, but other than this, and Carey's "Wild Mustang", nothing was ever heard from him again. Carey made four westerns for Ajax, a company that only survived for a year in the glutted independent market, but all four, produced by William Berke, harkened back to the stark realism of Carey's silent starrers.

WILD MUSTANG ('35 Ajax)
After Sheriff George Morrell is killed by escaped convict Bob Kortman, Morrell's old lawman friend, Harry Carey returns to track down Kortman and his gang. Kortman enlists men in his gang by branding their hands with a "U" so they'll be rejected by townsfolk and forced to seek the company of his gang. In a violent scene, when Carey's son (Del Gordon) stumbles upon one of these brandings, the gang brands him also. That done, Harry has his son join the gang undercover. Nice to see George Chesebro (badly misspelled Cheeseborough in the credits) on the right side of the law for a change—as Carey's deputy.

ACES WILD ('36 Commodore/Astor)
Cheyenne Harry heads for Durango with intentions of tracking down his old nemesis, slippery gambler Ted Lorch. Carey becomes partners in a newspaper with young Gertrude Messinger after Lorch and his bushwhackers have killed her father. Lorch's sneaky plan, which he's worked before, is to move into a town with no bank, convince townsfolk to deposit their cash and valuables in his safe, then he robs the safe and splits the breeze.

GHOST TOWN ('36 Commodore)
A fast beginning, a slow midsection while "Cheyenne Harry" is mistakenly in jail, and a punch finish make for fair entertainment. Crooked promoters hiding out in ghost town shoot miner Earl Dwire who is carrying $10,000 and throw suspicion on Harry. Dave Sharpe is cast as a young deputy. Commodore picked up the Carey westerns where Ajax left off. Although Carey had played a character not unlike his Cheyenne Harry role which he'd essayed in silents for director John Ford, he wasn't referred to specifically as Cheyenne Harry until two for Commodore ("Aces Wild" is the other). Although the films were still under the same production set-up as the Ajax four (William Berke producing, Harry Fraser directing, and writing too, under his Monroe Talbot alias), there was one other slight change, Harry's horse Sonny was now billed as 'Sonny, the Marvel Horse' rather than 'Sonny, the Wonder Horse'. Incidentally, although spelled "Sonny" in all advertising for the six Ajax and Commodore titles, Harry Carey Jr. says, "My father's horse was Sunny, not Sonny, because his coat reminded my Dad of the Sun. Sunny died at John Ford's Photo Farm in 1951 at 28. Dad didn't share the horse with any other actors." So, other horses named Sonny (ridden by Betty Miles, etc.) may look similar but are not Carey's Sunny. Commodore, started by independent film distributor William Steiner, was formed to handle product for Reliable and Supreme. They also produced eight features of their own, four of them B-westerns, two with Carey and two with Fred Kohler Jr. The company lasted just less than a year.

LAST OUTLAW ('36 RKO)
Harry Carey and Hoot Gibson reunited after their success with "Powdersmoke Range" for this whimsical, delightful modern-day western romp. Reformed old-time outlaw Carey has served 25 years in prison. Released into a modern day world, the leathery rascal finds he must adjust to the changes that have taken place. While he served his time, Dr. Frank Thomas has raised Carey's daughter, Margaret Callahan, unbeknownst to her who her real father is. Carey looks up old sheriff Henry B. Walthall who originally jailed him and has now graciously arranged for his pardon. Carey also meets Gibson who becomes sweet on Margaret. When bank robbers (Tom Tyler and his gang) kill Dr. Thomas after he treats one of the gang, Carey, Gibson and Walthall employ old west methods to catch the modern day crooks. Laced with good humor as Carey gets used to big city life and modern day goings-on. The most amusing (and most honest) scene comes when Carey goes to a talking movie to see singing cowboy Larry Dixon (Fred Scott) which, curiously, led to Scott's series later in '36 at Spectrum. Carey's old pal John Ford contributed the original story. A must-see western.

BORDER CAFÉ ('37 RKO)
A variation on Gene Autry plot #102. After a disagreement with his father, Boston playboy John Beal comes west, spending his time drinking in a bar. Meanwhile, eastern gangsters organize some rustlers, selling the beef to an eastern syndicate. Good-natured rancher Carey helps reform Beal by letting the man pretend Carey's ranch is his when Beal's estranged parents decide to come west to see the ranch he's written them about. Reckon RKO exec producer Samuel Briskin figured if this East-West/romantic mix-up formula was working for Gene Autry, then it oughta work for them. However, although the old Harry Carey charm is at play, the formula only seemed to work for Autry.

LAW WEST OF TOMBSTONE ('38 RKO)
In this comic western, tall-tale telling old-time confidence man Carey finds his schemes won't work in the big city of New York and returns to El Paso where, after a run-in with the law and three outlaw brothers, he is coerced into heading further west to capture the Tonto Kid (Tim Holt), a renown good-badman train robber. Things happen fast over the convoluted 72 minute running time as Carey locates his long-lost daughter and has himself appointed Mayor of a new railroad community. Holt falls in love with Carey's daughter and ends up killing her outlaw fiancé, and Holt's partner, Allan Lane.
Now 60, Harry Carey worked in supporting roles for the next 10 years. He was especially effective in "Shepherd of the Hills" ('41), "The Spoilers" ('42) and "Angel and the Badman" ('47) all with John Wayne.