"TALES OF WELLS FARGO"
Dale Robertson has always believed the key to the success of his "Tales of Wells Fargo" lay in the fact it was not an adult western—or a kid's western either. He promoted the series as a family show, often criticizing the so-called adult westerns on the air. "If there's anything that annoys me, it's the gimmicks. They've lost sight of some of the basic values. Give me a Gary Cooper or Joel McCrea every time. You invest in them and it's like putting money in the bank. And for good reason, they're also nice people."
The same can be said of the ruggedly handsome, southpaw gunhand Dale Robertson who debuted NBC's "Tales of Wells Fargo" on Monday nights from 8:30-9 (ET) on March 18, 1957, and ramrodded the series to the #3 position in the Nielsen ratings during the '57-'58 season. As Wells Fargo agent Jim Hardie, Robertson was a private-eye on horseback sent each week to investigate trouble along the stage route. Many of the episodes were in the capable directorial reins of Earl Bellamy with director of photography being Republic alumni Bud Thackery.
Dayle LeMoine Robertson, born in Harrah, OK, in 1923, grew up around horses. Determined to be an actor, he eventually landed a small role as Jesse James in Randolph Scott's "Fighting Man of the Plains" ('49), produced by Nat Holt, and signed a seven year contract with 20th Century Fox during which time he starred in "Return of the Texan", "Outcasts of Poker Flats", "O'Henry's Full House", "Silver Whip", "City of Bad Men", "Gambler From Natchez" and others.
Producer Nat Holt (1893-1971) had proposed "Tales of Wells Fargo" a couple of times to Robertson and he turned it down. As Dale explained, "Nat Holt called me about 4-5 times and wanted me to do the pilot for this television show, 'Wells Fargo,' but I kept saying no because I had about three pictures I was supposed to do down in Mexico. He finally called so many times I said, 'Lemme

see the script.' It was so bad I never had to worry about going into television. But by doing it I could pay Nat back, 'cause he was the producer of my first film, 'Fighting Man of the Plains'. I felt like I owed somebody somethin'. So I said I'd do it. I never figured in a million years that thing would ever sell. By this time they'd promised me 50% ownership of it. Now, no one goes out and doesn't try to make the best picture you can. You change the script, dialogue, whatever you have to change to make it better. That's what we did, changed it all around. Very little of the original… Anyway, when we got through with it, the first people that looked at it was the American Tobacco company and they bought it. I must say, after we got into it, I'm glad I did it because I enjoyed 'Wells Fargo'. We has 63 people in the crew, we never went over schedule or over budget one time. We never had one harsh word in all those years; and we used lots and lots of new faces that had never been on the screen before."
The pilot aired as "A Tale of Wells Fargo", an episode of "Schlitz Playhouse of Stars" on Dec. 14, 1956. The series made its debut the following March without fanfare and quickly overtook CBS' "Arthur Godfrey's Talent Scouts" in the ratings.
Robertson rode his own horse, Jubilee, throughout the run of the series in which he owned half interest. Usual sponsor was Pall Mall cigarettes. Besides Godfrey, for five seasons "Tales of Wells Fargo" out-gunned a lot of competition from ABC and CBS—"Bold Journey", "Father Knows Best", "Bringing Up Buddy" and "Bourbon Street Beat".
Producer Nat Holt was replaced in the 5th season by Earle Lyon (see his comments). With the 6th season ('61-'62) NBC expanded the series to an hour, changed the theme music, made it in color, added a whole "family" of secondary characters and moved "Wells Fargo" to Saturday night (7:30-8:30ET) where it was opposite the powerful "Perry Mason" on CBS. Cost, ratings and a new format were too much for the series and "Wells Fargo" was canceled after the June 2, 1962, episode.
For the record, in the 6th season, Jim Hardie acquired a horse ranch near San Francisco and five new regulars: Jack Ging as his assistant Beau McCloud, William Demarest as ranch foreman Jeb Gaine, Virginia Christine as their neighbor, the widow Ovie, with Mary Jane Saunders and Lory Patrick as Ovie's daughters Mary Gee and Tina.
Jack Ging (born 1931 in Alva, Oklahoma) worked into the '90s and is now semi-retired. William Demarest (born 1892) entered films in 1926. After "Wells Fargo" he became famous as Uncle Charley on "My Three Sons". He died in 1983. Mary Jane Saunders (born 1943) left show business in the mid '60s. Lory Patrick (born 1933 in W. Virginia) left the business in '67 and married actor Dean Jones in '73. She wrote the best selling book HEARING GOD. Virginia Christine (born 1920) started in films in '43 but is best remembered as Mrs. Olsen, TV spokeswoman for Folger's Coffee. Dale Robertson lived for years with his wife Susan on their ranch in Yukon, OK, and only recently relocated to San Diego to be near relatives.
Jack Ging Recalls
"Tales of Wells Fargo"
Jack Ging, Beau McCloud in the 6th season of "Tales of Wells Fargo", was raised on a farm in Oklahoma and learned to ride when he was a kid. Attending the University of Oklahoma on a football scholarship, he went on to play in the winning Orange Bowl against Maryland. After playing pro ball in the Canadian League and following duty with the Marines in Quantico, VA, Jack studied at Sandy Meisner's Playhouse in New York and came to Hollywood in 1957 with his first role coming on a "Rough Riders" episode.
"I was doing pretty good starting out as an actor," Jack told WC, "Now NBC decided to move 'Wells Fargo' to an hour in color. And they said you gotta get a young sidekick and an older guy, so they got Bill Demarest, great old actor. Dale says, 'If you're gonna do that, then let's try and get Ging, I like him, he's from Oklahoma'…as Dale was. My agent calls and says, 'They're gonna spend a fortune on advertising because it's gonna go to an hour in color. Now color will never work, but it doesn't matter, you'll get a whole year of great exposure and NBC publicity, so you'll be really well known.' (Laughs) Color won't work! (Laughs) I thought it was a great half hour show, with Dale saying something philosophical at the end of each show. But this (format) changed the whole show. Producer Earle Lyon was a nice man, good guy. Demarest was like everybody's grandfather. A wonderful man. Lory Patrick was a sweet girl."
"To me, what hurt the show—Dale was still doing his half hour show. And none of us were gonna get to do anything. The way it ended up, I was just holding Dale Robertson's horse. Anybody coulda done that so I left the show and got suspended for six months (for breaking my contract). But I was handled by MCA at the time so they helped me get out of it okay. Dale was a great guy, a good friend, and he wanted me to do well, except it was still his show."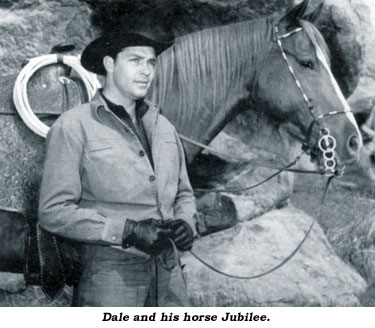 "The funniest thing that happened…Dale used to own quarter horses. He says, 'I'm gonna put you on this horse called Waterloo. That horse is gonna make you a star.' Well, horses never made anybody a star, but that's kinda the way Dale thought. (Laughs) Only this was a quarter horse that he owned. It wasn't a picture horse. Picture horses, they know how to go right up to the camera, stop, make you look good and everything else. But this was a race horse! Now Dale was one of the greatest horsemen ever. I knew how to ride pretty well, but I was having a hard time controlling that horse. I said, 'Dale I can't handle this horse.' He says, 'Oh yeah, he'll get used to it. You'll be okay.' So, one of our first days out at the backlot at Universal, Dale is lying by the campfire waiting for me, I'm out lookin' for the bad guys. I'm supposed to ride into the camp and tell him 'They're all over there!' Well, I come riding into the camp on this #!@Z! horse…now the camp was set up with the whole crew right behind Dale, campfire going. I come ridin' in and the #!@Z! horse, ran right through the fire! Right over Dale, and knocked the whole camera crew about 50 yards scattered! I jumped off the horse and he kept goin'! (Laughs) Dale got up. The horse kinda nicked his knee, and he sez, 'Damn. Maybe that horse isn't ready for movies yet!' (Laughs) Now Dale's horse was Jubilee, but he was a picture horse."
Ging went on to work on hundreds of TV episodes as well as films like "Mosby's Marauders", "Play Misty For Me", "High Plains Drifter", "Where the Red Fern Grows", TV's "Winds of War" and dozens more. He also became quite successful in real estate.
Lory Patrick Recalls
"Tales of Wells Fargo"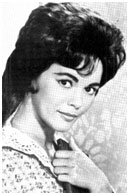 After modeling in Detroit and three years of work in New York, Lory Patrick came to Hollywood in 1960 and assumed the series regular role of Tina during the last season of "Tales of Wells Fargo".
Lory recalls, "They were just casting it and there were hundreds of girls that had gone in. They had people sitting all over the room, waiting to go in. I didn't learn until after Dale Robertson and the company had actually cast Mary Jane Saunders early on and she had been sent into the waiting room to psych out the girls coming in, and kind of give her opinion on who…on our character, as it were. Mary Jane Saunders must have been all of 18 at the time. (Laughs) I left confident. Then my agent, that afternoon, got the word."
The late Virginia Christine played Lory's mother. "What a beautiful soul she had. She was motherly, not only as the character of Mary Jane's and my mother, but she was an excellent example to two young women as we worked together. So was her husband, Fritz Feld. I would go to their house often. I wasn't one to date in those days so I kind of locked on to couples and would go to their house for dinner and that kind of thing."
Why, after one season as an hour show, "Tales of Wells Fargo" was over, Lory speculates, "I have the feeling Dale wanted to stretch his legs and do some other things; that was on his heart. I know he had an animated picture he wanted to do, and did, in fact, put an awful lot of money into. I think he probably had a vision of being competition eventually for Disney, which didn't turn out, but he did do a piece called 'Man From Button Willow'. I was under contract to Universal for three years, so I started doing all of their shows afterward."
Producer Earle Lyon Recalls
"Tales of Wells Fargo"
Producer Earle Lyon had already written/acted in/produced such westerns as "Silver Star", "Two Gun Lady", "Stagecoach to Fury", "Quiet Gun" and "Rawhide Trail", when he came to "Wells Fargo".
"I took over the last two years. Dale Robertson called me one day and said he felt Nat (Holt) was getting too old and couldn't remember things. Dale was pretty upset with the way things were going with the series. At that time, Nat and Dale controlled the series. It was being financed by Universal and released by NBC, but they didn't have control over who did what to who. So, Dale asked me if I'd like to take it over. I said I would. Dale talked to Nat, and Nat didn't like it too well (chuckles) but Universal and NBC agreed with Dale that Nat wasn't doing what he should have been doing. They brought me in, looked at some of my pictures and said he's okay. When I took over in '60 I made 37 half-hour episodes. Someone at NBC wrote letters to Universal and me saying the series has improved so much we think, with color coming in, we'd like to take this show and put it on Saturday night instead of Monday night, make it an hour and in color. They gave me a time and I said, 'We'll be going against 'Perry Mason'! That's his time slot.' 'Wells Fargo' was getting pretty good numbers, but this is gonna be tough. We're losing our regular night, Monday night, and we're going against a very top show which owns that time slot.' They agreed, but decided they wanted to do it. The money thing was right. Dale and I did talk a lot about the 'Perry Mason' thing but he didn't object to color or going to an hour version. We got a pretty good rating but were still second to 'Perry Mason', which I and everybody knew would be."
"I'll tell you this, it was a close thing about going off after the '61-'62 season. I don't think NBC really wanted to cancel the show. Dale and I didn't want to cancel, but due to the cost of the show…Universal at that time, Lew Wasserman and his group had taken over the studio, and they were very cost conscious, and they were til the end of time. Universal tried to make series and motion pictures cheaper then any other major (studio) in town. So they were really responsible for 'Wells Fargo' being taken off the air, not NBC. I later sold out all my interest, Dale did too."
"As for Jack Ging leaving midway through the season, he came to me after about the 3rd or 4th show was on the air, and said, 'If I walk inside two feet in back of Dale Robertson one more time, I think I'm gonna kill myself.' I said, 'Well, he is the leading man.' Jack said, 'Of course he's the leading man, but he's the show. I'm there but I thought I was gonna be co-starring.' I said, 'Not on 'Wells Fargo', you can't co-star. We have five co-stars, and Dale's the star of the show.' I think I gave Jack some pretty good stuff to do, but he wanted more. He really wanted to be the lead in a TV series, and he was a leading man type. But Dale was the show."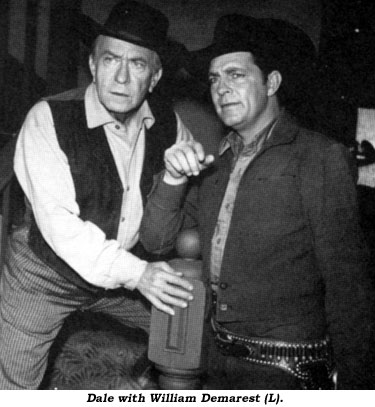 "I became pretty good friends with William Demarest, he was happy with the show. He did a good job. Virginia Christine was a good little actress. But we made 34 one hour shows in color in 10 and a half months! We had short shooting schedules to get 'em done. The guy I brought in for story editor was Al C. Ward, a tremendously good writer. I made him associate producer and story editor. He was later executive producer on 'Medical Center' and kept it on the air for eight years." (Ward also was producer on "The Monroes" and wrote for "Rawhide", "Bonanza", "Ben Casey", "Virginian", "Custer", "High Chaparral" and others. Lyon went on to produce many films such as "Destination Inner Space", "Cyborg 2087", "Castle of Evil" and "Panic In the City". Although squeezed out, Nat Holt continued to produce—"Shotgun Slade", "Overland Trail" TV series and "Cattle King" with Robert Taylor.)