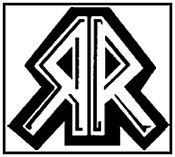 "Range Rider"
Truly one of the classic early western TV series was "Range Rider" which was being developed by Gene Autry's Flying A Productions at the same time Gene was filming the initial episodes of his own TV series. The action-packed episodes opened to the strains of "Home On the Range" as announcer Charlie Lyon intoned, "…And who could be more at home on the range than the Range Rider with his thrilling adventures of the great outdoors, his exciting experiences rivaling those of Davy Crockett, Daniel Boone, Buffalo Bill and other pioneers of this wonderful country of ours. And Dick West, all American boy."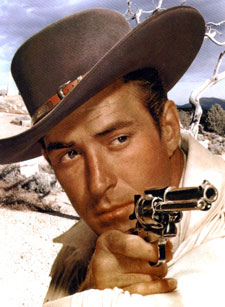 Never identified by any name other than Range Rider, stuntman/actor Jock (Jack) Mahoney teamed up with 19 year old Dick West (Dick Jones) whom The Rider met in the episode entitled "The Range Rider" (the origin episode which actually aired as the 4th show) as he helped rehabilitate Dick's gambler father (Leonard Penn). (Oddly, Dick is named Dick Rivers in this "initial" episode.)
For 78 30 minute b/w episodes on CBS from December 28, 1950, to June 12, 1953, the 6'4" Range Rider, on his trusty steed Rawhide, and Dick West, on Lucky, rode the excitement laden video range righting wrongs, battling badmen and helping lawmen/ladies in distress/and beleaguered ranchers fight off outlaw evildoers.
The casts showcased a veritable who's who of B-western leading ladies (Elaine Riley, Lois Hall, Anne Nagel, Donna Martell, Christine McIntyre, Wendy Waldron, Jane Frazee, Sherry Jackson, Pamela Blake, Gloria Winters, Gail Davis, Nan Leslie), badmen (Denver Pyle, Gregg Barton, Dick Curtis, Kenne Duncan, Bob Wilke, Don Harvey, Alan Hale Jr., Marshall Reed, James Griffith, Riley Hill, John Cliff, Douglas Evans, Harry Lauter, John Doucette, House Peters Jr., Terry Frost, Mike Ragan, George J. Lewis, Dick Alexander, Lee Van Cleef, Pierce Lyden, Myron Healey, Lyle Talbot, Stan Jolley), character players (Harry Cheshire, Raymond Hatton, Earle Hodgins, Tom London, Edgar Dearing, Francis MacDonald, Stanley Andrews, William Fawcett, Harry Harvey, Steve Clark, Kermit Maynard, Pierre Watkin, Ewing Mitchell, Dub Taylor, John Hamilton) and so many, many more in all those categories.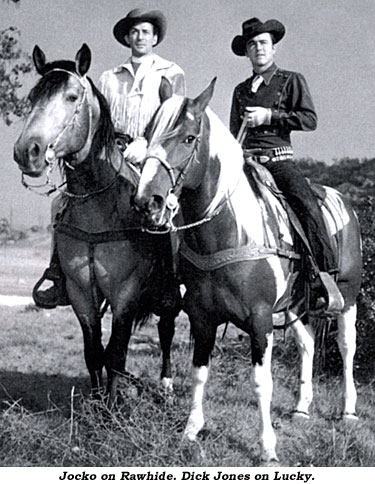 A perfect team, Jocko and Dickie performed all their thrilling and often dangerous stunts, making a pact between them on day one to "do it all" so they could tell their young fans face-to-face, "Yes, we did that!" Therefore a cadre of expert stuntmen to back them up doubling the outlaws in the never-ending fistfight free-for-alls was essential—and they gathered in the best: Al Wyatt, Fred Krone, Fred Graham, Bob Woodward, George De Normand, Duke York, Red Morgan, Boyd Stockman, Sandy Sanders, Richard Farnsworth, Rocky Shahan, Chuck Roberson, Whitey Hughes, Bill Catching, X Brands.
Giving the series a wide-open varied look, "Range Rider" was filmed at all the terrific western locations—Lone Pine, Big Bear, Vasquez Rocks, Pioneertown, Corriganville, Bronson Canyon, Iverson's and Autry's Melody Ranch.
Born Jacques O'Mahoney in Chicago, IL, Feb. 7, 1919, of French and Irish heritage with a hint of Cherokee Indian, "Jocko" became one of the top stuntmen in the business. Clayton Moore described him as "fearless," Guy Madison called him "an antelope—the best jumper in the world." Jocko grew up in Davenport, IA, abandoned pre-med after two years, worked as a lifeguard and swimming coach at Long Beach Pacific Coast Club and joined the Marine Corps in '41 where he served as a drill instructor, worked in ordinance, served on the U.S.S. Guadalcanal, was a Carrier fighter pilot and was honorably discharged as a 2nd Lieutenant.
Landing a job in Hollywood as a stuntman he was soon doubling Charles Starrett, Errol Flynn, Randolph Scott and others. As television became a factor with which to reckon, Gene Autry developed "Range Rider" and couldn't have chosen a better man than Mahoney to star.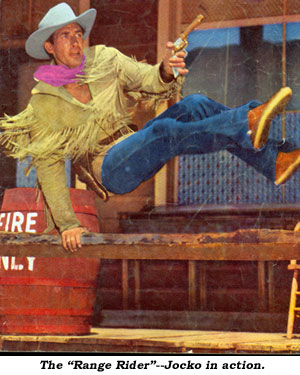 In a '74 interview Jocko recalled, "Other than making sure we came in on schedule, Gene turned us loose. We were free to do just anything we wanted to do, within our show confines. There was never anyone else considered for the Range Rider or Dick West. Both of us walked in and went to work. We didn't even have to make a pilot. Dick was a fantastic partner. Whatever I did he watched me like a hawk and he'd do it. He is a very handy guy. All the stunts were choreographed. It got to the point where we worked together so much that we thought alike. We made the shows in three days. Dickie and I were always trying to figure out new punches and mounts. We did personal appearances until they were coming out of our ears. I think we hold the money record at the Boston Gardens Rodeo. CBS ended the show even though the series was still going strong. We made personal appearances for about three years after the series ended." ("Range Rider" was shown in syndication for many years after the 78 episodes were filmed.) Jocko added, "Everyday was fun. You couldn't have asked for a better boss than Mr. Autry."
Born in Snyder, TX, on February 25, 1927, Dick Jones learned to ride practically before he learned to walk. By age four he was performing in rodeos billed as "The Youngest Trick Rider and Roper in the World". In 1932 Hoot Gibson, headlining the Texas State Fair in Dallas, "discovered" little Dickie and prompted his mother to bring him to Hollywood where he went on to play roles of all types, including the voice of Pinocchio in Disney's animated classic. WWII interrupted his career in 1944. He served a two-year hitch as a rifleman, stationed in Alaska.
Upon his discharge he resumed his career with an offer from Gene Autry to co-star in "The Strawberry Roan" ('48 Columbia). Dick told WC, "It was when I came back from location on 'Rocky Mountain' that Gene called me in to talk about 'Range Rider'. He mentioned this idea he wanted to do. He wanted two believable action persons. He said, 'It's gonna be like a teenage Gabby Hayes. I think you'd compliment Jocko and his athletic powers.'" As for Jocko, Dick smiled, "There'll never be anybody else like him. He was one of a kind in his field of endeavor and one of the nicest men I've ever known. Doing 'Range Rider' was the most fun I've ever had. We had a closeness that I imagine very few people in the industry have. Our lives were on the line, we had to be close. He is the end of an era. To say I loved him would be an understatement."