"Laramie"
In network television how a series does in its individual time period is more important than its overall ranking. When a network is losing a time period, the first thing it does is shuffle its schedule. In the '58-'59 season ABC's Tuesday night lineup of westerns ("Cheyenne"/"Sugarfoot" rotat-ing, "Wyatt Earp", "Rifleman") clobbered the competition, forcing NBC to move or drop three of TV's early winners, "Dragnet", George Gobel and George Burns. CBS was struggling with various shows, most never caught on ("Markham", "Four Just Men", "Dennis O'Keefe" etc.). Revamping its Tuesday evening lineup, NBC decided to fight fire with fire and brought in "Laramie" from 7:30-8:30 Eastern Time. The 60 minute Revue Studios (Universal) produced western starred John Smith and Robert Fuller and began Sept. 15, 1959.
Set in Wyoming territory just after the Civil War, "Laramie" told the story of the Sherman brothers, Slim (Smith) and young Andy (Robert Crawford Jr., Johnny Crawford's real life brother) on the ranch and Overland Stage Line swing station they operated with the help of the older Jonesy (songwriter Hoagy Carmichael). In the first episode, "Stage Stop", ex-fringe-of-the-law, quick-tempered Jess Harper (Fuller) quits his drifter days and settles in to help at the ranch.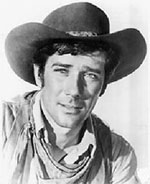 Fuller recalled for WC, "John was already cast in the series as Jess when they approached me to do the show. I read the script and fell in love with Jess Harper. I walked into the head office, gave 'em back the script and said 'Yeah, I wanna do this western. I love the part of Jess Harper.' They said, 'Well, you can't play that. John Smith is under contract and he has the part.' So I said, 'Then I can't do the series.' I'd been in the business quite a while, been working pretty good all of '57 and '58…this was early '59, but I certainly never thought anybody would offer me a series. When I said, 'I can't do your series' they looked at me and said, 'What are you, a star already?' (Chuckles) I said, 'By no means, but Jess Harper is the part for me.' They said, 'You can't have it.' I said, 'I'm sorry, I can't do the series.' They said, 'Get outta here.' I left the office and thought 'I'll never work there again.' But that night I got home, my agent called and said, 'They want you to come in tomorrow and test for the part of Jess.' I went in, tested for it and got it. Even John and I couldn't see it any other way when we saw how it worked out between the two of us. We became great friends."
NBC figured Smith and Fuller were their handsome action-oriented leading men appealing to both men and ladies, 15 year old Crawford was there to connect with teenagers and for the senior citizens there was composer Carmichael (well known for "Stardust", "Georgia on My Mind", "Cool, Cool, Cool of the Evening", etc. and his role in "To Have and Have Not" among others). The combination worked. According to one rating service (NTI) "Laramie" led its time slot all four years it was on the air.
Bob Fuller told TV GUIDE in 1960, "It's a great part I play, this Jess Harper. I love heavies. This guy is part heavy. Jess has a shady past. It gives dimension. I'd compare him with Shane. I love to come to work."
Hoagy Carmichael left the show after one season. Fuller told us, "It was a thrill working with Hoagy. He was a gentleman; he was delightful, except he'd rather play golf than work. (Chuckles) He actually commuted every day from Palm Springs to the set, except some days, he'd forget he had an early call and he was out playing golf. It was his idea to quit after one season. He said 'I can't do this, I'd much rather play golf.'"
His role diminished, the character of Andy Sherman was ostensibly sent to school in the east at the end of the second season.
Bob and John Smith became good friends, and Bob smiles as he recalls, "Our dressing rooms were in an area at Universal called 'Whiskey Row'. Why it was called that is because Ward Bond had a dressing room here, Frank McGrath and Terry Wilson had dressing rooms here, John Smith was next, then me, and finally Lee Marvin. So it was called Whiskey Row and we would party as soon as we got off work at night in one dressing room or another. Smitty and I would come in for a 7:30 in the morning call and just to talk to each other we'd have to holler through the walls. One night we happened to be in John's dressing room, Frank McGrath was there—we'd had a drink or two—we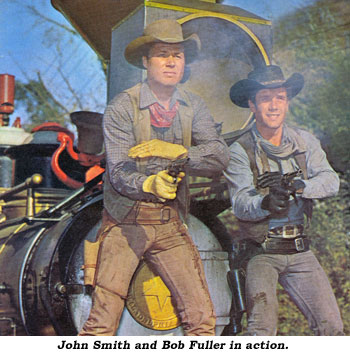 were complaining about the fact we had to holler between the walls, and Frankie said 'I can fix that' and he took a run at the wall and put a big hole in it! When John saw that, he ran and put another big hole in it. I thought, 'This is great, my turn!', so I did, and all night long we did that til we broke the wall down between John's dressing room and my dressing room. Unfortunately, we started in John's dressing room so the whole wall wound up collapsed in my room. The next morning I walked in at 7:30 and looked at my room and could not believe the mess in there. I thought, 'My God, what have we done?' John's room looked real nice. (Laughs) We no sooner got on the set than Lew Wasserman, who ran MCA Universal Studios, called and wanted to see the two of us in his office. We walked in and he said, 'What happened last night?' 'Well sir, John and I just wanted a bigger dressing room.' (Chuckles) He said, 'Alright, you got one!' So they cleaned it all up, put a slider-door in it, and we wound up with a beautiful two room dressing room."
Color was added with the 3rd and 4th seasons, at which time two replacements were added, 10 year old orphaned (after an Indian attack) Mike Williams (played by Dennis Holmes) and widowed Daisy Cooper (veteran actress Spring Byington) as housekeeper and surrogate mother to Mike. Other semi-regulars were former Allan "Rocky" Lane sidekick Eddy Waller as stage driver Mose Shell and Stuart Randall as Sheriff Mort Corey from the second season on.
Robert Pirosh produced the first episode with John Champion as regular producer from then on, working under Richard Lewis as executive producer. Music was in the ever capable hands of English born Cyril Mockridge (main theme), Austrian born Hans Salter and Albert Sendry, all who had major film credits from the '30s and '40s.
Network competition eventually became stronger with CBS' "Dick Van Dyke Show", "Bachelor Father" and ABC's "Combat", and as the preponderance of westerns on TV began to wane, "Laramie" ended its very successful 123 episode four year run on May 21, 1963.
John Smith died at 63 on January 25, 1995. Spring Byington, 84, died Sept. 7, 1971. Hoagy Carmichael died at 82 Dec. 27, 1981. Stuart Randall passed away at 78, June 22, 1988. Waller, 88, died Aug. 20, 1977.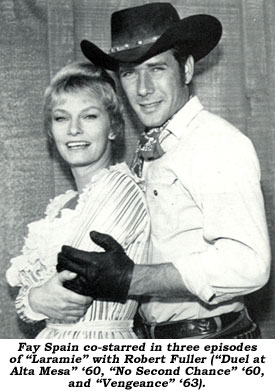 After "Laramie", Robert Fuller joined "Wagon Train" as scout Cooper Smith ('63-'65) and later starred on "Emergency" ('72-'77). Today Bob is retired and operates his ranch near Gainesville, Texas.
Loaded with top level guest stars (Ernest Borgnine, Dan Duryea, Lloyd Nolan, Jock Mahoney, Edmond O'Brien, Rod Cameron, Brian Keith, Thomas Mitchell, Jim Davis, Lyle Bettger, Claude Akins, John Dehner, Charles Bronson, Ben Johnson, Beverly Garland, Julie London, Stephen McNally, Vera Miles, Lee Van Cleef, Gregory Walcott, Jan Merlin, James Coburn, Warren Oates, Harry Carey Jr., Dick Foran, Jack Elam, Jan Shepard, L. Q. Jones, Robert Blake, Lisa Gaye, Michael Pate, DeForest Kelley, Gregg Palmer, Ben Cooper, Fay Spain, and dozens more.), "Laramie" was one of the best westerns on TV and provided stardom for both Fuller and Smith.