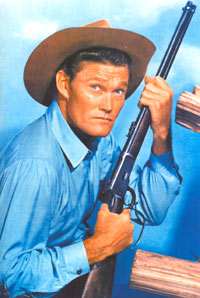 "THE RIFLEMAN"
One of the most popular, and enduring, of the hundreds of TV westerns was, without a doubt, "The Rifleman". From September 30, 1958, to April 8, 1963, faithful viewers tuned in for five seasons, 169 b/w half hour episodes, to the frontier adventures of rifle-toting Lucas McCain (6' 5" Chuck Connors) and his son Mark (Johnny Crawford), newly arrived 1880s homesteaders in North Fork, New Mexico, struggling to make ends meet. Widower Lucas guides his son with everyday life-lessons in the rough, untamed land, battling not only the elements, but outlaws and unsavory characters who inhabit the young territory. Chuck Connors' Lucas regularly demonstrated to Mark, through example, the value of courage and justice, tempered with tolerance and understanding.
McCain was known as "the rifleman" because of his skill with a specially designed .44 Winchester which he always carried. He was deadly accurate even when firing eight shots in less than five seconds with his rifle which had the ring structured so Lucas could cock it with a twirl, as demonstrated in the show's opening. The action would trip the trigger by means of a screw on the trigger guard. Lucas only needed to recock the rifle to fire eight shots without pulling the trigger. However, this was not just another "trick-gun" TV western, in addition to plenty of action the series emphasized the warm father-son relationship, making "The Rifleman" an adult western with family appeal.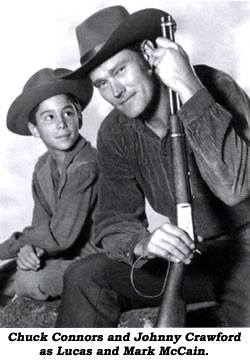 Sam Peckinpah wrote the original first episode script as a stand-alone story with "Gunsmoke" in mind. When producer Charles Marquis Warren turned it down, Peckinpah rewrote the script, eliminating the "Gunsmoke" connection, and submitted it to Dick Powell, head of Four Star, as an episode of "Zane Grey Theatre". "The Sharpshooter" aired on "Zane Grey" 3/7/58. In casting the episode, Powell had in mind James Whitmore, but decided to look at some other possibilities. One of the men auditioned was 37 year old professional baseball player Chuck Connors who had been starting an acting career. Connors told TV GUIDE in 1959, "When I came in the producers (Arthur Gardner, Jules Levy, Arnold Laven) picked up a rifle and heaved it at me across the room. I grabbed it and started to heave it back at him. He said, 'I just wanted to see how you handle a rifle.' I replied, 'Nothing to it. Feels like a Louisville Slugger.'" Connors rejected Four Star's original salary offer, but after seeing Connors interacting with young Tommy Kirk in "Old Yeller", they knew Connors was the man they needed and upped the ante, adding in five percent profits of the show. Connors accepted while 12 year old Johnny Crawford, already a seasoned actor, was signed as his son.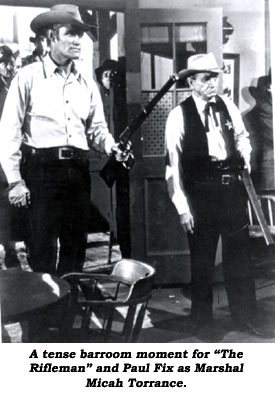 In the first episode, a slightly re-edited version of the "The Sharpshooter" shown on "Zane Grey Theatre", Lucas demonstrates his skill with the Winchester by entering a North Fork turkey shoot to raise money to buy the ranch he has his eye on. Episode #4 (10/21/58) introduced Paul Fix as an alcoholic, elderly, crippled Micah Torrance who, beating his battle with booze, becomes Marshal of North Fork. A dedicated lawman, he nevertheless needed Lucas' aid in keeping law and order in North Fork from time to time.
After two seasons, a romantic interest was developed for Lucas with the introduction of "Miss Milly" Scott (Joan Taylor) who comes to North Fork as a storekeeper in the 11/15/60 episode. Taylor was phased out of the show at the end of the 4th season and replaced with the more aggressive Patricia Blair as hotel owner Lou Mallory during the final season of the series.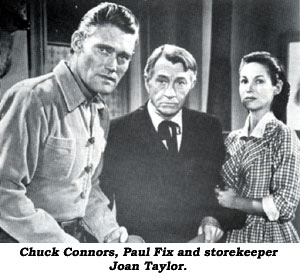 Other North Fork townsfolk semi-regulars were Hope Summers as motherly storekeeper Hattie Denton (early episodes), Joe Higgins as Nils Svenson, the blacksmith, Bill Quinn as Sweeney, bartender at the Last Chance Saloon, and Edgar Buchanan as Jay Burrage, the town doctor in early episodes—later played by Jack Kruschen or Ralph Moody.
The series was also enhanced by terrific guest stars and more than capable directors. Among the guest stars were Michael Landon, Lee Van Cleef, John Anderson (considered for the role of Lucas himself), James Drury, Jack Elam, Claude Akins, Dan Blocker, Michael Pate, Chris Alcaide, James Coburn, Leo Gordon, Gregory Walcott, Richard Anderson, Michael Ansara, John Carradine, Lyle Bettger, Royal Dano, Thomas Gomez, William Bishop, John Dehner, Julie Adams, Harry Carey Jr., Robert Culp, Vic Morrow, Agnes Moorehead, Warren Oates, William Fawcett, Sammy Davis Jr., Lon Chaney Jr., Richard Devon, Diane Brewster and many others.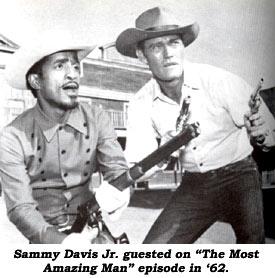 Top-flight directors included Sam Peckinpah, Joseph H. Lewis, William Conrad, Arthur Hiller, David Friedkin, Montgomery Pittman, Richard Donner, Paul Landres and Lawrence Dobkin.
The dynamic theme was composed by Herschel Burke Gilbert.
The ABC series premiered on Tuesday night (following great lead-ins—"Cheyenne" or "Sugarfoot" and "Wyatt Earp") and although faced with stiff competition—"Arthur Godfrey" on CBS, "George Burns" on NBC—"The Rifleman" finished 4th in the Nielsen ratings its first year on the air. Though it lasted four more years, it never equaled the success of the first season, slipping to #13 the second year against "Arthur Murray Dance Party" on NBC and "Tightrope" on CBS. The third season ('60-'61), the show was moved up to a one hour earlier timeslot (8-8:30 Eastern), a bad move as the one hour "Laramie" on NBC got the jump on "Rifleman" by beginning a half-hour earlier at 7:30. "Rifleman" was also up against the established "Father Knows Best" on CBS, causing "Rifleman" to slip out of the top 25 Nielsens. A move to Monday night (8:30-9 Eastern) for the 4th season restored some ratings points even though the popular "Price Is Right" in color on NBC usually won the timeslot. "The Rifleman", however, destroyed Robert Young's "Window on Main Street" on CBS. ("Father Knows Best" was restored by February).
As regional promotion, local TV personalities also were imported to Four Star to play minor roles on "The Rifleman", after which they went back home and plugged the episode in which they appeared. Chuck himself suggested the gimmick. The rifle was also brought onto the screen more often in the 4th season—whether it had to do with the story or not. "We got away from the gun (in the 3rd) season," Connors told TV GUIDE (1/20/62), "and viewers complained. Kids especially like to see that Winchester work."
In the 5th season ('62-'63), CBS dealt a deadly blow to "The Rifleman" by putting the unbeatable Lucy on opposite the western.
Patricia Blair went on to co-star with Fess Parker on "Daniel Boone" ('64-'70), Paul Fix continued to work until the late '70s; he died in 1983. Joan Taylor pretty much retired early from acting in '63. Johnny Crawford had several Top 40 hits on Del Fi in the '60s ("Cindy's Birthday", "Proud" etc.), continued to act and in recent years formed a '20s and '30s music dance band. Chuck Connors went right into "Arrest and Trial" ('63-'64), "Branded" ('65-'66), "Cowboy In Africa" ('67-'68), "Thrill Seekers" ('72-'74) as narrator, was on "Roots" in '77 and "The Yellow Rose" ('83-'84). Crawford and Connors reunited as father and son (but not the McCains) on "Paradise" in 1990. Connors reprised his Rifleman role on "The Gambler Returns" in '91. He died a year later.
"I have a lot of pride in 'The Rifleman'," he told an interviewer, "because it was a great part, to play a good father, a strong man who believes in right and wrong. If he was living in society today, he'd be shooting that gun a lot."