"ADVENTURES OF CHAMPION"
During the same period Gene Autry was filming episodes of his own series, his Flying A Company was producing four additional half hour western TV series: "Annie Oakley", "Range Rider", "Buffalo Bill Jr." and "Adventures of Champion".
Of course, Champion had been recognized as Gene's movie screen horse since 1935, but in this series "The Wonder Horse" was the leader of a wild horse herd befriended and tamed (to a degree) by 12 year old Ricky North (played by Barry Curtis), the only person Champion would allow to ride him. Ricky lived on a ranch owned by his Uncle Sandy (Jim Bannon) and had a German Shepherd named Rebel. Certainly, gold mines, rustlers and Indian problems were story points, but the faith and loyalty between a boy, dog and horse were emphasized.
Why didn't "Adventures of Champion" succeed? Only 26 episodes were filmed by producer Louis Gray and aired on CBS Friday nights from 9/30/55 through 3/3/56. Possibly because two other "horse" shows debuted the same Fall, "Fury" and "My Friend Flicka". Perhaps also, Gene was stretching his productions too thin, one too many series. Still yet, Alex Gordon of Gene Autry Entertainment remembers director George Archainbaud (who helmed over half the 26 eps.—Ford Beebe and John English did the rest) stating that the horse being used in the series, best known as TV Champ, didn't know many tricks, thus making it difficult to find things for him to do.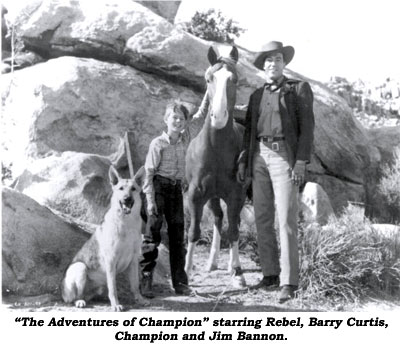 The TV Champ was a light sorrel Morgan and quarter horse with four white stockings and a wide white blaze which came clear down over his nose. According to best sources, his mane and tail were bleached. This horse was also used in many of Gene's Columbia films. Another horse, known as Willie, was also used on the "Champion" TV series, especially for running loose shots. The dog, Rebel, owned by Frank Barnes, was played by J.R. who also appeared on "Rin Tin Tin", although "Champion" on-screen credits list Rebel as played by "Blaze".
Barry Curtis, born in 1943, had appeared in a few films prior to starring on "Champion". He later acted on "Sgt. Preston" and "Annie Oakley" with his last known appearance on and episode of "Lassie" when he was about 17. Curtis tells WESTERN CLIPPINGS, "That's when I decided to go to college instead of continuing to work as an actor. I graduated from UCLA summa cum laude and Phi Beta Kappa with a bachelor's degree in philosophy. I was fortunate enough to get a scholarship to do graduate work in philosophy at Harvard, and got a Ph.D. there in 1975. During my time as a college teacher, I taught philosophy at five universities and finished my teaching career at the University of Hawaii at Hilo, where I was granted tenure and promoted to full professor. I retired in 2011, and now live in San Luis Obispo, CA." Co-star Jim Bannon recalled in his book, THE SUN THAT ROSE ON THE WEST, "Barry was a nice enough little guy, but his mother may be a shade hard to take. She gets panicky every time Barry is even near the horse, which was embarrassing as hell for the kid. He was more than willing and eager to learn what he needs to know."
Jim Bannon (1917-1984) came out of a successful radio announcer career into a Columbia Pictures contract in '43. By '47 he was freelancing ("Dangers of the Canadian Mounted" Republic serial, "Frontier Revenge" with Lash LaRue) before landing the role of Red Ryder in four Cinecolor B's for Equity/Eagle Lion in '49. Following that abbreviated series, he partnered with Whip Wilson in five at Monogram ('51). Heavies and character roles followed (many on Flying A productions) until he was cast on "Champion". Following the quick demise of the series, he worked sporadically in films through '69 but mainly returned to his radio roots and as a commercial spokesman for Sunbeam.
According to House Peters Jr., who played heavies on the series, director George Archainbaud was "the spitting image of Alfred Hitchcock's profile. He was a very subdued director, originally an assistant director in silents under Maurice Tourneur. Basically a drawing-room director, who also directed plays on Broadway, he had to adapt to the tight schedules of westerns and TV. He was rather comical with a dry sense of humor…but quiet." Dick Jones told WC by the time he knew Archainbaud, he, like John Ford, could "cut in the camera," "was more fun than a barrel of monkeys" and "was the best director Autry had along with Frank McDonald and D. Ross Lederman."
House Peters Jr. remembers producer Lou Gray as "one of the few people I could call and say, 'I need a job!' A quiet guy but such a great assistant to Gene's right hand man, Mandy Schaefer." Dick Jones agrees, "Lou knew production better than anybody!"
Complimenting the regular cast were members of Autry's "stock company" of players—veterans such as Stanley Andrews, Myron Healey, Francis McDonald, Ewing Mitchell, Chris Alcaide, Tris Coffin, Rick Vallin, Gregg Barton, Glenn Strange, Walter Reed, Harry Lauter etc.
The upbeat title-song was sung, uncredited, by Frankie Laine, several years before he gave voice to "Rawhide".
"Champion" is a highly overlooked western TV series that should be revived.