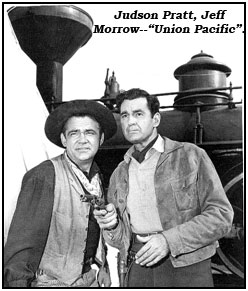 "Union Pacific"
Communications was a strategic element in the development of the west. One TV series that delved deep into these stories was "Union Pacific".
The syndicated "Union Pacific" debuted on most stations Sept. 27, 1958. The California National b/w half hour series starred noted Broadway actor Jeff Morrow (who'd arrived in Hollywood in 1950) as Bart McClelland, operations head of the UP—assigned to lay track from Omaha to Cheyenne. Character player Judson Pratt co-starred as work foreman Billy Kincaid. For a brief respite at end of track was Golden Spike gambling hall hostess Georgia, played by lovely Susan Cummings, a veteran of many western films and TV episodes.
Morrow battled greedy financiers, scheming politicians, outlaws, Indians, even the weather as he pushed track westward. Created by Robert A. Cinader and produced by George M. Cahan, "Union Pacific", with so many westerns on the tube in '58, failed to catch a large audience and only ran for 38 episodes until June 13, '59.
Cinader (1924-1982) and Cahan (1919-1991) had created and produced "Boots and Saddles" the previous year. As a director, Cahan earlier helmed episodes of "Cisco Kid" and "Cowboy G-Men". Cinader went on to create and produce "Adam 12", "Dragnet '67" and "Emergency".
Jeff Morrow, born 1/13/07 in Brooklyn, NY, studied drama in New York, eventually doing much work on Broadway before and after WWII. He also worked extensively on radio where he made over 2,000 broadcasts, including the role of Dick Tracy for two years before coming to Hollywood in '50. Morrow, 86, died in Canoga Park, CA, Dec. 26, 1993.
Stage trained Judson Pratt, born Dec. 6, 1916, also arrived in Hollywood in '50. He died Feb. 9, '02, at 85.
Beautiful redheaded Susan Cummings (right) was born July 10, 1930, in France of French/ German parents. The family moved to Germany while she was very young. To escape the Nazis the family came to the U.S. when she was 10. In her second year at a Newark, NJ, high school Susan made her debut on an amateur radio program. Songwriter Nick Kenny spotted her and brought her to NY at 14 as the star of her own children's program. This led to bandleader Clyde Lucas signing her for his band. Broadway musicals ("Carousel") and road companies followed and eventually Hollywood (at first using the name Suzanne Ta Fel). After some 75 movies and TV episodes, Susan left the business in '66 and lives today in the L.A. area.