"Tales of the Texas Rangers"
"Tales of the Texas Rangers" began as a radio series in July 1950 and ran for 95 episodes through September 1952 on NBC, first on Saturdays at 9:30, then Sundays mostly at 6pm. On radio Texas Ranger Jace Pearson was played by western film star Joel McCrea. Producer/director Stacy Keach Sr. formatted the radio series more-or-less like a western "Dragnet" researching actual Texas Ranger case histories with the technical assistance of legendary Capt. M. T. "Lone Wolf" Gonzaullas. Unlike the TV series to follow, the radio series stayed in modern times.
When the series came to television as a b/w 30 minute CBS afternoon show on August 27, 1955, it starred 6' 4" Willard Parker as "the stalwart man of Texas", Ranger Jace Pearson. Parker was not unfamiliar to western audiences having been seen in supporting roles in "The Devil's Saddle Legion" ('37) w/Dick Foran, "Renegades" ('46), "Relentless" ('48), "Bandit Queen" ('50) and "The Great Jesse James Raid" ('53) among others.
His partner Clay Morgan "right beside him" was respected B-western and TV actor Harry Lauter who, until now, had usually played heavies at Republic and Columbia and for Gene Autry's various Flying A TV series.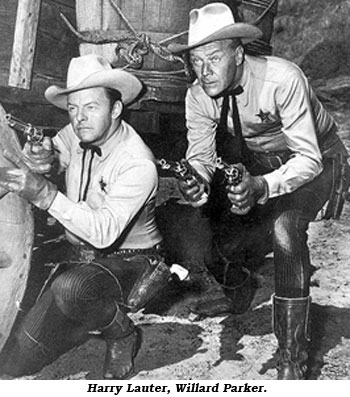 "Tales…" was produced for Columbia's Screen Gems TV arm by Colbert Clark (1898-1960), the brother-in-law of director William Witney, who was a writer/producer originally at Mascot before graduating to producer at Columbia on primarily Durango Kid B's, and Fred Briskin, a former assistant director who also worked in production on "Rin Tin Tin" and "Wild Bill Hickok" TV episodes. Directors included western vets Lew Landers, Earl Bellamy, George Blair and Robert G. Walker.
"Tales of the Texas Rangers" brought a new twist to TV westerns; epi-sodes would alternate from 1800's time period to present day exploits of the Texas Rangers. Parker (as Jace) would introduce each episode "historically" by reading from either "Vol. 2: Today" or "Vol. 1: The Early Days" Texas Rangers scrapbooks. In one early episode, the two Rangers explain that the "Early Days" stories were the exploits of their grandfathers who just happened to have identical names and looks! To differentiate between the two time periods, Jace and Clay's outfits were slightly different (gunbelts, ties, gloves) but basically the same. They also rode the same two horses—Star for Jace, Blaze for Clay.
Although "Lone Wolf" Gonzaullas was still credited as technical advisor, the TV episodes were not based on fact as were the radio dramas. As a matter of fact, in the first two seasons as a CBS afternoon series (8/27/55-12/15/57, 39 episodes) many of the stories were recycled plots adapted from Columbia B-western scripts, including at least 14 from pre-Durango and Durango Kid Charles Starrett westerns such as "West of Sonora", "Prairie Raiders", "Hail to the Rangers", "Man From Sundown", "Riders of the Lone Star", etc. Others came from scripts starring Roy Acuff ("Home in San Antone") or Ken Curtis ("Singing on the Trail"). Even scripter Maurice Geraghty reworked Lash LaRue's "Son of Billy the Kid" plot for "Shooting of Sam Bass". Other episodes were based on the radio plays.

"All Texas Rangers sworn to duty
their work is never through
they fight and fight for rights and justice


to enforce the law for you"
So went a portion of the TV theme as Parker and Lauter marched toward the camera at Corriganville to the strains of "The Eyes of Texas Are Upon You", which incidentally is also the tune of "I've Been Working on the Railroad". Continuing to "fight" as the themesong went, "Tales of the Texas Rangers" moved to Thursdays from 5-5:30 on ABC as of October 2, 1958, and ran for 13 more episodes through Dec. 26, 1958.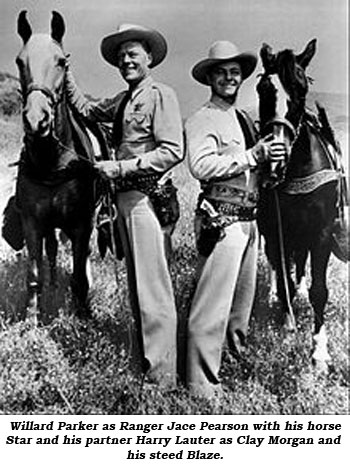 The series' national sponsor was at various times, Corn Kix or the Curtiss Candy Company, makers of Baby Ruth and Butterfinger.
Doubling for Parker and Lauter were stunt-aces Al Wyatt and Bill Catching. The 52 total episodes were populated by experienced B-western actors such as John Pickard, Stanley Andrews, Chris Alcaide, John Hart, William Haade, Rand Brooks, Lane Bradford, John Cason, Myron, Healey, Gregg Barton, Robert Bice, Bill Hale, Harry Strang, Pierce Lyden, Zon Murray, Dennis Moore, Andy Clyde, Morris Ankrum, Don Harvey, Bill Henry, Richard Powers, Raymond Hatton, Grant Withers, Ed Cobb, Leo Gordon, Denver Pyle, Dub Taylor and George Keymas, as well as TV western regulars like Gregg Palmer, Alan Wells, Jean Willes, Jan Shepard, Dirk London, K. L. Smith, Paul Brinegar, Allan Nixon, Ron Hagerthy, Paul Sorenson, William Bryant and so many others.
"Tales…" was a well made and very popular western series that is fondly remembered today. Willard Parker (born February 5, 1912) died at 84 Dec. 4, 1996. Harry Lauter (born June 19, 1914) died at 76 October 30, 1990.