"SERGEANT PRESTON OF THE YUKON"
Richard Simmons starred as "Sergeant Preston of the Yukon", a series of tales set in Canada's Yukon territory during the days of the great gold rush of the 19th Century. Colorfully redcoated Preston of the Royal Northwest Mounted Police, his dog Yukon King and his jet black Arabian, Rex (in the summer episodes), struggled to keep law and order for three seasons in 78 gorgeous color episodes on CBS from September 29, 1955, to February 27, 1958. It aired on Thursday nights from 7:30-8pm EST. Color kept the series in syndication far beyond that of others filmed in b/w.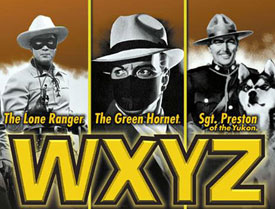 Sgt. Preston was a popular juvenile series originally developed for radio, the third major hero (after The Lone Ranger and the Green Hornet) created by George W. Trendle's Detroit radio mill. When the radio series debuted on WXYZ Detroit radio in February '38 it was known as "Challenge of the Yukon". The series aired on WXYZ for 10 years before it became an ABC series in June 1947 for Quaker Puffed Wheat and Quaker Puffed Rice. "Challenge…" continued its radio run on ABC through '49, moving to Mutual in January '50. Becoming "Sergeant Preston of the Yukon" in November '51, the late afternoon show continued on Mutual until '55 when Charles E. Skinner Productions in association with Trendle-Campbell-Meurer brought the series to CBS TV with Simmons. (On radio, Preston was played by several actors—Jay Michael, primarily Paul Sutton, and, briefly, Brace Beemer, radio's Lone Ranger).
The opening, set to the "Donna Diana Overture" classical theme music, established the tone: "Sgt. Preston of the Northwest Mounted Police with Yukon King, swiftest and strongest lead dog breaking the trail in the relentless pursuit of lawbreakers in the wild days of the Yukon."
Primarily directed by either Eddie Dew or Earl Bellamy, the half-hour weekly series placed Mountie Preston and Malamute King on the trail of fur thieves, claim-jumpers, poachers, counterfeiters, smugglers and renegades—played by a host of B-movie vets.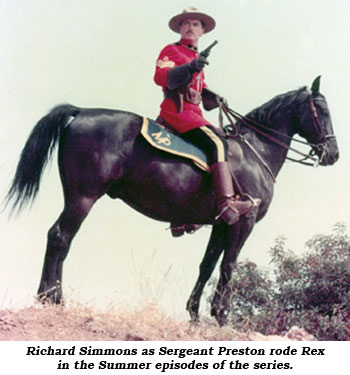 First season episodes were the ones that featured Preston's horse, Rex (personally owned by Simmons) in the well remembered "Summer" episodes. Thereafter, episodes tended to be produced on a lesser budget with many indoor sets.
Born in St. Paul, MN, Richard Simmons attended high school in Minneapolis and the University of Minnesota, paying his way doing radio announcements. This is also when he became a pilot. Upon arrival in Hollywood, Dick became a radio and band announcer (with the Dorsey Orchestra at the Palladium), drifting into film in '37.
In his own words, Dick once explained to WC, "I was flying for Northwest Airlines. Lucien Hubbard, a producer at RKO at the time had flown with me on several occasions. He owned a Dude Ranch near Palm Springs. Many dignitaries from studios frequented the place. He invited me as a guest on my vacation. In the course of the week, I agreed to ride a bronc in the Palm Springs Rodeo. Which I did. L. B. Mayer was staying at the dude ranch. He attended the rodeo. Back at the ranch, he asked me to have lunch at MGM. He was going to make a western series, along with 'Masie', 'Dr. Kildare', 'Andy Hardy', etc. Offered me a contract to do it. Got no dough. I said I had a better job at $1,000 a month, and no options to worry about. 'OK, I'll pay you twice what you're making. And no options to worry about.' I was at MGM (almost) 15 years and they never made the western series."
Prior to MGM Dick had "experience" as a Mountie in Republic's "King of the Royal Mounted" serial ('40).
When Sgt. Preston came along, he was only one of a dozen tested. A spirited mare helped him look good on horseback and the series was his. "This series," he said, "is what I was meant for."
Director Earl Bellamy told us, "When Dick got into the uniform, he really lived the part. Working in the snow up around Aspen (and Ashcroft, CO, 10,000 feet up in the Rockies), Dick was there with the guys no matter what the conditions. One morning I got up and you could not see anything but blizzard! But Dick was out there with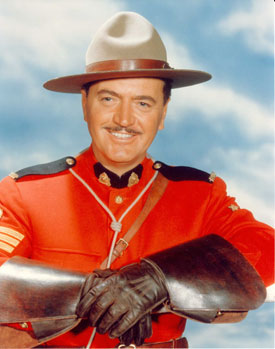 everybody else hoping it would break and we could go to work. He really worked with those sled dogs and they worked him…it was obvious he loved dogs. Boy, could he handle those dogs, great to see 'em work together. Dick did most all the sled dog work unless you really had something a little rough and I would then personally ask him to let the double handle it, because it's too dangerous. We went to Aspen and shot stuff we could use in various episodes all season."
Simmons continued to work when "Preston" ended, but following a helicopter accident which put him out of commission for three years, Dick left show business and served as manager of a lavish mobile home park in Carlsbad, CA. He later moved to Prescott, AZ. He died suffering from Alzheimer's disease in Oceanside, CA, January 11, 2003. As he said as he hugged his dog at the end of each episode, "Well King, it looks like this case is closed."