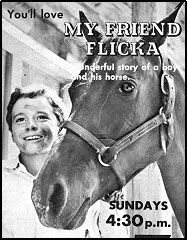 "MY FRIEND FLICKA"
"My Friend Flicka" (CBS 2/10/56-2/1/57) took its lead from two successful 20th Century-Fox films, "My Friend Flicka" ('43) and "Thunderhead, Son of Flicka" ('45). As in the films, the Fox produced TV series revolved around the popular theme of a boy and his horse and the struggles of the McLaughlin family on a ranch in Montana.
Toronto, Canada, born Johnny Washbrook essayed the role of young Ken McLaughlin (played in the films by Roddy McDowall) and the late Gene Evans was his father, Rob (Preston Foster in the films). Anita Louise (1915-1970) replaced the film's Rita Johnson as Ken's mother, Nell, in the half hour color series which ran for 38 episodes.
The horse, Flicka (actually an Arabian sorrel named Wahama), was owned by livestock supplier Ralph McCutcheon with his training handled by Les Hilton.
Superb character actor Frank Ferguson (1899-1978) was Gus, the ranch foreman. Gene Evans once told me Ferguson was also a noted acting coach at Columbia. Gene recalled, "Anita Louise was married to Fox honcho (Buddy Adler) and had a 'whim' to do a series. A year later she had a 'whim' to not do it any longer, leaving the rest of us unemployed. When we were shooting, Anita had her own schedule and Johnny Washbrook was only able to work certain hours because he was a minor; so you know who got the first and last shot everyday. Frank was a great guy to work with—a good fisherman. Johnny was a great kid with saucer-like eyes. We shot on the Fox western street and the Fox Ranch in Malibu Canyon."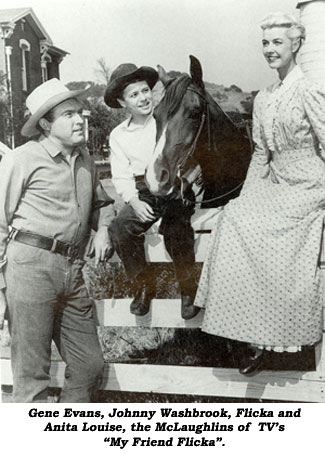 Johnny Washbrook (born 10/16/44) was 10 years old when the series began. Now a New England banker, he told Ray Nielsen of the Memphis Film Festival, following Evans' death, "Gene was one of the reasons why the company was so bonded and worked so well together." He called Evans 'Dad' on and off camera to get into the feel of his role. "I can remember visiting friends on the sets of other shows at the time. I never found anyone having as much fun as I was doing 'Flicka'."
At the same time, Washbrook observed that the grind of doing a series could sometimes be stressful. Pranks would be pulled to relieve tension and Evans frequently took part in the hi-jinx. "All our outdoor shooting was done in Malibu Canyon. It got very hot there in the summer, sometimes up to 110 degrees. Gene would often turn on the fire hose and wet down the crew with it. The actors couldn't join in because of our costumes and make-up. But Gene sure got a kick out of cooling-off everyone else."
Recently, when "My Friend Flicka" was on TV Land reruns, Gene told me, "Some people thought I was too strict with my son—too stern on Ken. Now people say we need more shows today where parents are more restrictive." Many episodes included a line by Gene to Johnny, "You did what you thought was right son, and that's the important thing." Most of us brought up on series like "Flicka" still live by those words today.