"Texas John Slaughter"
Buoyed by their success on the frontier with "Davy Crockett" ('54-'55) and "Zorro" ('57), ABC wanted more Westerns from Walt Disney, so Uncle Walt gave them to the network.
Premiering October 3, 1958 on the 5th season of "Walt Disney Presents" was "Texas John Slaughter". Undoubtedly the most popular of all the Disney Westerns, Tom Tryon starred in the full color, hour-long fictionalized incidents in the life of real fast-draw westerner Texas John Slaughter who joined the Texas Rangers in order to bring law and order to Texas so he could settle down on his own ranch with his family. The 6' 2" Tryon as Slaughter "made 'em do what they oughter" as the theme song went.
Norma Moore played Slaughter's love interest and first wife with their children Brian Corcoran and Annette Gorman. Betty Lynn was Slaughter's second wife, Viola (after Moore dies in ep. 6). Other semi-regulars were Harry Carey Jr. as Ranger Ben Jenkins and Darryl Hickman as an easterner come west. Dick Farnsworth doubled for Tom Tryon.
A total of 17 episodes of "Slaughter" were produced through April '61, which ran into "Disney Presents"' 7th season when it moved to Sunday nights on ABC from 6:30-7:30.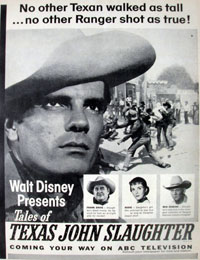 Various guest stars on the series included Robert Middleton, Roy Barcroft, Leo Gordon, Lyle Bettger, Beverly Garland, Dan Duryea, Stephen McNally, Bill Williams, Jan Merlin, Gene Evans, Allan Lane, Bob Steele, Jay Silverheels, R. G. Armstrong, and many others.
A full length feature was cobbled together from several episodes and released in Europe.