"GUNSLINGER"

"Gunslinger, Gunslinger where do you ride, what do you fight for today? When folks need a hand you're on their side. Gunslinger ride away. You let someone else be the first one to draw, on your speed you depend. And there are times when your gun's the only law, fighting to help a friend. Gunslinger, will you return or meet your end.


Gunslinger ride on,
Gunslinger ride away."
The Frankie Laine-sung theme (music and lyrics by Dimitri Tiompkin and Ned Washington) was the opening to one of the shortest lived TV westerns, "Gunlinger"…12 episodes aired on CBS from 2/9/61-5/18/61. However, Tony Young was extremely popular, especially with the female audience, and the series has built up a certain cult status over the ensuing years, although only a few episodes are available on video.
The frontier just after the Civil War was the setting for the black and white one hour series filmed at MGM which starred Young as gunslinger Cord (did he ever have a first name?) who worked as an undercover agent for the Cavalry stationed at Fort Scott in Los Flores, NM, during the 1860s. Preston Foster was Capt. Zachary Wingate who gave Cord his orders which he and his friends—Dee Pollock as eager, young Billy Urchin, Charles Gray as half Mexican/half Irish Pico McGuire—would then carry out. (Upon cancellation of "Gunslinger", Gray moved over to "Rawhide" from '61-'64 as scout Clay Forrester.) John Pickard, certainly no stranger to a Cavalry uniform, was Sgt. Major John Murdock and Midge Ware was Amby Hollister who ran the general store at Ft. Scott. Jack Pennick, who was John Ford's Cavalry technical advisor, was also the consultant on "Gunslinger" and essayed small roles as a three-striper.
No doubt due to its competition ("Bachelor Father"/"My Three Sons" the first half hour, "Ernie Ford"/"Untouchables" the second half), it was the only series Charles Marquis Warren produced that didn't make it. (After many successful films as a writer and director, Warren moved to TV, producing, at different times, "Gunsmoke", "Rawhide", "Virginian" and "Iron Horse").
Tony Young remembered, "I got the role in 'Gunslinger' because I tested for another series, 'Malibu Run'. At the same time they asked me to walk across the hall and read a speech from 'Rawhide' wherein Gil Favor roasts Rowdy Yates for something he did. Charles Marquis Warren, who at that time was producing 'Rawhide' for TV and had the responsibility of putting this little interesting western in black and white on the air in 30 days, said, 'I want him!' And the other guys said we want him for 'Malibu Run'. Warren said, 'No, I want him for Cord! And he got me. I was 23 years old—thank God for Preston Foster, he was terrific. Really kind to me—patted me on the head when I needed it. At that time I was very green and about as ready to do the lead in a series as the man in the moon. We worked 14-16 hours a day to meet our air dates. We were a mid-season replacement and were behind in production, so they had to re-run several episodes within weeks of their original airing. Everyone worked hard and all my co-stars, Charles Gray, Dee Pollock, John Pickard, pitched in to get it done. We had fun working together and there were no egos amongst us."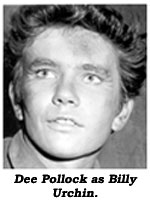 Dee Pollock told WC, "I tested and understand there were 500 guys they'd seen for my part. So my odds were not good. In a week I got the call that I'd gotten the part. I didn't like my name (Billy Urchin) too well. It was too on-the-nose. CBS had quite a bit (of input). They wanted all their tests put in the first show, so they threw out the first script and put all our test scenes in the first show. They just thought our tests were all great and wanted to see them in the first show. Another problem was, we didn't have any scripts. They built a whole fort but nobody had a finished script for any of the episodes. Sometimes we'd just stop the show and the writers, actors and directors would just sit around and say, 'How do we finish this?' Sometimes we'd shoot for three days and wouldn't have any idea how the thing was going to end. Charles Gray and I were pretty good friends. He'd been a teacher. (Gray taught at the college level at Tulane, then at the University of Houston. He had his own music theatre in Houston before being cast in a movie filming in Houston then coming to California.—ed.) Charles stuck a stolen engine on my motorcycle! (Laughs) He borrowed the motorcycle, blew up the engine and stuck a hot engine on it. Got me in all kinds of trouble. (Laughs) Charles and I would go out to Jock Mahoney's on Sundays, one of the best stuntmen that ever walked. I learned quite a bit from Jock."
Charles Gray recalled for WC, "I chided Tony a little bit because I was an older actor and thought he was taking his role to seriously…no laughs, no fun. He had a face like a skull and he was working that. He had a nice sense of humor—easy to be with, but he was scared. Warren and Tony got along fine; Warren was a lovely man. The series started behind…CBS was airing a repeat at the time we were doing the third script 'cause they didn't have enough (shows). CBS asked Warren to do this series like I'd ask you for a sandwich 'cause they had a slot and an unlucky program going on and they wanted to put something (else) in there. He was behind all the time, it was terrible…but the show was a good idea."
As to the "hot motorcycle motor" Dee Pollock refers to, Gray laughs, "I didn't know it! I bought a motor from a guy and put it in there. I didn't check it or anything. Later on Dee was stopped on the highway and they ran it through DMV and it turned out to be hot. I went back to the guy I bought it from and had him write me out a bill of sale for it. (Laughs) We were both motorcycle freaks."
Sadly, Tony Young died February 26, 2002. Charles Gray (often mistaken for the late English actor) died August 2, 2008, at 86. Dee Pollock died December 27, 2005, at 68. Midge Ware worked sporadically from '55-'59 and has been unheard of since. Preston Foster died in 1970 and John Pickard in 1993.