"Cisco Kid"
"Here's adventure, here's romance, here's O'Henry's famous Robin Hood of the Old West—The Cisco Kid."
While Hoppy, Gene, Roy and The Lone Ranger were the forerunners of B-western-like half hour TV adventures, The Cisco Kid had been around longer than any of them. Created in 1904 by William Sidney Porter (alias O'Henry), after 23 feature films from 1929 to 1950, The Cisco Kid moved to the small screen with his first half hour color adventure, "Boomerang", airing September 5, 1950. And indeed, it was the color that helped make Cisco unique, even though Gene and The Lone Ranger had both beaten Cisco to the small screen. Gene eventually filmed color in '55 but only turned out 91 total episodes while Cisco filmed 156 color shows, topped only by the Lone Ranger with 221 episodes, 39 in color.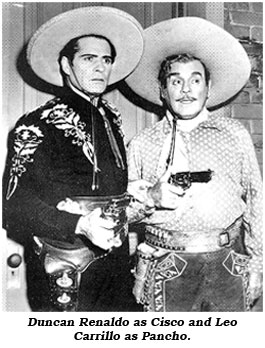 It was shrewd businessman Frederick Ziv, a former Cincinnati advertising man and radio show syndicator, who, in the late '40s, recognized syn-dication of TV shows was the coming thing. With monies earned from newsreel and sports footage syndication, he launched his own film production company, taking over The Cisco Kid from film producer Phil Krasne.
46 year old Duncan Renaldo (riding Diablo) and 69 year old Leo Carrillo (astride Loco) came over from the United Artists features to seamlessly continue playing Cisco and his language mangling but loveable partner, Pancho. Dave Sharpe doubled Renaldo early on, replaced by Troy Melton. Bill Catching (with a little padding) became Carrillo's double. Much of the exterior footage was shot at and around Pioneertown.
The syndicated series ran for 156 episodes through March 22, 1956. Within three years it was earning $40,000 per week profit. In '56 it was dubbed and distributed to 20 countries. By '59 the show had grossed a total of $11,000,000 in domestic sales. ZIV sold out to U. A. and retired from series production. "Cisco" has seldom been out of syndication someplace in the world since then, due in part to ZIV's wise decision to film in color.
The B-Western feel of the series was aided by the fact dozens of B-movie stalwarts were cast in various episodes: Robert Livingston, Ed Cobb, Peggy Stewart, Riley Hill, Raymond Hatton, Jane Adams, Jack Ingram, Gail Davis, Forrest Taylor, Tom Tyler, Marshall Reed, Dennis Moore, Steve Clark, Tris Coffin, Zon Murray, Myron Healey, Terry Frost, Pierce Lyden, Lois Hall, Kermit Maynard, Carl Mathews, Tom London, House Peters Jr., Lee Roberts, I. Stanford Jolley, Gregg Barton, Kenneth MacDonald, William Fawcett, Rand Brooks, Elaine Riley, Earle Hodgins, Glenn Strange and so many more.
As with the actors, directors who knew their way around a horse and a gun were employed: Derwin Abrahams, Paul Landres, Al Herman, Eddie Davis, Lew Landers, Lambert Hillyer, Leslie Goodwins. Ditto with writers: J. Benton Cheney, Royal Cole, Betty Burbridge, Elizabeth Beecher, Barney Sarecky, Andre Lamb, to name a few.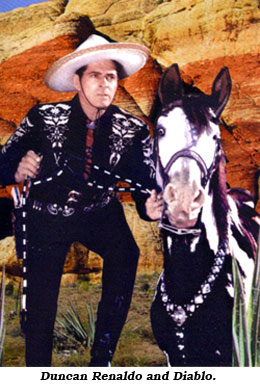 Disaster struck in the 4th season during the filming of "Battle of Red Rock Pass" (which aired 11/5/53). Nan Leslie was a guest star on that episode and was present during filming when Duncan Renaldo accidentally broke his neck. For our WESTERNS WOMEN book she told author David Rothel, "Oh, that was so frightening! The location was Iverson's Ranch out in Chatsworth. The prop men and production people had fashioned a huge rock out of some pseudo material and it was fairly light weight. The fake rock was to be pushed off a cliff so it would hit Duncan on the head. Then he was to feign being knocked unconscious. We went through a rehearsal of this bit several times to be sure the timing was right—the fake rock was saved for the first take because it was too difficult to roll down and then get back up to the cliff. When the camera started rolling, we went through the dialogue and the signal was given for the rock to fall. This light weight but huge rock came thundering down and landed right on top of Duncan's sombrero-covered head. He fell to the ground in front of us but because he was supposed to be knocked out, no one realized he was hurt. The camera kept rolling. Finally, the director called, "Cut. All right, Duncan, you can get up." But he didn't move. Then, of course, everybody rushed over to check on him and discovered he had been seriously injured. He came to briefly after they got him on a stretcher. He had no knowledge of what had happened, so people around him were reassuring him he was all right. Duncan was a very savvy man and I think he realized it was a very serious situation since he could not move all that much. I went to visit him later in the hospital. He was very philosophic about it. He said, 'This is what happens in this business and this time I am the victim.' They had to close down production. They filled in around that scene and reshot some sequences without him so they could finish the episode. He was in the hospital for quite a period of time. He had to have a weight suspended from the back of his head—that was the manner in which they treated his broken neck in the early '50s. He eventually recovered quite well, but, of course, you never get over those kinds of accidents entirely. Duncan was a delightful man, beautiful manners and well read—very cultured and gallant. It was so sad to see this happen to him."
Stuntman Bill Catching told author Mike Nevins for his FILMS OF THE CISCO KID book, "There was a cute girl on the set, Nan Leslie, a really sweet cute gal, and Duncan really liked her. He was single then and he was kind of pursuing her, and she kept teasing him and Leo that they were two old farts. So when this scene came up, Troy Melton was supposed to do it. (Cisco) was trailing this guy on foot and looking down at the tracks and Red Morgan, the stuntman actor up in the rocks, rolled this rock at him. It was a big phony rock but it weighed 40 pounds or better. They made 'em out of plaster of Paris with wire. Duncan insisted on doing this scene because Nan had teased him. Troy and I almost yelled, but he never looked up, and there's nothing Red could do. He rolled the rock off and Duncan—there was a sound made so Duncan would look up and see it and step back. Well, he never even looked up. He had his head down and it hit him in the back of the head and knocked him down. He got up and staggered around and leaned against a rock and started to walk on, then he fell. We rushed over to him and kept him from moving. We had a station wagon that had a mattress in the back of it in case somebody got hurt. We got him in and took him to the hospital and found out if he had moved a lot more…the vertebrae in his neck were just a fraction from being severed. He came within a fraction of being killed. He was in the hospital for about six weeks, and in the interim Leo's wife died, so we did [several] Ciscos without Cisco."
Writers and directors didn't miss a beat during Renaldo's convalescence. Renaldo's double, Troy Melton, was photographed from behind. At night a sound crew went to the hospital where Renaldo read the dialogue that was looped in later. Stock footage from earlier shows was also employed and, later, extreme closeups of Renaldo were filmed while he was still healing. Other ingenious ideas were derived by the writers: In "Black Terror" (12/3/53) Cisco (Troy Melton) wears a black hood masquerading as the Black Terror outlaw. Liberal doses of a fight between Renaldo and Reed Howes from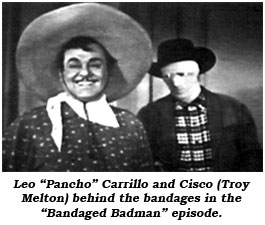 "Protective Association" were also reused. For "The Iron Mask" Cisco wears a heavy iron mask for a goodly portion of the story. Stock footage of Cisco pursuing Michael Whalen through a swamp from "Water Toll" was reused. In "Bandaged Badman", Cisco appears bandaged for most of the episode, posing as a badman. In all, eight episodes were filmed around Renaldo's absence.
After six seasons, 156 episodes, Pancho said for the last time "Les went" and the series leaped into perpetual reruns.
Leo Carrillo died September 10, 1961, at 80. Duncan Renaldo died September 3, 1980, at 76. But, "Oh Pancho!" "Oh Ceesco!" we'll never forget your colorful adventures. "Goodbye Amigos," "See you soon, Ha!"

In "Cisco Kid: Old Bum" Pancho sez, "Someday, Cisco, you are going to find out that the moon is a mouse and you are the green cheese.