"Swamp Fox"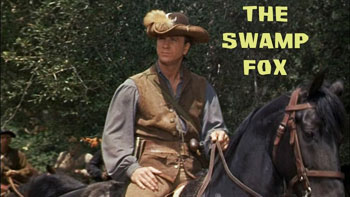 "Swamp Fox, Swamp Fox, tail
on his hat.
Nobody knows where the Swamp Fox's at.
Swamp Fox, Swamp Fox, hiding in the glen.
He'll ride away to fight again.
Got no money, got no beds, got no roof above our heads; got no
shelter when it rains,
all we've got is Yankee brains!"

Canadian born Leslie Nielsen starred as true life Revolutionary war hero Colonel Francis Marion, better known as The Swamp Fox by his British enemies, for eight hour long Sunday night (6:30-7:30) episodes of "Walt Disney Presents" on ABC during its 6th and 7th seasons beginning 10/23/59 and ending 1/15/61.
The series told the exciting tales of Col. Marion and his ragtag band of followers who operated around Charleston, SC, harassing and raiding the Redcoats, upsetting the timetable of General Cornwallis (Robert Douglas), Colonel Tarlton (John Sutton) and British Captain Patrick Macnee, then disappearing back into the vastness of the surrounding swampland.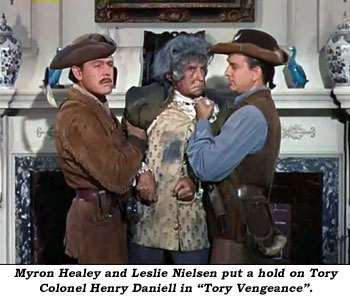 Loyal followers of the Swamp Fox included Tim Considine as Marion's young nephew Gabriel Marion, Myron Healey as top aide Major Peter Horry, along with Smoki Whitfield, John Alderson, Chuck Roberson, J. Pat O'Malley, Slim Pickens and Arthur Hunnicutt. Other semi-regulars were former WB B-Western star Dick Foran (as Marion's brother), Sherry Jackson and Dorothy Green.