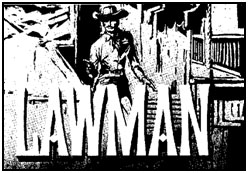 "Lawman"

"The Lawman came with the sun,
There was a job to be done,
And so they sent for the badge
And the gun of the Lawman.
And as he silently rode,
Where evil violently flowed
They knew he'd live or he'd die
By the code of the Lawman.
A man who rides all alone,
And all that he'll ever own
is just a badge and gun


And he's known as the Lawman."
(Written by Jay Livingston and Mack David.)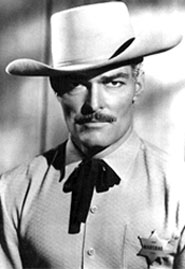 The TV team that maintained law and order in Laramie, WY, in the 1870's was granite-jawed, 6' 4" ex-Marine John Russell as Marshal Dan Troop and his deputy, Peter Brown as Johnny McKay, a competent backstop for Russell's taciturn Marshal.
Reportedly modeling the no-nonsense Troop after a superior in the Marine Corps, John Russell as Troop personified law and order in its purest form…rugged, deadly serious, intelligent and dedicated. He could also be stubborn and unyielding in the face of duty, becoming possibly the most confident lawman on television. By playing it straight down the middle, Russell made Troop believable.
In counterpoint, Brown's Johnny McKay was respectful, disciplined and brave, although at times restless and brash.
When casting the series, WB executive producer Bill Orr stated, "We liked John. We tested him and kept his style that way. He had no vestige of anything but dedication to duty, directness, and lacked any small talk, very monosyllabic." As a counterpoint, Orr described Peter Brown as "A little lighter, he wasn't funny or anything, but he had a little more to do or say in the sense of a lighter character."
ABC, although already rife with Warner Bros. Westerns, believed in "Lawman" and added the half hour series to their Sunday night lineup from 8:30-9pm Eastern as of October 5, 1958.
The concept for "Lawman" was turned over to Jules Schermer, a veteran producer of Westerns who made "Lawman" "a thinking Western." Bill Orr said, "Schermer loved sparse dialogue…sparse scenes. He was a good choice to produce 'Lawman'."
Although Warners was pumping out Western and detective shows like sausages in a meat packing plant, "Lawman" was usually several notches above most of the adult TV Westerns. Stories were varied enough to sustain interest over four seasons and 156 episodes. In a TV GUIDE interview John Russell responded to what made "Lawman" different from other TV Westerns, calling the series a "pure Western" that employed "standard weapons rather than gold headed canes or tricked up rifles. The stories begin with A, proceed straight to B, and stopped neatly at C without any fussy complications." Peter Brown put it in a more straightforward manner. "The only thing that makes 'Lawman' different from other Westerns is how we do it." Russell also said, "Troop is a man doing a job at the expense of everything else. He doesn't make himself winning or witty, or do anything else to make people like him. The stories we've done on 'Lawman' are about people under stress. Men under stress do desperate things. We have tried to play it that way."
Contending with hectic schedules, skinflint budgets and a myriad of writers and directors who were never given the time or money they got at other studios, the two stars, along with producer Jules Schermer, were the constants who maintained the high quality of the show and the consistency of the characters. Schermer Complained that break-neck production schedules meant directors often had no time to take into account any of the subtleties of the script, including characterization. Apparently Russell and Brown both understood Schermer's perspective: "The success of the TV drama depends on establishing a particular tone. A television episode is basically only an incident built up with characterization. If a director plays the characterization wrong…the total effect of the teleplay is destroyed." Russell and Brown maintained that strong mentor/protégé characterization, developing a growing relationship between Troop and McKay.
As for other regulars, Dan Sheridan was Jake the bartender while Bek Nelson as Dru Lemp was weakly offered as a sort-of love interest for Peter Brown in the first season. With that idea going nowhere, although producers denied they were "borrowing" from "Gunsmoke", at the beginning of the second season gorgeous Peggie Castle was added to the series as Lily Merrill, owner of the Bird Cage saloon. Marshal Troop, although obviously attracted to Lily, remained (like Marshal Dillon) cautious in his relationship with Lily who ran her saloon in an orderly manner with no sass from disorderly cowpokes. An excellent choice, Castle added greatly to the series which rose to 16th in the Nielsen ratings during the second season.
Asked at the 1998 Charlotte Film Festival his best recollections of "Lawman", Peter Brown answered, "John Russell, John Russell, John Russell. He was about as good as it got." At a Knoxville Film Festival, Peter described how Russell took him under his wing and taught him how to act in front of a camera. In a 1960 TV GUIDE article Peter stated, "John is methodical, to say the least. I'm glad he is. His integrity has made the series the success it is. When we started he sat down with me and said, 'Look, we got ourselves a series. I don't know how you feel, but I think between us we can make it the best TV series in the country.' I said, 'I'm with you.' That's why you never see us pull a gun we don't intend to use, take unnecessary risks like phony heroes, or stage any long-drawn-out fist fights. I learned more from John Russell than any actor I've ever worked with. He was very disciplined. His characterization of Dan Troop was the best that has ever been done. As a Western lawman, he was the best choice. Peggie Castle was a sweetheart. She died very young; I enjoyed her company on the set very much."
For the first two seasons of its four season run "Lawman" followed "Maverick" on Sunday nights followed at first by "Colt .45" and later "The Rebel". The show's primary competition over its four season run was the popular CBS Sunday night staple, "Ed Sullivan." ("Lawman" aired opposite Ed's last half hour.) NBC, never a factor in the first two years, struggling with "Steve Allen", "Pete Kelly's Blues" and others that came and went, rebounded in season three ('60-'61) throwing the wacky comedy "Car 54, Where Are You" up against "Lawman" followed by "Bonanza" in color. Additionally, ABC broke up their terrific night of all Westerns, adding "Follow the Sun" and "Bus Stop" to their lineup. By April of season four (which began Sept. 17, 1961), with Westerns on the wane, ABC replaced "Lawman" at 8:30 with a Sunday night movie and moved "Lawman" to the 10:30pm basement, an essential death knell for the series which finally saw its last ride on June 24, 1962. Reruns continued through Oct. '62. For all concerned with "Lawman", they can look back upon a job better than well done.