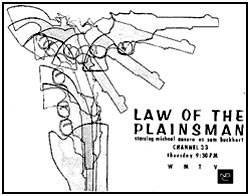 "LAW OF THE PLAINSMAN"
Although Michael Ansara is better known for his "Broken Arrow" series (1956-1958), he much preferred his "Law of the Plainsman" which aired Thursday nights on NBC from October 1, 1959, to May 5, 1960. Under producers Jules Levy, Arthur Gardner and Arnold Laven at Four Star Productions, 30 episodes were produced that season.
6' 3" Ansara was Harvard educated Apache Indian Sam Buckheart who was now a Deputy U.S. Marshal based in the wild New Mexico Territory of 1885. Buckheart first appeared on two episodes of "The Rifleman"—designed as "pilots" for "Law of the Plainsman". "The Indian" (2/17/59) brought Marshal Buckheart into Lucas McCain's North Fork looking for Indians who were suspects in the brutal murder of a Ranger and his family. Well received, a second episode, "The Raid" (6/9/59) aired later in the first season of "The Rifleman" before "Law of…" went to series in the Fall.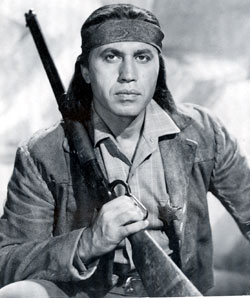 As background, it seems Buckheart nursed a wounded cavalry officer back to health. When the Captain died two years later, he left money for Buckheart to attend school and later Harvard University. Learning to respect the law, Buckheart became a U.S. Marshal and returned to Santa Fe, serving under Marshal Andy Morrison (Dayton Lummis) whose role was phased out midway through the season.
Sam Buckheart was an unusual western hero. Much of the conflict in the series grew from the fact Sam was seldom accepted by the whites—or even his own people—as a Marshal. So, in addition to his duties trying to keep law and order, he had the added burden of frontier prejudice to cope with. As Buckheart, Michael Ansara portrayed the Apache with honor and dignity.
Ansara, of Lebanese descent born in Syria 4/15/22, was brought by his parents to the U.S. when he was only two. Growing up in California from age 12, he later attended Pasadena Playhouse, making his film debut in "Action in Arabia" in '44. After many good parts in over 35 films, he won the role of Cochise on "Broken Arrow", however, as he told Tom and Jim Goldrup in their FEATURE PLAYERS: STORIES BEHIND THE FACES Vol. 3, "On 'Broken Arrow' we had three days to shoot a half hour show. On 'Law of the Plainsman', which I liked better, we rehearsed one day, set up the movements the second day, then three days of shooting. So it took one week for a half hour show. You could cut out the bad lines and fix it up, where with 'Broken Arrow', it was boom, boom, boom for three days, one shot after another." Ansara says it was the influence of Dick Powell, one of the owners of Four Star, for the rehearsal schedule on "Law…". "Four Star was a class production. The rehearsal schedule was very unusual. They took time on their shows and didn't mind spending money. That's why all the shows ("Big Valley", "Wanted Dead Or Alive", "Westerner", "Johnny Ringo", "Black Saddle") that came out of there were good. But when Powell died they went downhill."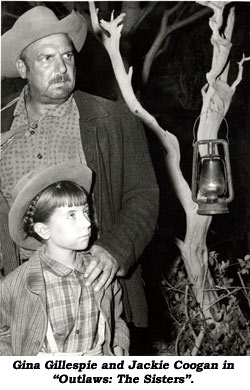 Buckheart lived in the rooming house of Martha Commager (Nora Marlowe). Gina Gillespie played young Tess Logan, an orphan Sam rescued after a stagecoach mishap in the first episode ("Prairie Incident"). Gina, now a lawyer in L.A., remembered for WC, "I was born in '51, so I was between 5 and 6 years old. I started working…commercials, guest shots…when I was around 4. I went on what I lovingly refer to as a 'Cattle Call'. What probably made me more westerny is how long my hair was. Because I was short, they could cast me as being much younger than what I was. The one thing I was known for was that I knew my lines, it didn't take a lot of takes for me to do stuff and if I needed to cry, it was real tears. My Mom used to tell me, 'Gina, I have to tell you—Pee Wee (my dog) has been killed.' Dick Powell was not involved in my casting, only the producers. Powell may have had to approve me, but I didn't have any knowledge of it. There wouldn't be a lot of rehearsal (on my part). But if you look at what I played in those, my part was not something that took a lot of intensive…I was involved a large amount in the pilot, and only one other episode that required me being really involved ("Fear"). I was the token orphan Buckheart took care of. But if Michael remembers rehearsal, that would be the producers how they wanted it to work together. The one thing I remember so much was Michael had an extremely heavy head. (Laughs) Anytime Michael got shot or anything else, Tess always had to run to him, hold his head up and say, 'Are you okay?' I remember filming it…and when we finished, saying to him, 'You have the heaviest head.' (Laughs) Also it wasn't until halfway into the series that I actually knew Michael Ansara's hair wasn't the hair I was seeing. I was absolutely shocked when we went in for makeup one time and here's his wig, then Michael comes in with this curly hair—and it really surprised me! Michael was wonderful. He was a perfect gentleman and such a nice man. I remember 'Fear' the most. When I saw that episode as an adult, I came to the conclusion it was extremely fortunate I got orthodontia. (Chuckles)"
When your editor first met Michael Ansara years ago, it was episodes of "Law of the Plainsman" he wanted from our VideoWest, not "Broken Arrow"—"I preferred 'Law of the Plainsman'," he told me, "It was a better show. It was an intelligent series that dealt realistically with social problems." And its a credit to Ansara that he brought thoughtful authority to the role of Sam Buckheart.