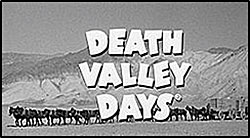 "Death Valley Days"
"Death Valley Days", although never as popular as "Gunsmoke" or other Western TV series, nevertheless produced the second largest amount of episodes, 450 over 18 seasons (1952-1970). "Gunsmoke" topped it with 635 episodes over 20 seasons. "Bonanza" is third with 430 episodes in 14 seasons.
Created originally for radio in 1930 by Ruth Woodman, the series transferred to TV beginning on October 1, 1952 with an episode appropriately entitled "How Death Valley Got Its Name". At first b/w, later color, the half hour series continued for 450 episodes through April 1970. (Reruns with updated openings were syndicated until August 1975.)
Often the first two years of "Death Valley Days" are rumored as being produced by Gene Autry. Certainly, Gene's astute usual production crew was in place, but "Death Valley Days" was definitely not a Flying A production. Armand Schaefer under his SHA Productions was Executive in charge of production with Lou Gray as Executive Producer, produced by Dorrell "Buck" McGowan and directed by Stuart McGowan…all of whom were closely associated with Autry. In documents released to WC by Autry Entertainment we find that carbon copies of all production notes went to Gray, the McGowans, Gene Autry, longtime Autry Republic and merchandising agent Mitch Hamilburg and Neil Reagan (Ronald Reagan's brother who was senior VP of McCann-Erickson advertising).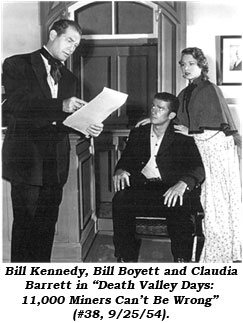 Many of Ruth Woodman's radio scripts were recycled and revised for TV. "Death Valley Days" was sponsored by the Pacific Borax Company (20 Mule Team Borax, Boraxo).
Theme music was well handled by Herbert Taylor who also orchestrated music for "Home of the Brave", "Canadian Pacific", "Dakota Lil", "The Men", "Cyrano de Bergerac", "The Thing", TV's "Sky King", "High Noon", "The High and the Mighty", "Giant", "Gunfight at the O.K. Corral", "Rio Bravo", "The Alamo", "Guns of Navarone" and "Circus World" among others.
Noted long-time Western character actor Stanley Andrews as The Old Ranger hosted and introduced each episode for seasons 1 through 12 (294 episodes). Ronald Reagan became host for seasons 13 and 14 (Oct. '64-May '66).

Reagan also acted in eight of these shows, the best of which is "No Gun Behind His Badge". These were his last acting assignments as he became Governor of California in '67. Robert Taylor took over for seasons 15-17 (Sept. '66-June '69) and starred in nine episodes, the best of which are "Halo for a Badman" and "Short Cut Through Tombstone". When Taylor became gravely ill in '69 (he died at 57 June 8, '69) Dale Robertson stepped in for the final 18th season (Oct. '69-April '70) and appeared in three episodes including "King of Uvalde Road".
Like "Dragnet" and other series of the era, earlier episodes of "Death Valley Days" could be seen in syndication in competition with itself. The hosting segments at the beginning and end were easily re-filmed with another host such as Will Rogers Jr., Rory Calhoun, John Payne and Ray Milland.
One of the highlights of the series are the locations used—Melody Ranch; Kanab, UT; Gallup, NM; Lone Pine, CA; San Francisco Bay; Apache Junction, AZ; Sonora, CA; and Sedona, AZ.