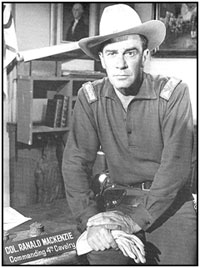 "MACKENZIE'S RAIDERS"
Richard Carlson, after routing out all the Communists on "I Led Three Lives", turned to patrolling the U.S./Mexican border as commander of the 4th Cavalry stationed at Ft. Clark, TX, in 1873.
The opening of each episode proclaimed, "From the archives of the United States Cavalry, the true story of Colonel Ranald Mackenzie and the Cavalrymen he led—'Mackenzie's Raiders.' His secret orders from the President of the United States—clean up the Southwest…make it a fit place for Americans to live…wipe out the renegades, outlaws and murderers. If necessary, cross the Rio Grande, knowing capture means hanging by the enemy…discovery, court martial by the United States Army."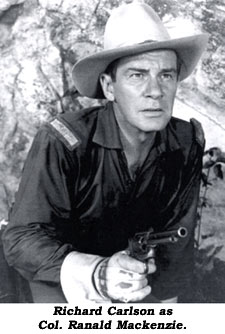 The premise and character were based on historical fact as written in THE MACKENZIE RAID by Col. Russell (Red) Reeder (Ballantine Books '55). For American Cavalry to make unauthorized punitive raids into Mexico meant risking international incident, but under secret orders from President Grant, the battle-wise Mackenzie routinely galloped into Mexico to inflict punishment on marauding bandidos, gun runners, outlaws and renegade Apaches who raided on American soil then crossed the Rio Grande into Mexico seeking safety. But, if he or his troops were caught, our government would disown him. Mackenzie's forays into Mexico soon made the bandidos think twice about raiding in Texas. As the close of each 30 minute episode reminded us, "Mackenzie's Raiders did ride again…and again, carrying out the secret orders of the President…do whatever necessary to make it a decent place to live."
The syndicated ZIV series, produced by Elliott Lewis, ran for 39 b/w episodes beginning in October '58. Naturally, reruns continued for several years, even into the '80s in markets like Dallas, TX.
According to screenwriter Warren Douglas, his friend Richard Carlson "fancied himself rather superior intellectually and culturally to most of his peers…and he was." Carlson graduated from the University of Minnesota with an M.A. degree, Summa Cum Laude, Phi Beta Kappa; then opened a theatre in Minneapolis where he wrote, directed and acted in three plays. In 1942 he signed a contract with MGM. After Navy service in WWII, he continued in films and moved into TV.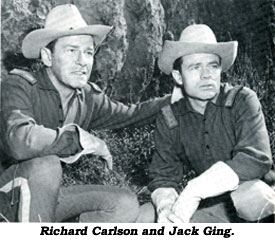 Standing in for Ft. Clark on the series was the much used Ft. Apache set at Corriganville. Carlson's junior officer was intermittently played by Jack Ging (later of the one-hour "Tales of Wells Fargo") while B-western vets Riley Hill and Dennis Moore played sergeants.
Carlson died Nov. 25, 1977.
As to merchandising, there was a quite rare gun and holster set produced and one comic book based on the series issued with a photo cover by Dell (Four Color 1093) in April/June '60.