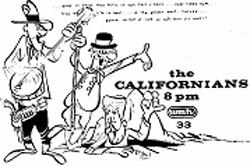 "CALIFORNIANS"
Troubled from the onset by cast changes and sponsor discontent, "The Californians", which began 9/24/57, was a half-hour series designed by executive producers Louis F. Edelman and Robert F. Sisk as an ongoing-storyline western epic not unlike their previous successes, "Wyatt Earp" ('55-'61) and "Jim Bowie" ('56-'58). This time they concentrated on the discovery of gold in California in 1849 and the vigilantes who kept order in lieu of real law in rowdy boomtown San Francisco, circa 1851.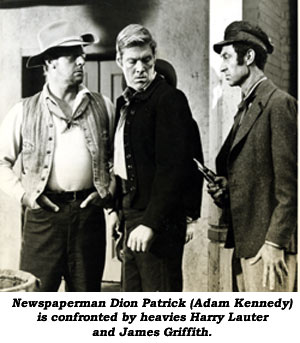 The original stars of the Tuesday night series were Adam Kennedy as Irish prospector turned newspaper reporter Dion Patrick, often at odds with Irishman Jack McGivern (Sean McClory), vigilante leader who also ran the general store with his wife Martha (Nan Leslie). Herb Rudley played newspaper owner Sam Brennan. "We wanted to get away from the cliché of the 'gunslinging marshal'," said the line producer Robert Bassler.
By the middle of the first season, the show's sponsors (Singer Sewing Machines and Lipton Tea) became uneasy with the glorification of vigilantes and pressured producers to make a change. The cry went out for Kennedy's scalp. Sean McClory remembered for us, "I think what they were not happy with was Adam Kennedy. They didn't consider him a very good actor—or appealing. So, he was fired. Kennedy and myself were both getting the same amount of money. They brought this guy Coogan in from New York, whom I'd never heard of—and nobody else seemed to have either. Apparently, he was Capt. Video in N.Y. in some space series. They said he's going to be the lead now because the sponsors want an All-American Boy…but you're going to still be in it as the second lead. I said, 'No—No—No, I don't see it that way at all. I'm much better known than this guy and I'm afraid I'm going to have to ask for the same billing, if not top billing.' The producers were very nice people, especially Felix Feist, who was from the big New York musical publishing family. He was there before Coogan came from New York. He and I became very big pals. Subsequently, I directed some of the episodes." One of McClory's directorial episodes was "Overland Mail" (10/28/58).
By December '57 Bassler had withdrawn and was replaced as line producer by Felix Feist who had previously directed several episodes. "The sponsors took a very paternalistic attitude," explained Feist. "They examined every comma with a microscope. They didn't want to offend a single customer." Memos began to appear to avoid violence before the commercial as it might impair the audience's buying appetites…and mustn't use the phrase "in the soup" as it might reflect unfavorably on Lipton.
McClory says, "I was pissed off with Singer Sewing Machines and Lipton Tea, because, as I understood it, they were the ones creating the ruckus. I finally said I'm gonna have to go. They offered me more money. I should have said yes. I was only getting $450 a week when we started but they were willing to give me $1,000 a week. An idiot, I turned it down."
As TV GUIDE wrote in its 9/13/58 issue, "The sponsor wants to sell his product. The producer wants to produce a hit. The actor wants to keep his job. The writers and directors want to satisfy their consciences artistically at the same time they're making a buck. The ad agency wants to hold the sponsor's account. Obviously, these interests are seldom compatible."
Kennedy was fired and McClory's vigilante character was relegated to a recurring role. Episode #23 ("Gentlemen From Philadelphia", 3/4/58) introduced Richard Coogan as newcomer Matt Wayne who bought a saloon, then accepted the post of marshal of San Francisco in the 3/11/58 episode when a friend is gunned down. Matt Wayne gained a love interest in the 4/1/58 episode ("J. Jimmerson Jones, Inc.") when Carole Mathews joined the cast as widowed Wilma Fansler, who ran a gambling house.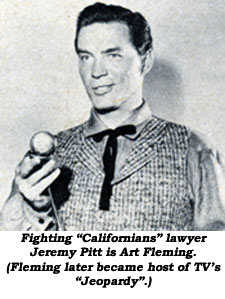 As the second season began ("Dishonor for Matt Wayne", 9/23/58), Arthur Fleming as lawyer Jeremy Pitt joined the cast and Matt Wayne commanded a 50 man police force fighting crime and corruption on the Barbary Coast.
Richard Coogan told us how he came to the series. "Felix Feist was hired to help produce and direct 'The Californians'. They were auditioning everybody. If you saw a transcript of the Matt Wayne character description it read like Rhett Butler in 'Gone With The Wind'—gambler, ladies man, soldier of fortune—there was great potential there. The agency, producers, authors couldn't agree on anybody. Then Felix, whom I'd worked for on a 'Harbourmaster' episode, when they'd exhausted the search, said, 'I've got just the guy for this. Dick Coogan.' Well, they said I was a New York stage actor; but producer Lou Edelman took a plane to New York to meet me. We met, had dinner, talked. He went back to California and said OK. So, I went out and was cast."
Coogan was aware they were making a change when he came on board. "Felix Feist was very instrumental in that. He believed the show was too diffused, they needed a central character, so they changed the whole direction of the show. But—the producers were using scripts from other shows and all they did was change the character names. I thought the potential of 'The Californians' was so great, and to demean it by using scripts from shows that didn't have any depth to them. You know, there was one episode with a young kid…at the climax the kid's life is in danger from the bad guys and it took everything to protect the kid. I went to Lou Edelman and said, 'I think this (premise) could really take off and be something great. A man is never so tall as when he walks with a young child. This kid had the most endearing qualities. The charisma between the two of us was…I mean, the grips on the show, everybody was talking about it. (We could have had) tearjerkers, humor, but—also I was trying to get them to let me sing on the show (Coogan had a musical comedy Broadway background and had even appeared with Mae West.)—but, they weren't interested in that."
Although Coogan was a stronger lead than Kennedy, with continued sponsor interference, Matt Wayne's Rhett Butler-like character traits began to evaporate and stories became more routine until Coogan and the series became indistinguishable from all other TV cowboys.
The series managed to hang on through a second season, until 5/26/59, amassing 69 episodes. McClory sighed, "It just became another western—you've seen so many of them."
McClory was fond of Nan Leslie, "She was a trouper for many years in Hollywood." Nan had been under contract to RKO as had McClory. "Those are the people that brought me over from Ireland under contract in '46. I was working in the Abbey Theatre in Ireland and a scout saw me and sent me off without a test or anything."
As to stunts on the show, Coogan told me, "I used to work with Hubie Kerns who was a stuntman and Alex Sharpe who doubled me in fight scenes etc. I loved to do my own mounts and dismounts. I practiced a lot with a horse I almost bought—beautiful palomino. I practiced these galloping spots where you come flying-in full speed and you're out of the saddle before the horse has even stopped. Same thing going the other way. I suppose with the rear end jumping on and then into the saddle (croupier mount)—anything could've gone wrong, but didn't."
The catchy title tune, "I've Come To California", was sung by the Ken Darby Singers, whom producer Lou Edelman used to sing the theme to his previous hits, "Wyatt Earp" and "Jim Bowie". Harold Adamson (words) and Harry Warren (music) wrote both Earp and "Californians" tunes.
The series was produced by California National Productions for NBC.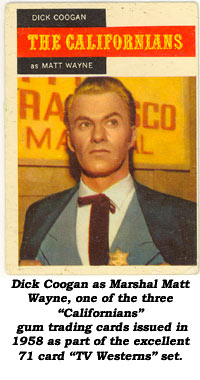 6'3" Coogan (born April 4, 1914, in New Jersey), the original "Capt. Video" on NY TV before coming to Hollywood, later worked as a guest star on many WB series and eventually became a golf pro instructor with a reputation to solve people's golf problems from a mental point of view. "Encouraged by that, I started to write. I've boiled all my writings down to GOLF HUMOR. I'm now talking with a publisher."
The former Miss Chicago, Carole Mathews (born September 13, 1920, in Illinois), came to Hollywood as an Earl Carroll showgirl in '39. She became a Columbia pictures contractee from '43-'45 then freelanced on into the '60s when she got into the travel bureau business and raised miniature horses. Today Carole is retired in Murrietta, CA.
Prior to "The Californians", Adam Kennedy worked as an illustrator for ESQUIRE in the late '40s and became a well known abstract painter in the '50s as well as a popular male model ('53-'55). Upon leaving the series he became a successful novelist, penning some of his first 20 novels under the pseudonym John Redgate. He wrote DOMINO PRINCIPLE, which he turned into a hit film for producer Stanley Kramer ('77). Kennedy co-scripted "The Dove" and "Raise the Titanic". Kennedy died 10/16/97.
Arthur Fleming later hosted "Jeopardy" for over 10 years. He died of cancer 4/25/95.
Sean McClory, born in Dublin, Ireland March 8, 1924, was in scores of western film and TV series whenever the part called for a true Irishman. Long married to well-known radio actress Peggy Webber, McClory died December 10, 2003.
The former RKO Tim Holt co-star, Nan Leslie, died at 74 July 30, 2000, in San Juan Capistrano, CA.