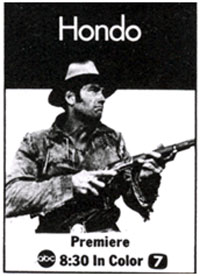 "Hondo"
ABC's "Hondo" with Ralph Taeger in 1967 was very loosely based on John Wayne's 1953 "Hondo" adapted from a Louis L'Amour novel. 31 year old Ralph Taeger was chosen for the unenviable task of following Wayne's character. Taeger had previously starred on "Klondike" ('60-'61) and guested on many TV series since '59. Taeger's speech and look reminded some of Humphrey Bogart, but he played Hondo Lane as a temperamental, defiant no-nonsense loner, a former Confederate 7th Texas Cavalry officer who had moved west following the Civil War and taken an Indian Bride.
In the initial episode Hondo is assigned to make peace with Apache Chief Vittoro (played by Michael Pate as he had in the Wayne film) whose daughter, Hondo's wife, was killed by the Cavalry during a raid. With his mangy but loyal dog Sam, Hondo is employed by the Cavalry at Fort Lowell in Arizona Territory as an Indian scout trying to prevent further bloodshed between whites and Indians. Ft. Lowell is commanded by young Capt. Richards (Gary Clarke) who is watched over by Colonel Crook (William Bryant). Hondo's "love interest", Angie Dow (changed from Angie Low in the movie), is significantly altered for the TV series and played by Kathie Browne who is widowed after Hondo is forced to kill her no-good storekeeper husband (John Smith) in a gunfight—much as he did in the Wayne film (then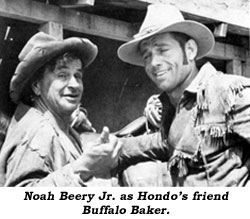 played by Leo Gordon). Angie's son, Johnny, enamored of Hondo, is played by Buddy Foster (the older brother of Jodie Foster). Hondo's friend, Buffalo Baker, is played by Western vet Noah Beery Jr. (The role was played in the Wayne film by Ward Bond.)
"Hondo" aired on ABC from 8:30-9:30 ET Friday nights from Sept. 8, '67, to Dec. 29, '67. Although supported by strong guest stars (Robert Taylor, John Smith, Gary Merrill, Randy Boone, Rod Cameron, Pat Conway, Nick Adams, Danielle (Diane) Roter, John Carroll, Jim Davis, Royal Dano, Forrest Tucker, John Agar, John Carradine, Ricky Nelson, David Brian, L. Q. Jones, Morgan Woodward, Claude Akins, Jack Elam), airing against the hit CBS sitcom "Gomer Pyle, U.S.M.C." and "Star Trek" on NBC gave "Hondo" a short, hard ride to cancellation after only 17 episodes.
With theme music composed by Richard Markowitz—who used a recurrent "Cry of the Wild Goose" cue—the series was produced by Wayne's Batjac production company and Andrew J. Fenady ("The Rebel", "Branded") for MGM TV. Scriptwriters included not only Fenady but James Edward Grant (11 films with Wayne) and Frank Chase ("Branded", "Bonanza", "Virginian", "High Chaparral"). Directors with western credentials were wisely chosen—Harry Harris ("Gunsmoke", "Rawhide", "Wanted Dead or Alive", "etc.), Alan Crosland Jr. ("Sgt. Preston", "Northwest Passage", "Bronco", "Bat Masterson"), Lee H. Katzin ("Branded", "Wild Wild West"), Arthur H. Nadel ("Rifleman", "Big Valley"), even Republic veteran William Witney.
A tough series that possibly more people saw and appreciated in syndication in the '80s on TBS in multiple runs than did originally. It deserves a full DVD release. A movie was cobbled together from the first two episodes and released theatrically in Europe.
Former WC columnist Michael Pate once wrote, "I got a call from John Wayne asking me to reprise the part of Vittoro, my Apache Chief in Warner Bros.' 'Hondo', for a TV series remake which eventually spun into 17 one-hour episodes. I subsequently did 11 episodes—not because the series was anything like the original, just for the money, I can assure you. Wayne and Bob Fellows' Batjac company and Andrew Fenady were going to produce the color series for ABC via MGM studios. I was delighted when I found out, in this version of 'Hondo', Bob Taylor was going to star in the pilot which would serve to introduce Ralph Taeger as the Hondo Lane character which Wayne originally played with such grace and dignity. Ralph, whom I'd worked with at ZIV, was always easy to get on with and, into the bargain, in the telemovie, my son Christopher was cast as my grandson. That was a blast to have him on location with me and see him do his stuff in his part like a real professional. It all proved up well for Christopher (about 14 at the time and already a professional actor in TV and theatre) because it meant he could sit and talk with and get Bob Taylor's autograph. Once again, throughout the making of that film, Bob was his old urbane, easily approachable self, willing and able to talk with anyone on the set, be they cast or crew, simply because everyone realized they were in the presence of one of the greatest movie stars of all time—who behaved accordingly. There's one other thing I especially remember. In the TV 'Broken Arrow' wherein I played the nasty Indian, Gokliya, John Lupton rode the magnificent and uniquely patterned white and gray appaloosa James Stewart had ridden in the film in '50, and which was turned out for me to ride when we made 'Hondo'. By that time, the Appaloosa must have been 22 years of age at least and was getting a bit wobbly in the legs. When I swung up on him, reluctantly and very gingerly, for my first shot he definitely sagged from my weight (178 pounds on those days). I immediately suggested I shouldn't attempt to actually ride him anymore than was absolutely necessary during the filming. Later, I insisted they turn out another Indian pony for me. I didn't want to have an equine western icon die under me while I was in the saddle!"
Series producer Andrew J. Fenady once told WC, "I'd done 'The Rebel' with Nick Adams. A few years down the road, when Nick found out I was going to do 'Hondo' with Ralph Taeger, he came up to my office. He had a couple of eagle claws (left over from 'The Rebel'), and he said, 'Andy. Here. Give these to Ralph, will ya? And tell him I wish him good luck.' Later Nick was in a two-parter on 'Hondo', 'Hondo and the Apache Kid'." (Incidentally, Taeger wore the same gun rig Adams wore on "The Rebel".)
At "A Gathering of Guns 3" Gary Clarke, who co-starred on "Hondo" with Taeger, told us, "He was a strange bird. He would do anything for a laugh, but he was a little off kilter. We were best of friends, we were always breaking each other up, but he would go over the line, just a little too far to make me laugh. We were doing a scene out in the open. I was on horseback with somebody else and the director was killing himself to bring these shots in on time. The scene was serious. I'm sitting on my horse, the camera is there, and Ralph is just behind the camera. I could see him standing there in his Hondo outfit. He made sure I could see he was there. And in the middle of the scene…he just peed his pants! He had these canvas pants on, so it was very obvious. (Laughs) Well, I fell off my horse!"
Randy Boone was in the first two "Hondo" episodes and added, "I thought he was a pretty good actor and he was a good lookin' guy. He had all the requirements to be the star of a show, but as soon as we started shooting I noticed he wasn't a very good rider. We were doing a scene where a bunch of us are supposed to go over the hill, and all the rest of us made it up the trail, but Ralph kinda got lost. The director was waving to him, 'Get to the rest of the crew…' I thought to myself, 'How did he make that kind of mistake?' On the way back down I hear the extras and wranglers talking—'You know this guy is the star of the show, but he's not very…he's kinda (makes a loopy or dingy hand motion.)'"
Of himself, Taeger once remarked, "I loved the money I was paid, but I never saved or invested any of it. I lived most of the time at a country club and never went near a studio unless I had to. I didn't work at acting or making contacts. Then, all of a once, it seemed to be over except for an occasional small part.