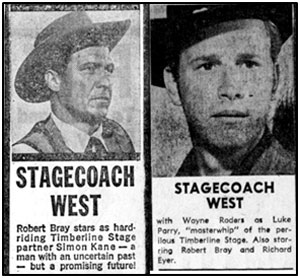 "Stagecoach West"
If a wagon train and a cattle drive could spawn successful TV series, why not one that dealt with a stagecoach line in the 1860s that connected Missouri to San Francisco. Timberline Stageline, based in Outpost, was run by Luke Perry (Wayne Rogers) who met and hired Simon (Sime) Kane (Robert Bray) and his son Davy Kane (Richard Eyer) in the first episode of "Stagecoach West", "High Lonesome". While Perry and Kane were on their cross country runs, the depot at Outpost was managed by Zeke Bonner (character player James Burke).
Produced by Vincent M. Fennelly, 38 one hour black and white episodes of "Stagecoach West" aired on ABC from 9-10pm ET between Oct. 4, 1960, and June 27, 1961.
The stories, contributed by a variety of screenwriters, concerned the various stagecoach passengers and the diverse people Luke and Sime met enroute, as well as their battles with holdup men, Indians, the encroaching railroad, even weather.
Direction of the episodes was in the capable hands of Donald McDougall (1917-1991) who began directing Flying A TV episodes for Gene Autry and graduated to "Trackdown", "Wanted Dead or Alive", "Bonanza", "Virginian" and others, and prolific Thomas Carr (1907-1997) whose directorial career stretched back to Sunset Carson B's at Republic in '45.
Supported by Dick Powell's Four Star production company, the series attracted top name guest stars such as Jane Greer (Simon's wife, Davy's mother in ep. 1), James Best, Gigi Pereau, Gerald Mohr, Bethel Leslie, Jack Elam, Cesar Romero, Harold J. Stone, Virginia Grey, Beverly Garland, Robert Vaughn, Warren Oates, Thomas Mitchell, Lon Chaney Jr., Jack Lord, Darren McGavin and James Drury as well as TV western regulars such as Richard Devon, Jan Shepard, Ben Cooper, Steve Brodie, Denver Pyle, Harry Lauter, Mort Mills, James Coburn, Bob Wilke, Denny Miller, John Dehner, De Forest Kelley, Phil Carey, James Griffith, Chris Alcaide, Madlyn Rhue, Lee Van Cleef, BarBara Luna, Ruta Lee and Dennis Patrick among others.
Bill Hart was stunt coordinator on the series. Jesse Wayne was also involved. With music by Skip Martin, the lilting themesong was written by Terry Gilkyson (who had the hit song "Marianne" in the '50s) and sung by Bud and Travis.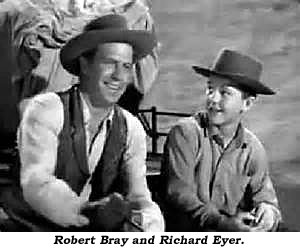 Of the series, Richard Eyer told authors Tom and Jim Goldrup for their book GROWING UP ON THE SET, "It kept me busy and was usually fun. It was a very positive experience. When they hired me it was sort of a transitional point in my growing up because when we did the pilot I was 13 and quite young for my age; a real little kid. The pilot sold and when we started production eight months had elapsed and all of a sudden, I was into puberty and adolescence. I think the producer thought, 'Wait a minute, where's the little kid I hired?' But it was fine for the role and when I look at it now I'm impressed. It was a pretty darn good Western."
Most of the show was filmed at Four Star (the old Republic studios) but Eyer added, "There were a couple of times we went on location. We went to Apache Junction, AZ, and filmed lots of stock shots of the stagecoach running, then they'd intersperse those throughout the series. Many of those shots of me riding in the stagecoach (were done by) a double. The double, most of my time growing up, was a midget named Billy Curtis."
Although it followed "The Rifleman" and "Wyatt Earp" on ABC on Tuesday nights, "Stagecoach West" never seemed to find a large audience, up against as it was "Thriller" on NBC and "Tom Ewell" and "Red Skelton" on CBS. By Fall of '61 ABC's popular Tuesday night western block was history. "Wyatt Earp" rode out after six seasons in June '61 and "The Rifleman" was moved to Monday nights. ABC replaced all three westerns with "Bugs Bunny Cartoons", "Bachelor Father", "Calvin and the Colonel" and "The New Breed".
Robert Bray died March 7, 1983; James Burke died at 82 in 1968. In 1972 Wayne Rogers nabbed the role of Trapper John in the classic comedy series "M*A*S*H" followed by the popular "House Calls". Later on Rogers became a businessman and investor, managing the affairs of Peter Falk and James Caan among others. As Chairman and President of Wayne Rogers and Co. Investments, he was managing director of Stop-N-Save convenience stores for over 20 years and was one of three investors in the Kleinfield Bridal Store in New York City. He also was a regular contributor to the Fox News Channel's financial programs up intil his death at 82 in 2015. Richard Eyer became a teacher in Bishop, CA, and owned a firm that constructed tennis courts.
We'll remember them all for an excellent series that should have lasted much longer than one season.