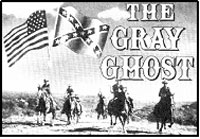 "GRAY GHOST"
Often overlooked, except by Civil War buffs, "The Gray Ghost" produced by former B-western screen-writer and Monogram producer Lindsley Parsons, strived for authenticity as it chronicled the daring exploits of Major John Singleton Mosby and his 1st Virginia Cavalry Confederate raiders who were so elusive in their hit and run tactics that Mosby became known as the Gray Ghost. This was the only series to ever show the war between the states from the rebel point of view. ("The Rebel", "The Loner" and "Rough Riders" later dealt with the aftermath and reconstruction period on both sides.)
Originally intended as a CBS series, sponsors blinked when Civil Rights strife flared up in Little Rock. Advertisers were hesitant about glorifying a Confederate officer. Eventually, in Oct. '57, CBS syndicated 39 episodes to huge ratings on both sides of the Mason-Dixon line.
Buffalo, NY, born Tod Andrews, who worked in the '40s simultaneously as Michael Ames before settling on Tod Andrews, portrayed Major Mosby.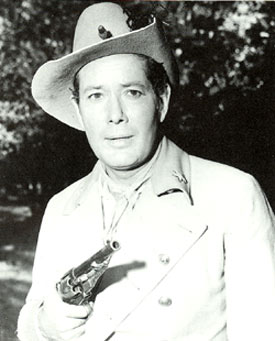 Six foot tall Andrews attended Washington State College and began his career on stage, appearing in several productions on Broadway. From there he won a fellowship to the Pasadena Playhouse for advanced drama study then moved into film work such as "They Died With Their Boots On", "Voodoo Man", etc. His last part was in "Hang 'Em High". He died at 52 in '72 of a heart attack.
The only other regular was character actor Phil Chambers as Mosby's sergeant, Miles Magruder. Chambers, born in L.A. in 1916 as Horace Phillip Chambers, graduated from L.A. City College, entered acting and, like Andrews, studied at the Pasadena Playhouse. His first films were in 1953. Chambers died in L.A. Jan. 16, 1993, at 76.
Most episodes were shot around Sonora and Jackson, CA, in the Sierra Nevada foothills that closely resemble Virginia, where the real Mosby was active.
Producer Lindsley Parsons (1905-1992) was born in Tacoma, WA, and educated at UCLA. After a stint working for several newspapers, the lure of Hollywood drew him to a job as publicity director at Monogram in '31. From there, he began to write scripts for early John Wayne Lone Stars, and started producing on Tex Ritter B's in '37.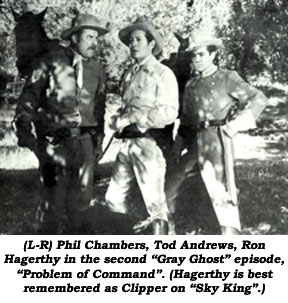 "Gray Ghost" scripts, many of which were based on actual events, were above average and got off to a good start with the pilot, scripted by Warren Douglas. Two-thirds of the shows were well directed by either Hollingsworth Morse or Harmon Jones, keeping an excellent flow of style and continuity.