"Alias Smith and Jones"
"Hannibal Heyes and Kid Curry, the two most successful outlaws in the history of the west. And in all the trains and banks they robbed, they never shot anyone. This made our two latter day Robin Hoods very popular with everyone but the railroads and the banks." So began the lighthearted western series "Alias Smith and Jones", television's answer to "Butch Cassidy and the Sundance Kid". Ben Murphy played Jed "Kid" Curry (alias Thaddeus Jones) and Pete Duel was Hannibal Heyes (alias Joshua Smith), two ex-outlaws trying to redeem themselves, but to do so they must prove to the Governor they deserve amnesty. Easier said than done as they keep running into trouble.
Their attempts to avoid revenge-seeking lawmen, bounty hunters and members of their old outlaw gang resulted in one of TV's most lighthearted, smile-inducing westerns, due in great part to producer/writer Roy Huggins who had done so well with "Maverick" at Warner Bros.
Created by Glen Larson, the 90 minute pilot debuted on ABC on January 5, 1971. The one hour color series episodes began January 21, '71 with "The McCreedy Bust". The first season (15 episodes) aired on Thursday night from 7:30-8:30pm EST. When the series returned for a second season in September '71 it was moved to 8-9pm EST (23 episodes).
Tragedy befell the series toward the end of the second season when Pete Duel shot and killed himself on New Year's Eve 1971. His role was immediately recast with Roger Davis whose initial connection with the series was as the voiceover narrator during the introductory credits. He'd also appeared in the second season's "Smiler with a Gun" as villainous Danny Blison. No explanation was made onscreen for the change of actors as Davis stepped in for the final five episodes of the second season.
Ratings held, but for the third season ABC moved the show to Saturday night from 8-9pm EST. Twelve episodes were filmed, but after three seasons (50 episodes) of working hard to go straight amidst all the gambling, cons and escapades with beautiful women, it was a cancellation that came through rather than an amnesty. "Alias Smith and Jones" ended on January 13, 1973.
Thankfully, the fun series has seen a rebirth on the Westerns Channel, DVD releases, a book on the show by Sandra Sagala and JoAnne Bagwell and the appearance by Ben Murphy (born 3/6/42 in Jonesboro, AR) and Roger Davis (born 4/5/39 in Bowling Green, KY) at several western film festivals in recent years.
One of the joys of the series was akin to an A. C. Lyles western, seeing the many former TV western stars show up as guest stars in various episodes: John Russell ("Lawman"), James Drury ("Virginian"), Mike Road ("Buckskin"), Neville Brand and William Smith ("Laredo"), Peter Breck ("Black Saddle" and "Big Valley"), Lee Majors ("Big Valley"), Pat Buttram ("Gene Autry"), Rory Calhoun ("The Texan"), Rod Cameron ("State Trooper"), David Canary ("Bonanza"), Robert Colbert and Jack Kelly ("Maverick"), Jackie Coogan ("Cowboy G-Men"), Andy Devine ("Wild Bill Hickok"), Jack Elam ("Dakotas"), Paul Fix ("Rifleman"), Earl Holliman ("Hotel de Paree"), Cameron Mitchell ("High Chaparral"), George Montgomery ("Cimarron City"), Forrest Tucker ("F-Troop") and even Pernell Roberts ("Bonanza").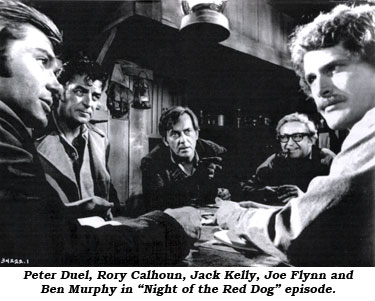 The series bore the indelible mark of executive producer Roy Huggins (right) who wrote most of the stories under a pseudonym. As on "Maverick", Huggins liked recurring characters, thereby incorporating Burl Ives, Walter Brennan, J. D. Cannon, Sam Jaffe, Cesar Romero, Dennis Fimple, Bill McKinney, Sally Field and Michele Lee. So when you get an opportunity, enjoy again the story of two pretty good badmen.