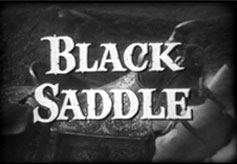 "Black Saddle"
Perry Mason and other lawyers were popular on TV in contemporary settings but were slow to invade the TV West. Only five come to mind—Tom "Sugarfoot" Brewster, "Temple Houston", "Dundee and the Culhane", Richard Long on "Big Valley" and Peter Breck as Clay Culhane, reformed gunfighter turned lawyer on "Black Saddle".
After both his brothers were killed in a gunfight, Culhane decided to look for other solutions in settling frontier problems. Becoming a lawyer, with his law books in his black saddle, Culhane settled in Latigo, NM, quickly becoming friends with Marshal Gibson "Gib" Scott (Russell Johnson) and Nora Travers (Anna-Lisa) who owned the Travers House hotel. (This origin, or background, was revealed in the second season episode "The Saddle".) Although Culhane always put his faith in his law books first, invariably he was forced to resort to gunplay to see justice achieved—reaffirming violence as a key ingredient of the TV western.
The 30 minute black and white series, produced by Four Star, premiered Saturday nights on NBC from 9-9:30pm on January 10, 1959. Even though preceded by "People Are Funny" and "Perry Como" and followed by "Cimarron City" (w/George Montgomery), "Black Saddle" faced stiff competition from "Dancing Party" on ABC and "Gale Storm–Oh Susanna!" on CBS. Also, CBS had the established Saturday night western lineup of "Wanted Dead or Alive" at 8:30, "Have Gun Will Travel" at 9:30 and "Gunsmoke" at 10. "Black Saddle" and "Cimarron City" were simply out-gunned.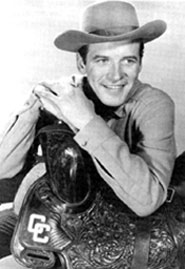 Dropped by NBC in September '59 after 20 episodes, ABC took a chance with lawyer Culhane and picked up "Black Saddle" for Friday nights from 10:30-11pm beginning on October 2, 1959. But again, even with strong lead-ins from "77 Sunset Strip" and "The Detectives", Culhane and friends were shot down by Friday Night Boxing on NBC. Also in those days, many network affiliates pre-empted certain series in favor of syndicated programs, so "Black Saddle" was often pre-empted in many markets by "Sea Hunt", "Markham", "Shotgun Slade", etc.
"Black Saddle" was created by Hal Hudson (1908-1999) who was also producer for Four Star's "The Westerner" and "Zane Grey Theatre" and by John McGreevey (1922-2010) whose career stretched back to 1948. McGreevy wrote all types of material including westerns such as "Tombstone Territory", "Broken Arrow", "Colt .45", "Zane Grey Theatre", "Trackdown" and many of the "Black Saddle" scripts. Following "Black Saddle" he worked on "Bat Masterson", "Laramie", "Laredo", "Wagon Train" and dozens of non-westerns through '97.
"Black Saddle" was produced by Antony Ellis who was primarily a writer ("Zorro", "Zane Grey Theatre", "Northwest Passage") and after "Black Saddle", "Temple Houston", "Man Called Shenandoah", "Monroes", "Gunsmoke".
A good series and even with top-name guest stars like Clu Gulager, Phyllis Coates, R. G. Armstrong, Robert Blake, James Coburn, Scott Forbes, Warren Oates, Simon Oakland, L. Q. Jones, Lisa Gaye, Michael Pate, James Best, James Drury, Madlyn Rhue (in season one) and Suzanne Pleshette, John Lupton, Patricia Medina, Charles Aidman, Buddy Edsen, Lee Van Cleef (in season two), "Black Saddle" never quite found a devoted audience and was not renewed by ABC.
The late Peter Breck (1929-2012) found lasting TV western fame on "Big Valley" in '65 while Russell Johnson (1924-2014) subsequently became famous as the professor on "Gilligan's Island".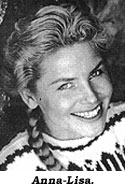 Norwegian born Anna-Lisa (1932- ) told WC for our WESTERN LADIES Special Edition #5 (2/05), "The sponsor of the show saw my photo and wanted me to play Nora Travers. Confronted with the fact I had a heavy Norwegian accent and Nora was not supposed to be foreign, the sponsor pointed out most frontier women were foreign, so they changed the part to fit me. My character was also given a Norwegian father to make it as authentic as possible. But my poor dad was not long for this world. He was killed off early in the series because he always blew his lines. Oh, well, charity never was a word in the Hollywood dictionary. I remember the incident made a deep impression on me. 'You must become perfect, or you are dead.' We had no rehearsals. We met our producer, Antony Ellis, for a read-through, usually on Friday afternoon. On Saturday afternoon we'd get our changes by courier. Scenes would be omitted, new scenes added, lines cut, revised, turned around. So it wouldn't have made any sense to start learning the part before we received the changes. Sunday was spent memorizing lines. Monday we were at the studio for makeup at 6am. We never knew ahead of time which sequences we were going to shoot or if we were going on location. So you had to know your scenes by heart. There was no such thing as personal instruction. There simply wasn't time. We shot each episode in three days. Peter Breck and I had a very good working relationship. Peter was engaged to a very lovely dancer. He was head over heels in love with her and I believe they later married. Peter, Russell Johnson and I were a dedicated, conscientious trio. It was not unusual to work 12 hour days. Whenever we had a free moment, we'd get together and discuss our scenes and run lines. No time for socializing. I wasn't aware of the fact Peter, Russell and I shared a stuntman. I discovered it on location one day when I saw this woman from behind dressed in exactly the same costume I was wearing—a long flowing skirt and a bonnet. Then my double turned around and here was this man, looking exactly like Popeye chewing on a big cigar, his beefy face adorned by a frilly bonnet. One day we were about to shoot a scene where I was to come galloping into town on horseback. It was to be done in two takes—one longshot with the stuntman in the saddle and a medium shot of me jumping off the horse. This involved lots of camera changes, lights, etc. The sun would soon be setting, so time was of the essence. But the wardrobe lady had forgotten to bring the dress for the stuntman. The poor woman was practically in tears, afraid she'd lose her job. So I volunteered to ride the horse myself. That way we could do the whole scene in one shot, which would save the crew a lot of extra work. There was some concern I might hurt myself, not that they were all that worried about me, but in the event of injury it would hurt the production schedule. But I convinced them I could do it and went ahead. The horse took off like a shot and came to a halt right on the mark. It's the first time I've heard a crew break into spontaneous applause. I felt pretty good about that. At least I wasn't a bungling amateur. I later learned the applause was for the horse, who was an old pro in the business and knew exactly what he was doing; I merely went along for the ride. (Laughs) Then the wardrobe lady embraced me. In an American TV western, a girl is just a plot point. I was happy to be playing Nora Travers on 'Black Saddle' but you know who I would like to be playing? Joan of Arc."