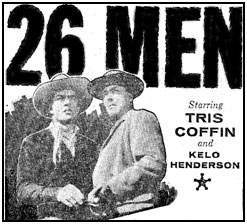 "26 MEN"

"Saddle up…saddle up… This is the story of 26 Men who rode the Arizona Territory. 26 Men who saddled up and then, rode out to answer duty's call. 26 Men who lived to ride again and fight for the rights and the liberty of all. This is the story of 26 Men, enforcing law within the


territory."
"26 Men" drew its title and storyline from the carefully documented exploits of the real 26 men who were Arizona Rangers, a group of volunteers founded in 1901 to enforce law in the almost lawless territory of 113,909 sq. miles. Their deeds became legendary and formed the basis of producer Russell Hayden's series starring Tris Coffin as Ranger Captain Tom Rynning and 33 year old Kelo Henderson as Ranger Clint Travis. At the time Hayden stated, "We're striving for authenticity and I think we're getting it. Our whole series is being shot in the same region where the real Rangers once rode." Lending an air of authenticity to the series was its unique use of introductions to various episodes by four still-living former Arizona Rangers, Clarence Beaty, Joe Pearce, W. Oliver Parmer and John Redmond, certifying the tales as true.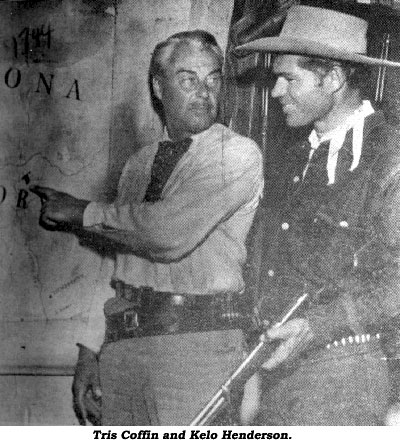 The extremely popular b/w half-hour series, syndicated by ABC Film Syndication, originally ran two seasons, 78 episodes, from October 15, 1957, to June 30, 1959. "26 Men" was 1958's most widely syndicated new show with 189 stations, as well as Japan, England, Germany, Spain and Canada. Syndicated reruns continued to be shown for years afterward.
At 47, producer Russell Hayden had quite a history with westerns—from Hopalong Cassidy's sidekick Lucky to his own starring westerns at Columbia and Universal, then six with Jimmy Ellison at Lippert followed by his "Cowboy G-Men" TV series ('52-'53). Turning to producing, he filmed "Judge Roy Bean" ('55-'56) on his own ranch in Pioneertown, CA, occasionally co-starring with Edgar Buchanan and Jack Buetel.
Hayden hired old friend Tris Coffin, a movie western veteran since 1939, as Ranger Capt. Thomas Harbo Rynning, an authentic character who had been in Roosevelt's Rough Riders and led the Arizona Rangers from 1902 til March '07. Co-star Kelo Henderson remembers Tris as "an accomplished veteran actor who knew his theatrical trade and portrayed his role as Ranger Captain with authority. He was pleasant to the various casts he had to work with and to the crew members. Also to the fans who came out to watch the series being filmed. I toured the U.S. with Tris. Easy to get along with. Always knew his lines no matter how late he stayed up. I don't know how he did it 'cause I had to go to bed a lot earlier and study twice as hard."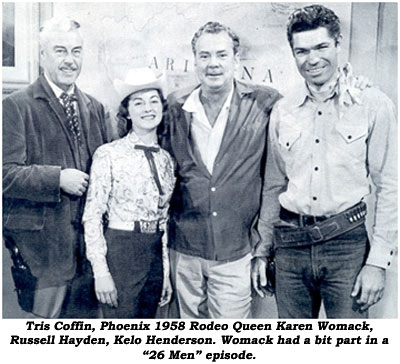 As to his own casting, Kelo told WC, "When I was foreman of a cattle ranch, someone at Republic brought my gun handling and riding abilities to my attention, because I never thought much about it, it was just part of me. They said I should stop by Republic and see them. Finally, after about a year and a half, I went by and this guy introduced me to the casting director who in turn introduced me to an agent, that's kinda how it all started. When I first interviewed for the series in Russell Hayden's office, I took an 8mm film clip I had shot—I was foreman of a small cattle ranch at the time—and we ran it in his office. There was some horseback riding, fast draw, roping, etc. I think he signed me practically on the spot in his mind. I was to meet the president of ABC Film Syndication, George Shupert, who was coming to town from New York. Hayden says, 'Bring your guns.' I usually carried two guns, but I was established in the series with only one. So I brought 'em to the Beverly Wilshire and Hayden says, 'Show George Shupert what you can do.' So I gave him a little exhibition. (Kelo's fast draw time has been as quick as 13/100ths of a second!) Shupert took Hayden off to the side of the room and said, 'We gotta change this pilot script, we gotta put some of this gun work in there,' which they did. The first episode was called 'The Recruit' where I first came into town and joined the Rangers. The Captain doesn't know if I could perform with a six-iron, so I showed him, and immediately we took off on our first assignment."
While waiting for the series to begin filming, Kelo worked on "Cheyenne", "Sgt. Preston" and other TVers and several films including "Last Stagecoach West", "Saddle the Wind" and "Gun Glory".
Although the pilot was filmed in Jan. '57 in Placerita Canyon, CA, the series then moved to Cudia City Studios in Phoenix, AZ, owned by Salavatore P. B. Cudia, then in his 70s, who had been active in the film business since 1903. Cudia owned the studio at 40th and East Camelback Rd. at the Arizona Canal. (Some episodes of "Wanted Dead Or Alive" were also lensed there.) Incidentally, the outside of Ranger HQ was actually the Cudia City restaurant. You can usually spot the Superstition Mountains in the background. For the series some lesser use was made of Old Tucson; an Indian Mission outside Phoenix; Sedona; and the Governor's Palace.
Kelo continued, "Hayden was the instigator of the series. He had his office there, on location. We had 40 acres right in the heart of Phoenix. There was a western town there, a soundstage, our livestock. Russ was around a lot overseeing everything. He was an easy fellow to get along with. I remember he didn't like to have his picture taken, and he didn't like to get in front of cameras anymore. But, he is in our first episode, 'The Recruit', as Ranger Ferguson. He has one line, 'Yes, Captain.' Maybe he did it for good luck."
Russ wrote the words to the themesong and Hal Hopper wrote the music. "Hopper also acted in a lot of our shows," Kelo continued. "Hayden was very famous for using his friends in his shows, including himself as in 'Judge Roy Bean'. Directors he also used as actors, Reg Browne was in a lot of episodes. He used a lot of local townspeople out of Phoenix also. They said they opened up the Arizona archives to Hayden because it was good for tourism in Arizona. The authenticity, I don't know, as I never read the archives on the history of these men but they set quite a record."
As to any injuries incurred while filming, Kelo told WC, "I fell with a rifle in my hand and hit a rock, and Tris was bitten by a cat. They needed tracking dogs. Hayden made a deal with the prison in Florence to get them (which didn't work out) so he went scrounging around town to get some tracking dogs but when we got 'em out on location they wouldn't track. Somebody got the idea of a cat. They had this rope around the cat's neck with this guy dangling the cat in front of the dogs. The dogs went crazy! Tris and I were on horseback on a mound watching this, so Tris galloped down there real fast, made a quick dismount, grabbed the rope out of this guy's hand, reached down for the cat, and the cat nailed him! They couldn't get the cat's teeth out of Tris' finger. They had to pry him loose. He was just trying to save the cat. His finger swelled up like a sausage."
According to Hayden, each episode of "26 Men" cost about $25,000, half of what the cost would be in California.
Noted scripters included Sloan Nibley (who'd written for Roy Rogers at Republic), Buckley Angell, Sam Roeca, Warren Douglas and Dwight Babcock. Reg Browne, who had worked with Hayden before on other series, handled the bulk of the directorial duties but veterans like Oliver Drake, Joe Kane, Harry Gerstad and Franklin Adreon were brought in. Although Russell Hayden himself is credited as directing eight episodes, Kelo emphatically denies Hayden directed any episodes, "It was probably done for credit, I imagine Reg Browne really did them."
One of Kelo's favorite guest stars was Penny Edwards, "When you did a scene with her and she was your girlfriend, she really made you believe it. (Chuckles) You had no doubts about it. As for male actors, I worked with two of the future 'Star Trek' fellows—Leonard Nimoy and DeForest Kelley." Other actors familiar to westerns to be found in the casts are Don Haggerty, Roy Barcroft, Gregg Palmer, Lane Bradford (considered himself for the role of Capt. Rynning), Gregg Barton, Lyn Thomas, Elaine Riley, Tom Monroe, Bobby Blake, Stan Jolley, Bill Henry, Lash LaRue, Greg Walcott, Harry Lauter, Pierce Lyden, George Keymas, Robert Lowery, Gary Gray, Myron Healey, Leo Gordon, Morris Ankrum, Wendy Wilde, Grant Withers, Chuck Courtney and others.
Two episodes were made as pilots for series that never materialized. "The Tiger" was based on Mexican Rurale leader Col. Kosterlitzky, actually a former Russian Cossack. Kelo and Tris would have had recurring roles had this planned series developed. "Tumbleweed Ranger" was made as a pilot for stuntman Tap Canutt, son of Yakima Canutt.
With the cessation of "26 Men", Hayden was nearly through with filmmaking, although a few episodes of CNP's "Pony Express" were produced at Cudia City in '60 in association with Hayden's production company. Other than that, and a couple of practically unheard of non-western independents produced in the early '60s, Hayden retired to his Pioneertown ranch.
Tris Coffin continued to work up until '71. At 80, he died of cardiac arrest and lung cancer March 26, 1990, in Santa Monica, CA.
Kelo tells WC, "After the 78 episodes were done, I said, 'That's it.' I packed up and moved to Colorado to raise horses. My agent got ahold of me in '64 to make two Karl May westerns in Germany with Lex Barker. When those two films were over, again I said, 'That's it.' (Chuckles) and that was it, I didn't make another one."

"Praise be the glory of 26 Men who rode the Arizona territory. Ride On. Ride On. Ride On."