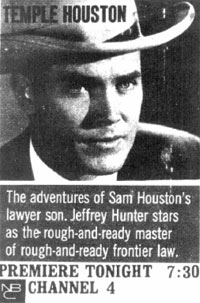 Warner Bros.' "Temple Houston", which ran from September 19, 1963 to April 2, 1964, began as a TV pilot produced by star Jeffrey Hunter's own Apollo Productions. Midway through the TV series run, this pilot was released (Jan. '64) as a 57m feature film, "Man From Galveston", with new dialogue changing the lead character's name to Timothy Higgins. James Coburn plays second lead as the Marshal.
At this point, Jimmy Lydon, who was with WB at the time, picks up the fascinating tale of the development of the 26 episode NBC western series, "Jack Webb was the head of WB television. Bill Conrad and I were the only contract producers on the lot. Webb went to New York and sold a pilot for 'Temple Houston'. The problem was, the pilot film had been made with James Coburn playing the second lead. His option had expired. Webb went to negotiate with him but Coburn didn't want any part of it. So they had to recast it and Jack Elam went along as Marshal George Taggart. But we couldn't use the pilot."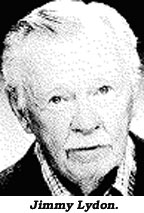 "When Webb called us into his office, he said 'Fellas, I just sold 'Temple Houston.' We gotta be on the air in four weeks, we can't use the pilot, we have no scripts, no nothing—do it!' And we said, 'Yes, sir' but were panicking because it was impossible to have scripts written and then shoot them, score them, dub them and deliver them to the network in four weeks! So, we called some very, very fast writers…(Jack Turley wrote the 1st show, "The Twisted Rope" from a James Warner Bellah story. Bellah wrote the original stories for several John Ford films.) They agreed and delivered us shootable scripts the following Friday. We put them into the mill right away and were shooting it Monday morning. We did all the pre-production work Saturday and Sunday. We shot two episodes together. We cut them, scored them and I got the print of the first one out of the lab on a Friday night about 8:30 and in my own car drove to L. A. airport and put it into the hands of a United Airlines Captain who was taking the red-eye to New York. He carried it in the cockpit with him. At 6:30 in the morning when he arrived in N.Y., two CBS pages were waiting. He delivered the print to them and they ran it back to Manhattan and did what they had to do and we put it on the air that week. It was the wildest thing I've ever been involved in."
"We worked day and night…with preproduction, production, cutting, scoring, looping—everything! The composer wrote a whole score for it in two days (a variation of 'Yellow Rose of Texas'). We had the music orchestrated for a 50 piece orchestra in half a day. It was just incredible. It was an interesting kind of western, with a lawyer instead of a guy with a gun. He was a lawyer like his father Sam Houston."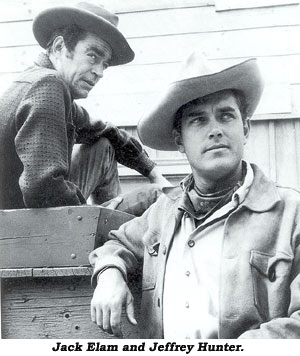 Jack Elam told his friend Marty Kelly he was under contract to WB and had been in New Mexico for 4-5 days ready to shoot "A Distant Trumpet" when he was notified he was being cast in "Temple Houston" at "a hell of a raise from what I'd made on 'The Dakotas' (where Jack was the slightly higher paid of the four leads). I didn't know anything at all about the James Coburn situation." Claude Akins replaced Elam on "Trumpet" and the chaotic production of "Temple Houston" began Aug. 7 with the first show airing Sept. 19.
According to Lydon, "Bill Conrad directed two scripts simultaneously on two different soundstages at Warners. We bicycled Jeff and Elam between the two companies and Bill shot 'em both in four and a half days. Two complete one hour shows!"
According to researcher Glenn Mosley, "The Third Bullet" (directed by Alvin Ganzer) was shot in two days. "Ten Rounds For Baby" (directed by Conrad) was shot in three days including pick up shots and dialogue looping.
Jack Elam remembers the series as having "good stories." No wonder—many scripts came from excellent veterans such as Warren Douglas, Jack Turley, Ron Bishop and Paul Savage. Bill Conrad directed six, Bob Totten (upon Elam's recommendation) helmed four, veterans Leslie H. Martinson, Irving Moore and John Florea completed others.
Elam had met Hunter previously when they worked in "Lure of the Wilderness" and told Marty Kelly, "From the day we started, throughout the whole 26 episodes, we never had a harsh word. Sometimes, I know I can get to be a pain in the neck, but Hunter was a great guy and had a lot of clout at NBC. He ran the show, but he never played the role about it at all."
In spite of his plans for reforming production at WB, Jack Webb was ineffective in marketing WB's series. Although Jack Warner had signed Webb to a three year contract, Webb was fired just ten months after being hired and Bill Orr (who reigned in the days of "Cheyenne", "Maverick", "Sugarfoot", etc.) was brought back. Possibly due to this change a more tongue-in-cheek approach to the series took place after eleven rather low-rated episodes. ("TH" competition included "Rawhide", "Flintstones" and "Donna Reed")
Hunter died in '69 of injuries from a fall. The fabulous Jack Elam, 80, left us October 20, 2003. (Thanx for the input to Glenn Mosley, Marty Kelly, Jack Elam, Jimmy Lydon and Mike Nevins.)
JEFFREY HUNTER/TEMPLE HOUSTON
by Glenn Mosley
If ever there was a television western which clearly defined the term "nearly forgotten", surely it was the '63-'64 NBC western, "Temple Houston". This TV western focused on a real-life character, a circuit court frontier lawyer, the son of Sam Houston. Film actor Jeffrey Hunter played the lead role and even produced the pilot film through his own production company for Warner Bros.
At the time the pilot was filmed in the Spring of '63, Hunter described the show as a different kind of western, a whodunit on horseback, with humor. "I like the premise of the show," Hunter said at the time, "and the character I'm playing. It's pure entertainment as opposed to the personal problems dramatized in psycho-medical programs...we can have a lot of fun with this thing."
"Temple Houston" was originally targeted for the '64-'65 season, but NBC abruptly changed its mind and rushed the program into production for the '63-'64 season. Hunter, although signed, had to bow out of John Ford's final western, "Cheyenne Autumn", due to scheduling conflicts.
Then the network asked for changes. "Things went wrong from the start," Hunter would later say. "It was conceived in humor and delivered in dead seriousness. Then, about halfway through the season, NBC decided to return to the tongue-in-cheek approach. By that time, it was too late. The big joke around town was, the series was about a synagogue in Texas."
Jeff's pay scale for the lead role was typical of the day, $5,000 per show. His contract with WB also guaranteed him a starring role in a feature each year "TH" was on the air. "Brainstorm" is the one that was made.
"TH" premiered Sept. 19, '63, and struggled in the Thursday night ratings right from the start, up against the likes of "The Flintstones" and "Rawhide". In all, 26 episodes were produced. Scripts were contributed by solid television writers, with offbeat stories concerning Houston's defenses of a woman prizefighter and a circus elephant. In "Sam's Son" (by Warren Douglas) he defends old friends of his father, Sam Houston.
Interestingly enough, the pilot, though never broadcast on television, was released to theatres, in an attempt to boost the fortunes of the series itself. However, upon its theatrical debut in '64, the pilot was retitled "The Man From Galveston", and the name of Hunter's character was changed from Temple Houston to Timothy Higgins!? Actors dubbed in dialogue changes. It was paired in release with "Four From Texas". "The Man From Galveston" can be seen in syndication from time to time and VideoWest has it on tape. But the series episodes themselves haven't been seen in years. This is unfortunate; the program tried valiantly to be different from other westerns on the air. Though "Temple Houston" wasn't a ratings success, it's certainly worth another look. (Glenn Mosley has studied Hunter's life and completed a biography which he is attempting to place with a publisher.)