"Buckskin"
"Buckskin" was a gentle western, a precursor in many ways to shows like "The Waltons", "Little House on the Prairie" and "Father Murphy". Although excellently produced and acted, the problem for the 30 minute black and white series was its convoluted scheduling history. It deserved better.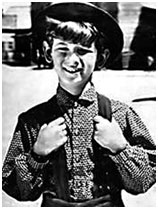 Unique in nature, its stories of the old west were told through the eyes of 10 year old Jody O'Connell (played by 10 year old Canadian born Tommy Nolan) who lived in his widowed mother's (Sallie Brophy) boarding house in Buckskin, Montana, in 1880. Because this boarding house seemed to be the social center of the town, Jody interacted with the townspeople and met all sorts of guests who were passing through Buckskin. Other regulars were Mike Road as Marshal Tom Sellers, Michael Lipton as schoolmaster Ben Newcomb and Shirley Knight as his wife.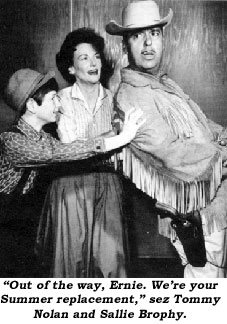 The series premiered on July 3, 1958, on NBC. Tommy Nolan told WC, "The notion was to do 13 episodes as a summer replacement for the Tennessee Ernie Ford variety program, which was a hit show on Thursday nights. Tennessee Ernie Ford's production company made 'Buckskin' which was done through Revue, the TV production arm of MCA. We filmed on the old Republic lot at Radford. We didn't make a pilot, which was unusual. The show was sold without a pilot having been made, and we sort of jumped right into production."
Tommy continued, "The man who created the show and wrote several of the episodes was Harold Swanton. Swanton had come up through radio writing mystery shows ("Sam Spade", "Fat Man", "Hopalong Cassidy", "The Whistler") and he'd just won an Edgar Award for a TV script he'd done for a live show." ("The Alcoa Hour: Mechanical Manhunt" in '57. Swanton started writing for TV with "The Whistler" in '55—using many of his radio scripts. Before "Buckskin" he also wrote a "Gunsmoke", a "Broken Arrow" and three episodes of "Zane Grey Theatre". After "Buckskin" he wrote for "Whispering Smith", "Alfred Hitchcock", "Wagon Train", "Wide Country", "Virginian", "Bonanza", "Hec Ramsey", "Little House on the Prairie", "The Chisholms", "Cimarron Strip", among others.)
Nolan continued, "Swanton created 'Buckskin' and it was produced by Robert Bassler (1903-1975) an older, successful producer in Hollywood who had done a lot of different kinds of movies." ("The Lodger", "Smoky", "Snake Pit", "Sand", "Halls of Montezuma", "A Ticket to Tomahawk", "Silver Whip", "Suddenly", "Gunsight Ridge", an episode of TV's "The Californians"—and after "Buckskin" he produced for "M Squad", "Outlaws", "Route 66".)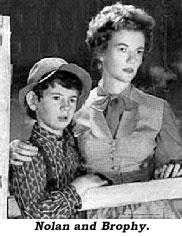 Nolan explained, "Initially, for that 13 week run, we took a week to do each show. We had two days of rehearsal, one day we just sat around the table and read the script, and so on. The second day we were on the stage and blocked out scenes, then three days of filming. That changed the second season when we got picked up. We did episodes in two and a half days, two a week. We had very good directors, very good actors." (Robert Fuller, Lurene Tuttle, Reed Howes, Scott Morrow, Marion Ross, Bill Henry, Kathleen Freeman, Virginia Christine, Jim Bannon, Mary Beth Hughes, Gregg Palmer, Jane Darwell, Roger Mobley, Suzanne Lloyd, House Peters Jr., Rusty Lane, Roscoe Ates, Andy Clyde, Lyle Talbot, James Griffith, Warren Oates, Russell Arms, Tony Caruso, Pernell Roberts, Olive Sturgess.)
For its initial July 3 through September 25 13 episode run, "Buckskin", up against "Navy Log" on ABC and "Playhouse 90" on CBS, garnered good ratings. What to do? Tennessee Ernie was returning to his time slot. Nolan smiled, "They had not been expecting 'Buckskin' would be such a success. They promoted the heck out of it in the initial summer run and we debuted in the Top 10, at number 10, and the show just kept climbing every week, and we got up to—maybe number 2, depending on how they skewed the ratings, according to age groups. But we were number 3 or number 2, so they picked us up, then we rushed these episodes out. We weren't very far ahead (in production). Sometimes we were only a couple of weeks ahead of the air date. The initial summer replacement show, it was never intended to be more than that, was so successful that they were sort of surprised—or perhaps forced is too strong a word—to pick the show up for a regular season. But once they'd ordered another 26 episodes they didn't really have a proper time slot for it. And they just kept moving it around."
As of October '58 "Buckskin"'s new time slot was Friday night from 7:30-8:00 Eastern opposite stiff competition from "Rin Tin Tin" on ABC and "Your Hit Parade" on CBS. Only a few original episodes aired before NBC scheduled reruns in November and December. When "Buckskin" returned January 5, 1959, it was ushered into a Monday 7:30-8 Eastern timeslot opposite "Shirley Temple's Story Book" on ABC and "Name That Tune" on CBS. "The show sort of got lost in the shuffle," Nolan said, "but we also had a network run in the afternoons, alternating with 'Yancy Derringer'. A lot of people saw it then that had not seen it in '58. This would have been in '62…I think. Then in '65 'Buckskin' was a summer replacement for 'Branded' on Sunday nights. That surprised me at the time, because we were a black and white show (and many shows were in color) and certainly to re-run something in black and white was unusual."
As for the series itself, Nolan believes, "Our shows actually had issues without being heavy handed, moral and ethical things. There was one that must have been inspired by a Norman Mailer essay in which he made some alarming claims as to the relevance of violence in certain levels of society and how sometimes it might be justified. We had an episode that took-off from that. It has to do with a guy who's in jail and Jody sort of befriends him from the window below. The guy plays the harmonica and is sort of a smooth talking guy. He says if I did kill that guy maybe he deserved to be killed. Jody talks to the marshal about it…'Well maybe he deserved…' 'No, Jody…' (laughs). The producers were conscious of those things and tried to be morally responsible, and that was all in the writing."
Recalling his co-stars, Nolan told us, "Sallie Brophy had studied at the Royal Academy of Dramatic Art in London (in 1950). She was a well trained actress. Mike Road had done stage work in New York, he'd worked in a play with Yul Brynner. He did a lot of voice work later, cartoon series. He deserved to be better recognized. Shirley Knight, who has won Emmy Awards, was a semi-regular on our series."
Mike Road, born in Malden, MA, came to films in 1943. After "Buckskin" he was signed by Warner Bros. television. He was Pearly Gates on "Maverick" and was a regular on "Surfside 6" and "The Roaring '20s". He voiced many cartoon characters, especially Race Bannon on "Jonny Quest" and Mr. Fantastic on "The Fantastic Four". Road died at 95 on April 14, 2013.
Sallie Brophy was born in Phoenix, AZ, in 1928 and died September 18, 2007, in New Jersey. She worked steady in films and on TV from '53-'64 then retired when she and her husband, George Goodman, moved to Princeton. She taught theatre and directed student productions at Princeton University and Rider University in Lawrenceville, NJ. Her husband became known as "Adam Smith" on PBS' long-running "Adam Smith's Money World". Together they set up a new firm, Public Presentations, coaching individuals and corporations, including several senators.
Michael Lipton was a noted theatre actor who worked sparingly on TV and in film. Born in NYC in 1925, he died February 12, 2012, in Englewood, NJ.
"Buckskin" producer Robert Bassler said Tommy Nolan won the coveted role of Jody over 100 other hopefuls, "Not only for his exceptional acting ability but because he looks like everyone's favorite nephew." Born Bernard Girouard in 1948 in Montreal, Quebec, Canada, when he was only four he appeared in a Christmas play which led to work in a company that played benefits for hospitals. When he was five the family moved to California for his mother's health. Dancing classes led to an acting career beginning as Prince Edward of Wales on "Hallmark Hall of Fame". After "Buckskin" he guested on "Riverboat", "Rawhide", "The Rebel", "Rifleman", "Wagon Train", "High Chaparral", "Gunsmoke" and non-westerns such as "Thriller" and "Combat". When acting roles became further apart, Nolan turned to writing, penning articles for PLAYBOY, LOS ANGELES TIMES, VILLAGE VOICE, etc. In 2008 Nolan wrote a biography on writer Ross MacDonald; and recently published ARTIE SHAW, KING OF THE CLARINET.