"Little House on the Prairie"
Michael Landon's "Little House on the Prairie" captured the hearts and minds of America like no other TV series. With its soothing mix of frontier adventure, wholesome melodrama and valiant optimism, in 1974 "Little House…" introduced TV audiences to the Ingalls, a frontier family living in a rustic cabin on Plum Creek near Walnut Grove, MN during the 1870s and '80s. Produced and often directed by Landon—as well as starring as Charles Ingalls—and adapted from Laura Ingalls Wilder's bestselling books, the series offered a touching look at a simpler time when people based their lives around family, home and church. Former NBC vice president and co-producer of "Laugh-In", Ed Friendly, purchased dramatic rights to Wilder's bestselling "Little House on the Prairie" books and approached Landon about being involved. At the time Landon stated, "I couldn't make up my mind until I came home and found my 12-year-old daughter devouring the Laura Ingalls Wilder books. Then I discovered my wife had devoured them too when she was a girl and was reading them again. I thought 'How wonderful if parents and children can watch this series together, and maybe it would start the kids reading the books after seeing the episodes on television. Imagine a TV show that would make kids read. So I went to NBC and told them 'Little House' was it. I want people to laugh and cry, not just sit and stare at the TV."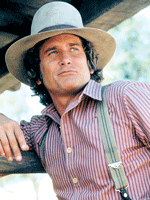 Preceded by a two hour pilot movie on NBC March 30, 1974, regular one hour episodes began on Wednesday nights September 11, 1974 from 8-9 ET, moving to Mondays in '76. "Little House…" was an instant hit, easily beating out competition with a 26.2 rating which represented 45% of all TV sets in operation at the time.
At this point Ed Friendly bowed out over "creative differences". He wanted to stick faithfully to the Wilder books. Landon wanted to take incidents from the books and build fictional stories around them. As he explained, "It would be impossible to follow the books completely. We did the original two-hour pilot and it ate up a whole book. At that rate, it would mean at the end of nine shows we'd have gone through nine books and that would be it. We'll remain faithful to the characters but we have to make at least 22 hours of episodic TV a year and every one of those shows will have to carry itself."
Now executive producer, Landon's vision proved correct, viewers faithfully tuned in to the adventures and personal tragedies of the Ingalls family for eight seasons through 1982. With the departure of Landon during the '82-'83 ninth season the series was broadcast with the new title "Little House: A New Beginning". "The show dealt with issues that are timeless," noted Melissa Sue Gilbert who played Laura Ingalls Wilder. "It represented what we all crave—home, family, community and faith."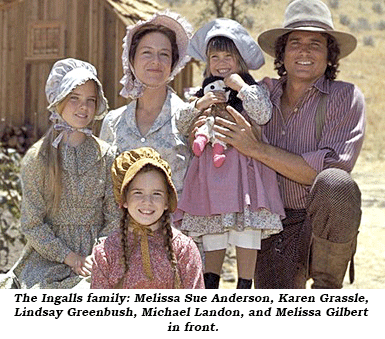 Besides farmer and mill worker Charles Ingalls (Landon) the Ingalls family consisted of Karen Grassle (patient and understanding Caroline Ingalls), their four daughters: nine year old Melissa Gilbert (the sensitive Laura), 12 year old Melissa Sue Anderson (Mary, the oldest and most responsible one), identical twins Lindsay and Sidney Greenbush (the youngest daughter Carrie, who didn't have a large role), Wendi and Brenda Turnbaugh (Grace, the baby). In later seasons the Ingalls adopt three children: Matthew Labyorteaux (Albert), Missy Francis (Cassandra) and Jason Bateman (James). Other essential characters in the enormous cast included Victor French as mountain man with a drinking problem turned farmer,

Isaiah Edwards, who settled in Walnut Grove with his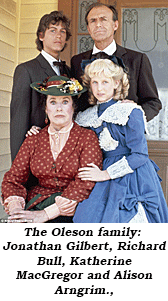 family. There was also the Oleson family with Richard Bull as Nels, proprietor of the town's general store, Katherine MacGregor as Harriet his malicious, gossiping wife and their two spoiled children Alison Arngrim as bratty town bully Nellie and Jonathan Gilbert as mischievous Willie. Kevin Hagen was loyal town physician Dr. Hiram Baker; Dabbs Greer was Walnut Grove's devout and caring church minister; Charlotte Stewart was kindly schoolteacher Eva Beadle Simms; Karl Swenson as Lars Hanson, the beloved founder of Walnut Grove and proprietor of the Hanson Lumber Mill where Charles and Isaiah worked. Season four saw the addition of the Garvey family, former L.A. Rams Hall of Fame defensive lineman Merlin Olsen (right) as Jonathan with wife and son.

As the series progressed various characters were added as Mary and Laura Ingalls married.
When Michael Landon decided to leave the show at the end of the eighth season, he stayed on as executive producer, occasional writer and director.
Season nine was renamed "Little House: A New Beginning". The focus was put on Melissa Gilbert as Laura and her husband Dean Butler (left) as Almanzo Wilder. More characters were added—The Carter family, Stan Ivar as John, Pamela Roylance as Sarah and their two boys

move into the Ingalls' house. The explanation given for the original characters' absence was that they moved to Iowa. The show lost viewers and was cancelled after 19 episodes. However, three made-for-TV movies followed: "Little House on the Prairie: A Look Back to Yesterday" ('83), "Little House: The Last Farewell" ('84) and "Little House: Bless All the Dear Children" ('84), the latter filmed prior to "The Last Farewell" but was the last movie shown.
In "The Last Farewell" Charles (Landon) and Caroline (Karen Grassle) visit Walnut Grove and learn a railroad tycoon actually holds the deed to the township and wants to take it over for his own financial gain. Despite their best efforts, the townsfolk are unable to drive the businessman away so with explosives each resident takes a turn in blowing up his own building. When asked why the set was blown up, the show's producer, Kent McCray, said when the series started, he made an agreement with the property owners that at the end of the series he would put the acreage back to its original state. Landon thought for a while and said, "What if we blow up the town? That would get the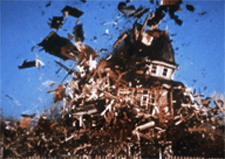 buildings all in pieces and you can bring in your equipment to pick up the debris and cart it away." He then said he would write it where they blow up all the buildings, except for the little house and the church. Landon stated, "I wanted to destroy the entire town, which I did. We were together for nine years, and that's why we blew it up. That, plus the fact I didn't want anybody making a trashy movie at Walnut Grove, because I like that town." Dean Butler recalled, "There wasn't much said that day. It was powerful for all of us." Alison Arngrim thought "It was funny. When you see the blind school blow up, it's so huge, and they used too much explosive." Both Kent McCray and Landon wept as the town was blown up.
Of the 204 episodes, Michael Landon directed the most at 90. The series themesong was written and conducted by David Rose. The ending theme music, also composed by Rose, first was heard as a piece of incidental music in a later season episode of "Bonanza". Many writers contributed to "Little House…" Landon himself wrote 48 episodes and often recycled storylines from ones he had written for "Bonanza". Season two's "A Matter of Faith" was based on "Bonanza"'s "A Matter of Circumstance"; season five's "Someone Please Love Me" came from the "Bonanza" episode "A Dream to Dream"; season seven's "The Silent Cry" came from "The Sound of Sadness", season eight's "He Was Only 12" was based on "He Was Only Seven" and season nine's "Little Lou" came from "It's a Small World".