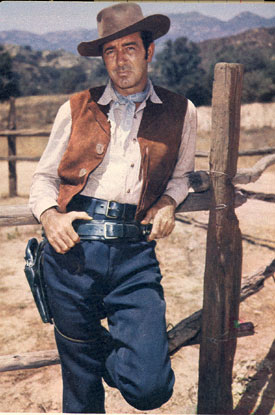 John Payne's "Restless Gun" evolved from Jimmy Stewart's NBC radio series "The Six Shooter" ('53). The frontier drifter of Britt Ponset was created for radio by Frank Burt, who wrote most of the scripts. The easy-going role was perfect for Stewart but came too late in radio's golden age to make an impact.
In 1957, producer David Dortort (who later hit western TV gold with "Bonanza" and "High Chaparral") and 6' 3" John Payne brought a revised version to TV as "Restless Gun". The pilot aired 3/29/57 on the 6th season of CBS' "Schlitz Playhouse of the Stars" (coincidentally guest starring Michael Landon whom Dortort would later bring to "Bonanza"). The actual half-hour series aired 77 b/w episodes over two seasons on NBC Monday nights, 8-8:30ET, from 9/23/57 - 9/14/59 (with weekday reruns on ABC '59-'60).
Payne, the Roanoke, Virginia-born former movie star of, at first, Fox musicals and later westerns and action films, served as executive producer and owned 50% of the series through his own Window Glen Productions (his office was on the old Republic lot). It was filmed by Universal's TV subsidiary, Revue, with many of the literate scripts rewritten from Burt's radio plays.
Payne played Vint Bonner, a slightly older (Payne was 45 at the time) drifting gunman in the post Civil War west searching for a place to settle down and retire his 'restless gun'. Payne's horse was Scar.
NBC wanted to expand the show to one hour after a successful first season (8th in Nielsen ratings) but Payne declined, preferring to emphasize quality over length. Many of the scripts relied strongly on humor (as had Stewart's "Six Shooter"). Payne once said, "If there's such a thing as a next door neighbor in a western, that's Vint Bonner."
"Restless Gun" bested "Guy Mitchell" and "Love That Jill" on ABC but in its second season fell victim to Rory Calhoun's "Texan" which began in the same time slot on CBS.
Payne, the only regular in the series, died December 6, 1989, at 77.
In March 1958, series sponsor Listerine offered "The Secrets of the Fast Draw" picture book by fast-draw expert Arvo Ojala for a TV GUIDE coupon and 25¢. Worth plenty if you locate one today. Call me if you do.