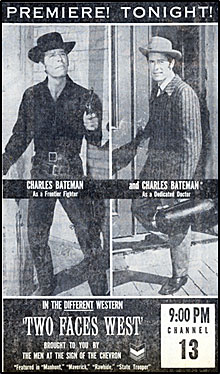 Set in Gunnison, CO, in the 1860s, "Two Faces West" was a syndicated b/w half hour series that starred Charles Bateman in the dual role of gunfighter Ben January and his twin brother Dr. Rick January. Although identical twins, they possessed very dissimilar personalities. As clad-in-black gunfighter Ben he was capable of violence and very fast with his gun. Dr. January was a man of peace who hated violence unless the situation dictated. There were interesting episodes in which Rick would masquerade or be mistaken for Ben and proved to be just as fast with a gun as brother Ben.
Rounding out the cast were June Blair as Julie Greer, proprietress of the town's hotel to whom both brothers were attracted, Francis De Sales as Sheriff Maddox and Paul Comi as Deputy Johnny Evans.
"Two Faces West" was the unique creation of producer Donald Gold and Jonas Seinfeld with Matthew Rapf as online producer.
Obviously Bateman, playing the twin brothers, often needed to be seen talking to himself. The use of a split screen to achieve that effect had been used in films and even on TV, but this is the first time it was utilized for an entire series. When scenes called for both brothers to be in the same scene, not only was the split screen effect employed, but stand-in Paul Pepper was used for one brother or the other in over-the-shoulder shots.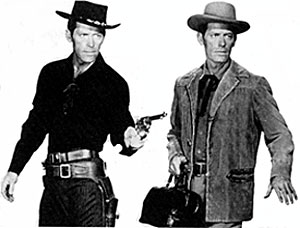 In choosing a star for the role Screen Gems producer Rapf selected Charles Bateman who had been seen regularly the past year as detective George Peters, Victor Jory's assistant on "Manhunt" ('59). Bateman, born November 19, 1930, in San Diego was first seen on a "Maverick" episode, "Black Fire" in '58. He'd also work-ed on "Lawman", "State Trooper", "Yancy Derringer", "Rawhide" and various cop shows.
More than just another TV Western with a gimmick, the series allowed Bateman to stretch his acting chops, as a tough, no nonsense gunfighter one minute and as a well-bred, slow-to-anger, eastern college educated medical man the next.
39 episodes were syndicated on over 150 stations from October 1960 through July 1961. Many top Western names guested—L. Q. Jones, Gregg Palmer, Chris Alcaide, Ron Hagerthy, Denver Pyle, Don Harvey, Walter Burke, Stuart Randall, Pamela Duncan, Joyce Meadows, John Cason, Kathie Browne, Dyan Cannon, Rex Holman, DeForest Kelley, John Pickard, William Bryant, John Cliff, James Griffith, Ron Hayes, Don Megowan, Leonard Nimoy, Ryan O'Neal, Mike Ragan, Ron Soble, Warren Vanders, and many more.
Music was supplied by Joseph Weiss who'd also worked on "Father Knows Best", "Leave It to Beaver" and "Manhunt".
When the series ended Bateman guested on dozens of other series and was a regular on two soaps, "Days of Our Lives" and "Santa Barbara" before retiring in '91.
Unfortunately, "Two Faces West" is often overlooked having not been seen on TV in over 50 years and not currently available on DVD (except for several episodes that have found their way into the hands of collectors). A distinctive series that needs to be better known and appreciated.