"Overland Trail"
"Overland Trail" was a very good one-hour b/w western series that was never really given a chance by NBC. With no fanfare it was placed midseason on Sunday nights in February 1960 from 7-8pm Eastern Time (replacing "Riverboat" which was moved to Monday night). "Overland Trail" was counter-programmed opposite the very popular "Lassie" and "Dennis the Menace" on CBS and the first half of established ratings winner "Maverick" (which began at 7:30, preceded by "Colt .45" at 7.)
Produced by Nat Holt and Samuel Peeples for Universal's Revue TV arm, "Overland Trail" starred 54 year old William Bendix as Frederick Thomas Kelly, a crusty former Union Army Civil engineer, and 25 year old Doug McClure as Kelly's enthusiastic young partner Frank "Flip" Flippen working to establish of an Overland Stage route from Missouri to California in the late 1860s.
Besides strong action, the humorous byplay between Bendix and McClure enhanced the series. Sadly, although just as good as most other western TV series, the competition on CBS and ABC was too much for "Overland Trail" and it bit the dust after only four months and 17 episodes on June 6, 1960, replaced for a few weeks by variety specials before reruns were aired in July and August. "The Shirley Temple Show" replaced "Overland Trail" on NBC's schedule as of Sept. 18, 1960.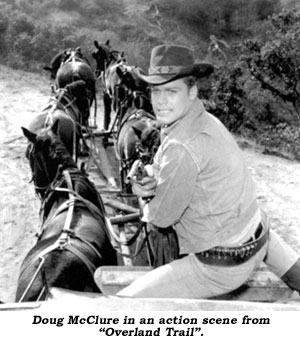 It was as a result of an appearance on "Schlitz Playhouse: Ivy League" in 1958 opposite William Bendix that McClure landed the co-starring role on "Overland Trail". A year later when Revue was casting "Overland Trail", Bendix fondly remembered the personable McClure and suggested him for the role of "Flip" Flippen.
Educated at UCLA, McClure entered films in '56 with a bit in "Friendly Persuasion" and went on to appear in several other movies and guest on some 20 TV shows before 1960—a great year for him as, in addition to "Overland Trail", he co-starred with Burt Lancaster and Audie Murphy in "The Unforgiven".
With "Overland Trail" cancelled, McClure co-starred with Anthony George and Sebastian Cabot on "Checkmate" in the Fall of '60. That led to his star-making turn as Trampas on "The Virginian" from '62-'71. McClure later co-starred on "Search" in '72 and the short-lived "Barbary Coast" with William Shatner in '75.
Both stars of the underappreciated "Overland Trail" died young. William Bendix was only 58 when he passed on Dec. 16, 1964. McClure was 59 when he died of lung cancer Feb. 5, 1995.