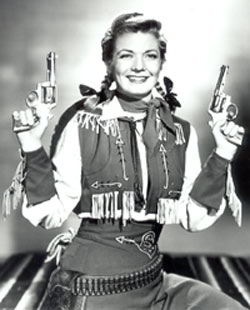 TV's first female heroine was Gail Davis. From 12/11/53 through 3/1/57, Gene Autry's Flying-A Productions produced 81 b/w half hour episodes of "Annie Oakley", with reruns to 1960.
Oddly, after co-starring with Gene in 14 features, Gail wasn't considered at first for the sharpshooting gal when Flying-A proposed the series. Eventually persuading executive producer Armand Schaefer to give her the role she was born for, Gail, from age 27 on, never stopped being "Annie Oakley."
Set in the mythical town of Diablo, AZ, Annie kept law and order with the aid of deputy sheriff Lofty Craig (Brad Johnson), who handled all the fisticuffs, and Annie's kid brother Tagg (Jimmy Hawkins). Tagg was played in the original pilot by Billy Gray. In the pilot, Annie's uncle was Sheriff Luke McTavish (Kenneth MacDonald), thereafter seldom referred to. Annie, in a conversation with Tagg, refers to their mother's death.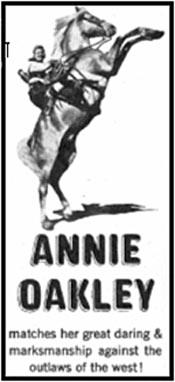 Annie's horse, Target, was played by at least three similarly colored Palominos. Tagg's horse was Pixie. Gail was usually doubled by Donna Hall but sometimes by Alice Van (who later married director R. G. "Buddy" Springsteen).
Gail's best friend, actress Nan Leslie, doubled Gail once (in "Alias Annie Oakley") when Gail broke her ankle. "Gail and I first met at RKO when we were both under contract in the '40s. Her nickname was Bootsie, she had it long before she got into show business. For some reason I've forgotten, she called me Sam. It was always Sam and Bootsie. She was just an all around, all occasion friend and companion. One time, when she was doing 'Annie Oakley', she stepped off a curb and broke her ankle. I soon got a call from her. She knew I was, shall we say, between acting jobs at the time. She said, 'We've been jokingly called the gold dust twins. People say we look so much alike we could double for each other. What would you think about putting on my Annie costume and doubling for me on long and medium shots until I get back on my feet?' I told her I'd be delighted to do it, and I had a ball! They pinned on the pigtails, sprayed my hair to match Gail's, and put me in the costume. You could hardly tell us apart from a distance."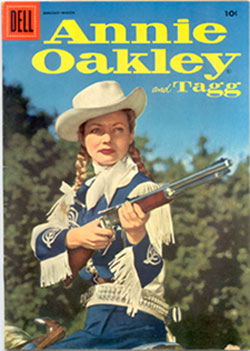 In 1955 AO licensed merchandise topped $10,000,000 in sales.
The series was guided by veteran western directors such as George Archainbaud, Frank McDonald, Earl Bellamy, the disliked Ray Nazarro and D. Ross Lederman.
Many of the scripts came from the prolific western pens of Norman S. Hall, Robert Schaefer (Mandy Schaefer's nephew) and Eric Freiwald, Maurice Tombragel and Paul Gangelin.
Brad Johnson was only 56 when he died in 1981. Hawkins, 55, went on to produce TV movies and has sat on the board of the Donna Reed Foundation which awards scholarships in performing arts. Gail Davis died of brain cancer at a Burbank, CA, hospital March 15, 1997.
Upon Gail's death Gene Autry stated, "There are lots of girls who can ride and shoot and lots who can act, but the girl who could do both just couldn't be found. Then this kid came along and I didn't have any more problems. A whole generation of children grew up with Gail Davis playing Annie Oakley on television. Before that she co-starred with me in several of my movies. She also toured with me on a number of occasions. Gail was an extremely talented individual. She had a kind, generous heart and brought so much joy to so many children. She never stopped doing that right up to the day she passed away."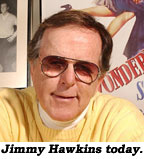 Gail's kid brother Tagg on the series was Jimmy Hawkins who told WESTERN CLIPPINGS, "They made two pilots. The first pilot (which had Billy Gray as Tagg Oakley) didn't sell. Gene Autry and Mandy Schaefer really believed in this concept, so they said, let's do another pilot and not make it as saccharine, let's make it more action-adventure ('Annie Get's Her Man'). When they went to make it, Billy had 'grown up'. That's when they brought me in. We were friends after the show, for all those years…used to have dinner, go over to her home. I told Gail I'd put in a western room with my 'Annie Oakley' stuff…the saddles, guns, lunch boxes, different pictures from the show. She liked that idea, so she and her daughter Terrie got out all her stuff and started putting up all the western things in her den. She got it finished and then had to go into the hospital. She was a very special lady. When we'd go on tour all over the U. S., when we were on hiatus, she'd go to the hospitals and visit the kids…she was very attuned to kids. She made them feel like they were the only ones there. She was very down to earth…no prima donna, no 'star time'. I really had a crush on her. When we were doing the first show, I just thought this gal was the greatest. We all had a good time together, enjoyed doing it, going out on tour. It really wasn't work, just fun."
"I WAS ANNIE OAKLEY"
INTERVIEW WITH GAIL DAVIS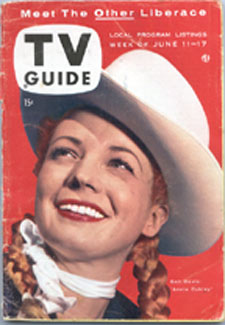 Gail Davis, newly married, came to Hollywood from Arkansas at 20, hoping for stardom. "Really and truly I wanted to be a musical comedy star. I thought, jeepers, they were super. That's the thing I wanna do. Unfortunately, I didn't have the voice or the feet. (Gail did record a few discs for Columbia and RCA but they were not hits.)
I started out at MGM for about three months, then they sold my contract to RKO. I was there for a year before I started freelancing and made 'The Far Frontier' with Roy Rogers. I worked with Jimmy Wakely, Johnny Mack Brown, Lone Ranger, Cisco Kid, many others. I did fourteen features with Gene Autry at Columbia and several TV shows with Gene before we started Annie."
After appearing in 25 B-westerns and as many TV episodes from 1949-1953, Gail learned Gene's Flying-A Productions was going to do an "Annie Oakley" series. She wasn't even considered for the role at first. "They came up with the idea of a western series for a girl…it'd never been done before. So they ran a contest throughout the United States…trying to find someone who could ride and shoot and act. I got very upset because this was right down my alley, really a part I wanted. I felt it was me. I went to talk to the producer, Mandy Schaefer, (Armand Schaefer—ed.) and he said, 'No.' So, I went home and put on my bluejeans, a gingham shirt—put freckles on my nose and put my hair in pigtails and I walked back in to Mandy's office and said, 'I think I should play the part.' He said, 'You got enough courage to do this—let's give you a test.' We did the test—and I guess I passed. (laughs) I've been Annie ever since."
As far as being able to handle a gun, Gail laughed, "My father was a doctor back in Little Rock. He liked to go hunting with a .22 rifle, so I learned early how to shoot." During the "Annie" run, Gail put together a shooting act and toured extensively, even after the series left the air. She played Empress Hall in London, Madison Square Garden in New York, the Fat Stock Show in Chicago and literally hundreds of rodeos and fairs in nearly every state. But, as to her abilities as a 'real' marksman, "Let's just say I'd hate to get into competition with those police boys."
On her personal appearance tours, Gail, from the back of a galloping horse, lit a series of six matches with well placed shots from her .22 revolver. "The faster (the horse) goes, the smoother the ride—and at 8-10 feet head on, how can you miss? I average about four out of six. Once I lighted only one, but let's not talk about that."
Hundreds of terrific character actors populated the series, but one stood out in her memory, Stanley Andrews. "I loved him almost as much as my father. My Dad passed away quite sometime before I met Stanley. He was so wonderful to me all the time we worked together. He wasn't my real father, but it felt like that."
Only once did Gail invoke her star status, "I went in to talk to the producer. I said, 'I do think we deserve a honeywagon up in the mountains.' Every time anybody wanted to go potty, they had to go behind a rock or they had to go all the way back to town, which was 40 miles. He finally said, 'OK!'"
The hardest part of playing Annie was being separated from her young daughter, but the best part was the closeness she enjoyed with the tireless crew and co-stars, Brad Johnson (Lofty Craig) and Jimmy Hawkins (little brother Tagg). "We worked together for seven years, in the mountains, in the desert, in the snow, sleet, rain, dust storms…everything under the sun. These people were family."
The series finally came to a halt in 1957. "Tagg grew to be six feet tall. I couldn't pat him on the head as my 'little' brother anymore. It broke my heart to have to give the show up."
Gail was so typecast as Annie Oakley, producers just wouldn't hire the sharpshooting shemale. "Some of 'em said why don't you cut your pigtails off, dye your hair black, change your personality…well, that wouldn't work. I was Gail Davis…but…I was Annie Oakley." Gail was always proud of the character and what she stood for. "I felt like Annie was me…and she was. Oh wow—she really and truly was." (Comprised from a '84 interview; TV GUIDE 6/11/55; and comments at the Knoxville Caravan, Spring '89.)