"JIM BOWIE"
As a mighty Bowie knife whizzes through the air, thudding into a doorway, Ken Darby and the King's Men sing acapella—
"Jim Bowie, Jim Bowie
He was a bold adventurin' man.
Jim Bowie, Jim Bowie
Battled for right with a powerful hand.
His blade was tempered and so was he
Indestructible steel was he.
Jim Bowie, Jim Bowie


He was a fighter, a fearless and mighty adventurin' man."

Replacing a six gun with a Bowie knife, Scott Forbes as Louisiana's Jim Bowie sliced a wide swath on TV for 76 episodes (two seasons) from September 7, 1956, to May 28, 1958. The half hour black and white "Adventures of Jim Bowie", based loosely on the real life exploits of frontiersman James Bowie in the 1830s, aired Friday nights on ABC following "Rin Tin Tin".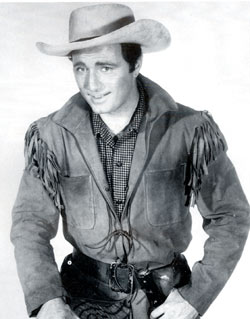 The first episode, "Birth of the Blade", relates the circumstances that led Bowie to invent his famous knife (although there are many true life variations of how the real blade came to be and who the actual maker was).
The series, adapted from the book TEMPERED BLADE by Monte Barrett, allowed for backdrops of French-American New Orleans as well as backwoods settings as it followed Bowie, a wealthy young planter and adventurer, along a path that was crossed by many real life people including his good friend and naturalist John James Audubon (Robert Cornthwaite), famous pirate Jean Lafitte, President Andrew Jackson, Deaf Smith, Johnny Appleseed, Jefferson Davis, Sam Houston and the man with whom Bowie would share his fate at the Alamo, Davy Crockett. Jim's brother Rezin Bowie (Peter Hansen, 1921– ), his mother (Minerva Urecal, 1894-1966) and newspaperman Justinian (Justy) Tebbs (William Schallert, 1922– ) were recurring characters.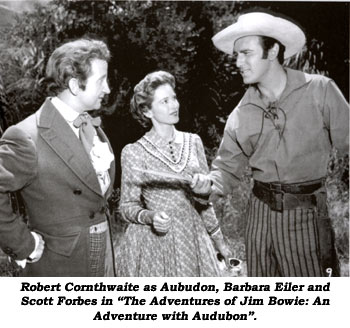 As Audubon in three episodes, Robert Cornthwaite remembered for WC, "I was cast in the series before I really knew anything about Audubon. I tried to hastily research him. The director (Lewis Foster) was a nice guy, I got along with him fine, but there was kind of trouble as I recall, I don't remember what it was, but he was replaced and I thought the show suffered from it. For me, it was a pleasant experience and I was sorry to see him replaced. Scott Forbes was great to work with, a good actor. He was South African as I recall. Very genial. Beautiful manners. He was a rarity; he was, I felt, a cultivated man. He had training as a classical actor. Very handsome man. They really didn't know what to do with him here (after that series), he didn't fit the cut-out figures they tend to cast around. Audubon was an interesting man. I've read a bit about him since. There's a lot of controversy about how he actually was an ornithologist. He was certainly a colorful character. Foster was the one responsible for bringing in those unusual aspects to what was essentially a western series."
6'2" Scott Forbes, whose favorite expression on the series was "Dog my cats!", was born in Capetown, South Africa, where he spent his early years before moving with his mother and physician father (who was also a prominent portrait artist) first to Easton, PA, then New York, and finally London. When WWII broke out, Scott was in the RAF where he decided on an acting career after performing in camp shows. After the war, and some plays in England, he came to America where, in 1954, he met and married Jeanne Moody, a former Miss Alabama, then an actress.
"I credit Ruth Burch, casting director, for getting me the role of Bowie", Forbes told TV GUIDE in '57. "It was she who thought I could play a western type, as opposed to the sophisticated parts I had been playing. She cast me in the part of gunman Clay Allison on 'Frontier'—and it was that piece of film which convinced producer (Louis F. Edelman) of 'Bowie' to give me this job. Bowie is a fascinating character. He is very different from the usual western hero—the clean-cut, strait-laced individual who never does anything wrong and always outwits the villains. Bowie did some villainous things himself and he was frequently outwitted. I've found wonderful variety—both in Bowie's character and the events which happen to him."
Forbes continued to act on into the '60s, he even had an interest in a fashionable Hollywood nightclub. Relocating back to England, he appeared on many BBC productions and toured with the National Theatre Company. Increasingly reclusive in later years as he began to write, he died February 25, 1997, in Swindon, Wiltshire, England.