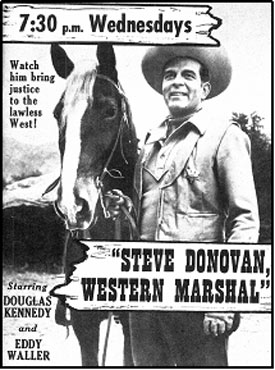 "STEVE DONOVAN,
WESTERN MARSHAL"
Emulating B-westerns as closely as any half hour TV series could, the once very popular, now nearly forgotten, "Steve Donovan, Western Marshal" starred Douglas Kennedy as Steve and former Allan "Rocky" Lane sidekick Eddy Waller as his saddle partner, Rusty Lee.
Sponsored by Nabisco, 39 episodes were produced by former "Lone Ranger" producer Jack Chertok at the Hal Roach studios and sold through NBC films. However, the series was first filmed in 1951 but only aired on a scant few stations as "Steve Donovan, Western Ranger". This explains why Eddy Waller was missing from the Allan "Rocky" Lane films of 1951. At any rate, "Steve Donovan" was slightly renamed and re-syndicated by NBC in '55/'56 which is when most people recall seeing the show. Confusing matters is the fact the three episodes currently available to collectors all bear 1955 dates so the credits were obviously redone at that time. Checking TV GUIDE from various cities, I find the episodes were shown in no particular order in '55, but it's believed "Comanche Kid" (w/Tom Tyler, Louise Currie, Onslow Stevens, John Cliff, House Peters Jr. and Frank Fenton) was intended to be the initial episode. Adding further insistence to the 1951 filming dates is the fact both Louise Currie and Tom Tyler quit acting in 1952, therefore were not available for work as late as 1955.
Charles D. Livingstone, the onetime "Lone Ranger" radio director who came west to learn how to direct TV shows for the LR, helmed nearly all the "Steve Donovan" episodes for former boss Chertok.
"Steve Donovan", although cheaply produced, made Top Ten ratings in several markets. You knew you were in for great western action the moment the series hit your screen. Kennedy stepped out from behind a boulder, drew two six-guns, fired three shots, flipped his '45s from one hand to another and fired three more in rapid succession! Then came the stern voiced announcer—"Lashing out of the pages of American history come the exciting tales of the early western frontier. A primitive land torn by primitive conflicts and boiling with the feuds and lawless strife of frontier days. Here, on the rugged edge of civilization, some of the most desperate outlaws the world has ever known swarmed like a black plague, looting and robbing. But here too, determined to bring peace and justice to this turbulent region of six guns and sudden death, was another breed of men. The courageous officers appointed to wear the proudest badge of all, the badge of the western marshal." All that, voiced over a fever pitched montage of bank robbers, stage holdups and shootouts! What red blooded boy didn't have his western adrenaline pumping—ready for a half hour of western thrills. And Steve Donovan delivered!
New York born, 6'1", Kennedy (born Harve Garrison) came west as a teacher after graduation from Amherst College, became interested in the movies about 1940 and was soon doing bits, billed at first as Keith Douglas. After Signal Corps service in WWII, he landed a WB contract but didn't make any westerns til 1949—when he made four.
Obviously suited for action roles, Kennedy became one of the most in-demand western talents in the '50s—appearing in 24 oaters, as well as the "Steve Donovan" series and appearances on many TVers like the "Lone Ranger", where he and producer Jack Chertok first met. Kennedy went on to guest on all the popular western series of the '50s and '60s, eventually portraying the sheriff of Stockton on "Big Valley".
Kennedy was only 57 when he died in Hawaii of cancer after appearing on "Hawaii Five-O".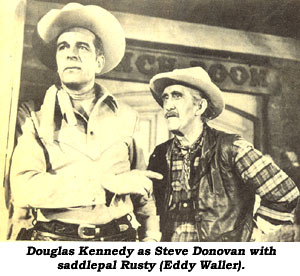 Wisconsin native Eddy Waller, born in 1889, started his career on Broadway at 14 and came to films in '27 as an assistant director, but by '36 was acting in westerns at Republic, RKO and Paramount. In '47 he hooked up with "Rocky" Lane until '53. After "Steve Donovan", Waller appeared in several A-westerns and TV shows and was a semi-regular as a stage driver on TV's "Laramie" until his retirement in the early '60s. He died of a stroke at 88 in 1977.