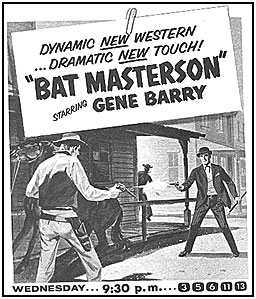 "BAT MASTERSON"
"Back when the West was very young
There lived a man named Masterson
He wore a cane and derby hat
They called him Bat, Bat Masterson.
A man of steel the stories say
But women's eyes all glanced his way
A gambler's game he always won
They called him Bat, Bat Masterson.
The trail that he blazed is still there
No one has come since to replace his name
And those with too ready a trigger forgot to figger
On his fighting fame.
So in the legends of the West
One name stands out from all the rest
The man who had the fastest gun
They called him Bat, Bat Masterson."
Starring Gene Barry, a fictionalized series based on the life of the famous U.S. Marshal, Indian scout and gentleman gambler, "Bat Masterson"—the man who became a legend in his own time—premiered on NBC Wednesday night October 8, 1958, from 9:30-10pm EST. The 30 minute b/w series continued on Wednesday nights through July '59, moving to Thursday night (8-8:30pm EST) with season two (Oct. 1 '59-June '60). For the third, and final, season "Bat" was seen a half hour later (8:30-9pm EST), still on Thursday nights.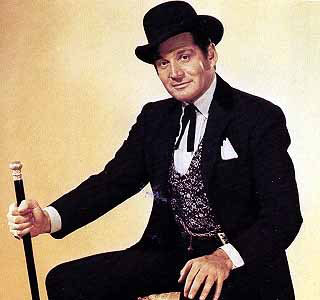 All told, there were 108 ZIV TV produced episodes loosely based on the life of the dandified gunfighter. Gene Barry played his role as a suave, cane-carrying, gun-toting western hero whose quick thinking and love of adventure got him into many a tight squeeze. TV's Bat had a roving eye for a beautiful damsel and was quite the lady charmer. Attired in a black derby, highly polished boots, dark pinstriped suit with a black string tie and gold vest set off by his gold-tipped cane, Barry's William Barclay Masterson was unlike any other TV western hero.
Just a few of the gorgeous ladies Bat had to contend with were Adele Mara, Lisa Gaye, Allison Hayes, Marie Windsor, Gloria Talbott, Yvette Vickers, Donna Martell, Diane Brewster, Dyan Cannon, Jean Willes, Cathy Downs, Kasey Rogers, Kathleen Crowley and Paula Raymond.
Based on a biography by Richard O'Connor, the series was jointly produced by Frank Pittman and Andy White. Talented directors such as Walter Doniger, Eddie Davis, David Friedkin, Monte Pittman and Jesse Hibbs kept the action moving.
Gene Barry was born Eugene Klass in Manhattan June 14, 1919. He found early fame as a violin player but switched to singing after breaking his arm playing football. Winning a major singing contest, he was awarded a scholarship to Chatham Square School of Music which led to a job with bandleader Teddy Powell. Offered the role of The Bat in Max Reinhart's production of "Rosalinda", "The Merry Widow" and other Broadway credits followed before he signed a Paramount contract in '51. Almost immediately he starred in the well-remembered sci-fi classic, "War of the Worlds" co-starring Ann Robinson.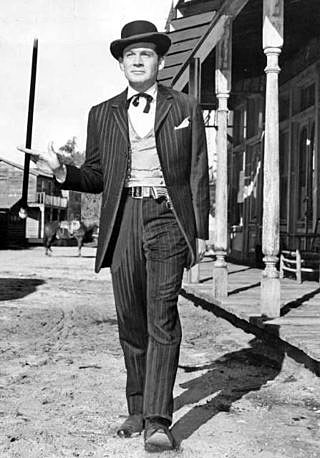 In '58, with the success of "Wyatt Earp" at ABC, NBC was looking for their own true west hero. Barry was hand-picked for the role by ZIV chairman Fred W. Ziv after 23 other actors tested for the part. Barry initially declined, "I didn't want to do a western as I preferred to stay in films. But when the producers explained the character was a different kind of cowboy…one who wore a derby hat and carried a cane…the idea became much more appealing."
But after three years as the debonair Bat, Barry said he'd had enough, even though ratings were still quite good. "A television show becomes a factory," he said, "Grinding out so many products in so many days. The pace is killing."
Interestingly, Barry reprised the Masterson role on "Paradise" in '89 and on "The Gambler Returns: Luck of the Draw" in '90.
Like the TV grind or not, Barry found work in films sparse after "Bat Masterson" and returned to the small screen as Police Captain Amos Burke on "Burke's Law" from '63-'65 and again from '93-'95. In between he starred as newspaper magnate Glenn Howard on "The Name of the Game" ('68-'71). In the '70s and '80s he abandoned TV to return to his roots in musical theatre productions, winning a Tony award in '83 as best male lead in a musical for "La Cage Aux Follies". He also had one of the finest cabaret acts of any actor, which included singing and dancing mixed with his pleasing personality.
In '87 Barry turned out in his Bat Masterson outfit to accept a Golden Boot award. A very eloquent speaker, he smiled, "As Bat Masterson I may not have been the fastest draw on TV, but dammit I was neat!"
At 90, Barry died December 9, 2009, in Woodland Hills, CA.