"The Gabby Hayes Show"
George Francis "Gabby" Hayes, the most famous Western sidekick, was born May 7, 1885, in the Hayes Hotel, owned by his father, in the tiny hamlet of Stannards, NY, on the outskirts of Wellsville, NY. As a young man he played semi-pro baseball while a teenager. Running away from home in 1902 at 17, he joined a touring stock company, apparently traveled for a time with a circus, and worked in vaudeville.
He married Olive Ireland in 1914. Performing under the name Dorothy Earle, and joining him in vaudeville, the couple became so successful that by 1928 George was able, at age 43, to retire to a home on Long Island, NY. Sadly, he lost all his savings the next year in the 1929 stock market crash. His wife convinced him to move to L.A. and try his luck in films.
His talent was immediately recognized with his first appearance being in "Rainbow Man" ('29) with Eddie Dowling and Frankie Darro. He soon gravitated into B-Westerns opposite Tom Tyler, Bob Steele, Tom Keene, Harry Carey, Rex Bell, Hoot Gibson and, of course, John Wayne, playing not only grizzled sidekicks but heavies as well. He was a character in the first Hopalong Cassidy film but gained such notoriety that he quickly was elevated to Hoppy's permanent sidekick Windy, while continuing to co-star with other cowboys such as Gene Autry, George O'Brien, Buck Jones, Johnny Mack Brown and Kermit Maynard.
Hayes left the Hoppy films in '38 and forever became recognized as Gabby Whitaker, Roy Rogers' sidekick in "Southward Ho!" ('39 Republic). Gabby was with Roy through 1942 when Republic moved him over to support Bill Elliott in his new series. Gabby was back with Roy from '44-'46. From '47 to '50 he worked in A-Westerns opposite Randolph Scott, Bill Elliott, John Payne and (even) Sonny Tufts.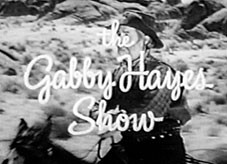 A 15 minute "Gabby Hayes Show" debuted on NBC at 5:15pm EST on Monday December 11, 1950. The 15 minute Monday through Friday show ran until January 1, 1954 and preceded "Howdy Doody" at 5:30. While whittling on a piece of wood Gabby introduced the show by saying, "Well howdy buckaroos. It's you ol' pal Gabby Hayes comin' atcha with another one of them rip roarin' yarns. Yur durn tootin', yessireebob!" Gabby would then spin a tall tale as only he could before introducing an edited version of a B-Western starring Eddie Dean, Buster Crabbe, Tex Ritter/Dave O'Brien, Lash LaRue, Bob Steele or Hoot Gibson—clearly most of the films came from the PRC vaults. Another tall tale closed the show. Obviously, due to the 15 minute format, sections of each B-Western were spread out over several days. 25 minute versions were later constructed and still being shown as late as 1958. In all, fifty-two 25 minute programs were made up and can now be found on DVD.
For "The Quaker Oats Show" Gabby introduced true life 30 minute historical dramas presented on a soundstage by actors. "Sam Bass", "Nathan Hale", "Iwo Jima", "Samuel Clemens" were among the stories enacted. Gabby also did the commercials for Quaker Oats. An unknown number of these dramas were shown on NBC in '50-'51.
Following his wife's death on July 5, 1957, Gabby lived in and managed a 10-unit apartment building he owned in North Hollywood, CA. In early '69, he entered Saint Joseph Hospital in Burbank for treatment of cardiovascular disease. He died there February 9, 1969, at 83.