"Sugarfoot"

"Sugarfoot, Sugarfoot, easy
lopin', cattle ropin' Sugarfoot,
Carefree as the tumbleweeds, a-joggin' along with a heart
full of song
And a rifle and a volume of the law.

Sugarfoot, Sugarfoot, never underestimate
a Sugarfoot,
Once you get his dander up, ain't no one
who's quicker on the draw.
You'll find him on the side of law and order,
From the Mexicali border, to the rolling
hills of Arkansaw.
Sugarfoot, Sugarfoot, easy lopin',
cattle ropin' Sugarfoot,
Ridin' down to cattle town, a-joggin'
along with a heart full of song


And a rifle and a volume of the law."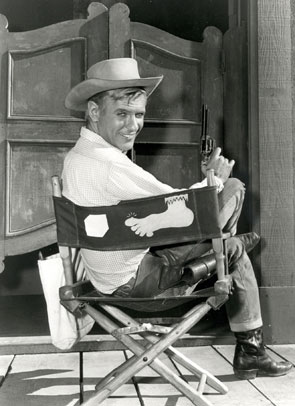 Warner Bros. and ABC premiered "Sugarfoot" starring Will Hutchins as Tom Brewster, an out-west law school correspondence student, on September 17, 1957. Some of his adventures had a comedic flair (as does Will himself) while others were deadly serious.
In one of his WESTERN CLIPPINGS columns Will explained, "A Sugarfoot is a feller workin' his way up to be a tenderfoot. That's not all that was tender when we shot the 'Sugarfoot' pilot ("Brannigan's Boots"). My horse, Sickle, must have been part mule, or he read a different script from mine. We were never on the same page. Hence, we had to use a lot of trickery to create the illusion I was one with my hoss. We filmed the scenes of Sickle 'n' me many times from many different angles so the editor could cut out all the humiliating stuff and blend the few good moments together, plus lots and lots of stock footage. By some miracle, Sickle and I made it through that show intact. Before we filmed episode 2, 'The Reluctant Hero', Warner Bros. sent me over to Pickwick stables in Burbank for intensive lessons in horsemanship under the able tutelage of Emile Avery."
Unfortunately, Will and Sickle just weren't born to be. "So," Will continued, "For our second season, to the end of the trail, the boss wrangler, Ace Hudkins, took mercy on me and replaced Sickle, that big galoot, with sleek, speedy, beautiful, copper-colored Penny. It was love at first sight. Penny was half quarter horse, half thoroughbred; and when I eased myself up into his saddle I felt I was ridin' on the wind. Sadly, we never left the cramped back lot where the Western streets and trails were located. Penny was my best pal at Warner Bros. I put him right up there with Trigger, Champion, Tony, Topper and all the others."
Writer/producer Hugh Benson designed "Sugarfoot" as "a gentle itinerant cowpuncher who goes from place to place but still has that law book…someday he's going to be an attorney."
Will explained, "First, Jack Warner put me into a TV production, 'The Magic Brew' (an episode of "Conflict") starring Jim Backus as a snake oil salesman. Freddy de Cordova of 'Bedtime for Bonzo' fame handled the megaphone. My next assignment at Warners: 'Stranger On the Road' (another "Conflict"). I played a rube on a ranch. I mounted a horse facing tailward. The big climax was Rex Reason Vs. me in the mother of all fistfights. Monte Pittman penned that puppy, and its success led to the birth of 'Sugarfoot'."
Benson and Warner Bros.' TV production head Bill Orr both felt Will was the character, "He really was just about the same person."
Warner Bros.' hit, "Cheyenne" with Clint Walker, had been on for two seasons ('55-'57) when "Sugarfoot" joined him in September '57 alternating on Tuesday nights from 7:30-8:30 EST. Will wrote in a column, "When I hired on at the Bar WB ranch in Burbank, Clint 'Cheyenne' Walker was our foreman. He trail-blazed the way for us. He was the king, the backbone of Warner Bros. TV. For some reason I reminded my bosses of Will Rogers, so quicker than a fast draw Marshall Hutchason became Will Hutchins."
Here's where it gets tricky. When Clint Walker left "Cheyenne" over a salary dispute, Ty Hardin joined the Warner Bros. cowboys as "Bronco" in September '58, but Warners still called it "The Cheyenne Show". "Sugarfoot" alternated until September '59 when ABC and Warner Bros. moved Clint and "Cheyenne" to its own Monday night timeslot. "Sugarfoot" and "Bronco", alternated on Tuesday evenings. For the '60-'61 season, all three, "Sugarfoot", "Cheyenne" and "Bronco", alternated on Monday nights from 7:P30-8:30 EST. (I know, damn confusing!) "Sugarfoot" rode his last on April 17, 1961…a total of 69 episodes. [See also the prior columns on "Bronco" and "Cheyenne".]
Some of the best episodes of "Sugarfoot" are those in which Will played a dual role—Tom Brewster and the evil Canary Kid. Will recalls, "Monte Pittman, my favorite writer-director, came up with the idea of my playing dual roles: Tom 'Sugarfoot' Brewster and his look-alike evil cousin and nemesis, the notorious Canary Kid. The Kid's heart was as black as his hat. He robbed, looted, sacked, pillaged, plundered, cursed, cavorted with the ladies, spat, chewed, smoked rotten ceegars, drank cheap whiskey, spent many a moon in the hoosegow and put slugs in vending machines. I loved him. When Monte finished the first Canary script I had to come up with a characterization pronto. I asked myself, 'What would Lee Van Cleef do?' And I took it from there."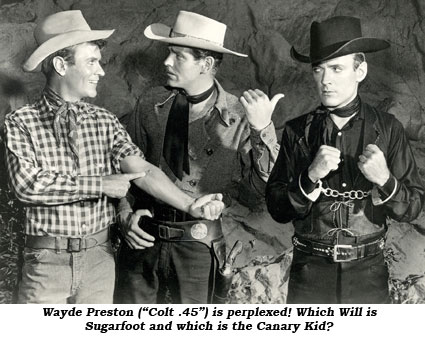 Will also points out, "Clint Walker, Ty Hardin and I made one of my favorite shows, 'Duel at Judas Basin', sort of like the Three Mesquiteers. I thought we had a good blendship. Today we three could do one of those TV reunion shows: 'Cheyenne, Bronco and Sugarfoot Get Hip Replacements'."
Will Hutchins went on to star in "Hey Landlord" for NBC in '66, and "Blondie" for CBS in '68. He also managed to make several movies—"Merrill's Marauders", "Lafayette Escadrille", "No Time For Sergeants", "Claudelle English", even a couple with Elvis, "Spinout" and "Clambake". Will guest starred on "Gunsmoke", "77 Sunset Strip", "Maverick", "Alfred Hitchcock Presents" and "Perry Mason" among others, but he'll always be best remembered as that easy lopin' Sugarfoot.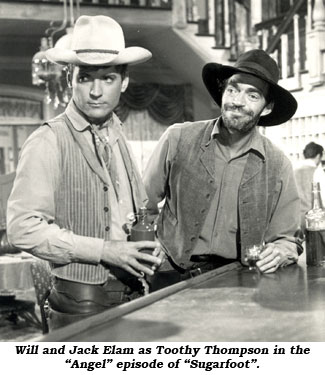 In his own inimitable way, Will sez, "The toughest gang in the West was not the James Gang or the Dalton brothers—the toughest gang in the west was the Warner Brothers. They rode us hard and put us away wet. On weekends they'd send us out on public appearances for which they were paid handsomely and we were paid ugly. Being a TV cowpoke for four years wasn't all fun and games. Mostly, it was a job of work. We never left the studio to go on location. We stayed at home and shot our 'Sugarfeet' in the musty sound stages and out on the cramped back lot, where, sometimes, you had to say your lines between noises off. Once, I lost control of a few head of cattle and rode desperately after them down the main western street and smack dab into the middle of a scene in 'Maverick'. Once in awhile the producers would toss in some footage from the Warner film library to give the illusion of a higher budget. Then I'd get to dude-up in assorted outfits to match the stock shots. Over the years I had the privilege of wearing Walter Brennan's shirt, Errol Flynn's coat and Humphrey Bogart's pants. I never felt comfortable with scripts that made me too brave. I was a reluctant hero. When the writers went on strike the suits merely switched scripts and we'd all re-make each other's shows. The writing credits went to the mysterious W. Hermanos (that's Spanish for Warner Brothers)." On the other hand, Will concludes, "I had the honor of working with some mighty fine folks: childhood heroes, character actors, cowboys, stunt people, the wonderful crews, directors, producers and my secret loves, my leading ladies. I'm proud I got to hit the saddle and go on that glorious, wild ride across America's small screens, guns a'blazin'."