"THE DEPUTY"
Network TV on Saturday night in '59-'61 was a banner night for western fans with "Bonanza", "Wanted Dead or Alive", "Have Gun Will Travel", "Tall Man", "Gunsmoke"—and "The Deputy" which brought distinguished film star Henry Fonda to the small screen as Simon Fry, Chief Marshal for the Arizona Territory in 1880. Fonda brought to TV the same determined authority he'd displayed in films like "My Darling Clementine" and "Fort Apache".
Although Fonda usually did a voice-over narration at the beginning and end of each episode and appeared in brief dialogue scenes, the real star of the Saturday night 9-9:30 (ET) 30 minute b/w NBC series was relative newcomer Allen Case as often reluctant deputy Clay McCord, otherwise employed as a general storekeeper with his sister Fran (Betty Lou Keim) in Silver City, AZ, (actually the Universal backlot).
Fonda actually only "carried the mail" in six of the 39 1st season episodes (which began September 12, '59) and 13 of the 37 second season episodes (which ended July 1, 1961).
Despite his adversity to violence, storekeeper McCord (Case) is an expert with a gun and, for that reason, Marshal Fry (Fonda) often tricks or drafts McCord into assisting him when the Marshal is not around. The gimmick wore thin, so with episode #29, "The Truly Yours", after outlaws burn down McCord's store, he quits resisting and elects to become a full-time deputy.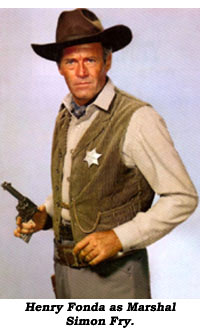 Fonda's part-time involvement with the series was devised so he could be lured into a TV series while still maintaining a position on Broadway. Fonda told TV GUIDE on 1/23/60 and 6/18/60, "Being able to do plays on Broadway and films in Hollywood is like having your cake and eating it too. My agents sort of talked me into doing television. It's their job to put a buck in the bank for me. We looked at a lot of ideas but when I first saw the pilot script for 'The Deputy' I figured this was the one I wanted to do. I liked the character. When they fixed it so I only had to star in six full episodes, I liked that even better. They also fixed it so that I own 50% of the series. While I star in only six of the 39 episodes, I appear briefly in all the rest. This sounds like cheating, but it really isn't. The brief appearances are done in such a way that you have the feeling this marshal, my character, is actively involved all the time."
But the show wasn't as easy on Fonda's energies as it seemed at first. "A lot of problems came up that I didn't anticipate. We soon found if I were to shoot not only my six episodes but all my other appearances in advance, early enough to cut me loose for rehearsals of a play I had agreed to do, we were going to have problems. First, we had to get all the scripts way ahead of time. Then, if I did a brief scene with an actor who also was to appear in the rest of the film, we'd have to gamble on his being available five or six weeks later when they got around to shooting the rest of it. If we shot those other scenes within four weeks of his first call, we'd have to pay him for the whole time, 'holding' him and keeping him unavailable for other shows. Very expensive."
"The idea of 'The Deputy' is to give a great deal of the play to the marshal's deputy. When we were casting," Fonda explained, "I must have looked at hundreds of prospects. Then along came Allen. I can't tell you why this was our man any more than I can tell you why I like a play or a painting. You just have a feeling for people like him." Case wears the badge well, says Fonda. "This kid not only has looks, ease and naturalness, but an authority without seeming presumptuous." As for Case's role as Clay McCord, Fonda stated, "He's always associated with the marshal. The marshal is always 'there,' even when you don't actually see him. His presence is just felt; that's the best way I can put it."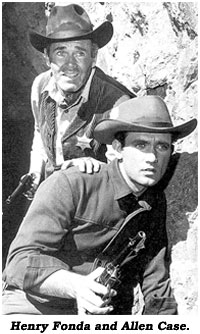 The son of a retail clothier, Allen Case was born in Dallas, TX, in 1935 and attended Southern Methodist University for two years before dropping out to pursue a showbiz career. He sang on a Dallas TV station and toured in such musicals as "South Pacific" and "My Fair Lady". His singing led to a five week stint on Arthur Godfrey's morning show in '54 followed by gigs at Miami and Atlantic City niteries. He was signed by Columbia records in '55 and made a couple of rock 'n' roll records which were flops. Ballads were his real forté and, after "The Deputy" became a hit series, Columbia released a collection of songs more tuned to his abilities, "The Deputy Sings".
Coming to Hollywood, Case guested on "Sugarfoot", "Bronco", "Rifleman", "Have Gun Will Travel" and others. Case told TV GUIDE (6/18/60), "'The Deputy' came about by accident. I was out at Revue (Universal's TV production unit) to test for a part that wasn't right for me in a Bill Bendix situation comedy which didn't sell. Instead I was asked to test for 'The Deputy', in the part which originally called for a much older man. Well, Hank (Fonda) saw it and… And with a man like Hank, when he's around at least, there's no strain. He's great—a man you can learn a lot from."
During the 1st season, Fonda put in not more than two months shooting time. However, he was so pleased with the series that he doubled his time investment for the second season. "I'll appear in 13 stories all the way through. Maybe put in four months all told and still be able to do other things. I'll appear briefly in all of them, just the way I did the first season. Figure maybe I'd better. This kid Case is getting too good."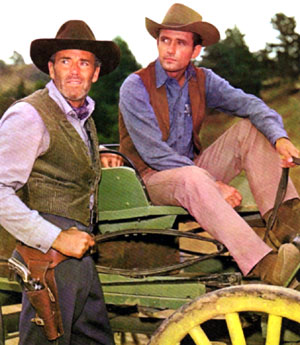 Created by Norman Lear and Roland Kibbee, "The Deputy" was on opposite the older-skewing "Lawrence Welk" on ABC while CBS pitted "Brenner"—a failure—then "Mr. Lucky" and finally "Checkmate" against the Fonda/Case series.
Other regulars were old pro Wallace Ford (1899-1966) in the 1st season as aging town marshal of Silver City, Herk Lamson. Betty Lou Keim was McCord's sister, Fran, who helped run the general store in the 1st season. With McCord a full time deputy, both these characters were eliminated with the start of the second season and replaced by Read Morgan (1931– ) as one-eyed cavalry Sgt. Hapgood Tasker who was assigned to set up a supply office in Silver City. Sarge's easy going relationship with McCord often functioned like a comedy sidekick. Other semi-regulars were Gary Hunley as Brandon McCord, eight year old brother of Fran and Clay; longtime character player Addison Richards as Doc Landy; Phil Tully as second season deputy Charlie; and Vito Scotti as local townsman Jose.

WC spoke to Betty Lou Keim (right), born in Boston in 1938. Her father was a choreographer at the Cocoanut Grove in Boston when the tragic fire that took Buck Jones' life occurred on November 28, 1942, killing 492 people. "That night," she explained, "was my father's birthday. They kept him home that night because it was going to be a surprise party!" Moving to New York with her parents, Betty Lou attended a school for professional children and was picked to do a Broadway show, "Strange Fruit" in '45. Other Broadway shows followed before she came to Hollywood.
As for "The Deputy", Betty Lou told WC, "Henry Fonda was a very shy man. He stuck to himself. Allen Case seemed to be caught up in himself, carried away by his own perfume. I'll tell you who was a 'doll'…Wally Ford. What a wonderful, nice man. We would shoot what were called 'the Fonda scenes'. They were generic scenes that would be inserted into whatever the storyline came to be. Fonda would be around for a week or 10 days. It was kinda hard to be doing a scene when you didn't know what the script was that went with it. I finished the first year, but I wanted out. The hours were awful and I wasn't doing anything except sweeping the front of the store! I finished out my contract and decided I didn't want to work anymore. I married (actor) Warren Berlinger in '60. I wanted to raise my children."
WC also reached Read Morgan (right) who recalled, "MCA owned Revue studios, the old Republic. Then they bought Universal. 'The Deputy' started over there. The first year I did an episode of it, not as my later Sgt. Tasker character. MCA started putting guys under contract when they went to Universal. Burt Reynolds, Robert Fuller, Doug McClure, myself…a whole lot of contract players. For some reason, on the 2nd year of 'The Deputy', they decided to write my character in and drop Betty Lou Keim and Wallace Ford's characters. The eyepatch was in the script—supposedly I'd had an eye injury in combat. So Sgt. Tasker hung around the marshal's office and from time to time was useful to them. The writers thought of him as a young Victor McLaglen character. I didn't really want to do a series, I was happy going from show to show, but I was under contract. It took a tremendous amount of coordination. Hank was doing movies and he'd go to New York every year and do a play. Fonda would come out to Hollywood and they'd have to have all 39 segments ready. He was in 13 of 'em, plus the Fonda scenes, and the rest of the time Allen and me would go around and finish up the shows. An actor might come in and do a day on 'the Fonda scenes' and the producers would have to think, is he gonna be available 6 months from now? That's why a lot of those roles were one day parts."
WC asked Read about the similarity in Allen Case's line readings to that of Henry Fonda. "Somebody asked Allen one time, 'Whattya doin'…imitating Henry Fonda?' And he said, 'Can you think of a better guy to imitate?' (Chuckles) Allen was no fool. He was very successful without the acting. He owned a very successful dry goods store in Texas. He was a good singer. Also he was very good at finding old houses, fixing them up and selling them. He was a resourceful fella. We got along fine. I always insisted within myself that I got along with everybody. Come prepared and keep 'em laughing. Sgt. Tasker was a wonderful character, and 'The Deputy' was a fun show."
One of the better westerns of the era, "The Deputy" would have been renewed for a third season but Read explained, "Fonda was the biggest star to ever do television in those days. He just didn't want to do a 3rd year. It was hard. He was workin' his ass off. You shoot quick, so a lot of the quality wasn't what Hank was used to. You can't blame the guy. He was makin' a lot of money anyway, and he decided to concentrate on movies and plays."
When the series ended, Case continued to work, co-starring as Frank James with Christopher Jones as Jesse in the short-lived "Legend of Jesse James" ('65-'66). Case returned to Dallas in the '80s. He was on vacation in Truckee, CA, when he collapsed and died of a heart attack at 51 on August 25, 1986. Fonda continued to work up until "On Golden Pond" in '81 and died of heart disease August 12, 1982 at 77. Betty Lou Keim died January 27, 2010, in Chatsworth, CA.